Fiction
The Silence of the Girls by Pat Barker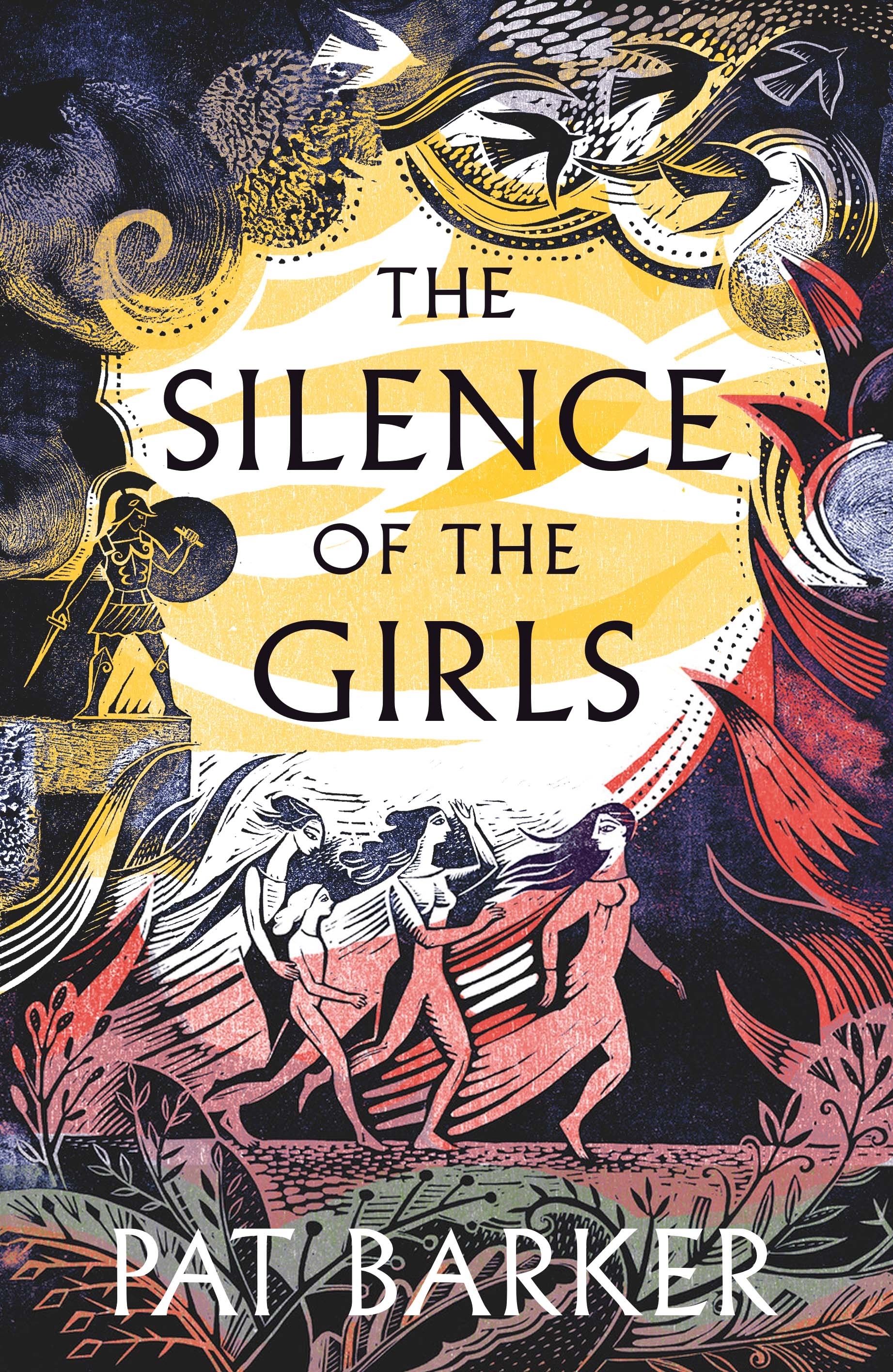 "A very good, very raw rendition of the Trojan war from the point of view of the women."                   Kate Atkinson
There was a woman at the heart of the Trojan war whose voice has been silent – till now.
Briseis was a queen until her city was destroyed. Now she is slave to Achilles, the man who butchered her husband and brothers. Trapped in a world defined by men, can she survive to become the author of her own story?
Discover the greatest Greek myth of all – retold by the witness history forgot.
"Make[s] you reflect on the cultural underpinnings of misogyny, the women throughout history who have been told by men to forget their trauma… You are in the hands of a writer at the height of her powers."                 Evening Standard
"A stunning return to form."                  Observer
"Angry, thoughtful, sad, deeply humane and compulsively readable, The Silence of the Girls shows that 36 years after her first novel was published, Barker is a writer at the peak of her powers."                   Irish Times
"An impressive feat of literary revisionism that should be on the Man Booker longlist… This is a story about the very real cost of wars waged by men… Barker makes us re-think history."                     Independent
Killing Commendatore by Haruki Murakami
The epic new novel from the internationally acclaimed and best-selling author of 1Q84.
In Killing Commendatore, a thirty-something portrait painter in Tokyo is abandoned by his wife and finds himself holed up in the mountain home of a famous artist, Tomohiko Amada. When he discovers a strange painting in the attic, he unintentionally opens a circle of mysterious circumstances. To close it, he must complete a journey that involves a mysterious ringing bell, a two-foot-high physical manifestation of an Idea, a dapper businessman who lives across the valley, a precocious thirteen-year-old girl, a Nazi assassination attempt during World War II in Vienna, a pit in the woods behind the artist's home, and an underworld haunted by Double Metaphors.
"With phenomenal energy and verve… What makes [Murakami's] voice so distinctive, and so captivating, is the mix of precise observation, clarity and deadpan humour… Murakami is a master storyteller and he knows how to keep us hooked"                        Sunday Times
The Woman in the Blue Coat by Deon Meyer
Early on a May morning in the depth of South Africa's winter, a woman's naked body, washed in bleach, is discovered on a stone wall beside the N2 highway at the top of Sir Lowry's Pass, some 35 miles from Cape Town. The local investigation stalls, so the case is referred to Captain Benny Griessel and his cynical partner Vaughn Cupido of the Hawks – the Directorate for Priority Crime Investigations. The woman proves to be Alicia Lewis, an expert in old Dutch Masters paintings specializing in the recovery of valuable lost art. Discovering the two men she had contacted before coming to South Africa reveals what she was seeking – a rare painting by Carel Fabritius, Rembrandt's finest student, not seen since it disappeared from Delft in 1654. But how Lewis died, why, and at whose hand shocks even the two veteran detectives.
The Woman in the Blue Cloak is a compact jewel, as rich as any of Deon Meyer's award-winning novels, driven by crystalline prose, earthy dialogue, and clever plotting.
"A serious writer who richly deserves the international reputation he has built."                Washington Post
The Talented Ribkins by Ladee Hubbard
2016 winner of the Rona Jaffe Foundation Writer's Award and riffing off W.E.B. Du Bois' famous essay, this marvellously inventive novel tells the story of Johnny Ribkins, a 72-year old African-American antiques dealer from Florida who was born with a unique talent.
At 72, Johnny Ribkins shouldn't have such problems: He's got one week to come up with the money he stole from his mobster boss or it's curtains.
Luckily, Johnny comes from an African-American family that has super powers. Well… sort of super powers. His father, for example, could see in the dark. His brother could scale walls. His cousin spits fire, and Johnny himself can make precise maps of any space you name, whether he's been there or not.
In the old days, the Ribkins tried to apply their gifts to the civil rights effort. But disappointed at how that turned out, Johnny and his brother used their talents to stage a series of daring cat-burglar robberies. After his brother died of a drug overdose, though, Johnny blamed himself, and stashed their money in hiding spots all over Florida and tried to forget it.
In need of that money decades later, with his boss's goons tailing him, Johnny drives to his brother's old place to dig up his first stash and makes a remarkable discovery – his brother's widow has found the money and spent it. What's more, Johnny's brother had a daughter he didn't know about. Her gift? She can catch cans if you throw them at her head. No matter how many, no matter how fast.
The old man and the teenaged girl become an unlikely duo as Johnny is chased by his bosses goons from stash to stash across Florida, in what is, in more ways than one, a hilarious and moving race against time.
"For sheer reading pleasure Ladee Hubbard's original and wildly inventive novel is in a class by itself."                        Toni Morrison, Nobel Prize-winning author
"…if you love the works of Paul Beatty and Colson Whitehead, you'll enjoy Ladee Hubbard's wholly unique view of family and legacy with her dazzling first novel."                      Essence Magazine
"A marvel… exceptionally funny, tender and heartbreaking… The Talented Ribkins marks Hubbard as a writer to watch. This tale of self-revelation and recognizing one's tribe is quite an arrival, filled with both a sense of discovery and hard-won wisdom."                          Advocate
"First-time novelist Ladee Hubbard has created a collection of misfits like no other in The Talented Ribkins… fascinating… Hubbard's tale ultimately transcends race, class and time itself."                         Bookpage
Labyrinth of Spirits by Carlos Ruiz Zafon
The long-awaited new novel from the author of the global bestseller The Shadow of the Wind.
As a child, Daniel Sempere discovered among the passageways of the Cemetery of Forgotten Books an extraordinary novel that would change the course of his life. Now a young man in the Barcelona of the late 1950s, Daniel runs the Sempere & Sons bookshop and enjoys a seemingly fulfilling life with his loving wife and son. Yet the mystery surrounding the death of his mother continues to plague his soul despite the moving efforts of his wife Bea and his faithful friend Fermín to save him.
Just when Daniel believes he is close to solving this enigma, a conspiracy more sinister than he could have imagined spreads its tentacles from the hellish regime. That is when Alicia Gris appears, a soul born out of the nightmare of the war. She is the one who will lead Daniel to the edge of the abyss and reveal the secret history of his family, although at a terrifying price.
The Labyrinth of the Spirits is an electrifying tale of passion, intrigue and adventure. Within its haunting pages Carlos Ruiz Zafón masterfully weaves together plots and subplots in an intricate and intensely imagined homage to books, the art of storytelling and that magical bridge between literature and our lives.
"A colossal, genre-crossing achievement… it is to be hoped that Zafon's next books deal as seriously and enjoyable with the present and future of Barcelona."                Guardian
"This is a suspenseful story of loss, betrayal and redemption."               INDEPENDENT
Bridge of Clay by Markus Zusak
The epic new novel from the bestselling author of The Book Thief.
"If The Book Thief was a novel that allowed Death to steal the show… [its] brilliantly illuminated follow-up is affirmatively full of life."              Guardian
Here is a story told inside out and back to front
Five Dunbar brothers are living – fighting, loving, grieving – in the perfect chaos of a house without grown-ups. Today, the father who left them has just walked right back in.
He has a surprising request: Who will build a bridge with him?
It is Clay, a boy tormented by a long-buried secret, who accepts. But why is Clay so broken? And why must he fulfil this extraordinary challenge?
Bridge of Clay is about a boy caught in a current, a boy intent on destroying everything he has in order to become everything he needs to be. Ahead of him lies the bridge, the vision that will save both his family and himself.
It will be a miracle and nothing less.
At once an existential riddle and a search for redemption, this tale of five brothers coming of age in a house with no rules brims with energy, joy and pathos. Written in Markus Zusak's distinctive style, it is a tour de force from a master storyteller of the heart.
"[Zusak] flings his readers straight into the deep end of his new vast, teeming novel . . . Warm and heartfelt . . . This is a tale of love, art and redemption; rowdy and joyous, with flashes of wit and insight, and ultimately moving."              Times
"Devastating, demanding and deeply moving, Bridge of Clay unspools like a kind of magic act in reverse"                    Wall Street Journal
"Bridge of Clay is one of those monumental books that can draw you across space and time into another family's experience in the most profound way."             Washington Post

The Kingfisher Secret by Anonymous
Her codename is Kingfisher. Her mission: to seduce and marry the most powerful man in the world.
October 2016: In America, the election is a few weeks away.
Journalist Grace Elliot has just landed a scoop that she believes will make her career.
A porn-star is willing to talk about her affair with the man some hope and many fear will become the next president of the United States.
But no one will touch it. Instead, Grace is sent to Europe where she discovers a story so big, so explosive that it could decide the American election and launch a new Cold War.
If she can stay alive long enough to tell it…
Spies, murder, and one of the biggests conspiracies theories of our time set the stage for this immersive thriller.
The Devil's Highway by Gregory Norminton
Three journeys. Three thousand years. One destination. The Devil's Highway is a thrilling, epic and timely tale of love, loss, fanaticism, heroism and sacrifice.
"Brilliant … a powerful meditation on the damages – and the good – we have wrought, and will wreak, on the living world."                   Robert Macfarlane, Book of the Year
His fingers fastened about Her stone. He brought it to the light and held it to his nose. There was lightning locked inside. He rolled the stone in his palm to give it the heat of his body. She had come to him, catching his eye where she lay among dull flints. She alone among the stones had spoken.
An ancient British boy, discovering a terrorist plot, must choose between his brother and his tribe.
In the twenty-first century, two men – one damaged by war, another by divorce – clash over their differing claims on the land, and a young girl is caught between them.
In the distant future, a gang of feral children struggles to reach safety in a burning world.
A Roman road, an Iron Age hill fort, a hand-carved flint, and a cycle of violence that must be broken.
As gripping as it is dazzling, The Devil's Highway is a bold and intimate novel that spans centuries and challenges our dearest assumptions about what it means to be civilised.
"Brilliant. The best treatment of climate change in fiction I've come across. A powerful, essential novel."                      George Monbiot
"In satisfyingly Alan Garneresque fashion, the cycle of stories – historical, contemporary and science fictional – implies a single underlying narrative of landscape; human behaviour echoes from time frame to time frame, through the same cautious liaisons and breakages of trust, the same muddles of love and prejudice, the same sense of family as central to survival."                  Guardian
"The Devils Highway is profound and powerful, its prose moving to poetry. Gregory Norminton writes in language scraped down to its bleached bones – but how exquisitely he makes those bones sing"              TLS
The Sisters of the Winter Wood by Rena Rossner
"Luscious and hypnotic . . . A gripping, powerful story of family, sisterhood. I gulped it down!"             Madeline Miller, author of Song of Achilles and Circe
Every family has a secret . . . and every secret tells a story.
In a remote village surrounded by forests on the border of Moldova and Ukraine, sisters Liba and Laya have been raised on the honeyed scent of their Mami's babka and the low rumble of their Tati's prayers. But when a troupe of mysterious men arrives, Laya falls under their spell – despite their mother's warning to be wary of strangers. And this is not the only danger lurking in the woods.
As dark forces close in on their small village, Liba and Laya discover a family secret passed down through generations. Faced with a magical heritage they never knew existed, the sisters realise the old fairy tales are true . . . and could save them all.
Captivating and boldly imaginative, Rena Rossner's debut invites you to enter a magical world of secrets, family ties and fairy tales weaving through history.
"[An] intricately crafted, gorgeously rendered debut . . . Full of heart, history, and enchantment."                        Publishers Weekly
Oblique Place by Caterina Pascual Söderbaum
"Caterina Pascual Söderbaum has left a major European literary work of art as her legacy."                Steve Sem-Sandberg, author of Emperor of Lies
The Oblique Place is a captivating journey of the imagination, a prize-winning novel that probes the ruinous legacies of Fascist Europe in the twentieth century.
The discovery of photographs in an album ­- of her Spanish grandfather who joined Hitler's Wehrmacht and her father in the uniform of Franco's army- leads Caterina Pascual Söderbaum to explore her family's links to some of the most abhorrent passages of twentieth-century history. Her mother turns out to be related to Kristina Söderbaum, a celebrated Swedish film star of the Third Reich, adored by Goebbels.
She travels with husband and child to the shores of the idyllic Attersee in Austria, where the officers of the extermination camps spent their holidays. The journey continues from Schloss Hartheim, where the staff of the Nazi euthanasia programme forgot, with the help of alcohol and sex, the horrors that took place there, to the Villa Saint-Jean, where malnourished children from France's internment camps were sent to recover.
This imaginative rediscovery of her own family's disturbing history is fused with vividly captured episodes from other lives and times, and the threads of evil that she lays bare are described in language so beautiful, so subtle and painterly, that her odyssey is at once shattering and mesmerising.
Vox by Christina Dalcher
"Intelligent, suspenseful, provocative, and intensely disturbing – everything a great novel should be."                Lee Child
"A novel ripe for the era of #MeToo."             Vanity Fair
Silence can be deafening.
Jean McClellan spends her time in almost complete silence, limited to just one hundred words a day. Any more, and a thousand volts of electricity will course through her veins.
Now the new government is in power, everything has changed. But only if you're a woman.
Almost overnight, bank accounts are frozen, passports are taken away and seventy million women lose their jobs. Even more terrifyingly, young girls are no longer taught to read or write.
For herself, her daughter, and for every woman silenced, Jean will reclaim her voice. This is only the beginning…
"A petrifying re-imagining of The Handmaid's Tale in the present, and a timely reminder of the power and importance of language."                        Elle
"I can't remember the last time I read a book quite this thrilling. VOX is, like all the best dystopian novels, razor sharp and terrifyingly plausible. It is extraordinary."                   LOUISE O'NEILL
Non-fiction
Call Them by Their True Names: American Crises (and Essays) by Rebecca Solnit
Beginning with the election of Donald Trump ("The Loneliest Man in the World") and expanding back and forth into American history, surveillance, violence against the individual, the denormalising of misogyny and the rehumanising of public space. The ultimate focus of the book is climate and feminist activism, bringing Solnit's trademark deep analysis to bear on a range of contemporary crises. And again, and spectacularly, she shows us how to hope.
"Rebecca Solnit is essential feminist reading."                       New Republic
"Solnit's exquisite essays move between the political and the personal, the intellectual and the earthy."                    Elle
In this powerful and wide-ranging collection, Solnit turns her attention to battles over meaning, place, language, and belonging at the heart of the defining crises of our time. She explores the way emotions shape political life, electoral politics, police shootings and gentrification, the life of an extraordinary man on death row, the pipeline protest at Standing Rock, and the existential threat posed by climate change.
The work of changing the world sometimes requires changing the story, the names, and inventing or popularizing new names and terms and phrases. Calling things by their true names can also cut through the lies that excuse, disguise, avoid, or encourage inaction, indifference, obliviousness in the face of injustice and violence.
The Echo of a Noise: A Memoir by Pieter-Dirk Uys
This is Pieter-Dirk Uys unpowdered. No props, no false eyelashes, no high heels …
South African icon Pieter-Dirk Uys has been on stage over 7 000 times. In this funny and tender memoir, Uys reveals the person behind the persona. We meet his forbidding, musically driven Afrikaner father, his brilliant but troubled mother, and Sannie Abader, his Cape Flats ma who raised him in Pinelands, Cape Town.
Filled with photographs from the family album and 40 years of satire, The Echo of a Noise also features Pieter's Paarlse ouma, his strudel-baking German Oma, his devotion to Sophia Loren, the invention of Evita Bezuidenhout, and the joys and sorrows of a remarkable life.
Pieter-Dirk Uys is a South African legend, along with his fictional counterpart, Evita Bezuidenhout. He has written and performed more than 50 plays and revues throughout South Africa and abroad; he is featured on television, online and in documentaries. He has written several topselling books, including cookery books like Evita's Kossie Sikelela.  In 2017, Nobody Died Laughing, an award-winning feature film about Uys was released. The publication of his memoir coincides with the run of an eponymous show, which is being performed locally as well as internationally in 2018.
And then Mama Said by Tumi Morake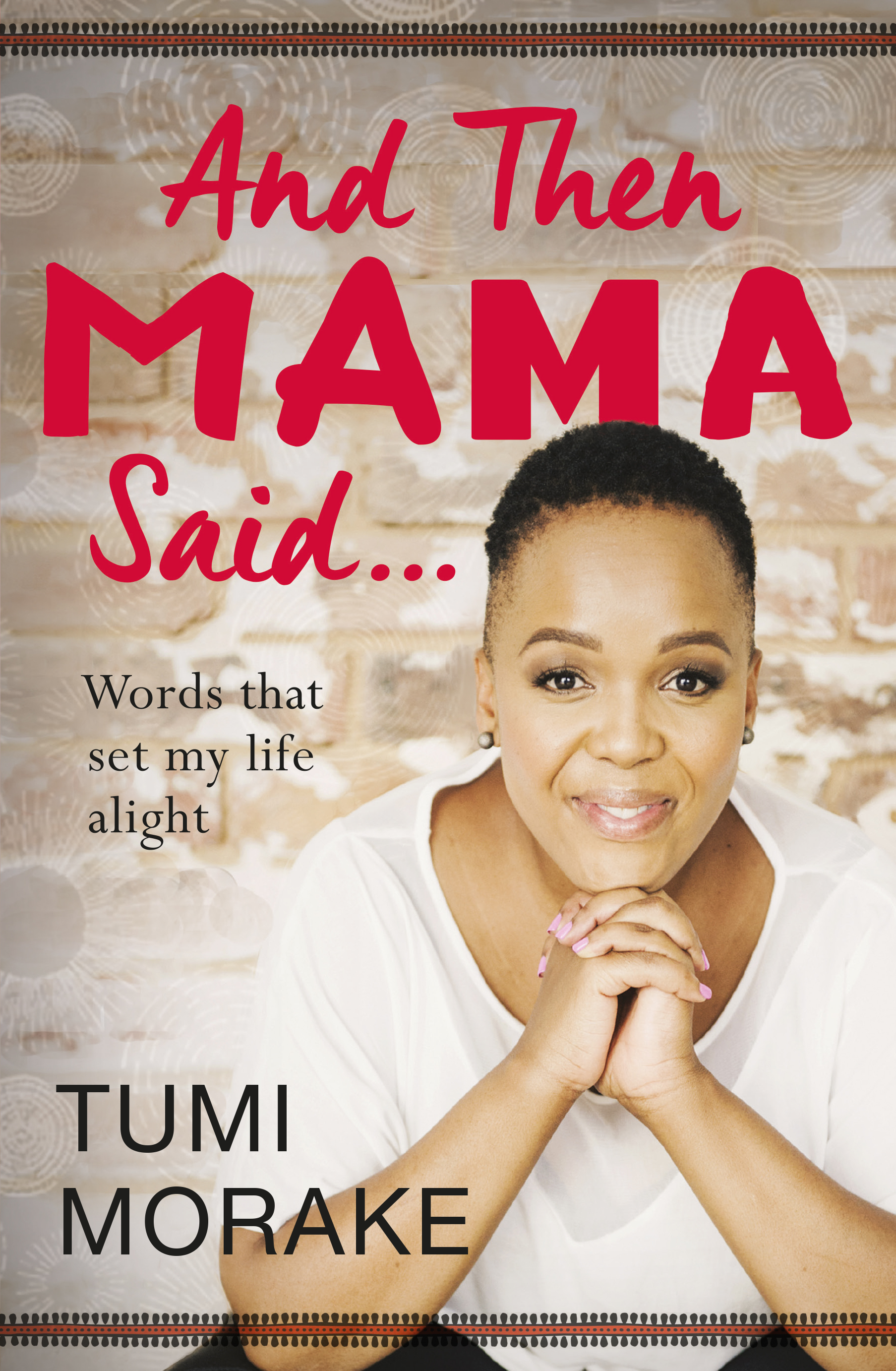 Tumi Morake modelled her public persona on her mother, a charming and contentious woman who used her big, bold voice to say what others were afraid to utter. It's the personality that Tumi took on stage in the mostly male space of stand-up comedy, and the one that gave her the courage to join a white, Afrikaans radio station and comment about apartheid on air.
But there's only so much you can find out about Tumi from the stage, the screen and the internet. And Then Mama Said…  is the voice of Tumi in private, as well as a behind-the scenes perspective of a pioneering South African star who has been both deeply loved and viciously hated by her audiences.
Tumi gets frank about the race row at Jacaranda FM; the Jaguar car accident that cyber bullies said she deserved; the body-shaming she endured on the set of Our Perfect Wedding; and her tumultuous relationship with her beloved husband. Throughout her story, she carries the voice of her mother, and with it the indispensable life lessons that made her who she is today.
The Shoemaker and His Daughter by Conor O'Clery
"[A] superb, illuminating book … A memoir of great power and poignancy."                       Peter Hitchens,
The Soviet Union, 1962. Shoemaker Stanislav Suvorov is imprisoned for five years. His crime? Selling his car for a profit, contravening the Kremlin's strict laws of speculation. Laws which, thirty years later, his daughter Zhanna helps to unravel. In the new Russia, yesterday's crime is today's opportunity.
On his release from prison, social shame drives Stanislav to voluntary exile in Siberia, moving his family from a relatively comfortable, continental life in Grozny, the capital of Chechnya, to frigid, farthest-flung Krasnoyarsk. For some, it is the capital of the gulag. For others, it is the chance to start over again.
These are the last days of a Soviet Union in which the Communist Party and KGB desperately cling to power, in which foreigners are unwelcome and travel abroad is restricted, where the queues for bread are daily and debilitating and where expressing views in favour of democracy and human rights can get you imprisoned or sent into exile.
The Shoemaker and His Daughter takes in more than eighty years of Soviet and Russian history through the prism of one family – a family author Conor O'Clery knows well: he is married to Zhanna. It paints a vivid picture of a complex part of the world at a seismic moment in its history: of erratic war and uneasy peace; of blind power and its frequent abuse; of misguided ideologies and stifling bureaucracy; of the slow demise of Communism and the chaotic embrace of capitalism. The Suvorovs witness it all. Both intimate and sweeping in scale, this is a story of ordinary lives battered and shaped by extraordinary times.
"Conor O'Clery is a legend among foreign correspondents. Over four decades – in Russia, the Middle East, Africa and Asia – he has established himself as a voice of wit, close observation, and sane good sense. His new book will be welcomed by everyone who cares about good writing, and about the human stories that enable us to understand the great movements of world history."                        Richard Lloyd Parry
"Conor O'Clery's latest book is a tour de force – a sweeping account of the turbulent decades of the Soviet Union and the new Russia, told through the prism of a Russian-Armenian family."                  Luke Harding, #1 New York Times bestselling author of Collusion: How Russia Helped Trump Win the White House

"This is not a book about heroic dissidents or murderous fanatics, but about everyday people trying to navigate a system that frustrates them yet provides them with priceless opportunities…Enchantingly written, thoughtfully structured and a model for all the other journalists who pass through Moscow."                    Economist
In My Mind's Eye: A Thought Diary by Jan Morris
"Morris is one of Britain's greatest living writers."              The Times
"Fascinating … valuable and rare. This book is a writer's constitutional."                  Observer
'I have never before in my life kept a diary of my thoughts, and here at the start of my ninth decade, having for the moment nothing much else to write, I am having a go at it. Good luck to me.'
So begins this extraordinary book, a collection of diary pieces that Jan Morris wrote for the Financial Times over the course of 2017.
A former soldier and journalist, and one of the great chroniclers of the world for over half a century, she writes here in her characteristically intimate voice – funny, perceptive, wise, touching, wicked, scabrous, and above all, kind – about her thoughts on the world, and her own place in it as she turns ninety. From cats to cars, travel to home, music to writing, it's a cornucopia of delights from a unique literary figure.
"How does one write well? How do you become A Writer?…I have a new answer to that question. Read this book."                 Horatio Clare
"Captivating … it kept this reader nodding and chuckling along to the last page. After closing the book I felt bereft of Morris' company and her chummy, conversational style."                     Sunday Herald

I Beg to Differ by Peter Storey
'Let me say to Mr Botha: apartheid is doomed! It has been condemned in the Councils of God, rejected by every nation on the planet and is no longer believed in by the people who gave it birth. Apartheid is the god that has failed … let not one more sacred life be offered on its blood-stained altar…'
This is what Bishop Peter Storey preached in 1986. Challenging apartheid wherever he could, he led the Methodist Church of Southern Africa into what many white congregants saw as uncomfortable 'political' territory.
Join him in his inspiring journey from sailor-turned-minister to the South African Council of Churches leadership in its darkest hour, from tending to Robert Sobukwe and Nelson Mandela on Robben Island, through the forced removals of District Six and to the storm surrounding Stompie Seipei's murder. I Beg to Differ spans a humble parish minister's sorrows and joys, his founding of Life Line SA, the bombing of Khotso House, a close shave with death with Archbishop Desmond Tutu, and the Truth and Reconciliation Commission. In his own words, Storey shares his convictions that inspired him to speak out and minister fearlessly amid the teargas, violence and intimidation of the apartheid regime.
"Storey is one of the midwives of the freedom and democracy we cherish today."             Thuli Madonsela
"One of the most compelling, compassionate and courageous accounts yet of a life lived under apartheid. It's a thriller – I read the book in one sitting."             Jonathan Jansen
Rainbow Nation My Zulu Arse by Sihle Khumalo
After exploring more than twenty other African nations using only public transport, Sihle Khumalo this time roams within the borders of his own country. The familiarity of his own car is a luxury, but what he finds on his journey through South Africa ranges from the puzzling to the downright bizarre. Voyaging from the northernmost part of South Africa right to the south, the author noses his car down freeways and back roads into small towns, townships, and villages, some of which you'll have trouble finding on a map.
But this is no clichéd description of beautiful landscapes and blue skies. Khumalo is out to investigate the state of the nation, from its highest successes to its most depressing failures. Whether or not he's baffled, surprised, or sometimes plain angry, Sihle Khumalo will always find warmth in his fellow South Africans: security guards, religious visionaries, drunks, political activists and the many other colourful personalities that come alive in his riveting account.
Breaking News: The Remaking of Journalism and Why it Matters by Alan Rusbridger
We are living through the greatest communication revolution since Gutenberg. In Breaking News Alan Rusbridger offers an open, personal and agenda-setting account of how we arrived at the news world of today.
The President of the United States regularly lies to the public and accuses anyone who criticisms him of being fake. Politicians openly rubbish the views of 'so called experts', dissemble and mislead. So how do we hold those in power accountable? Fox News, Breitbart Media and the Murdoch papers peddle views not news, pushing politically-motivated agendas. So, where can we look for reliable, verifiable sources of news and information? What does it mean for democracy? And what will the future hold?
Reflecting on his twenty years as editor of the Guardian and his experience of breaking some of the most significant news stories of our time, including the Edward Snowden revelations, phone-hacking, wikileaks and the Keep in the Ground campaign, Rusbridger answers these questions and offers a stirring defence of why quality journalism matters now more than ever.
"[Rusbridger] has written a book of breathtaking range . . . The brilliant Breaking News is essential – and entertaining – reading"                       Harold Evans, Observer
"The book [Rusbridger] has written is eloquent in its argument for well-resourced journalism, and never better than in its central narrative of how an old profession struggled to cope with a new technology that threatened it with obsolescence"              Ian Jack, Guardian
"It was my good luck – and the world's – that Alan Rusbridger was the Guardian's editor when powerful governments tried to prevent the paper from revealing that they had deceived and disempowered their citizens. Alan is a fearless defender of the public interest who has had a singular career in journalism. His book is an urgent reminder that there is still a place for real journalism – indeed, our democracies depend on it"                      EDWARD SNOWDEN

"Alan Rusbridger is one of the most important journalists of his generation . . . this book needs to be read"                   Independent

Letters to Change the World: From Pankhurst to Orwell by Travis Elborough
"We know through painful experience that freedom is never voluntarily given by the oppressor; it must be demanded by the oppressed."                      Martin Luther King
In an era where the liberties we often take for granted are under threat, Letters To Change the World is a collection of inspiring letters offering reminders from history that standing up for and voicing our personal and political beliefs is not merely a crucial right but a duty if we want to change the world.
Edited by Travis Elborough, the collection includes George Orwell's warning on totalitarianism, Martin Luther King's 'Letter from a Birmingham Jail', Albert Camus on the reasons to fight a war, Bertrand Russell on peace, Emmeline Pankhurst rallying her suffragettes, Nelson Mandela's letter to his children from prison and Time's Up on the abuse of power.
"Visionaries, idealists and ordinary citizens speak out in this remarkable, timely anthology… At a time of political uncertainty, the collection demonstrates the importance of speaking truth to power."                     Guardian
The Secret Life of Language by Sarah Pulleyn
This book looks at how language has evolved around the globe from ancestral proto-languages to our recognisable modern tongues. It demonstrates how language has been shaped by social and cultural influences, and even explains how our anatomy affects the articulation, and therefore evolution, of words. Discover the surprising stories behind the
origin of the written word, the difficulties of decipherment and the challenge of inventing from scratch languages such as Dothraki.
Combining expert analysis with accessible narrative and fun illustrations, The Secret Life of Languagemakes even the complex topics of philology, morphology and phonology easy to understand.
On Sheep: Diary of a Swedish Shepherd by Axel Linden
"Axel Lindén is a shepherd-philosopher with James Herriot's knack for mishap and an almost Chekhovian deadpan humour."                       Observer
"Endearing and liberating."       Idler Magazine
Why do we keep sheep? Alex Lindén ruminates as he watches his sheep ruminating. Naive and inexperienced, he has ditched his doctoral studies in order to move to a fully working farm in the country with his family, where he is tasked with the responsibility of caring for a herd of sheep.
Lindén records his new life in his diary, as he tries to manage life on the farm, the ever-escaping sheep and the trials and tribulations that come with being a shepherd – shearing, lambing and confronting the slaughterhouse.
As time passes and he gradually settles into the rhythm of shepherding, his naiveté fades away and is replaced with stark realisations about what is now his everyday life. He finds himself applying his experiences of animal husbandry to consider our place – as individuals and as a collective organism – in the universe. Is he really the one caring for the sheep, or are they the ones keeping him? Lindén finds both companionship in his flock and a sound, if complex, moral framework for examining the lives we lead.
"A lovely read; humorous and thoughtful."              Culturefly
Mathematics of the Breath and the Way: The Writing Life by Charles Bukowski
In The Mathematics of the Breath and the Way, Charles Bukowski considers the art of writing, and the art of living as writer. Bringing together a variety of previously uncollected stories, columns, reviews, introductions, and interviews, this book finds him approaching the dynamics of his chosen profession with cynical aplomb, deflating pretentions and tearing down idols armed with only a typewriter and a bottle of beer.
From numerous tales of the author's adventures at poetry readings, parties, film sets, and bars, to an unprecedented gathering of Bukowski's singular literary criticism, the author discusses his writing practices and his influences. The Mathematics of the Breath and the Way is a perfect guide to the man behind the myth and the disciplined artist behind the boozing brawler.
A previously unpublished collection of work on the art of writing – by one of the twentieth century's greatest writers
"He brought everyone down to earth, even the angels."                         Leonard Cohen
"He was a man challenging the world, both with fists and words, a provocateur of amazing abilities"                    Los Angeles Times
Giants: The Global Power Elite by Peter Phillips
There is a new global elite at the controls of our economic future, and here former Project Censored director and media monitoring sociologist Peter Phillips unveils for the general reader just who these players are. The book includes such power players as Mark Zuckerberg, Bill Gates, Jeff Bezos, Jamie Dimon, and Warren Buffett. As the number of men with as much wealth as half the world fell from sixty-two to just eight between January 2016 and January 2017, according to Oxfam International, fewer than 200 super-connected asset managers at only 17 asset management firms each with well over a trillion dollars in assets under management now represent the financial core of the world's transnational capitalist class. Members of the global power elite are the management "the facilitors" of world capitalism.
"Adam Smith warned that the 'masters of mankind' will pursue their 'vile maxim: All for ourselves, and nothing for other people.' There could hardly be a more apt description of the recent era of savage capitalism, straining for new heights under cover of Trump's antics. Who exactly are the masters? This remarkable inquiry lifts the veil, providing detailed and often shocking revelations about the astonishing concentration of private wealth and corporate power, its institutions and integrated structure–and not least, its threat to civilized and humane existence."               Noam Chomsky
"Peter Phillips's book is a timely reminder that as the transnational capitalist class/global power elite changes it is vital that critical researchers keep up with these changes. The reader will find impressive documentation of the institutions and personnel driving capitalist globalization in its destructive and relentless search for growth and profits."                      Leslie Sklair, Emeritus Professor of Sociology, London School of Economics and Political Science
Stories
Everyday People: The Colour of Life edited by Jennifer Baker
"A delight and highly recommended."                        Booklist
In the tradition of Best American Short Stories comes Everyday People: The Color of Life, a dazzling collection of contemporary short fiction.
Everyday People is a thoughtfully curated anthology of short stories that presents new and renowned work by established and emerging writers of color. It illustrates the dynamics of character and culture that reflect familial strife, political conflict, and personal turmoil through an array of stories that reveal the depth of the human experience.
Representing a wide range of styles, themes, and perspectives, these selected stories depict moments that linger—crossroads to be navigated, relationships, epiphanies, and times of doubt, loss, and discovery. A celebration of writing and expression, Everyday People brings to light the rich tapestry that binds us all.
"An excellent sampling of some of the most exciting voices in literature from the past two decades and beyond that will leave readers with plenty of authors to revisit or discover."               Publishers Weekly
Fierce Fairytales: And Other Stories to Stir Your Soul by Nikita Gill
Poet, writer, and Instagram sensation Nikita Gill returns with a collection of fairytales poetically retold for a new generation of women.
Traditional fairytales are rife with clichés and gender stereotypes: beautiful, silent princesses; ugly, jealous, and bitter villainesses; girls who need rescuing; and men who take all the glory.
But in this rousing new prose and poetry collection, Nikita Gill gives Once Upon a Time a much-needed modern makeover. Through her gorgeous reimagining of fairytale classics and spellbinding original tales, she dismantles the old-fashioned tropes that have been ingrained in our minds. In this book, gone are the docile women and male saviors. Instead, lines blur between heroes and villains. You will meet fearless princesses, a new kind of wolf lurking in the concrete jungle, and an independent Gretel who can bring down monsters on her own.
Complete with beautifully hand-drawn illustrations by Gill herself, Fierce Fairytales is an empowering collection of poems and stories for a new generation.
"If you're not already familiar with Gill, you should be. The British-Indian writer has been called "the voice of the generation"–and with 441,000-and-counting followers on Instagram alone, she just might be."                    Bustle
Beautiful
Land of Stone Flowers: A Fairy Guide to the Mythical Human Being by Sveta Dorosheva
Classic fairytales get a refreshing satirical twist in this collection of illustrated stories in which gnomes, pixies, and other fairy folk share tall tales of the strange and unbelievable human world and its inhabitants. Brimming with keen observations and wild assumptions on human anatomy, customs, languages, rituals, dwellings, and more, The Land of Stone Flowers is as absurd as it is astounding, examining contradictory and nonsensical human behaviors through the lens of the fantastic: from the bewitching paper wizards who live in humans' wallets to their invisible hats, known as "moods," which cloud their view of the world. Bursting with intricate and evocative illustrations, The Land of Stone Flowers will draw readers into a world of fantasy and fable that slyly reveals many hidden truths about human existence.
"After reading The Land of Stone Flowers, you'll come away with a new appreciation for the magical world, for your own world, and for your place in it. And you'll learn to laugh a bit more at yourself and those around you. You may even start believing in magic. Magic that is invented in our minds and made real by our words and our pens. Magic that adds life to the human experience. Magic that touches even people like me who are strongly rooted in logic and objective truth…In the end, all I can say is, 'Wow.' This book is a masterpiece."                   GeekDad
Scrapers by Zack Scott
With this exquisite infographic masterpiece, Zack Scott explores in stunning detail the majestic constructions that humans have created on the surface of our own planet. A visual history of man's endeavours to reach higher and higher, through the construction of mind-blowing new buildings. Zack Scott takes us on an infographic journey from humankind's first attempts to touch the sky with their creations, to the modern masterpieces of architecture and engineering standing proudly across the globe. From Stonehenge to the Burj Khalifa; the Taj Mahal to the Shard, Zack shares the little-known facts and fascinating human stories behind the most incredible buildings in the world.
Theatre of the World: The Maps that Made History by Thomas Reinertsen Berg
"Fascinating…sumptuously produced with lots of full-colour images, is a kind of potted treasury of cartographical history that gleams with pieces-of-eight-like snippets of information…this is an enthralling book, and joins the likes of Simon Garfield's On the Map and Jerry Brotton's A History of the World in Twelve Maps in the field of popular reaffirmations of the ingenuity of geography."                        Travis Elborough, Spectator
"This wonderful book is a reminder of how much careful thought was given to the shape of the world even in ancient times – the landscape, how places are related to one another. I pored over these maps for hours, imagining those minds hard at work, visualising how it all connected as a whole. Just brilliant."                    Neil Oliver
Beautifully illustrated and rich in detail, Theatre of the World reignites our curiosity with the world both ancient and modern.
Before you could just put finger to phone to scroll Google Maps, in advance of the era of digital mapping and globes, maps were being constructed from the ideas and questions of pioneering individuals.
From visionary geographers to heroic explorers, from the mysterious symbols of the Stone Age to the familiar navigation of Google Earth, Thomas Reinertsen Berg examines the fascinating concepts of science and worldview, of art and technology, power and ambitions, practical needs and distant dreams of the unknown.
War Gardens: A Journey Through Conflict in Search of Calm by Lalage Snow
A journey through the most unlikely of gardens: the oases of peace people create in the midst of war
In this millennium, we have become war weary. From Afghanistan to Iraq, from Ukraine to South Sudan and Syria, from Kashmir to the West Bank, conflict is as contagious and poisonous as Japanese knotweed. Living through it are people just like us with ordinary jobs, ordinary pressures and ordinary lives. Against a new landscape of horror and violence it is up to them to maintain a modicum of normality and colour. For some, gardening is the way to achieve this.
Working in the world's most dangerous war zones, freelance war correspondent and photographer Lally Snow has often chanced across a very moving sight, a testimony to the triumph of the human spirit in adversity, a celebration of hope and beauty: a war garden. In Kabul, the royal gardens are tended by a centenarian gardener, though the king is long gone; in Camp Bastion, bored soldiers improvise tiny gardens to give themselves a moment's peace; on both sides of the dividing line in Jerusalem families tend groves of olives and raise beautiful plants from the unforgiving, disputed landscape; in Ukraine, families tend their gardens in the middle of a surreal, frozen war.
War Gardens is a surprising, tragic and beautiful journey through the darkest places of the modern world, revealing the ways people make time and space for themselves and for nature even in the middle of destruction. Illustrated with Lally Snow's own award-winning photography, this is a book to treasure.
"This extraordinary book…warm and engaging…like a photograph magicked to life."                Spectator
Art Matters by Neil Gaiman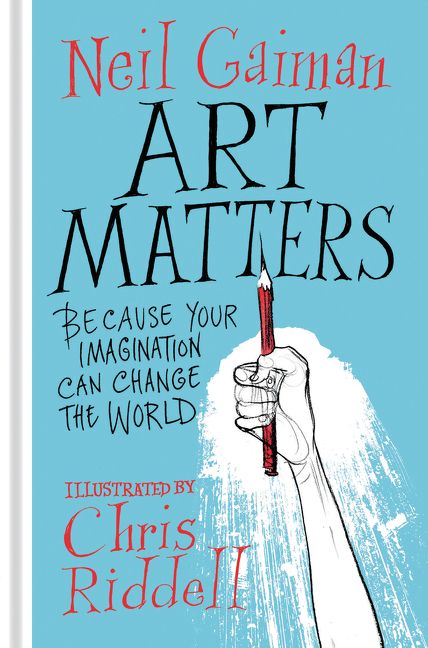 A creative call to arms from the mind of Neil Gaiman, combining his extraordinary words with deft and striking illustrations by Chris Riddell. Art Matters will inspire its readers to seize the day in the name of art.
'Like a bedtime story for the rest of your life, this is a book to live by. At its core, it's about freeing ideas, shedding fear of failure, and learning that "things can be different". ' – Institute of Imagination
Be bold. Be rebellious. Choose art. It matters.
Neil Gaiman once said that 'the world always seems brighter when you've just made something that wasn't there before'. This little book is the embodiment of that vision. Drawn together from speeches, poems and creative manifestos, Art Matters explores how reading, imagining and creating can change the world, and will be inspirational to young and old.