It's the time for giving – and what better gift for your nearest and dearest than a book!
The Book Lounge has assembled the list below of the wondrous and the witty to help you choose the perfect present. There is LOTS more instore, so do come in and consult one of our booksellers. Complimentary gift wrapping service available.
But first a look back at our Bestsellers for 2017
The President's Keepers by Jacques Pauw

The Ministry of Utmost Happiness by Arundhati Roy

Good Night Stories for Rebel Girls

Collective Amnesia by Koleka Putuma

Khwezi: The Remarkable Story of Fezekile Ntsukela Kuzwayo by Redi Tlhabi

Apartheid, Guns and Money by Hennie van Vuuren

Killing Karoline: A Memoir by Sara-Jayne King

Always Another Country by Sisonke Msimang

Reflecting Rogue: Inside the Mind of a Feminist by Pumla Dineo Gqola

Being Chris Hani's Daughter by Lindiwe Hani
And so to our Christmas Stocking…
Rijks: Masters of the Golden Age by Marcel Wanders
    An utterly exquisite homage to the 17th-century Dutch masterpieces from the Rijksmuseum's prestigious Gallery of Honour, with over 60 iconic paintings such as Rembrandt's Night Watch and Vermeer's The Milkmai.
Featuring writings of Ferran Adrià, David Allen, Alain de Botton, Anton Corbijn, Angela Missoni, Jimmy Nelson, Erwin Olaf and many more
Lavishly produced in genuine leather, beautiful hand-written calligraphy, and the finest printing technique and paper.
The Maths Behind…: Discover the Mathematics of Everyday Events by Colin Beveridge
Have you ever wondered why traffic jams often turn out to have no cause when you get to the end of the queue? There's a mathematical explanation for that. Or ever considered whether some lotteries might be easier to win than others? There's a formula for that too.
This intriguing and illuminating book takes a scientific view of your everyday world, and can give you the answers to all the niggling questions in your life, along with many you never even thought to ask. From the science behind roller coasters, to the maths behind how to consistently win at Monopoly (and become very unpopular with your family), this is a fascinating look at the mathematical forces that run beneath our everyday transactions.
Minds of Winter by Ed O'Loughlin
It begins with a chance encounter at the top of the world.
Fay Morgan and Nelson Nilsson have each arrived in Inuvik, Canada – 120 miles north of the Arctic Circle – searching for answers about a family member: Nelson for his estranged older brother, Fay for her disappeared grandfather. They soon learn that these two men have an unexpected link – a hidden share in one of the greatest enduring mysteries of polar exploration.
"An extraordinary tale that warps actual history into something conjoined, poetic and thrilling . . . [A] marvel of a novel. "                                Independent on Sunday
Literary Wonderlands: A Journey through the Greatest Fictional Worlds Ever Created by Laura Miller
Literary Wonderlands explores the timeless , captivating features of literature's greatest fictional worlds and the minds that created them. The book is comprised of nearly 100 sections, each of which details the plot of a famous fantasy world, the historical circumstances that surrounded its production. Roaming from classic tales including C.S. Lewis' The Chronicles of Narnia to Philip Pullman's His Dark Materials, this truly global collection chronicles over two thousand years of literary creation. Accompanied by stunning visuals that elucidate the production of each work, Literary Wonderlands is an enchanting read for anyone who has ever been transported to another place through the power of the written word.
The Mysterium: Unexplained and Extraordinary Stories for a Post-Nessie Generation by David Bramwell and Jo Keeling
A catalogue of the extraordinary, the strange and the downright creepy…

Discover the unexplained mysteries and unsettling oddities of the modern world, from a beach in British Columbia awash with human feet, to the 'tulpamancers' who claim to be channeling the living spirit of My Little Pony. Ponder terrifying thought experiments (can you think yourself to death?), and reflect on life's great questions (was the Garden of Eden located in Bedford?).
In The Mysterium David Bramwell and Jo Keeling (authors of The Oddirotium), present a user guide to the strange and unexplained corners of modern life. The Mysterium catalogues a host of bizarre, funny and intriguing stories for a post-Nessie generation still fascinated by the unknowable. Drawing on contemporary folklore, unsolved mysteries, and unsettling phenomena from the dark corners of the internet, this book celebrates the joy of asking questions and the thrill of finding answers which stop you dead in your tracks.
Bonfire by Krysten Ritter
It has been ten years since Abby Williams left home and scrubbed away all evidence of her small town roots. Now working as an environmental lawyer in Chicago, she has a thriving career, a modern apartment, and her pick of meaningless one-night stands.
But when a new case takes her back home to Barrens, Indiana, the life Abby painstakingly created begins to crack. With tantalising twists, slow-burning suspense, and a remote, rural town of five claustrophobic miles, Bonfire is a dark exploration of what happens when your past and present collide.
"A first-rate mystery resplendent with shadowy scenery, a tight plot and a lead character that is both fragile and strong"                                 Washington Post
The Penguin Book of Puzzles by Dr Gareth Moore
The ultimate stocking filler for the puzzle fanatic. A collection of challenges from throughout history, featuring some of the greatest ever puzzle masters . . .
————————–
A Sumerian Riddle (circa 18th Century)
There is a house. The blind enter it and then come out seeing. What is that house?
————————–
A Charade
I have wings, yet never fly – 
I have sails, yet never go – 
I can't keep still, if I try,
Yet forever stand just so.
————————–
From the riddles of the ancients to puzzles that perplex the greatest minds of today, The Penguin Book of Puzzles is a glorious compendium of conundrums from throughout history.
Gnomon by Nick Harkaway
"Nick Harkaway: bonkers, brilliant and hilarious … Effervescent, clever and entirely fantastic."        Sunday Times
"[Harkaway] is the missing, but somehow logical, link between David Mitchell and Terry Pratchett."       Independent
Near-future Britain is not just a nation under surveillance but one built on it: a radical experiment in personal transparency. Every action is seen, every word is recorded.
Diana Hunter is a refusenik, a has-been cult novelist who lives in a house with its own Faraday cage: no electronic signals can enter or leave.  Denounced, arrested and interrogated by a machine that reads your life history from your brain, she dies in custody.
Mielikki Neith is the investigator charged with discovering how this tragedy occurred.  Aided – or perhaps opposed – by the pale and paradoxical Regno Lönnrot, Neith must work her way through the puzzles of her case and find the meaning of these impossible lives. As the stories combine and the secrets and encryptions of Gnomon are revealed, the question becomes the most fundamental of all: who will live, and who will die?
The Well-Tempered City: What Modern Science, Ancient Civilizations, and Human Nature Teach Us about the Future of Urban Life by Jonathan F P Rose
Jonathan F. P. Rose—a visionary in urban development and renewal—champions the role of cities in addressing the environmental, economic, and social challenges of the twenty-first century.
Cities are birthplaces of civilization; centers of culture, trade, and progress; cauldrons of opportunity—and the home of eighty percent of the world's population by 2050
In The Well-Tempered City, Jonathan F. P. Rose—the man who "repairs the fabric of cities"—distills a lifetime of interdisciplinary research and firsthand experience into a five-pronged model for how to design and reshape our cities with the goal of equalizing their landscape of opportunity.
A celebration of the city and an impassioned argument for its role in addressing the important issues in these volatile times, The Well-Tempered City is a reasoned, hopeful blueprint for a thriving metropolis—and the future.
The White Book by Han Kang
Both the most autobiographical and the most experimental book to date from South Korean master Han Kang. Written while on a writer's residency in Warsaw, a city palpably scarred by the violence of the past, the narrator finds herself haunted by the story of her older sister, who died a mere two hours after birth. From the author of The Vegetarian and Human Acts comes a book like no other. The White Book is a meditation on colour, beginning with a list of white things. It is a book about mourning, rebirth and the tenacity of the human spirit. It is a stunning investigation of the fragility, beauty and strangeness of life.
200 Women: Who Will Change the Way You See the World
Interviews with 200 women from a variety of backgrounds provide a snapshot of female life around the globe. Each woman shares her unique reply to the same five questions: What really matters to you?, What brings you happiness?, What do you regard as the lowest depth of misery?, What would you change if you could?, and Which single word do you most identify with? With responses ranging from uplifting to heartbreaking, these women offer gifts of empowerment and strength-inviting us to bring positive change at a time when so many are fighting for basic freedom and equality. Each interview is accompanied by a photographic portrait, resulting in a volume that is compelling in word and image and global in its scope and resonance. This landmark book is published to coincide with an interactive website, building on this remarkable, ever-evolving project.
Chronicles of a Liquid Society by Umberto Eco
Umberto Eco was an international cultural superstar. A celebrated essayist as well as novelist, in this, his last collection, he explores many aspects of the modern world with irrepressible curiosity and wisdom.
A crisis in ideological values, a crisis in politics, unbridled individualism – the familiar backdrop to our lives: a 'liquid society' where it's not easy to find a polestar, though stars and starlets are not lacking.
In these pieces, written by Eco as articles for his regular column in l'Espresso magazine, he brings his dazzling erudition and keen sense of the everyday to bear on topics such as popular culture and politics, being seen, conspiracies, the old and the young, mobile phones, mass media, racism, good manners and the crisis in ideological values. It is a final gift to his readers – astute, witty and illuminating.
Blue Planet II by James Honeyborne and Mark Brownlow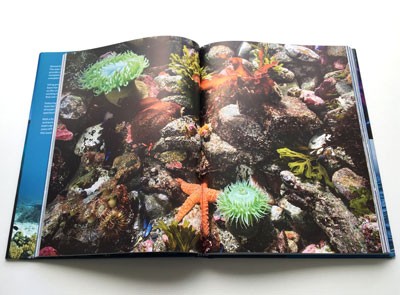 The perfect Christmas gift for the nature-lover in your life
Take a deep breath and dive into the mysteries of the ocean.
Our understanding of ocean life has changed dramatically in the last decade, with new species, new behaviours, and new habitats being discovered at a rapid rate. Blue Planet II, which accompanies an epic 7-part series on BBC1, is a ground-breaking new look at the richness and variety of underwater life across our planet.
Moonless Starless Sky: Ordinary Women and Men Fighting Extremism in Africa by Alexis Okeowo
"A rich and urgently necessary book."                    New York Times Book Review
In A Moonless, Starless Sky Okeowo weaves together four narratives that form a powerful tapestry of modern Africa: a young couple, kidnap victims of Joseph Kony's LRA; a Mauritanian waging a lonely campaign against modern-day slavery; a women's basketball team flourishing amid war-torn Somalia; and a vigilante who takes up arms against the extremist group Boko Haram. This debut book by one of America's most acclaimed young journalists illuminates the inner lives of ordinary people doing the extraordinary–lives that are too often hidden, underreported, or ignored by the rest of the world.
The Illustrated Dust Jacket: 1920-1970 by Martin Salisbury
  A deep dive into the history of the illustrated book jacket, tracing its development across the twentieth century, reflecting some of the most iconic designs of the era.
In the modern era, the "beautiful book," an art object in its own right, has become the key to the ongoing attraction of print publishing as physical books continue to distinguish themselves from the screen.
The middle decades of the twentieth century saw an extraordinary flourishing of the illustrated, pictorial dust jacket. From the 1920s, as the potential for the book's protective wrapping to be used for promotion and enticement became clear, artists and illustrators on both sides of the Atlantic applied their talents to this particular art form. Rising to the wide-ranging challenges posed by format and subject matter, leading artists and illustrators, brought their unique personal vision to bear on the world of books.
A selection of dust jackets – both known and too long forgotten – for each artist reveals how far the book as an artefact had travelled from the days of the plain wrapper in the nineteenth century.
Becoming Myself: A Psychiatrist's Memoir by Irvin D Yalom
"When Yalom publishes something – anything – I buy it, and he never disappoints. He's an amazing storyteller, a gorgeous writer, a great, generous, compassionate thinker, and – quite rightly – one of the world's most influential mental healthcare practitioners."                   Nicola Barker, Guardian Best Books of 2017
Irvin D. Yalom has made a career of investigating the lives of others. In Becoming Myself, his long-awaited memoir, he turns his therapeutic eye on himself, delving into the relationships that shaped him and the groundbreaking work that made him famous.
The Company of Trees by Thomas Pakenham
Thomas Pakenham is an indefatigable champion of trees. In The Company of Trees he recounts his personal quest to establish a large arboretum on the family estate, Tullynally in Ireland; his forays to other tree-filled parks and plantations; his often hazardous seed-hunting expeditions; and his efforts to preserve magnificent old trees and historic woodlands.
Whether writing about the terrible storms breaking the backs of hundred-year-old trees or a fire in the peat bog on Tullynally which threatens to spread to the main commercial spruce-woods, his fear of climate change and disease, or the sturdy young saplings giving him hope for the future, his book is never less than enthralling.
First Person by Richard Flanagan
A young and penniless writer, Kif Kehlmann, is rung in the middle of the night by the notorious con man and corporate criminal, Siegfried Heidl. About to go to trial for defrauding the banks of $700 million, Heidl proposes a deal: $10,000 for Kehlmann to ghostwrite his memoir in six weeks.
Kehlmann accepts but begins to fear that he is being corrupted by Heidl. As the deadline draws closer, he becomes ever more unsure if he is ghostwriting a memoir, or if Heidl is rewriting him―his life, his future. Everything that was certain grows uncertain as he begins to wonder: who is Siegfried Heidl―and who is Kif Kehlmann?
By turns compelling, comic and chilling, First Person is a haunting journey into the heart of our age.
"A black comedy about the unreliability of memory and the warped values of modern publishing… the beauty of First Person is the way it blossoms into a much richer novel than that outline scenario suggests…. readable and thought-provoking."                        Max Davidson, Mail on Sunday
Nowherelands: An Atlas of Vanished Countries 1840-1975 by Bjorn Berge
These are the stories of fifty countries that once existed – however briefly – but have now have been erased from the map. Varying vastly in size and shape, location and longevity, they are nonetheless united by one fact: all of them endured long enough to issue their own stamps. Drawing on fiction and eye-witness accounts as well as historical sources, Bjørn Berge's witty text casts an unconventional eye on these lesser-known nations, teasing out informative anecdotes and fascinating facts. At a time when issues of sovereignty and statehood are filling the media once again, this is a different kind of history book that will intrigue anyone keen to understand what makes a nation a nation.
Nudes: Addressing and Undressing My Truth by Siyanda Kakana
"When it comes to domestic violence, the focus is usually on the abuser and the victim, we seldom consider the effect domestic violence had on children growing up in such an environment. The trauma and fear experienced by a child witnessing a mother being physically abused by the father can scar any child for a lifetime. In my book, I give personal accounts on how I was affected by growing up in that kind of environment. The journey is tumultuous and emotional as I struggled with many issues from my early teen years into my mid-twenties. I wrote my book to break the culture of silence, to live free from the guilt and shame. I wrote my book so we can have these discussions and not indirectly breed the next generation of abuser and victims of abuse. I wrote my book for women who've found themselves stuck in a constant cycle of toxic relationships with men. But most importantly, I wrote this book so that we can heal from the pain of our past and to gain strength from things which were meant to break us."
Stolen Beauty: A Novel by Laurie Lico Albanese
From the dawn of the twentieth century to the devastation of World War II, this exhilarating novel of love, war, art and family gives voice to two extraordinary women and brings to life the true story behind the creation and near destruction of Gustav Klimt's most remarkable paintings.
In the dazzling glitter of 1903 Vienna, Adele Bloch-Bauer–young, beautiful, brilliant, and Jewish–meets painter Gustav Klimt. Though they enjoy a life where sex and art are just beginning to break through the facade of conventional society, the city is also troubled by a disturbing increase in anti-Semitism as political hatred simmers in the shadows of Adele's coffeehouse afternoons and cultural salons.
Nearly forty years later, Adele's niece Maria Altmann is a newlywed when the Nazis invade Austria–and overnight, her beloved Vienna becomes a war zone. When her husband is arrested Maria must summon the courage and resilience that is her aunt's legacy if she is to survive and keep her loved ones alive. Will Maria and her family escape the grip of Nazi rule? And what will become of the paintings for which her aunt sacrificed nearly everything?
"Laurie Lico Albanese has given us a powerful and important tale of love and war, art and family. Filled with lush prose and vivid historical detail, Stolen Beauty is a work simultaneously intimate and sweeping in its scope. I was transported; I loved being swept up into the glorious, golden era of fin de siecle Vienna."                       Allison Pataki
Bantam: Poems by Jackie Kay
Jackie Kay's first collection as Scottish Makar is a book about the fighting spirit – one, the poet argues, that we need now more than ever. Bantam brings three generations into sharp focus – Kay's own, her father's, and his own father's – to show us how the body holds its own story. Kay shows how old injuries can emerge years later; how we bear and absorb the loss of friends; how we celebrate and welcome new life; and how we how we embody our times, whether we want to or not.
Bantam crosses borders, from Rannoch Moor to the Somme, from Brexit to Bronte country. Who are we? Who might we want to be? These are poems that sing of what connects us, and lament what divides us; poems that send daylight into the dark that threatens to overwhelm us – and could not be more necessary to the times in which we live.
Phantom Architecture by Philip Wilkinson
A skyscraper one mile high, a dome covering most of downtown Manhattan, a triumphal arch in the form of an elephant: some of the most exciting buildings in the history of architecture are the ones that never got built.
These are the projects in which architects took materials to the limits, explored challenging new ideas, defied conventions, and pointed the way towards the future. Some of them are architectural masterpieces, some simply delightful flights of fancy. It was not usually poor design that stymied them – politics, inadequate funding, or a client who chose a 'safe' option rather than a daring vision were all things that could stop a project leaving the drawing board.
The Element in the Room: Science-y Stuff Staring You in the Face by Helen Arney
"These nerds are the real deal."                 Ben Goldacre, author of Bad Science
Why is it impossible to spin your right foot clockwise while you draw a 6 with your right hand?

Can you extract DNA from a strawberry daiquiri?
The Element in the Room will take you on a rib-tickling, experiment-fuelled adventure to explain everyday science that is staring you in the face. If you are sci-curious, pi-curious or just the-end-is-nigh-curious then this is the book for you.
Collusion: How Russia Helped Trump to Win the White House by Luke Harding
MOSCOW, July 1987. Real-estate tycoon Donald Trump visits Soviet Russia for the first time at the invitation of the government.
LONDON, December 2016. Luke Harding meets former MI6 officer Christopher Steele to discuss the president-elect's connections with Russia. Harding follows two leads; money and sex.
WASHINGTON, January 2017. Steele's explosive dossier alleges that the Kremlin has been 'cultivating, supporting, and assisting' Trump for years and that they have compromising information about him. Trump responds on twitter, 'FAKE NEWS.'
In Collusion, award-winning journalist Luke Harding reveals the true nature of Trump's decades-long relationship with Russia and presents the gripping inside story of the dossier. It features exclusive new material and draws on sources from the intelligence community. This book gets to the heart of the biggest political scandal of the modern era. Russia is reshaping the world order to its advantage; this is something that should trouble us all.
The Darkest Day by Håkan Nesser
It's December in the quiet Swedish town of Kymlinge, and the Hermansson family are gathering to celebrate father Karl-Erik and eldest daughter Ebba's joint landmark birthdays. But beneath the guise of happy festivities, tensions are running high, and it's not long before the night takes a dark and unexpected turn . . .
Before the weekend is over, two members of the Hermansson family are missing, and it's up to Inspector Barbarotti – a detective who spends as much of his time debating the existence of God as he does solving cases – to determine exactly what has happened. And he soon discovers he'll have to unravel a whole tangle of sinister family secrets in the process . . .
Fools and Mortals by Bernard Cornwell
In the heart of Elizabethan England, Richard Shakespeare dreams of a glittering career in one of the London playhouses, a world dominated by his older brother, William. But he is a penniless actor, making ends meet through a combination of a beautiful face, petty theft and a silver tongue.
So when a priceless manuscript goes missing, suspicion falls upon Richard, forcing onto a perilous path through a bawdy and frequently brutal London.
Fools and Mortals is a richly portrayed tour de force with all Bernard Cornwell's hallmark storytelling and a remarkable cast of characters: you walk the streets, explore the palaces, experience the scandals, rivalries and fierce ambitions, and stand side-by-side with the men and women of Elizabethan London.
Journey: An Illustrated History of Exploration and Travel
A lavishly illustrated account of human travel from the voyages of the Vikings to the flight to the Moon.
Journeys have arisen from all manner of impulse, from migration and the search for food, to pilgrimages, trade, scientific curiosity, or simply the quest for adventure. Journey is a stunning visual guide to the stories of human movement and endeavour, from The Silk Road to the epic Voyager missions. Discover ancient maps, biographies of conquerors, explorers, and travellers, stories of scientific discovery and technological innovation, stunning works of art, and catalogues of travel-related memorabilia.
Bumper Book of Things That Nobody Knows: 1001 Mysteries of Life, the Universe and Everything by William Hartston
A witty and fascinating exploration of the limits of human knowledge of our planet, its history and culture, and the universe beyond.
There are many, many things that nobody knows…
Do animals have a sense of humour? Why do we have five fingers? What did Jesus do in his youth? Has human evolution stopped? Can robots become self-aware? What goes on inside a black hole?
Bringing together The Things That Nobody Knows and Even More Things That Nobody Knows, this bumper volume takes us on a guided tour of 1,001 gaps in our knowledge of cosmology, mathematics, animal behaviour, medical science, music, art and literature.
The Standing Chandelier by Lionel Shriver
When Weston Babansky receives an extravagant engagement present from his best friend (and old flame) Jillian Frisk, he doesn't quite know what to make of it – or how to get it past his fiancée. Especially as it's a massive, handmade, intensely personal sculpture that they'd have to live with forever.
As the argument rages about whether Jillian's gift was an act of pure platonic generosity or something more insidious, battle lines are drawn…
Can men and women ever be friends? Just friends?
"Impressively sweeping… Shriver's intelligence, mordant humour and vicious leaps of imagination all combine to make this a novel that is as unsettling as it is entertaining in its portrait of the cataclysmic unravelling of the American dream."                      Financial Times
Secret Lives of Monks: From Atheism to the Zombie Apocalypse by David Waywell
Lo! On the second day, God said: let there be light entertainment. And thus were monks created!
A book for atheists, agnostics, and perhaps a few believers too, The Secret Lives of Monks is your chance to join the only cult that promises more fun than a deep-sea baptism.
The monks might not help you save your soul but with their mixture of philosophy, stupidity, wit and irreverence, they might just make you laugh.
A Foot in the River: Why Our Lives Change and the Limits of Evolution by Felipe Fernández-Armesto
We are a weird species. Like other species, we have a culture. But by comparison with other species, we are strangely unstable: human cultures self-transform, diverge, and multiply with bewildering speed. They vary, radically and rapidly, from time to time and place to place. And the way we live ― our manners, morals, habits, experiences, relationships, technology, values ― seems to be changing at an ever accelerating pace. The effects can be dislocating, baffling, sometimes terrifying. Why is this? In A Foot in the River, best-selling historian Felipe Fernández-Armesto sifts through the evidence and offers some radical answers to these very big questions about the human species and its history ― and speculates on what these answers might mean for our future.
A revolutionary book which challenges scientistic assumptions about culture and how and why cultural change happens, A Foot in the River comes to conclusions which readers may well find by turns both daunting and also potentially hugely liberating.
"A mix of wide and deep learning and rigorous argument, beautifully written … [a] delightful and indispensable book."                 John Gray, Literary Review
Lost Kingdom: A History of Russian Nationalism from Ivan the Great to Vladimir Putin by Serhii Plokhy
An astonishingly wide-ranging history of Russian nationalism chronicling Russia's yearning for Empire and how it has affected its politics for centuries
In 2014, Russia annexed Crimea and attempted to seize a portion of Ukraine. While the world watched in outrage, this violation of national sovereignty was in fact only the latest iteration of a centuries-long effort to expand Russian boundaries and create a pan-Russian nation. In Lost Kingdom, award-winning historian Serhii Plokhy argues that we can only understand the merging of imperialism and nationalism in Russia today by delving into its history.
Spanning over two thousand years, from the end of the Mongol rule to the present day, Plokhy shows how leaders from Ivan the Terrible to Joseph Stalin to Vladimir Putin have exploited existing forms of identity, warfare and territorial expansion to achieve imperial supremacy.
"Lost Kingdom tells the story of how the history of Russia was being written when that history was being made. . . A singularly fascinating account of Russian nationalism through the ages."              Financial Times
Hollow Woods: Storytelling Card Game
Fire your imagination with these fun storytelling cards. Reviving the Victorian craze for 'myrioramas', the 20 picture cards can be placed in any order to create seamless scenes. Almost infinite combinations of cards provide endless storyscaping possibilities. Traverse an enchanted landscape as you build a perpetual panorama inhabited by fire-breathing dragons, magical unicorns and sinister shadow figures. With many games to play and millions of stories to tell, each turn of the card is a new adventure. Where will the story take you? Over 2.4 quintillion storytelling possibilities, which stretch to over 5.5 feet.
F*ck That's Delicious: An Annotated Guide to Eating Well by Action Bronson and Rachel Wharton
This ain't no cookbook. This ain't no memoir. This is Action Bronson's devotional, a book about the overwhelming power of delicious—no, f*cking amazing—food. Bronson is this era's Homer, and F*ck, That's Delicious is a modern-day Odyssey, replete with orgiastic recipes, world travel, siren songs, and weed.
Lavishly illustrated, Bronson's F*ck, That's Delicious includes 40-plus recipes inspired by his childhood, family, tours, and travels. Journey from bagels with cheese that represent familial love to the sex and Big Macs of upstate New York fat camp and ultimately to the world's most coveted five-star temples of gastronomy. And: the tacos in LA. The best Dominican chimis. Jamaican jerk. Hand-rolled pasta from Mario. And lots more!
"He's big, bearded and very sweary. He's also on a mission to tell you about great food."                              Observer Magazine
Munchies: Late-Night Meals from the World's Best Chefs by JJ Goode et al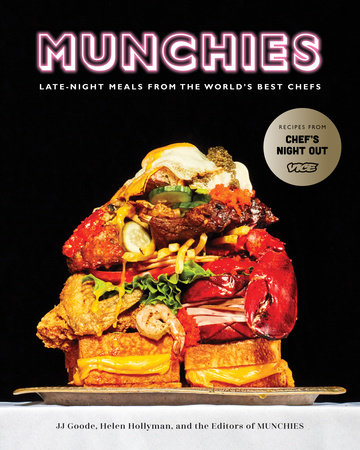 Munchies brings the hugely popular show Chef's Night Out to the page with snapshots of food culture in cities around the world, plus tall tales and fuzzy recollections from 65 of the world's top chefs, including Anthony Bourdain, Dominique Crenn, David Chang, Danny Bowien, Wylie Dufresne, Inaki Aizpitarte, and Enrique Olvera, among others.
Then there are the recipes: dishes these chefs cook when they're done feeding customers, and ready to feed their friends instead. With chapters like "Drinks" (i.e. how to get your night started), "Things with Tortillas," "Hardcore" (including pizzas, nachos, poutines, and more), and "Morning After" (classy and trashy dishes for the bleary-eyed next day), Munchies features more than 65 recipes to satisfy any late-night craving and plenty of drinks to keep the party going.
Diversify: Six Degrees of Integration by June Sarpong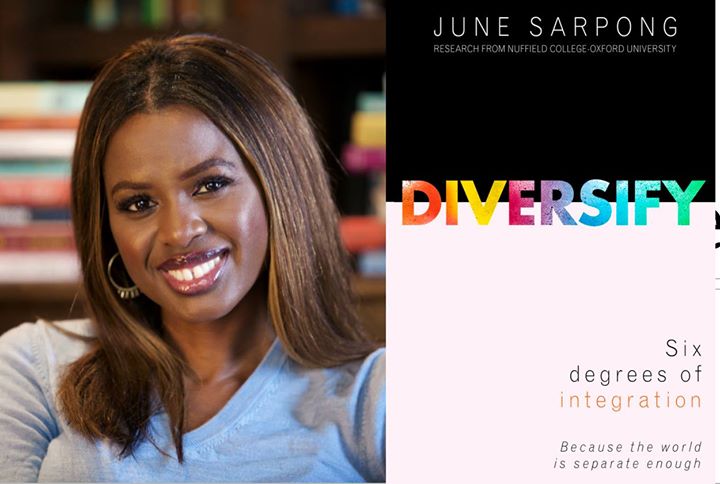 "Engaging and informative … highlights our common humanity."                             Kofi Annan
In troubling times, it's tempting to retreat to our comfort zones. To people just like us.
But what if actively seeking the unfamiliar was proven to be the key to a brighter future – both personally and for society
at large?
In this fierce, empowering call to arms, June Sarpong MBE puts the spotlight on groups who are often marginalised in our society, including women, those living with disabilities, and the LGBTQ community. Diversify uncovers how a new approach to how we work, learn and live can help us reach our maximum potential, lessen the pressure on the state, and solve some of the most stubborn challenges we face.
The Future is History: How Totalitarianism Regained Russia by Masha Gessen
Masha Gessen follows the lives of four Russians, born as the Soviet Union crumbled, at what promised to be the dawn of democracy. Each came of age with unprecedented expectations, some as the children or grandchildren of the very architects of the new Russia, each with newfound aspirations of their own – as entrepreneurs, activists, thinkers and writers, sexual and social beings. Gessen charts their paths not only against the machinations of the regime that would seek to crush them all (censorship, intimidation, violence) but also against the war it waged on understanding itself, ensuring the unobstructed emergence of the old Soviet order in the form of today's terrifying and seemingly unstoppable mafia state.
"[From] a brave and eloquent critic of the Putin regime… For anyone wondering how Russia ended up in the hands of Putin and his friends, and what it means for the rest of us, Gessen's book gives us an alarming and convincing picture."                            The Times
African Muckraking: 100 Years of African Investigative Journalism edited by Anya Schiffrin
Africa Muckraking is the first collection of investigative and campaigning journalism written by Africans and about Africa. The editors delved into the history of modern Africa to find the most important and compelling pieces of journalism on the stories that matter.
This collection of 41 pieces of African journalism includes passionate and committed writing on labour abuses, police brutality, women's rights, the struggle for democracy and independence on the continent and other subjects. Each piece of writing is introduced by a noted scholar or journalist who explains the context and why the journalism mattered. Some of the highlights include: Feminist writing from Tunisia in the 1930s, hair-raising exposés of the secret tactics planned by the South African government during apartheid, Richard Mgamba's searing description of the albino brothers in Tanzania who fear for the lives, the piece by Liberian journalist Mae Azongo's on genital cutting which forced her to go into hiding.
Nights of the Living Dead: An Anthology edited by Jonathan Maberry and George A. Romero
In 1968, the world experienced a brand-new kind of terror with the debut of George A. Romero's landmark movie Night of the Living Dead. The newly dead rose to attack the living. Not as vampires or werewolves. This was something new . . . and terrifying. Since then, zombies have invaded every aspect of popular culture.
But it all started on that dreadful night in a remote farmhouse. . . .
Nights of the Living Dead returns to that night, to the outbreak, to where it all began. New York Times bestselling author Jonathan Maberry teams with the godfather of the living dead himself, George A. Romero, to present a collection of all-new tales set during the forty-eight hours of that legendary outbreak.
Something's Cooking by J'Something
Portugal born Joao Da Fonseca, a.k.a. J'Something is known to millions of fans for his award winning hits as the lead singer and song writer of South African band Mi Casa. J'Something has won multiple awards with Mi Casa including 8 number 1 singles and 5 SAMA awards.
In 2014 his passion for cooking came to the fore culminating in two cooking shows; Something's Cooking & What's for Dinner that reached over 18 000 000 viewers across South Africa in two years. His spicy authentic Portuguese heritage and hearty homegrown South African food has become his trademark. Most recently showcased as a headline chef appearing next to greats such as Marco Pierre White, Jan Hendrick and George Calombaris.
Currently together with David Higgs he hosts and judges the smash-hit My Kitchen Rules South Africa on MNet prime time. When not performing he can be found at Something's Cooking by J his first restaurant.
The Magic Lamp: Dreams of Our Age by Ben Okri & Rosemary Clunie
Twenty-five stories, twenty-five paintings, five years to write, ten years to paint. This is an extraordinary collaboration between artist and artist: the Booker Prize-winning writer Ben Okri and the painter Rosemary Clunie. Together they have created a world, and peopled it with dreams.
Twenty-five fairy tales for adults, these narratives are a response to our times, informed by our world but not limited by it, imaginative, enchanting, haunting – both prescient and prophetic. Twenty-five original paintings, beautiful, playful, intimate, dreamlike, these works pull you in to a land of colour and vision.
Smoke Ashes Fable by William Kentridge
   
The much-loved South African artist William Kentridge  has become famous for his time-lapse animation movies and installations, as well as his activities as an opera and theater director. This book offers a unique selection of Kentridge's work curated for Sint-Janshospitaal in Bruges-at 800 years one of Europe's oldest surviving hospital buildings – organized around the themes of trauma and healing.
The Earth from the Air: New Edition by Yann Arthus-Bertrand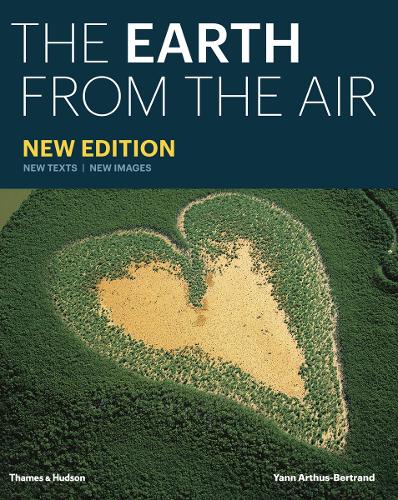 The result of a five-year airborne odyssey across five continents and sixty countries, The Earth from the Air is the bestselling and most popular book of aerial photography ever published. This updated edition of the internationally acclaimed original features an updated text and over 100 breathtaking new photographs. New editorials by such renowned authors as Jane Goodall, Matthieu Ricard and Olivier Blond consider such perpetual issues as agriculture, climate and biodiversity, as well as the latest concerns – refugees, new technologies and environmental movements. A classic of its kind, this book will heighten everyone's awareness of today's urgent ecological issues. Now more than ever, The Earth from the Air stands as a call to action.
Why Are We Artists: 100 World Art Manifestos
'Art is not a luxury. Art is a basic social need to which everyone has a right'.
This extraordinary collection of 100 artists' manifestos from across the globe over the last 100 years brings together activists, post-colonialists, surrealists, socialists, nihilists and a host of other voices. From the Négritude movement in Africa and Martinique to Brazil's Mud/Meat Sewer Manifesto, from Iraqi modernism to Australia's Cyberfeminist Manifesto, they are by turns personal, political, utopian, angry, sublime and revolutionary. Some have not been published in English before; some were written in climates of censorship and brutality; some contain visions of a future still on the horizon. What unites them is the belief that art can change the world.
Young Hitler: The Making of the Führer by Paul Ham
When Adolf Hitler went to war in 1914, he was just 25 years old. It was a time he would later call the 'most stupendous experience of my life'.
But this was not all about the war; the seeds of that hatred lay in Hitler's youth.
By peeling back the layers of Hitler's childhood, his war record and his early political career, Paul Ham's Young Hitler: The Making of the Führer seeks the man behind the myth. How did the defining years of Hitler's life affect his rise to power?
More broadly, Paul Ham seeks to answer the question: Was Hitler a freak accident? Or was he an extreme example of a recurring type of demagogue, who will do and say anything to seize power; who thrives on chaos; and who personifies, in his words and in his actions, the darkest prejudices of humankind?
Endangered by Tim Flach and Jonathan Baillie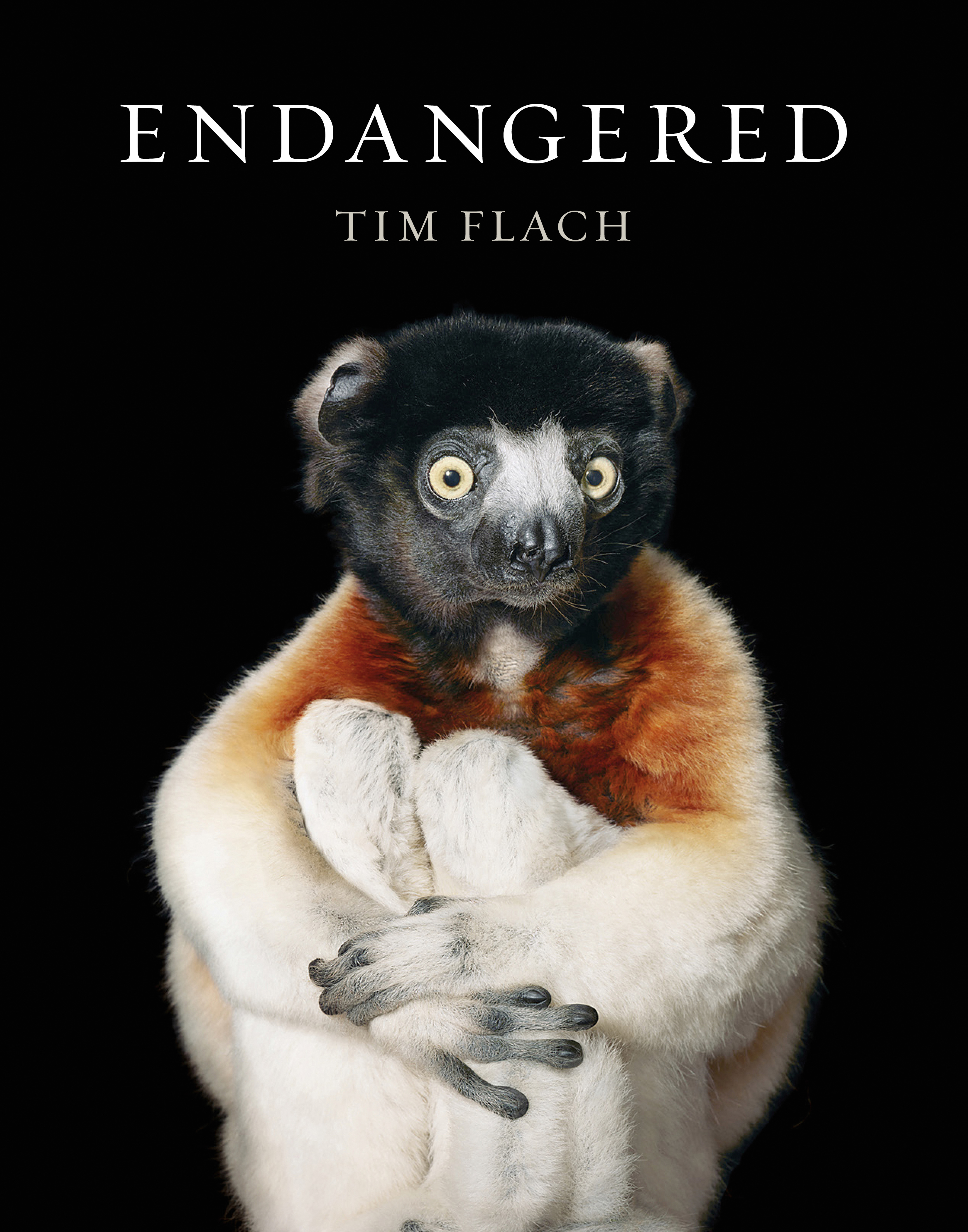 In Endangered, the result of an extraordinary multiyear project to document the lives of threatened species, acclaimed photographer Tim Flach explores one of the most pressing issues of our time. Traveling around the world—to settings ranging from forest to savannah to the polar seas to the great coral reefs—Flach has constructed a powerful visual record of remarkable animals and ecosystems facing harsh challenges. Among them are primates coping with habitat loss, big cats in a losing battle with human settlements, elephants hunted for their ivory, and numer­ous bird species taken as pets. With eminent zoologist Jonathan Baillie providing insightful commentary on this ambitious project, Endangered unfolds as a series of vivid, interconnected stories that pose gripping moral dilemmas, unforgettably expressed by more than 180 of Flach's incred­ible images.
Little Miss Busy Surviving Motherhood and other Mr Men for Grown-ups
The Mr. Men have been tickling children for generations with their funny and charming antics. The Mr Men for Grown-Ups series now gives adults the chance to laugh along as the Mr Men and Little Miss try to cope with the very grown-up world around them. Featuring Roger Hargreaves classic artwork alongside hilariously funny new text.
Gour
met Guide 2018: Top South African Restaurants, Their Chefs and Recipes
Discover diverse restaurants from fine dining to fabulous food and gourmet getaways. Read about South Africa's top 21 restaurants, meet their chefs – discover their passions, get to know them and be inspired by their recipes.
Shisanyama: Braai Recipes from South Africa by Jan Braai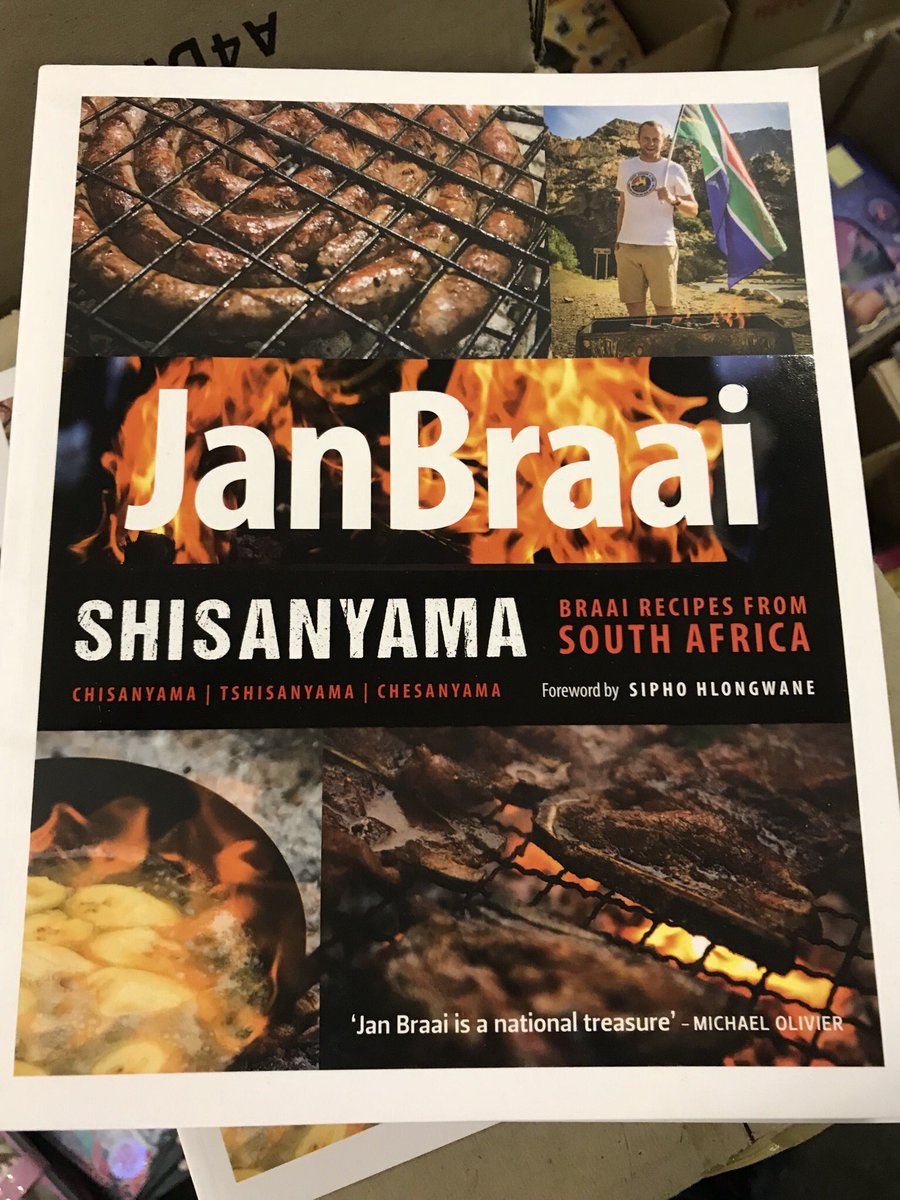 Jan Braai issued a crowdsourcing call in early 2017, and the response from the South African public was overwhelming – from the hundreds of entries received, Jan Braai has curated, tested and included over 80 favourite South African braai recipes. Each entry tells the story of how the recipe came about, why it is special – and of course celebrates the diversity of shisanyama available in South Africa. Shisanyama literally means 'to burn meat' in Zulu, and refers to the act of coming together to cook meat on an open fire.
Discover Mzansi favourites such as Bacon Bombs, Baby Back Ribs, B
reakfast Pizza, Chakalaka, Brandy & Coke Short Rib, Red Curried Black Mussels, Corn Bread, Mustard Ice-cream with T-Bone Steak, Thokoza Park Chuck, Watermelon Salad and Lamb Jaffles, with loads of other treasured recipes.
Artemis by Andy Weir
By the author of The Martian.
WELCOME TO ARTEMIS. The first city on the moon.
Population 2,000. Mostly tourists.
Some criminals.
Jazz Bashara is a criminal. She lives in a poor area of Artemis and subsidises her work as a porter with smuggling contraband onto the moon. But it's not enough.
So when she's offered the chance to make a lot of money she jumps at it. But though planning a crime in 1/6th gravity may be more fun, it's a lot more dangerous…
"Jazz, Weir's main character, is a moon-born version of Stieg Larsson's Lisbeth Salander. She is young, rebellious and a petty criminal…Weir's great strength, as he showed in The Martian, is to make us believe. His future society living inside massive domes built not far from where Armstrong set foot in 1969 is utterly plausible."                                The Times
The Beginning of the World in the Middle of the Night by Jen Campbell
'These days, you can find anything you need at the click of a button.
That's why I bought her heart online.' 
The Beginning of the World in the Middle of the Night is a collection of twelve haunting stories; modern fairy tales brimming with magic, outsiders and lost souls.
'I'm fascinated by storytelling, and particularly fairy tales. How humans have always tried to explain things that they can't possibly understand with, sometimes outrageous, stories' Jen Campbell
From the author of Weird Things Customers Say in Bookshops series.
"What A Book. It's So Strange and Magical And The Writing Is Just Beautiful. I Loved It."                               Louise O'Neill
For Younger Readers
The Hate You Give by Angie Thomas
"Stunning."        John Green
"A masterpiece."              Huffington Post
"An essential read for everyone."             Teen Vogue
"Outstanding."                 Guardian
Sixteen-year-old Starr lives in two worlds: the poor neighbourhood where she was born and raised and her posh high school in the suburbs. The uneasy balance between them is shattered when Starr is the only witness to the fatal shooting of her unarmed best friend, Khalil, by a police officer. Now what Starr says could destroy her community. It could also get her killed.
Inspired by the Black Lives Matter movement, this is a powerful and gripping YA novel about one girl's struggle for justice.
Toto the Ninja Cat and the Great Snake Escape by Dermot O'Leary
Toto the cat and her brother Silver live footloose and fancy-free in a townhouse in London. Toto is almost totally blind, and learned to trust her senses from a ninja cat-master who taught her back in Italy where they were born. By day, Toto and Silver seem to be ordinary cats, but by night, they love to have adventures!
One evening, news reaches Toto that a king cobra has escaped from London Zoo! Together with help from a very posh cat and two hungry tigers, Toto and Silver must investigate. Can they find the giant snake, before it's too late?
The Taste of Blue Light by Lydia Ruffles
An incandescent, soul-searching story about a broken young woman's search for a truth buried so deep it threatens to consume her, body and mind.
These are the things Lux knows:
She is an artist.
She is lucky.
She is broken.
These are the things she doesn't know:
What happened over the summer.
Why she ended up in hospital.
Why her memories are etched in red.
'The nightmares tend to linger long after your screams have woken you up …'
Desperate to uncover the truth, Lux's time is running out. If she cannot piece together the events of the summer and regain control of her fractured mind, she will be taken away from everything and everyone she holds dear.
The Secret Horses of Briar Hill by Megan Shepherd, illustrated by Levi Pinfold
An exceptional and moving novel about the power of the imagination, illustrated by the winner of the Kate Greenaway medal.
An exceptional and moving novel about the power of stories and the imagination from the publisher of A Monster Calls. December 1941. Britain is at war. Emmaline has been evacuated away from the bombs to Briar Hill Hospital in Shropshire. When she gets there she discovers a secret. It's not to be shared, not to be told to anyone, even her friend Anna. But she'll tell you. This is Emmaline's secret. There are winged horses that live in the mirrors of Briar Hill. Exquisitely illustrated by Levi Pinfold, winner of the Kate Greenaway Medal, The Secret Horses of Briar Hill has all the makings of a modern classic.
The Polar Bear Explorers' Club by Alex Bell
It sounded like a respectable and worthy enough death for an explorer – tumbling from an ice bridge to be impaled upon a mammoth tusk – but Stella really, really didn't want that to happen, just the same.
Join Stella Starflake Pearl and her three fellow explorers as they trek across the snowy Icelands and come face-to-face with frost fairies, snow queens, outlaw hideouts, unicorns, pygmy dinosaurs and carnivorous cabbages . . .
When Stella and three other junior explorers get separated from their expedition can they cross the frozen wilderness and live to tell the tale?
Satellite by Nick Lake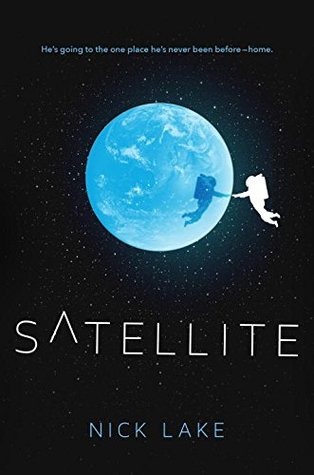 The Martian for teens – an epic, highly original space thriller with real science and heartbreaking beauty.
Leo has never set foot on Earth. Born and raised with twins Orion and Libra on the Moon 2 Space Station, they have grown up together in the most extraordinary of ways.
Now, they are preparing to make their first trip home – their first journey to Earth. But Leo, Orion and Libra cannot possibly imagine the irreversible consequences that their return will set into motion…
Fantastically Great Women Who Changed the World – Activity Book by Kate Pankhurst
Join some of the world's most inspiring women in this must-have activity book based on Kate Pankhurst's bestselling book Fantastically Great Women Who Changed the World, full of fun and utterly inspiring activities and over 200 stickers.
Write your own stories with Jane Austen, lead a fashion revolution just like Coco Chanel and design your own pyjamas, walk in the footprints of Mary Anning and follow the dot-to-dot to uncover the skeletons of dinosaurs.
Here We Are: Notes for Living on Planet Earth by Oliver Jeffers
The exquisite and thought-provoking new book from the multi award-winning, internationally best-selling picture book creator of Lost and Found, Oliver Jeffers.
Well, hello.
And welcome to this Planet.
We call it Earth.
Our world can be a bewildering place, especially if you've only just got here. Your head will be filled with questions, so let's explore what makes our planet and how we live on it. From land and sky, to people and time, these notes can be your guide and start you on your journey. And you'll figure lots of things out for yourself. Just remember to leave notes for everyone else… Some things about our planet are pretty complicated, but things can be simple, too: you've just got to be kind.
"An optimistic snapshot of contemporary life, this heartfelt hug of a book ought to become a classic." The Guardian
Dinosaurium (Welcome to the Museum) by Wormell and Murray
Welcome to the museum that is always open to explore…
Step inside the pages of this beautiful book to discover galleries of dinosaurs, expertly curated to bring you the experience of a fascinating exhibition from the comfort of your own home.
Dinosaurium features a wide range of dinosaurs from the most-loved Triceratops and Tyrannosaurus Rex to lesser-known species such as Coelophysis and Tsintaosaurus. With stunning artwork from Chris Wormell (known for the cover of H is for Hawk and his picture books including George and the Dragon) and informative text with input from experts in palaeontology, Dinosaurium is the perfect gift for anyone with an interest in this fascinating field.
Wishing all our customers a wonderful festive season!