Fiction
The Castle Cross the Magnet Carter by Kia Corthron
The hotly anticipated first novel by lauded playwright and The Wire TV writer Kia Corthron, The Castle Cross the Magnet Carter sweeps American history from 1941 to the twenty-first century through the lives of four men–two white brothers from rural Alabama, and two black brothers from small-town Maryland–whose journey culminates in an explosive and devastating encounter between the two families.
On the eve of America's entry into World War II, in a tiny Alabama town, two brothers come of age in the shadow of the local chapter of the Klan, where Randall–a brilliant eighth-grader and the son of a sawmill worker–begins teaching sign language to his eighteen-year-old deaf and uneducated brother B.J. Simultaneously, in small-town Maryland, the sons of a Pullman Porter–gifted six-year-old Eliot and his artistic twelve-year-old brother Dwight–grow up navigating a world expanded both by a visit from civil and labor rights activist A. Philip Randolph and by the legacy of a lynched great-aunt.
The four mature into men, directly confronting the fierce resistance to the early civil rights movement, and are all ultimately uprooted. Corthron's ear for dialogue, honed from years of theater work, brings to life all the major concerns and movements of America's past century through the organic growth of her marginalized characters, and embraces a quiet beauty in their everyday existences.
Sharing a cultural and literary heritage with the work of Toni Morrison, Alex Haley, and Edward P. Jones, Kia Corthron's The Castle Cross the Magnet Carter is a monumental epic deftly bridging the political and the poetic, and wrought by one of America's most recently recognized treasures.
"There are whole chunks of writing here that are simply sublime, places in which one gets swept away by the way she subverts the rhythm of language to illuminate the familiar and allow it to be seen fresh. … [Corthron] blindsides you. She sneaks up from behind. Sometimes, it is with moments of humor, but more often with moments of raw emotional power – moments whose pathos feels hard-earned and true…. [The Castle Cross the Magnet Carter] succeeds admirably in a novel's first and most difficult task: It makes you give a damn. It also does well by a novel's second task: It sends you away pondering what it has to say."              New York Times Book Review
Thwala by Eve Clayton
THWALA – the abduction and forced marriage of a young girl to an older man in South African tribal custom… But could it also be a metaphor for the way in which colonialists took possession of the virgin nations of Africa, lusting after the mineral gifts of the soil, the possession of pristine countryside and innocent souls to be exploited in their quest for power?
This love story across the divide of age and colour, an older white farmer to a beautiful young Xhosa girl, set in the last days of apartheid, bears testimony to so many South African lives, twisted by the ruthless hand of political imperatives. It takes the reader into the mysterious and powerful world of Xhosa culture: thwala; igqira, the diviner; ceremonial marriage;circumcision, and the way in which these sacred institutions have been eroded by the ambivalent influence of Western values.
Can the meeting of these powerful forces really create the rainbow nation that South African people so deeply desire?
Follow the lives of Nosuthu Stokwe and Andrew Christy from the awe-inspiring rural South African countryside to the urban sprawl of Kayelitsha and the metropolis of Cape Town, to try and appreciate the complexity of the challenges faced by South African people today.
Can there be healing after "Thwala syndrome"?
The Secret of Vesalius by Jordi Llobregat
Frankenstein meets The Shadow of the Wind in a Gothic thriller set in the diabolical city of fin-de-siecle Barcelona.
Daniel Amat has left Spain and all that happened there behind him. Having just achieved a brilliant role in Ancient Languages at Oxford University and an even more advantageous engagement, the arrival of a letter – a demand – stamped Barcelona comes like a cold hand from behind.
He arrives back in that old, labyrinthine and near-mythic city a few days before the great 1888 World Fair, amid dread whispers of murders – the injuries reminiscent of an ancient curse, and bearing signs of the genius 16th century anatomist, Vesalius. Daniel is soon pulled into the depths of the crime, and eventually into the tunnels below Barcelona, where his own dark past and the future of science are joined in a terrible venture – to bring the secret of Vesalius to life.
Gothic and gripping, this historical thriller makes of Barcelona a diabolical character – emerging out of the dark into a new electrical age, aflame with spirit, superstition and science. Published in eighteen countries, Jordi Llobregat's bestselling first novel mixes a passionate setting and cryptic mystery into a genre-crossing phenomenon.
"An excellent and atmospheric historical thriller. I loved it."                    Philip Kerr
Mother Land by Paul Theroux
A darkly hilarious portrait of one dysfunctional American family and its scheming matriarch
Everyone in Cape Cod thinks that Mother is a wonderful woman: pious, hard-working, frugal. Everyone except her husband and seven children. To them she is a selfish and petty tyrant – endlessly comparing her many living children to the one who died in childbirth, keeping a vice-like hold on her offspring even as they try to escape into adulthood.
Welcome to Mother Land: a suffocating kingdom of parental narcissism. This is an engrossing, hilarious and heartbreaking portrait of a modern family — the bickering, the conspiracies, and the drive to overcome the painful ties that bind.
"Reading Mother Land is like watching a slow-motion car crash…Mother Land is an exercise in mean-spirited score-settling. It's also fun…the clambake in the assisted living facility where (Mother) celebrates her 102nd (birthday) is downright hilarious…Theroux possesses a fabulously nasty sense of humor…As for me, I enjoyed Mother Land against my will… a version of his cozening, calculating mother can be found in many homes. But I also found a little bit of myself here. Theroux ends up assassinating all of his characters, but I still enjoyed the play."                  Stephen King, New York Times Book Review
The Sparsholt Affair by Alan Hollinghurst
"Hollinghurst has a strong, perhaps unassailable claim to be the best English novelist working today."                       Guardian
In October 1940, the handsome young David Sparsholt arrives in Oxford. A keen athlete and oarsman, he at first seems unaware of the effect he has on others – particularly on the lonely and romantic Evert Dax, son of a celebrated novelist and destined to become a writer himself. While the Blitz rages in London, Oxford exists at a strange remove: an ephemeral, uncertain place, in which nightly blackouts conceal secret liaisons. Over the course of one momentous term, David and Evert forge an unlikely friendship that will colour their lives for decades to come . . .
Man Booker Prize-winning author Alan Hollinghurst's masterly novel evokes the intimate relationships of a group of friends bound together by art, literature and love across three generations. It explores the social and sexual revolutions of the most pivotal years of the past century, whose life-changing consequences are still being played out to this day. Richly observed, disarmingly witty and emotionally charged, The Sparsholt Affair is an unmissable achievement from one of our finest writers.
"Hollinghurst is a master storyteller … thrilling in the rather awful way that the best Victorian novels are, so that one finds oneself galloping somewhat shamefacedly through the pages in order to discover what happens next."                      John Banville
Mrs Osmond by John Banville
Having fled Rome and a stultifying marriage, Isabel Osmond is in London, brooding on the recent disclosure of her husband's shocking, years-long betrayal of her. What should she do now, and which way should she turn, in the emotional labyrinth where she has been trapped for so long? Reawakened by grief and the knowledge of having been grievously wronged, she determines to resume her youthful quest for freedom and independence.
Soon Isabel must return to Italy and confront her husband, and seek to break his powerful hold on her. But will she succeed in outwitting him, and securing her revenge?
Mrs Osmond is a masterly novel of betrayal, corruption and moral ambiguity, from the Man Booker Prize-winning author of The Sea.
"A worthy sequel… His book is not only an impressive recreation of James's atmospheres and pacing, but also full of minor cliff-hangers and page-turning suspenses that keep you guessing."                        Observer
"A brilliant feat of literary ventriloquism… Richly enjoyable and enthralling, this exercise in creative empathy is a sequel of very high finish."               Sunday Times
Manhattan Beach by Jennifer Egan
"This is a novel that will pull you in and under and carry you away on its rip tides . . . Its resonances continue to wash over the reader long after the novel ends."                 Guardian
"This is a novel that deserves to join the canon of New York stories."               New York Times Book Review
The long-awaited novel from the Pulitzer Prize-winning author of A Visit from the Goon Squad, Manhattan Beach opens in Brooklyn during the Great Depression.
'We're going to see the sea,' Anna whispered.
Anna Kerrigan, nearly twelve years old, accompanies her father to the house of a man who, she gleans, is crucial to the survival of her father and her family. Anna observes the uniformed servants, the lavishing of toys on the children, and some secret pact between her father and Dexter Styles.
Years later, her father has disappeared and the country is at war. Anna works at the Brooklyn Navy Yard, where women are allowed to hold jobs that had always belonged to men. She becomes the first female diver, the most dangerous and exclusive of occupations, repairing the ships that will help America win the war. She is the sole provider for her mother, a farm girl who had a brief and glamorous career as a Ziegfield folly, and her lovely, severely disabled sister. At a night club, she chances to meet Styles, the man she visited with her father before he vanished, and she begins to understand the complexity of her father's life, the reasons he might have been murdered.
Mesmerising, hauntingly beautiful, with the pace and atmosphere of a noir thriller and a wealth of detail about organised crime, the merchant marine and the clash of classes in New York, Egan's first historical novel is a masterpiece, a deft, startling, intimate exploration of a transformative moment in the lives of women and men, America and the world. Manhattan Beach is a magnificent novel by one of the greatest writers of our time.
"Beautifully rendered . . . genuinely affecting and handsomely constructed. It moves for all the right reasons."                     Independent
"A gripping, modern version of a 19th century novel . . . such an absorbing read."                         Evening Standard
The Rules of Magic by Alice Hoffman
In this sparkling prequel we meet the Aunts from Practical Magic, sisters Frances and Jet, and Vincent, their brother. From the beginning their mother Susanna knew they were unique: Franny with her skin as pale as milk and blood red hair, who could commune with birds; Jet as shy as she is beautiful, who knows what others are thinking, and Vincent so charismatic that he was built for trouble. Susanna needed to set some rules of magic: no walking in the moonlight, no red shoes, no wearing black, no cats, no crows, no candles and certainly, absolutely, no books about magic…
But the Owens siblings are desperate to uncover who they really are. Each heads down a life-altering course, filled with secrets and truths, devastation and joy, and magic and love. Despite the warning handed down through the family for centuries – Know that for our family, love is a curse – they will all strive to break the rules and find true love.
"Shows the author at their best… She neatly intertwines their lives with a backdrop that brims with periodic detail. Gnomic maxims add to a wise, seductive, fabular tone… Thrilling and transportive."                      Sunday Times
The Beast by Alexander Starritt
Jeremy Underwood is a long-suffering subeditor on The Daily Beast, Britain's mightiest tabloid. Returning from holiday, he notices two burqa-clad figures lurking outside the paper's Kensington offices. Two male terrorism suspects have escaped from a mosque disguised as women; recently suspicion and fear have made everyone alert. Jeremy's casual observation sets off a chain of events that spins out of control, as the great Beast feels that it is the next target of terrorism.
Alexander Starritt's darkly funny novel is a vivid anatomy of that most uncontrollable of large creatures, the British tabloid newspaper. The ferocious professionalism and manic rivalries of a newsroom have rarely been so well described. And at the heart of the newsroom is the brooding, dictatorial figure of its editor, Charles Brython, the booming voice of Middle England. His world is under threat, and he will do whatever it takes to defend it. This is a story in which comedy teeters on the edge of horror.
"A brilliant satire … Starritt's novel skewers its targets with a thrilling accuracy. It needs urgently to be read."             Ian Jack.
"Eye-wateringly funny and uncannily well observed"                   Richard Addiss, Former Editor of the Daily Express and FT Weekend.
"What Starritt gets vividly right, in a way I think no other fiction has managed, is the editing process that is so central to the success of any popular paper."              Guardian
Bluebird Bluebird by Attica Locke
A powerful thriller about the explosive intersection of love, race, and justice from a writer and producer of the Emmy winning Fox TV/Channel 4 show Empire
"Dazzlingly good … a seriously impressive writer."                         Observer
Southern fables usually go the other way around. A white woman is killed or harmed in some way, real or imagined, and then, like the moon follows the sun, a black man ends up dead.
But when it comes to law and order, East Texas plays by its own rules – a fact that Darren Mathews, a black Texas Ranger working the backwoods towns of Highway 59, knows all too well. Deeply ambivalent about his home state, he was the first in his family to get as far away from Texas as he could. Until duty called him home.
So when allegiance to his roots puts his job in jeopardy, he is drawn to a case in the small town of Lark, where two dead bodies washed up in the bayou. First a black lawyer from Chicago and then, three days later, a local white woman, and it's stirred up a hornet's nest of resentment. Darren must solve the crimes – and save himself in the process – before Lark's long-simmering racial fault lines erupt.
"In Bluebird, Bluebird Attica Locke had both mastered the thriller and exceeded it."                      Ann Patchett
"A heartbreakingly resonant new novel about race and justice in America."                        USA Today
Short Stories
Fresh Complaint by Jeffrey Euginedes
'What was it about complaining that felt so good? You and your fellow sufferer emerging from a thorough session as if from a spa bath, refreshed and tingling?'
The first-ever collection of short stories from Pulitzer Prize-winning author Jeffrey Eugenides presents characters in the midst of personal and national emergencies.
We meet Kendall, a failed poet who, envious of other people's wealth during the real estate bubble, becomes an embezzler; and Mitchell, a lovelorn liberal arts graduate on a search for enlightenment; and Prakrti, a high school student whose wish to escape the strictures of her family leads to a drastic decision that upends the life of a middle-aged academic.
Jeffrey Eugenides's bestselling novels Middlesex, The Virgin Suicides and The Marriage Plot have shown him to be an astute observer of the crises of adolescence, self-discovery and family love. These stories, from one of our greatest authors, explore equally rich and intriguing territory.
Narratively compelling and beautifully written, Fresh Complaint shows all of Eugenides's trademark humour, compassion and complex understanding of what it is to be human.
"[An] excellent short story collection … Eugenides deploys his pronounced gifts for comedy and characterisation at the same time as he builds an overwhelming atmosphere of suffocation."               Guardian
"A very good short story writer…they are a breeze to read and Eugenides inhabits each new consciousness with easy confidence."              The Times
The Dreams of Bethany Mellmouth by William Boyd
A philandering art dealer tries to give up casual love affairs – seeking only passionate kisses as a substitute. A man recounts his personal history through the things he has stolen from others throughout his life. A couple chart the journey of their five year relationship backwards, from awkward reunion to lovelorn first encounter. And, at the heart of the book, a 24-year old young woman, Bethany Mellmoth, embarks on a year-long journey of wishful and tentative self-discovery.
The Dreams of Bethany Mellmoth depicts the random encounters that bring the past bubbling to the surface; the impulsive decisions that irrevocably shape a life; and the endless hesitations and loss-of-nerve that wickedly complicate it. These funny, surprising and moving stories are a resounding confirmation of Boyd's powers as one of our most original and compelling storytellers.
"Boyd shows why he's so often compared to Graham Greene…. brilliant and bewitching collection of stories."                    Financial Times
"Unfailingly amusing and clever."                    Guardian
That Glimpse of Truth: The 100 Finest Short Stories Ever Written chosen by David Miller
Profound, lyrical, shocking, wise: the short story is capable of almost anything. This collection of 100 of the finest stories ever written ranges from the essential to the unexpected, the traditional to the surreal. Wide in scope, both beautiful and vast, this is the perfect companion for any fiction lover.
Here are childhood favourites and neglected masters, twenty-first century wits and national treasures, Man Booker Prize winners and Nobel Laureates.
Featuring an all-star cast of authors, including Kate Atkinson, Julian Barnes, Angela Carter, Anton Chekhov, Richmal Crompton, Charles Dickens, Roald Dahl, Penelope Fitzgerald, Gustave Flaubert, Rudyard Kipling, Somerset Maugham, Ian McEwan, Alice Munro, V.S. Pritchett, Thomas Pynchon, Muriel Spark and Colm Tóibín, That Glimpse Of Truth is the biggest, most handsome collection of short fiction in print today.
"A treasure trove of short stories… A book to return to again and again."                Sunday Independent
The Story: Love, Loss and the Lives of Women: 100 Great Stories chosen by Victoria Hislop
Witty, heartbreaking, shocking, satirical: the short story can excite or sadden, entice or repulse. The one thing it can never be is dull. Now Victoria Hislop, passionate ambassador for the art of the short story, has collected 100 stories from her favourite women writers into one volume.
Here are Man Booker Prize winners and Nobel Laureates, well-known feminists and famous wits, national treasures and rising stars. All handpicked by one of the nation's best-loved novelists, there's a story for every mood, mind-set and moment in life.
Featuring an all-star cast of authors including Chimamanda Ngozi Adichie, Angela Carter, Margaret Drabble, Penelope Fitzgerald, Miranda July, Doris Lessing, Katherine Mansfield, Alice Munro, Dorothy Parker and Virginia Woolf, The Story is the biggest and most beautiful collection of women's short fiction in print today.
"Beautiful … glittering … The scope is wide, rich and often unexpected … it blows Bridget out of the water."               Independent
Non-fiction
We Were Eight Years in Power: An American Tragedy by Ta-Nehisi Coates
"I've been wondering who might fill the intellectual void that plagued me after James Baldwin died. Clearly it is Ta-Nehisi Coates."                 Toni Morrison
Powerful and necessary, a state-of-the-nation portrait of America under Obama from the prize-winning, bestselling author of Between the World and Me
From 2008-2016, the leader of the free world was a black man. Obama's presidency reshaped America and transformed the international conversation around politics, race, equality. But it attracted criticism and bred discontent as much as it inspired hope – so much so, that the world now faces an uncertain future under a very different kind of US President.
In this essential new book, Ta-Nehisi Coates takes stock of the Obama era, speaking authoritatively from political, ideological and cultural perspectives, drawing a nuanced and penetrating portrait of America today.
"It's this timeless timeliness – reminiscent of the work of George Orwell and James Baldwin – that makes Coates worth reading again and again."                  Publishers Weekly
"Fiercely passionate, intelligent and clear-eyed."               Newsday
Adventures of a Young Naturalist: Zoo Quest Expeditions by Sir David Attenborough
"A marvellous book … unputdownable … utterly engaging."     Telegraph
"An elegant and gently funny writer."                        The Times 
In 1954, a young David Attenborough was offered the opportunity of a lifetime – to travel the world finding rare and elusive animals for London Zoo's collection, and to film the expeditions for the BBC for a new show called Zoo Quest.
This book records those voyages, which mark the very beginning of a career that spans decades and stretches across continents, from Life on Earth to Blue Planet II, from the deepest oceans, the darkest jungles and everywhere in between. Staying with local tribes while trekking in search of giant anteaters in Guyana, Komodo dragons in Indonesia and armadillos in Paraguay, he and the rest of the team battled with cannibal fish, aggressive tree porcupines and escape-artist wild pigs, as well as treacherous terrain and unpredictable weather, to record the incredible beauty and biodiversity of these regions. The methods may be outdated now, but the fascination and respect for the wildlife, the people and the environment – and the importance of protecting these wild places – is not.
Written with Attenborough's trademark wit and charm, Adventures of a Young Naturalist is not just the story of a remarkable adventure, but of the man who made us fall in love with the natural world, and who is still doing so today.
Mythos: A Retelling of the Myths of Ancient Greece by Stephen Fry
"Perfect for the 21st Century. Ebullient, funny, Fry retells the Greek myths with elegance."                    The Times
No one loves and quarrels, desires and deceives as boldly and brilliantly as Greek gods and goddesses. They are like us, only more so – their actions and adventures scrawled across the heavens above.
From the birth of the universe to the creation of humankind, Stephen Fry – who fell in love with these stories as a child – retells these myths for our tragic, comic, fateful age. Witness Athena born from the cracking open of Zeus's great head and follow Persephone down into the dark realm of Hades. Experience the terrible and endless fate of Prometheus after his betrayal of Zeus and shiver as Pandora opens her jar of evil torments.
The Greek gods are the best and worst of us, and in Stephen Fry's hands they tell us who we are. Mythos – smart, funny, and above all great fun – is the retelling we deserve by a man who has been entertaining the nation for over four decades.
"A wondrous new immersion in ancient stories we only thought we knew. Page to page, Mythos is brilliant, funny, erudite, inventive, surprising and enthralling."                  Richard North Patterson
Light the Dark: Writers on Creativity, Inspiration and the Artistic Process by Joe Fassler
A stunning guide to finding creative inspiration and how it can illuminate your life, your work, and your art.
What inspires you? That's the simple, but profound question posed to 46 renowned authors in Light the Dark, each one revealing what gets them started and what keeps them going with the creative work they love. Each writer begins with a favourite passage – from a novel, a song, a poem. From there, incredible lessons and stories of life changing encounters with art emerge, like how sneaking a volume of Stephen King stories into his job as a night security guard helped Khaled Hosseini learn that nothing he creates will ever be truly finished. Or how Junot Diaz learned that great art can be a friend to help us feel less alone in the world when he discovered Toni Morrison in college.
Light the Dark collects the best of The Atlantic's much-acclaimed 'By Heart' series and adds brand new pieces from writers like Marilynne Robinson and Junot Diaz, each one paired with a striking illustration. A guide to creative living and writing for anyone who wants to learn how great writers find inspiration and how to find some of your own.

"The collection's best essays soar . . . The essays' variety and the heart and intelligence evident in many of them add up to a valuable book."   Publishers Weekly
The Tunnels: The Untold Stories of Escapes Under the Berlin Wall by Greg  Mitchell
"A story with so much inherent drama… a kaleidoscopic cold war story."                 Guardian
In the summer of 1962, one year after the rise of the Berlin Wall, a group of daring young West Germans risked prison, Stasi torture and even death to liberate friends, lovers, and strangers in East Berlin by digging tunnels under the Wall.
Then, as the world's press heard about the secret projects, two television networks raced to be the first to document them from the inside, funding two separate tunnels for exclusive rights to film the escapes. In response, President John F. Kennedy and his administration, wary of anything that might raise tensions and force a military confrontation with the Soviets, manoeuvred to quash both documentaries.
As Greg Mitchell's riveting narrative unfolds, we meet extraordinary characters: the legendary cyclist who became East Berlin's most wanted man; the tunneller who had already served four years in the East German gulag; the Stasi informer who betrays the 'CBS tunnel'; the young East Berliner who escapes with her baby, then marries one of the tunnellers; and an engineer who would later help build the tunnel under the English Channel.
Capturing the hopes and fears of everyday Berliners, the chilling reach of the Stasi secret police, and the political tensions of the Cold War, The Tunnels is breaking history, a propulsive read whose themes still reverberate today.
"A fascinating and complex picture of the interplay between politics and media in the Cold War era."  Washington Post
"The greatest strength of The Tunnels is in the details… Days after finishing the book I could not escape one of Mitchell's images – of a hat with a small hole in it landing softly on the Western side of the border while its owner's dead body fell back into the East, waiting for the guards to hurry it out of sight. For those who see walls as the answer to policy problems, this book serves as a stark reminder that barriers can never cut people off entirely but only succeed in driving them underground."                   New York Times Book Review
The Rub of Time: Essays and Reportage by Martin Amis
Of all the great novelists writing today, few show the same gift as Martin Amis for writing non-fiction – his essays, literary criticism and journalism are justly acclaimed. As Rachel Cusk wrote in the The Times, reviewing a previous collection, 'Amis is as talented a journalist as he is a novelist, but these essays all manifest an unusual extra quality, one that is not unlike friendship. He makes an effort; he makes readers feel that they are the only person there.'
The essays in The Rub of Time range from superb critical pieces on Amis's heroes Nabokov, Bellow and Larkin to brilliantly funny ruminations on sport, Las Vegas, John Travolta and the pornography industry. The collection includes his essay on Princess Diana and a tribute to his great friend Christopher Hitchens, but at the centre of the book, perhaps inevitably, are essays on politics, and in particular the American election campaigns of 2012 and 2016. One of the very few consolations of Donald Trump's rise to power is that Martin Amis is there to write about him.
"There is no one alive ― with the possible exception of Adam Mars-Jones ― who can hear an ailing sentence and diagnose its problems with such devastating and gleeful precision."             Financial Times
American Radical: Inside the World of an Undercover Muslim FBI Agent by Tamer Elnoury
'In order to defeat your enemy, you must first understand them.' – Tamer Elnoury
Tamer Elnoury, a long-time undercover agent, joined an elite counterterrorism unit after September 11. Its express purpose is to gain the trust of terrorists whose goals are to take out as many people in as public and devastating a way as possible. It's a furious race against the clock for Tamer and his unit to stop them before they can implement their plans. Yet as new as this war still is, the techniques are as old as time. Listen, record and prove terrorist intent.
Due to his ongoing work for the FBI, Elnoury writes under a pseudonym. An Arabic-speaking Muslim American, a patriot, a hero. To many people, it will be a revelation that he and his team even exist, let alone the vital and dangerous work they do keeping all of us safe.
It's no secret that federal agencies are waging a broad, global war against terror. Now, for the first time, an active, Muslim American federal agent reveals his experience infiltrating and bringing down a terror cell in North America.
"American Radical is a kinetic account of Elnoury's undercover career… about his life infiltrating Islamist terror cells, averting mass murder, bringing evil people to justice and so on. It is the first time an active FBI agent has published a book remotely like it."                        The Times
I Am, I Am, I Am: Seventeen Brushes with Death by Maggie O'Farrell
"Absolutely, in every possible sense of the word, brilliant."                     Max Porter
I Am, I Am, I Am is a memoir with a difference – the unputdownable story of an extraordinary woman's life in near-death experiences. Insightful, inspirational, intelligent, it is a book to be read at a sitting, a story you finish newly conscious of life's fragility, determined to make every heartbeat count.
A childhood illness she was not expected to survive. A teenage yearning to escape that nearly ended in disaster. A terrifying encounter on a remote path. A mismanaged labour in an understaffed hospital. Shocking, electric, unforgettable, this is the extraordinary memoir from Costa Novel-Award winner and Sunday Times bestselling author Maggie O'Farrell.
It is a book to make you question yourself. What would you do if your life was in danger, and what would you stand to lose?
"She is a breathtakingly good writer, and brings all her elegance and poise as a novelist to the story of her own life."                  Guardian
The Secret Life of the Owl by John Lewis-Stempel
Dusk is filling the valley. It is the time of the gloaming, the owl-light.
Out in the wood, the resident tawny has started calling, Hoo-hoo-hoo-h-o-o-o.'
There is something about owls. They feature in every major culture from the Stone Age onwards. They are creatures of the night, and thus of magic. They are the birds of ill-tidings, the avian messengers from the Other Side. But owls – with the sapient flatness of their faces, their big, round eyes, their paternal expressions – are also reassuringly familiar. We see them as wise, like Athena's owl, and loyal, like Harry Potter's Hedwig. Human-like, in other words.
No other species has so captivated us.
In The Secret Life of the Owl, John Lewis-Stempel explores the legends and history of the owl. And in vivid, lyrical prose, he celebrates all the realities of this magnificent creature, whose natural powers are as fantastic as any myth.
Tis the Season – gifts and more…
Kilted Yoga: Yoga Laid Bare by Finlay Wilson
Lose yourself in the wilds of Scotland.
Reconnect with the natural world.
Learn the fundamentals of yoga in four simple sequences.
Kilt optional!
After recovering from an accident, Finlay Wilson found yoga was the best way to rebuild his strength. Now a qualified yoga instructor himself, he's decided to bring a modern take to this ancient practice. Feast your eyes on his yoga moves and discover why his Kilted Yoga video became an instant global sensation. This beautiful book is both dramatic and inspirational, but also tongue in cheek, quirky and funny.
"Yoga can feel elitist but the book does not alienate. Partly because of its gentle humour, and partly because the language does not assume any knowledge of terms or sequences. It's straightforward and to the point. And the scenery beats a sterile yoga studio."                   Evening Standard
"Apparently there is something about the recipe of beards, kilts, butts and the Scottish highlands that just works."                    Finlay Wilson
Museums (Reflections)
According to Orham Pamuk, 'Real museums are places where Time is converted into Space.'
In this lavishly illustrated title we investigate these spaces. Since Frank Gehry created the phenomenon that is The Guggenheim in Bilbao, thus transforming the city into a popular tourist destination, there has been a boom in the investment, both creative and financial, in the architecture of museums. They showcase contemporary and experimental architecture at its best. Fully illustrated with exterior and interior photography, Museums encircles the globe and highlights these modern showpieces alongside the timeless splendour of their more classical predecessors. The buildings presented represent a wide range of spatial and architectural concepts, from the modest to the massive, from the subtle to the show-stopping, from white cubes, to freestanding structural buildings, to lavish baroque masterpieces. The Reflections series by ROADS is a visual exploration of the spaces and buildings that mirror the cultures in which they play such a crucial part.
What a Great Idea! Awesome South African Inventions by Mike Bruton
This is the ultimate book on South African innovations and inventions that every South African should own. It is crammed with information on the awesome variety of new products and services that South Africans, at home and abroad, have invented from pre-colonial times to the present. Written in a highly readable style and richly illustrated, it will astonish, surprise and inspire you! Everything from Wadley's Loop to Musk's Hyperloop, Louis Liebenberg's Cybertracker to the unique Africanis dog, the first computerised ticketing system in the world to the world's first digital laser. Read about dozens of items that we use every day but which had very humble beginnings. Did you know that the machine that was used to drill the tunnels for the first underground railway in England was invented by a South African, or that the first 'computers' in South Africa were women calculators working at the Royal Observatory in Cape Town? Everyone knows that the Kreepy Krawly, Pratley's Putty, Dolos, CATscanner and Thawte Internet Security System were invented in South Africa, but what about the Sheffel Bogie, Oil of Olay, Q20, Policansky fishing reels, Lodox low-dose X-ray machine, Waste Shark, Wind-up Pulse Oximeters, Lithium ion batteries, DryBath, Acesco Breast Imaging System, and components of the SALT and SKA telescopes? Meet the new generation of South African inventors and innovators, including Brian Steinhobel, Mulalo Doyoyo, Jacques Blom, Elon Musk, Viness Pillay, Kelly Shibale, Tebello Nyokong, Gregory Maqoma, Kiara Nirghin, Tony Budden and Ludwick Marishane, and hear what they have to say about the climate for innovation in South Africa. Historic photographs, fascinating anecdotes and illuminating case studies light up the text and make it read like a detective novel. This book clearly shows that South Africans have punched well above their weight in international circles – now you have the opportunity to become an expert on what we have achieved through the ages.
World of Lore: Monstrous Creatures by Aaron Mahnke
A fascinating, beautifully illustrated guide to the monsters that are part of our collective psyche, from the host of the hit podcast Lore
They live in shadows – deep in the forest, late in the night, in the dark recesses of our mind. They're spoken of in stories and superstitions, relics of an unenlightened age, old wives' tales, passed down through generations. And yet, no matter how wary and jaded we have become, as individuals or as a society, a part of us remains vulnerable to them. Werewolves and wendigos, poltergeists and vampires, angry elves and vengeful spirits.
In this beautifully illustrated volume, the host of the hit podcast Lore serves as a guide on a fascinating journey through the history of these terrifying creatures, and explores not only the legends but what they tell us about ourselves. Aaron Mahnke invites us to the desolate Pine Barrens of New Jersey, where the notorious winged, red-eyed Jersey Devil dwells. Mahnke delves into harrowing accounts of cannibalism-some officially documented, others the stuff of speculation . . . perhaps. He visits the dimly lit rooms where séances take place, the European villages where gremlins make mischief, and Key West, Florida, home of a haunted doll named Robert.
The monsters of folklore have become not only a part of our language but a part of our collective psyche. Whether these beasts and bogeymen are real or just a reflection of our primal fears, we know, on some level, that not every mystery has been explained, and that the unknown still holds the power to strike fear deep in our hearts and souls.
As Aaron Mahnke reminds us, sometimes the truth is even scarier than the lore…
"Narrated by Mahnke in a style that evokes spooky campfire stories, Lore is a history lesson like no other."–Esquire
Annie Leibowitz Portraits: 2005-2016
In this new collection from Annie Leibovitz, one of the most influential photographers of our time, iconic portraits sit side by side never-before-published photographs. Afterword by Annie Leibovitz.
Annie Leibovitz: Portraits 2005-2016 is the photographer's follow-up to her two landmark books, Annie Leibovitz: Photographs, 1970-1990 and A Photographer's Life, 1990-2005. In this new collection, Leibovitz has captured the most influential and compelling figures of the last decade in the style that has made her one of the most beloved talents of our time. Each of the photographs documents contemporary culture with an artist's eye, wit, and an uncanny ability to personalize even the most recognizable and distinguished figures.
"Getting your photograph taken by Annie is one of the great totems of success in America."         Graydon Carter, Editor-in-chief, Vanity Fair
"She's a poet."       Robert Wilson
"Annie Leibovitz is one of the most aesthetically gifted photographers alive."          Guardian
You Can't Spell America Without Me: The Really Tremendous Inside Story of My Fantastic First Year as President Donald J. Trump (A So-Called Parody)  by Alec Baldwin and Kurt Andersen
The blisteringly funny satirical account of Donald Trump's first year as President, as imagined by Alec Baldwin and Kurt Andersen.
'I have the best words, beautiful words, as everybody has been talking and talking about for a long time. Also? The best sentences and, what do you call them, paragraphs. My previous books were great and sold extremely, unbelievably well–even the ones by dishonest, disgusting so-called journalists. But those writers didn't understand Trump, because quite frankly they were major losers. People say if you want it done right you have to do it yourself, even when 'it' is a 'memoir.' So every word of this book was written by me, using a special advanced word processing system during the many, many nights I've been forced to stay alone in the White House–only me, just me, trust me, nobody helped. And it's all 100% true, so true–people are already saying it may be the truest book ever published. Enjoy.'
You Can't Spell America Without Me is presented by America's foremost Trump scholar Kurt Andersen as well as America's foremost mediocre Trump impersonator, Alec Baldwin.
Notes from the Sofa by Raymond Briggs
From Raymond Briggs, the beloved and bestselling author of The Snowman, comes his first book in a decade, now in an updated edition with new columns and illustrations.
Notes from the Sofa is a beautifully illustrated compilation of reflections on life and what it means to get older. Raymond dips into his past to remind us of scrumping apples, National Service, party lines on telephones, the torment of cinema organs and the endless obsession with laxatives, alongside his take on the absurdities of the modern world.
This collection gives us warm and memorable sketches of Raymond's life now and reminds us why he is one of our best-loved storytellers.
Istanbul: Illustrated Edition by Orhan Pamuk
Like the Dublin of Joyce and Jan Morris' Venice, Orhan Pamuk's bestselling Istanbul: Memories of a Cityis a triumphant encounter of place and sensibility, beautifully written and immensely moving.
Since the publication of Istanbul, Pamuk has continued to add to his collection of photographs of Istanbul. Now, he has selected a range of photographs for Illustrated Istanbul, linking each new image to his memoir.
This lavish selection of 450 photographs features contributions from Ara Güler, Henri Cartier-Bresson and Istanbul's characteristic photography collectors, and contains previously unpublished family photographs from the author's archives.
"This evocative book succeeds at both its tasks. It is one of the most touching childhood memoirs I have read in a very long time; and it makes me yearn – more than any glossy tourist brochure could possibly do – to be once again in Istanbul."                           Noel Malcom, Sunday Telegraph
Penguin Book of Modern Speeches edited by Brian MacArthur
Whether it was Churchill rousing the British to take up arms or the dream of Martin Luther King, Fidel Castro inspiring the Cuban revolution or Barack Obama on Selma and the meaning of America, speeches have profoundly influenced the way we see ourselves and society.
Gathered here are some of the most extraordinary and memorable speeches of the last century. Some are well known, others less so, but all helped form the world we now inhabit.
Time and again, MacArthur satisfies the reader's expectations. They are all here: Lloyd George's fit country for heroes, Woodrow Wilson's world made safe for democracy, Enoch Powell's River Tiber foaming with much blood. Those who hate the sound of public men may still find it hard to listen to MacArthur's voices and not be moved (The Times Literary Supplement)
How to be Human: The Ultimate Guide to Your Amazing Existence by New Scientist
Did you know that half your DNA isn't human? That somebody, somewhere has exactly the same face? Or that most of your memories are fiction?
What about the fact that you are as hairy as a chimpanzee, various parts of your body don't belong to you, or that you can read other people's minds? Do you really know why you blush, yawn and cry? Why 90 per cent of laughter has nothing to do with humour? Or what will happen to your mind after you die?
You belong to a unique, fascinating and often misunderstood species. How to be Human is your guide to making the most of it.
How to Swear by Stephen Walsh
Grasping how to swear is a crucial skill to any English-speaker, but it can be a tricky business. Owing to the rich and complex history of swearing, a single word can have a host of different meanings – from expressing surprise, excitement, anger, celebration, disgust or simply that you're fucked off. If you don't get it right, you could really be in the shit.
How to Swear, by graphic artist and swearing-connoisseur Stephen Wildish, uses all manner of charts and flow diagrams to teach you all you need to know, including: the building blocks of an effective insult; the adverbial uses of various types of animal excrement (horseshit, apeshit etc); and the different parts of speech a swear word can fulfil: 'Fucking fuck, the fucking fucker's fucked'. This charming (and rude) book will take you right to the heart of the wondrous world of swearing, with a lot of laughs on the way.
Ladybird Books for Grown-ups
These now perennial favourites and brilliant stocking fillers never disappoint. Along with old favourites such as The Hipster and Mindfulness, we have some new titles for this year's stocking…
The Rock Star, The Baby, The Brother, The Nerd, The New You
Classic Art Memes
Hath thou seen thy Classic Art Memes?
This hilarious book is full of laugh-out-loud classic art memes to brighten your day.
From renaissance to baroque, rococo to romantics historical art is made hysterical with amusing modern wit.
Freedom to Express Yourself: An Inspiration Notebook by Amnesty International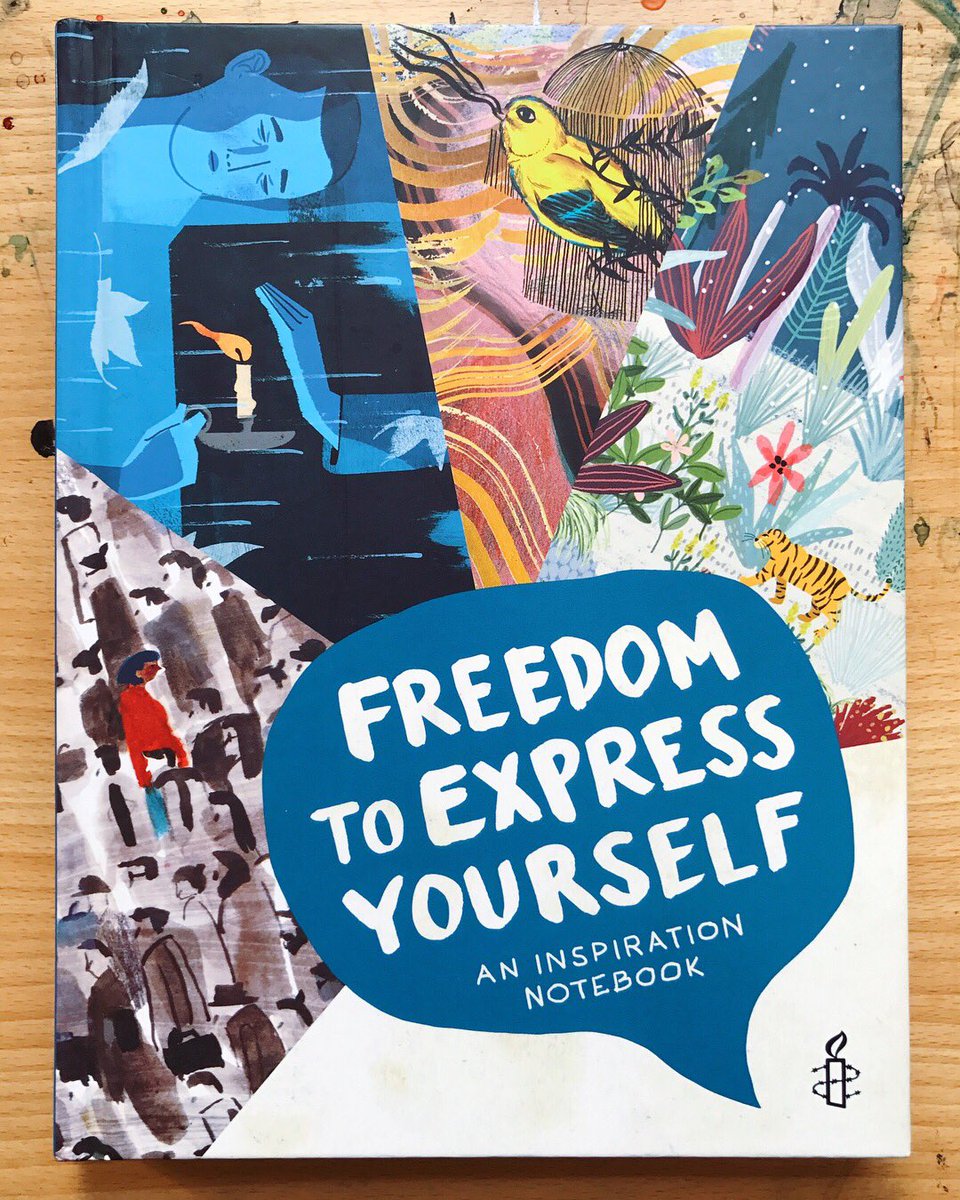 In partnership with Amnesty International UK, this striking notebook will explore themes of freedom through inspirational quotes and illustrations.
Focusing on ideas such as safety, home, family and much more, the book will feature artwork from a rich variety of illustrators and there is plenty of empty space for inspired readers to fill however they like.
With a diverse collection of quotes, from Bob Marley to Malala Yousafzai, and Mahatma Gandhi to Harper Lee, this notebook explores and encourages discussions around human rights.
Featuring illustrations from Sir Quentin Blake, Chris Riddell, David Shrigley, Meera Lee Patel and many more.
For the Foodie in Your Life
Recipes from an Italian Butcher: Roasting, Stewing, Braising by The Silver Spoon Kitchen
150 inspiring and authentic Italian recipes for meat, poultry, and game – from the world's most trusted authority on Italian cuisine.
The Italian approach to cooking with meat is to keep things straightforward and maximize the flavour. This book showcases simple, hearty dishes that are true to this tradition, from chicken cacciatore and braised beef with Barolo to osso buco and Roman lamb. With more than 150 recipes, most published for the first time in English, it's comprehensive and authoritative, demystifying the different cuts, cooking methods, and techniques unique to each meat type – along with the side dishes that best complement them.
"A charming and rustic collection of meat orientated recipes… What results is a cookbook where the running theme is respect… Recipes that at their core are simple, honest and often inexpensive [and] will make you want to go to your local butcher […] bring a piece of meat home and really do it justice, using the best fresh ingredients and age-old techniques."―The Essential Journal
Jampacked by Tina Bester
Always longed to create perfect pickles, relishes and jams? Jampacked shows you how to stock your pantry with an array of irresistible sweet and savoury preserves – and suggests a wealth of delicious ways to use them every day.
Cook with the seasons and fill your pantry with mouthwatering relishes, pestos, marinades, rubs and sauces that will add layers of flavour to your favourite dishes. Jampacked is crammed with easy, clever ideas for year-round culinary inspiration.
Vegan Richa's Indian Kitchen by Richa Hingle
From delicious dals to rich curries, flat breads, savory breakfasts, snacks, and much more, this vegan cookbook brings you Richa Hingle's collection of plant-based Indian recipes inspired by regional cuisines, Indian culture, local foods, and proven methods.
Whether you want to enjoy Indian cooking, try some new spices, or add more protein to your meals using legumes and lentils, this book has got it covered. You'll explore some well-known and new Indian flavor profiles that are easy to make in your own kitchen. Learn the secrets of eclectic Indian taste and textures, and discover meals in which pulses and vegetables are the stars of the dish. And once you taste Richa's mouth-watering desserts, they will likely become your new favorites.
"With superbly spiced recipes, eye-catching photographs amd mouthwatering descriptions, this book will find a permanent place in your kitchen. Richa's recipe for Quinoa Cauliflower biryani alone is worth the price of the book."
Monica Bhide, author of Modern Spice
Feasts by Sabrina Ghayour
"Sabrina Ghayour's Middle-Eastern-plus food is all flavour, no fuss – and makes me very, very happy."                     Nigella Lawson
In Feasts, the highly anticipated follow up to the award-winning Persiana & no. 1 bestseller Sirocco, Sabrina Ghayour presents a delicious array of Middle-Eastern dishes from breakfasts to banquets and the simple to the sumptuous. Enjoy menus and dozens of recipes for celebrations and occasions with family & friends, such as summer feasts, quick-fix feasts and brunch.
"Sabrina Ghayour knows how to throw a party: serve big dishes of beautifully spiced food and let everyone dig in."               Olive
Brunch Across 11 Countries: Recipes of a Private Chef by Alix Verrips
This book includes the best brunch recipes from 11 countries & continents; the USA, England, the Bahamas, China, Monaco, the Greek Isles, Capri, Mexico, the Emirates, Africa and Spain. Although served for brunch, the recipes are suitable for breakfast, lunch and dinner. Try the spicy lamb kofta and fatoush from the Emirates or the delicious malva pudding cupcakes with salted caramel sauce and cream cheese icing from South Africa. As private chef Alix Verrips has cooked in employers' homes in the Bahamas, St Tropez, Spain, the UK, the USA and Africa. Alix spent fifteen years in the yachting industry cooking for royalty, celebrities, oligarchs and industrialists. She is the only female chef to have been the Head Chef on four of the top twenty largest yachts in the world.
Happy Reading!