Fiction
Legacy of Spies by John le Carré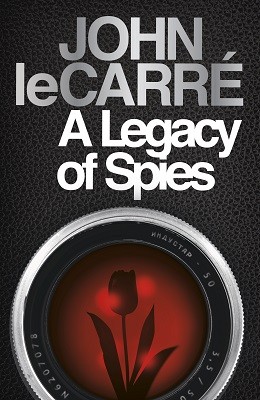 Peter Guillam, staunch colleague and disciple of George Smiley of the British Secret Service, otherwise known as the Circus, has retired to his family farmstead on the south coast of Brittany when a letter from his old Service summons him to London. The reason? His Cold War past has come back to claim him. Intelligence operations that were once the toast of secret London are to be scrutinised by a generation with no memory of the Cold War. Somebody must be made to pay for innocent blood once spilt in the name of the greater good.
Interweaving past with present so that each may tell its own story, John le Carré has given us a novel of superb and enduring quality.
"Vintage le Carré as he ingeniously closes the circle of his long career … This is an immensely clever piece of novelistic engineering, of which its deviser can be justifiably proud. The ingenuity and skill with which the thing is brought off is breathtaking – really, not since The Spy Who Came in From The Cold has le Carré exercised his gift as a storyteller so powerfully and to such thrilling effect."                           John Banville, Guardian
"This novel offers more than one pleasure. It is not merely good in itself – vintage John le Carré. It gives the reader, at long last, pieces of a jigsaw puzzle that have been missing for 54 years…. A Legacy of Spies does something remarkable. Le Carré takes a le Carré classic and thickens it into something different from what it was….Like wine, le Carré's writing has got richer with age…Don't wait for the paperback."           The Times
"Perhaps the most significant novelist of the second half of the 20th century in Britain. He will have charted our decline and recorded the nature of our bureaucracies like no one else has. He's in the first rank."                      Ian McEwan
"It is a splendid novel…It is riveting, bitter and will be controversial…le Carré's handling of dialogue remains perfectly fresh. Who else can tell you so much about so many people so quickly? Not a syllable is wasted."    Andrew Marr, Sunday Times
"The English canon has rarely seen an acclaimed novelist and popular entertainer sustain such a hot streak in old age….A Legacy of Spies achieves many things. Outstandingly, it is a defiant assertion of creative vigour…Cornwell is signing off with a poignant and brilliant au revoir to le Carré, his alter ego, a writer who is with the immortals."            Observer
Sunset Claws by Brent Meersman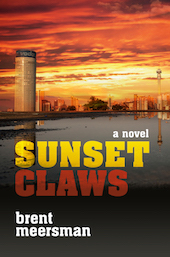 Sunset Claws follows a generation of South Africans from 1976 to the millennium as they struggle to come to terms with  what the birth of a nation has both given and taken from them.
Told in three parts, the action moves from Cape Town in the turbulent 1980s to the civil war in KwaZulu-Natal in the  interregnum of the early 90s and burgeoning post-apartheid Johannesburg, where an optimistic new middle class is  being forged as the country enters the 21st century. But the cracks in reconciliation are already beginning to show.
The story starts in 1968, when Mfundi, a township teenager, sets off to join Umkhonto we Sizwe, later to return on a deadly mission that will have unforeseen repercussions. Two brothers from a poor white family choose very different paths – Frans joins the military and is slowly sucked into the darkest corners of the apartheid security forces, while Joe  dodges the draft and flees to London in the hope of becoming an artist and escaping his unwanted destiny.
Zukiswa, a young black woman battling to advance herself in the shacklands, will also go into exile and return to her native land almost a stranger. Bertie is the rich white kid who rebels against his conservative parents to become a human rights lawyer, a journey that will shake his idealistic beliefs to the core. Unexpected connections between them will set them on a collision course of war, romance, love and hate.
The story sheds light on the current state of the nation, painting a vivid yet subtle portrait of the nascent "New South Africa" with all its contradictions as its characters traverse the pivotal events that shaped a generation – from the Battle of Cuito Cuanavale to the killing fields of KwaZulu-Natal; from the release of Nelson Mandela and the first democratic election to the Truth and Reconciliation Commission, the writing of the new Constitution and the first steps to black economic empowerment.
Sunset Claws is an epic, well-observed psychological thriller set on a vast canvas. It is a monumental novel.
The Golden House by Salman Rushdie
When powerful real-estate tycoon Nero Golden immigrates to the States under mysterious circumstances, he and his three adult children assume new identities, taking 'Roman' names, and move into a grand mansion in downtown Manhattan. Arriving shortly after the inauguration of Barack Obama, he and his sons, each extraordinary in his own right, quickly establish themselves at the apex of New York society.
The story of the Golden family is told from the point of view of their Manhattanite neighbour and confidant, René, an aspiring filmmaker who finds in the Goldens the perfect subject. René chronicles the undoing of the house of Golden: the high life of money, of art and fashion, a sibling quarrel, an unexpected metamorphosis, the arrival of a beautiful woman, betrayal and murder, and far away, in their abandoned homeland, some decent intelligence work.
Invoking literature, pop culture, and the cinema, Rushdie spins the story of the American zeitgeist over the last eight years, hitting every beat: the rise of the birther movement, the Tea Party, Gamergate and identity politics; the backlash against political correctness; the ascendency of the superhero movie, and, of course, the insurgence of a ruthlessly ambitious, narcissistic, media-savvy villain wearing make-up and with coloured hair.
In a new world order of alternative truths, Salman Rushdie has written the ultimate novel about identity, truth, terror and lies. A brilliant, heartbreaking realist novel that is not only uncannily prescient but shows one of the world's greatest storytellers working at the height of his powers.
"[A] complex and witty fable … Rushdie has always been an impish myth-manipulator, refusing to accept, as in this novel, that the lives of the emperors can't be blended with film noir, popular culture and crime caper. On the evidence of The Golden House, he is quite right."                 Observer
"Intelligent and darkly funny…with a raw political edge."                            The Times
"A ravishingly well-told, deeply knowledgeable, magnificently insightful, and righteously outraged epic which pos­es timeless questions about the human condition… As Rushdie's blazing tale surges toward its crescendo, life, as it always has, rises stubbornly from the ashes, as does love."              Booklist
"Rushdie writes with a Dickensian exuberance, always full of humour as well as striking scornful, tragic notes. Often he plays the role of satirist. His caricatures and outsize figures are full of life, wickedness and human energy: again, as in Dickens, grounded in a precise social and political scene."                  Jereme Boyd Maunsell
"Salman Rushdie is a writer of illimitable imagination and verbal ingenuity. He grips us with wild storylines, takes us on flights of fancy, brings us back down again, enthralled and dazed … The Golden House is an extraordinary book, a brooding meditation on the personal and political, on ethics, egotism, freedom and interdependence."             Yasmin Alibhai-Brown
Lea: A Novel by Pascal Mercier
Pascal Mercier's Night Train to Lisbon mesmerised readers around the world, and went on to become an international bestseller. Now, in Lea, he returns with a tender, impassioned, and unforgettable story of a father's love and a daughter's ambition in the wake of devastating tragedy.
It all starts with the death of Martijn van Vliet's wife. His grief-stricken young daughter, Lea, cuts herself off from the world, lost in the darkness of grief. Then she hears the unfamiliar sound of a violin playing in the hall of a train station, and she is brought back to life. Transfixed by a busker playing Bach, Lea emerges from her mourning, vowing to learn the instrument. And her father, witnessing this delicate spark, promises to do everything and anything in his power to keep her happy.
Lea grows into an extraordinary musical talent―her all-consuming passion leads her to become one of the finest players in the country―but as her fame blossoms, her relationship with her father withers. Unable to keep her close, he inadvertently pushes Lea deeper and deeper into this newfound independence and, desperate to hold on to his daughter, Martin is driven to commit an act that threatens to destroy them both.
A revelatory portrait of genius and madness, Lea delves into the demands of artistic excellence as well as the damaging power of jealousy and sacrifice. Mercier has crafted a novel of intense clarity, illuminating the poignant ways we strive to understand ourselves and our families.
"A novella about an artist's development . . . genius and madness, love and betrayal, fury and self-destruction, all carefully arranged to make a stunning portrait."                  Frankfurter Allgemeine Zeitung
"Perfectly constructed, exciting, entertaining, enigmatic, memorable."     Buchkultur
A Twist of the Knife by Becky Masterman
"Blown away. What else can I tell you? Brigid Quinn is a heroine to cheer for, and Masterman writes like an angel who has seen far too many ungodly things."  Linwood Barclay
Brigid Quinn is tough, determined, steely and sharper than sharp. As an ex-agent of the FBI she has seen it all, and survived. But nothing can cut her closer to the bone than family…
When Brigid gets a call from her mother saying her father is in hospital with pneumonia, she decides to check on her former colleague Laura Coleman who is living nearby. Having saved Brigid's life, Laura is now working on an 'innocence project', investigating cold cases. And one in particular seems to have caught her attention. Fifteen years before, Marcus Creighton was accused of killing his wife and three children. Now the state governor has signed the warrant for his execution.
Worried that her friend is getting in too deep, Brigid promises to help. But what if her instincts are betraying her?
"Chilling, smart, funny…what a voice she has."                     Gillian Flynn
"A crime novel that transcends the genre – a twisting, high-stakes story with characters so real and so recognizably human, that it breaks your heart a little. Brilliant."              Shari Lapena, author of The Couple Next Door
The Readymade Thief by Augustus Rose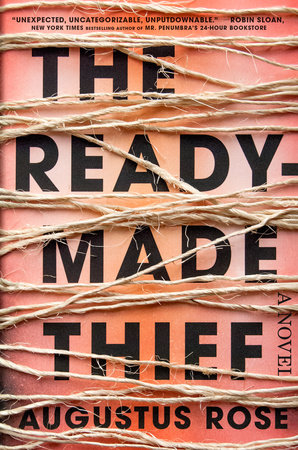 "In his highly addictive and multi-aceted first novel, Augustus Rose pits an irrepressible and gritty young heroine against a sinister group of fanatics. The Readymade Thief is a kickass debut from start to finish."            Colson Whitehead, author of The Underground Railroad
Lee Cuddy is seventeen years old and on the run.
Betrayed by her family after taking the fall for a friend, Lee finds refuge in a cooperative of runaways holed up in an abandoned building they call the Crystal Castle. But the facade of the Castle conceals a far more sinister agenda, one hatched by a society of fanatical men set on decoding a series of powerful secrets hidden in plain sight. And they believe Lee holds the key to it all.
Aided by Tomi, a young hacker and artist with whom she has struck a wary alliance, Lee escapes into the unmapped corners of the city – empty aquariums, deserted motels, patrolled museums, and even the homes of vacationing families. But the deeper she goes underground, the more tightly she finds herself bound in the strange web she's trying to elude. Desperate and out of options, Lee steps from the shadows to face who is after her–and why.
A novel of puzzles, conspiracies, secret societies, urban exploration, art history, and a singular, indomitable heroine, The Readymade Thief heralds the arrival of a spellbinding and original new talent in fiction.
"The Readymade Thief is smart and strange, full of lovely Duchampian tricks and treats. Augustus Rose has infused his thriller with the true Dada spirit, nothing is quite what it seems. I loved it."                  Audrey Niffenegger
"The Readymade Thief is my favorite kind of book: an improbable one … A novel that's unexpected, uncategorizable, unputdownable."                 Robin Sloan, author of Mr. Penumbra's 24-Hour Bookstore

"A rewarding novel full of pleasures and surprises. Every time I thought I knew where the story was going, it took me somewhere stranger and deeper than I could have imagined. A rich, heady mix of ideas and thrills."                        Charles Yu
"Augustus Rose shows that he has one of the steadiest hands in fiction … Rose has crafted something memorable, crackling with energy, a truly wonderful tale."                     Kevin Wilson
Vernon Subutex by Virginie Despentes
WHO IS VERNON SUBUTEX?
An urban legend. A fall from grace. The mirror who reflects us all.
Vernon Subutex was once the proprietor of Revolver, an infamous music shop in Bastille. His legend spread throughout Paris. But by the 2000s his shop is struggling. With his savings gone, his unemployment benefit cut, and the friend who had been covering his rent suddenly dead, Vernon Subutex finds himself down and out on the Paris streets.
He has one final card up his sleeve. Even as he holds out his hand to beg for the first time, a throwaway comment he once made on Facebook is taking the internet by storm. Vernon does not realise this, but the word is out: Vernon Subutex has in his possession the last filmed recordings of Alex Bleach, the famous musician and Vernon's benefactor, who has only just died of a drug overdose. A crowd of people from record producers to online trolls and porn stars are now on Vernon's trail.
You Should Have Left by Daniel Kehlmann
A thrilling exploration of psychological disturbance and fear from the bestselling and prize-winning author of Measuring the World.
On retreat in the wintry Alps with his family, a writer is optimistic about completing the sequel to his breakthrough film. Nothing to disturb him except the wind whispering around their glassy house. The perfect place to focus.
Intruding on that peace of mind, the demands of his four-year-old daughter splinter open long-simmering arguments with his wife. I love her, he writes in the notebook intended for his script. Why do we fight all the time?
Guilt and expectation strain at his concentration, and strain, too, at the walls of the house. They warp under his watch; at night, looking through the window, he sees impossible reflections on the snow outside.
Then the words start to appear in his notebook; the words he didn't write.
Familiar and forbidding by turns, this is an electrifying experiment in form by one of Europe's boldest writers. The ordinary struggles of a marriage transform, in Kehlmann's hands, into a twisted fable that stays darkly in the mind.
Kehlmann is one of the brightest, most pleasure-giving writers at work today, and he manages all this while exploring matters of deep philosophical and intellectual import. (Jonathan Franzen)
Daniel Kehlmann is one of the great novelists for making giant themes seem light (Adam Thirlwell)
"A well-crafted tale about one man unravelling due to forces beyond his control . . . You Should Have Left – part-horror, part-psychodrama – serves up effective shocks and thrills that keep us rapt and on the edge of our seats . . . Kehlmann brings that abyss ever closer and takes his narrator, and his reader, over the edge."                Malcolm Forbes, National
"Wry, eerie and increasingly terrifying . . . Daniel Kehlmann is certainly in complete mastery of an entertaining Everyman's postmodernist Gothic guaranteed to unsettle."      Eileen Battersby, Irish Times
"It's a masterclass in economical storytelling, meticulously attentive prose and imaginative agility. Kehlmann creates narrative complexity with the deftest of strokes. He's also laugh-out-loud funny. This is both a highly readable novella and a subtly derisive challenge to readers to question the value of their own enjoyment."              Literary Review
What We Lose by Zinzi Clemmons
A short, intense and profoundly moving debut novel about race, identity, sex and death
Thandi is a black woman, but often mistaken for Hispanic or Asian.
She is American, but doesn't feel as American as some of her friends.
She is South African, but doesn't belong in South Africa either.
Her mother is dying.
"Zinzi Clemmons's debut novel signals the emergence of a voice that refuses to be ignored."                  Paul Beatty, winner of the Man Booker Prize 2016
"Navigates the many registers of grief, loss and injustice … acutely moving."                    Margo Jefferson, author of Negroland
"Luminescent."           Independent
"A lovely little headrush of a novel … if you enjoyed Yaa Gyasi's Homegoing then try this."                      Sunday Times
"Highly original. Zinzi Clemmons deftly explores grief, sex and identity."               Elle
In Every Moment We Are Still Alive by Tom Malmquist
The prize-winning, bestselling tale of love, loss, family and the lives we live moment by moment, from a stunning new voice in European fiction.
Tom's heavily pregnant girlfriend Karin is rushed to hospital with severe flu. While the doctors are able to save the baby, they are helpless in the face of what transpires to be acute leukemia, and in a moment as fleeting as it is cruel Tom gains a daughter but loses his soul-mate. In Every Moment is the story of a year that changes everything, as Tom must reconcile the fury of bereavement with the overwhelming responsibility of raising his daughter, Livia, alone.
By turns tragic and redemptive, meditative and breathless, achingly poignant and darkly funny, this heavily autobiographical novel has been described in its native Sweden as 'hypnotic', 'impossible to resist' and 'one of the most powerful books about grief ever written'.
"Beautiful . . . as more books are published and more stories get told, we increasingly seek out those writers who promise to give us something more than mere fiction. We want books made out of lives . . . The value of Malmquist's book is precisely that it retains a trace of true human presence – carefully preserved by the author, but not his own."                     Guardian
"It is bound to invite comparison to Karl Ove Knausgaard's My Struggle, the autofiction sensation that has swept Norway and beyond. Both authors explore balancing fatherhood with a writing life. Both are concerned, to varying degrees, with an intentionally cultivated sense of artlessness. The prosaic stuff of life, such as family conversations, trifling arguments and ingredients for festive meals, is presented in a seemingly unfiltered manner. Perhaps more so than Knausgaard, Malmquist demonstrates over lengthy passages that he can relay life in an intense, heightened state. The result is exhilarating."                        Financial Times
"There's a poet's eye for small details . . . The present-day is intercut with the past, and this works well: it is arresting to have Karin alive then gone in everyday moments . . . a fine first novel."                                 Scotsman
Non-fiction
Khwezi: The Remarkable Story of Fezekile Ntsukela Kuzwayo by Redi Tlhabi
In May 2006 Jacob Zuma was found not guilty of the rape of Fezekile Ntsukela Kuzwayo – better known as Khwezi – in the Johannesburg High Court. Another nail was driven into the coffin of South Africa's fight against sexual violence. Vilified by Zuma's many supporters, Khwezi was forced to flee South Africa and make a life in the shadows, first in Europe and then back on the African continent.
A decade after Zuma's acquittal, Khwezi died. But not before she had slipped back into South Africa and started work with journalist Redi Tlhabi on a book about her life. About how, as a young girl living in exile in ANC camps, she was raped by the 'uncles' who were supposed to protect her. About her great love for her father, Judson Kuzwayo, an ANC activist who died when Khwezi was almost ten. And about how, as a young adult, she was driven once again into exile, suffering not only at the hands of Zuma's devotees but under the harsh eye of the media.
In sensitive and considered language, Red Tlhabi breathes life into a woman for so long forced to live in hiding. In telling the story of Khwezi, Tlhabi draws attention to the sexual abuse that abounded during the struggle years, abuse that continues to plague women and children in South Africa today.
Done: The Secret Deals That Are Changing Our World by Jacques Peretti
"A revelatory book."                John Lewis-Stempel.

What if the way we understand our world is wrong? What if it isn't politicians and events that shape our lives, but secret deals made by people you've never heard of?
This book tells the story of the secret deals that are changing the world, and revolutionizing everything we do, including money, the food we eat, what we buy, and the drugs we take to stay well. These deals never make the news: they are made high up in boardrooms, on golf courses, and in luxury cars: each sealed by world-changing handshakes. This is the story of those handshakes.
Fall Down Seven Times, Get Up Eight: A Young Man's Voice from the Silence of Autism by Naoki Higashida
Naoki Higashida met international success with The Reason I Jump, a revelatory account of life as a thirteen-year-old with non-verbal autism. Now he offers an equally illuminating insight into autism from his perspective as a young adult. In concise, engaging pieces, he shares his thoughts and feelings on a broad menu of topics ranging from school experiences to family relationships, the exhilaration of travel to the difficulties of speech. Aware of how mystifying his behaviour can appear to others, Higashida describes the effect on him of such commonplace things as a sudden change of plan, or the mental steps he has to take simply to register that it's raining. Throughout, his aim is to foster a better understanding of autism and to encourage those with disabilities to be seen as people, not as problems.
With an introduction by David Mitchell, Fall Down Seven Times, Get Up Eight includes a dreamlike short story Higashida wrote for this edition. Both moving and of practical use, the book opens a window into the mind of an inspiring young man who meets the challenges of autism with tenacity and good humour. However often he falls down, he always gets back up.
"Essential reading for parents and teachers who work with individuals with autism who remain non-verbal."                 Temple Grandin
"There is much to be learned from it about this mysterious condition that Higashida regards as both a blessing and a curse. The book's single most important function is to drum into the sometimes thick heads of us neurotypical readers that people with autism experience a genuine and usually insuperable disconnection between what they want to say or do and what their brain allows them . . . we should look with gratitude through the porthole he has cleared on to a submerged world."                           Observer
"Wise and witty, it offers a second insider's insight into the mysteries of non-verbal autism . . . The evolution of Higashida's insights is at times almost unbearably moving . . . Ultimately, though, his self-awareness is uplifting, reminding us to take joy in life's simple pleasures . . . sage and subtle . . . [a work] of illuminating beauty."                    Financial Times
"Higashida's books belong in the small but intense canon of "locked-in" memoirs, such as Awakenings or The Diving Bell and the Butterfly . . . Higashida reveals himself to be far more conflicted than before. The titles show how much the years have changed him. The Reason I Jump had joy shimmering through it."                   The Times
"The Reason I Jump was a game-changer . . . This follow-up may not have the same surprise value, but it does something just as inspiring: it shows us how, with a little luck, plenty of support and a huge amount of determination, a "neuro-atypical" person can forge a happy and fulfilled path into adulthood . . . Higashida's observations across a whole range of topics are moving and thought-provoking."                          Guardian
Blood and Silk: Power and Conflict in Modern Southeast Asia by Michael Vatikiotis
"A lively and learned guide to the politics, personalities and conflicts that are shaping a dynamic group of countries."                   Financial Times
"A fascinating and many-layered portrait of Southeast Asia."                      Thant Myint-U
Thought-provoking and eye-opening, Blood and Silk is an accessible, personal look at modern Southeast Asia, written by one of the region's most experienced outside observers. This is a first-hand account of what it's like to sit at the table with deadly Thai Muslim insurgents, mediate between warring clans in the Southern Philippines and console the victims of political violence in Indonesia – all in an effort to negotiate peace, and understand the reasons behind endemic violence.
Peering beyond brand new shopping malls and shiny glass towers in Bangkok and Jakarta, Michael Vatikiotis probes the heart of modern Southeast Asia. Why are the region's richest countries such as Malaysia riddled with corruption? Why do Myanmar, Thailand and the Philippines harbour unresolved violent insurgencies? How do deepening religious divisions in Indonesia and Malaysia and China's growing influence affect the region and the rest of the world?
Vatikiotis tells the story of modern Southeast Asia using vivid portraits of the personalities who pull the strings, mixed with revealing analysis that is underpinned by decades of experience in the countries involved, from their silk-sheathed salons to blood-spattered streets. The result is a fascinating study of the dynamics of power and conflict in one of the world's fastest growing regions.
"Vatikiotis's arguments are fluent and convincing, and his writing is suffused with a deep knowledge of and affection for Southeast Asia and its peoples."                        Literary Review
Amazons: The Real Warrior Women of the Ancient World by John Man
Since the time of the ancient Greeks we have been fascinated by accounts of the Amazons, an elusive tribe of hard-fighting, horse-riding female warriors. Equal to men in battle, legends claimed they cut off their right breasts to improve their archery skills and routinely killed their male children to purify their ranks.
For centuries people believed in their existence and attempted to trace their origins. Artists and poets celebrated their battles and wrote of Amazonia. Spanish explorers, carrying these tales to South America, thought they lived in the forests of the world's greatest river, and named it after them.
In the absence of evidence, we eventually reasoned away their existence, concluding that these powerful, sexually liberated female soldiers must have been the fantastical invention of Greek myth and storytelling. Until now.
Following decades of new research and a series of groundbreaking archeological discoveries, we now know these powerful warrior queens did indeed exist. In Amazons, John Man travels to the grasslands of Central Asia, from the edge of the ancient Greek world to the borderlands of China, to discover the truth about the warrior women mythologized as Amazons.
In this deeply researched, sweeping historical epic, Man redefines our understanding of the Amazons and their culture, tracking the ancient legend into the modern world and examining its significance today.
"Tremendously entertaining."                                    The Times
"Man, the enthusiastic historian of Asia, dissect the Amazons with sharp scalpel. Vivid and personal."                  Spectator
"Entertaining, fascinating, intriguing. However they are portrayed, the Amazons appear to have enduring appeal."                                      Literary Review
St Petersburg by Jonathan Miles
"This extraordinary book brings to life an astonishing place. Beautiful prose renders brutality vivid."                   The Times – Book of the Week
From Peter the Great to Putin, this is the unforgettable story of St Petersburg – one of the most magical, menacing and influential cities in the world.
St Petersburg has always felt like an impossible metropolis, risen from the freezing mists and flooded marshland of the River Neva on the western edge of Russia. It was a new capital in an old country. Established in 1703 by the sheer will of its charismatic founder, the homicidal megalomaniac Peter-the-Great, its dazzling yet unhinged reputation was quickly fashioned by the sadistic dominion of its early rulers.
This city, in its successive incarnations – St Petersburg; Petrograd; Leningrad and, once again, St Petersburg – has always been a place of perpetual contradiction. It was a window on to Europe and the Enlightenment, but so much of the glory of Russia was created here: its literature, music, dance and, for a time, its political vision. It gave birth to the artistic genius of Pushkin and Dostoyevsky, Tchaikovsky and Shostakovich, Pavlova and Nureyev. Yet, for all its glittering palaces, fairytale balls and enchanting gardens, the blood of thousands has been spilt on its snow-filled streets. It has been a hotbed of war and revolution, a place of siege and starvation, and the crucible for Lenin and Stalin's power-hungry brutality.
In St Petersburg, Jonathan Miles recreates the drama of three hundred years in this absurd and brilliant city, bringing us up to the present day, when – once more – its fate hangs in the balance. This is an epic tale of murder, massacre and madness played out against squalor and splendour. It is an unforgettable portrait of a city and its people.
"So fluent, so textured is Jonathan Miles's ease with prose and argument that his vivid dissection of 300 years of St Petersburg's history should be devoured in captive sittings… Investigating the artistic life of St Petersburg, he also explores the melodrama and blood on the streets and the effects of continuing political disarray and corruption on ordinary people. This is a storyteller entranced with his subject, who makes its brilliant portrayal look deliriously easy."               Observer
"[A] lively and entertaining biography… full of sparkling storytelling and well-drawn characters… a delight."                 Victor Sebestyen,  Sunday Times
"Jonathan Miles's cinematic telling of the 300-year history of … St Petersburg shows how the drama, the absurdity, the splendour and the squalor of the imperial capital all found their way into Russia's finest s, operas and paintings… Miles peels back the layers of myth in which the city is swaddled, while never losing sight of its haunting grace."                     Guardian
Black Hand by Stephan Talty
Beginning in the summer of 1903, an insidious crime wave filled New York City, and then the entire country, with fear. The children of Italian immigrants were kidnapped, and dozens of innocent victims were gunned down. Bombs tore apart tenement buildings. Judges, senators, Rockefellers, and society matrons were threatened with gruesome deaths. The perpetrators seemed both omnipresent and invisible. Their only calling card: the symbol of a black hand. The crimes whipped up the slavering tabloid press and heated ethnic tensions to the boiling point.
Standing between the American public and the Black Hand's lawlessness was Joseph Petrosino. Dubbed the "Italian Sherlock Holmes," he was a famously dogged and ingenious detective, and a master of disguise. As the crimes grew ever more bizarre and the Black Hand's activities spread far beyond New York's borders, Petrosino and the all-Italian police squad he assembled raced to capture members of the secret criminal society before the country's anti-immigrant tremors exploded into catastrophe. Petrosino's quest to root out the source of the Black Hand's power would take him all the way to Sicily—but at a terrible cost.
Unfolding a story rich with resonance in our own era, The Black Hand is fast-paced narrative history at its very best.
"What a terrific read! Through incredible historical research and a detective's eye for the telling detail, Stephan Talty chronicles Joseph Petrosino's dogged pursuit of cold-blooded extortionists and killers. It's a story about immigration, urban life, and the struggle of law enforcement to confront the terror spread by a start-up criminal underworld at the turn of the 20th century"              Dick Lehr, author of the New York Times bestseller Black Mass
The Crack in Creation: The New Power to Control Creation by Jennifer Doudna
Jennifer Doudna, the world-famous scientist behind CRISPR, 'one of the most monumental discoveries in biology' (New York Times), describes its power to reshape the future of all life and warns of its use.
A handful of discoveries have changed the course of human history. This book is about the most recent and potentially the most powerful and dangerous of them all.
It is an invention that allows us to rewrite the genetic code that shapes and controls all living beings with astonishing accuracy and ease. Thanks to it, the dreams of genetic manipulation have become a stark reality: the power to cure disease and alleviate suffering, to create new sources of food and energy, as well as to re-design any species, including humans, for our own ends.
Jennifer Doudna is the co-inventor of this technology, known as CRISPR, and a scientist of worldwide renown. Writing with fellow researcher Samuel Sternberg, here she provides the definitive account of her discovery, explaining how this wondrous invention works and what it is capable of.
A Crack In Creation also asks us to consider what our new-found power means: how do we enjoy its unprecedented benefits while avoiding its equally unprecedented dangers? As Doudna argues, every member of our species is implicated in the answers to these questions. Somehow we must consider and act together.
"The most important advance of our era. One of the pioneers of the field describes the exciting hunt for the key breakthrough and what it portends for our future."              Walter Isaacson
"Too important … What may happen thanks to Doudna's [discovery] is dizzying … for her, this is the future of medicine. If she's right, then Crispr is about to make our present healthcare concerns look surprisingly trivial."                         Bryan Appleyard, Sunday Times
"One of the architects of this miraculous biological technique … explains the science clearly and excitingly as a kind of globalist detective story."                   Telegraph
"Probably the greatest biological breakthrough since that of Francis Crick, James Watson and Rosalind Franklin… We owe Doudna several times over – for her discovery, for her zeal to take it from the lab into the clinic, for her involvement in the ethical issues raised, for her public engagement work, and now for this book"                                    Guardian
"An urgent plea from the celebrated biologist whose discovery enabled us to rewrite the code of life. The future is in our hands as never before, and this book explains the stakes like no other."                   George Lucas
October: Story of the Russian Revolution by China Mieville
Award-winning writer China Miéville has long been inspired by the ideals of the Russian Revolution and here, on the centenary of the revolution, he provides his own distinctive take on its history. In February 1917, in the midst of bloody war, Russia was still an autocratic monarchy: nine months later, it became the first socialist state in world history. How did this unimaginable transformation take place? How was a ravaged and backward country, swept up in a desperately unpopular war, rocked by not one but two revolutions? This is the story of the extraordinary months between those upheavals, in February and October, of the forces and individuals who made 1917 so epochal a year, of their intrigues, negotiations, conflicts and catastrophes. From familiar names like Lenin and Trotsky to their opponents Kornilov and Kerensky; from the byzantine squabbles of urban activists to the remotest villages of a sprawling empire; from the revolutionary railroad Sublime to the ciphers and static of coup by telegram; from grand sweep to forgotten detail. Historians have debated the revolution for a hundred years, its portents and possibilities: the mass of literature can be daunting. But here is a book for those new to the events, told not only in their historical import but in all their passion and drama and strangeness. Because as well as a political event of profound and ongoing consequence, Miéville reveals the Russian Revolution as a breathtaking story.
"Even when he is orbiting somewhere in a galaxy too far away for normal human comprehension … Mieville is dazzling."                    New York Times
"This gripping account is a re-enactment of the Russian Revolution… His writing can be as passionate as that of the poets of the time: Alexander Blok, Mikhail Kuzmin, Marina Tsvetaeva, to mention some of those quoted here. Miéville's own special effects are of a piece with them."                 Financial Times
"Elegantly constructed and unexpectedly moving."              London Review of Books
"There are delightful grace notes here over and above a brisk and perceptive narrative."            Scotsman
"This is a very fine book — in some ways, I believe, the best work that China Miéville has produced since the three thick volumes of the Bas-Lag trilogy. Indeed, October bears, in certain respects, a deeper affinity to those novels than to anything else he has published since; and it thus provides a convenient opportunity to take stock of the Miéville oeuvre to date…That [October] is an excellent work of art there is no doubt whatever."            Los Angeles Review of Books
Streets of the World by Jeroen Swolfs
200 capitals; one street each; seven years of travelling and collecting photos, stories, facts and figures about each capital. This is not just another photography book. It reveals everything that a street means to society: education, wisdom, youth, experience, happiness, stories, food, and so much more. This is the raw material of life, drawn directly from the experiences of the Dutch photographer Jeroen Swolfs.
Seeing the street as a unifying theme, he travelled in search of that one street in each place – sometimes by a harbour or a railway station – that comprised the country as a whole. Each stunning image conveys culture, colours, rituals, even the history of the city and country where he found them. Swolfs sees the street as a universal meeting place, a platform of crowds, a centre of news and gossip, a place of work, and a playground for children.
Indeed, Swolfs's streets are a matrix for community; his photographs are published at a time when the unique insularity of local communities everywhere has never been more under threat.
Poetry
There are More Beautiful Things than Beyonce by Morgan Parker
Publishers Weekly's Ten Best Poetry Collections of Spring
A Most Anticipated book at Buzzfeed, NYLON and Bustle
One of i-D's emerging female authors to read in 2017
"Outstanding collection of poems. So much soul. So much intelligence in how Parker folds in cultural references and the experiences of black womanhood. Every poem will get its hooks into you. And of course, the poems about Beyoncé are the greatest because Beyoncé is our queen."  Roxane Gay
The only thing more beautiful than Beyoncé is God, and God is a black woman sipping rosé and drawing a lavender bath, texting her mom, belly-laughing in the therapist's office, feeling unloved, being on display, daring to survive. Morgan Parker stands at the intersections of vulnerability and performance, of desire and disgust, of tragedy and excellence. Unrelentingly feminist, tender, ruthless and sequinned, these poems are an altar to the complexities of black American womanhood in an age of non-indictments and déjà vu, and a time of wars over bodies and power. These poems celebrate and mourn. They are a chorus chanting: You're gonna give us the love we need.
"I can and have read Morgan Parker's poems over and over . . . She writes history and pleasure and kitsch and abstraction, then vanishes like a god in about 13 inches."                Eileen Myles
"Morgan Parker has a mind like wildfire and these pages are lit. I can't recall being this enthralled, entertained, and made alert by a book in a very long time."        Jami Attenberg
"[Morgan Parker s] poems are delightful in their playful ability to rake through our contemporary moment in search of all manner of riches, just as they are devastating in their ability to remind us of what we look like when nobody's watching, and of what the many things we don't or can't say add up to."                        Tracy K. Smith
Love Her Wild by Atticus
For fans of Milk & Honey and Chasers of the Light, the first collection of poetry by Instagram sensation Atticus.
Love Her Wild is a collection of new and beloved poems from Atticus, the young writer who has captured the hearts and minds of hundreds of thousands of avid followers on his Instagram account @atticuspoetry
In Love Her Wild, Atticus captures what is both raw and relatable about the smallest and the grandest moments in life: the first glimpse of a new love in Paris; skinny dipping on a summer's night; the irrepressible exuberance of the female spirit; or drinking whiskey in the desert watching the rising sun.
With honesty, poignancy, and romantic flair, Atticus distils the most exhilarating highs and the heart-breaking lows of life and love into a few perfectly evocative lines, ensuring that his words will become etched in your mind and will awaken your sense of adventure.
HAPPY READING!