Fiction
Unpresidented by Paige Nick
When ex-president J Muza is released from prison on medical parole for an ingrown toenail, his expectations of a triumphant return to power and admiration are cruelly dashed.
His once lavish Homestead is a rotting shell, his remaining wives have ganged up on him, the Guptas have blocked his number, and not even Robert Mugabe will take his calls any more. And he just can't seem to get his plans for world domination off the ground.
Muza is banking on his memoirs full of fake news to pep up his profile, but his ghostwriter, a disgraced journalist, has problems and a tight deadline of his own. What Muza's not banking on is a fat bill for outstanding rates on The Homestead, and a 30-day deadline to pay back the money, before the bailiffs arrive to evict him.
Is Muza a mastermind, or simply a puppet who fell into the wrong hands? Who is really playing who? What are his remaining wives up to, and will they stay or will they go? And how will he ever pay back the money?
Can the ghostwriter make his deadline before he winds up dead? Or are both men destined to be homeless and loathed forever?
Fever by Deon Meyer
I want to tell you about my Father's murder.
I want to tell you who killed him and why.
This is the story of my life.
And the story of your life and your world too, as you will see.
Nico Storm and his father drive across a desolate South Africa, constantly alert for feral dogs, motorcycle gangs, nuclear contamination. They are among the few survivors of a virus that has killed most of the world's population. Young as he is, Nico realises that his superb marksmanship and cool head mean he is destined to be his father's protector.
But Willem Storm, though not a fighter, is a man with a vision. He is searching for a place that can become a refuge, a beacon of light and hope in a dark and hopeless world, a community that survivors will rebuild from the ruins. And so Amanzi is born.
Fever is the epic, searing story of a group of people determined to carve a city out of chaos.
"Fever bears comparison with landmarks in the genre such as The Stand…The novel explores humanity at its best and worst; the crushing loss of civilisation with everything that means for the structure of society…This great book asks us to reflect on our own hidden natures – how would we react if the world we knew came to an end tomorrow?"                 Vaseem Khan
Ghachar Ghochar by Vivek Shanbhag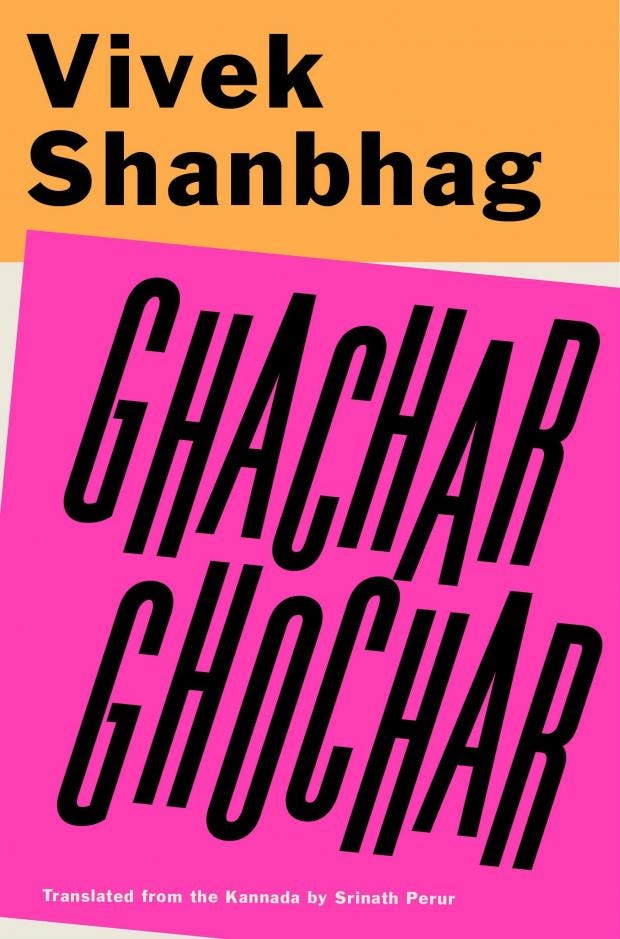 In this masterful novel by the acclaimed Indian writer Vivek Shanbhag, a close-knit family is delivered from near-destitution to sudden wealth after the narrator's uncle founds a successful spice company. As the narrator – a sensitive young man who is never named – along with his sister, his parents, and his uncle move from a cramped, ant-infested shack to a larger house and encounter newfound wealth, the family dynamics begin to shift. Allegiances and desires realign; marriages are arranged and begin to falter; and conflict brews ominously in the background.
Their world becomes 'ghachar ghochar' – a nonsense phrase that, to the narrator, comes to mean something entangled beyond repair. Told in clean, urgent prose, and punctuated by moments of unexpected warmth and humour, Ghachar Ghochar is a quietly enthralling, deeply unsettling novel about the shifting meanings – and consequences – of financial gain in contemporary India.
"A great Indian novel…Folded into the compressed, densely psychological portrait of this family is a whole universe."        Parul Sehgal, The New York Times Book Review (Editors' Choice)
"[Shanbhag] is a master of inference and omission…What's most impressive about Ghachar Ghochar…is how much intricacy and turmoil gets distilled into its few pages…[A] wise and skillful book."                         Sam Sacks, Wall Street Journal
"A classic tale of wealth and moral ruin and a parable about capitalism and Indian society."                    New Yorker
"Great Indian novels…tend towards large tomes, written in English. Now, however, the arrival of a new work has shaken up the status quo: Vivek Shanbhag's gripping Ghachar Ghochar. This slim volume…packs a powerful punch, both in terms of the precision of its portrait of one Bangalore-based family, and, by extension, what this tells us about modern India….Shanbhag is the real deal, this gem of a novel resounding with chilling truths."                 Independent 
"Masterful…This stunning Bangalore-set family drama underlines the necessity of reading beyond our borders….Ghachar Ghochar is both fascinatingly different from much Indian writing in English, and provides a masterclass in crafting, particularly on the power of leaving things unsaid."                      Deborah Smith,  Guardian

"Ghachar Ghochar introduces us to a master."         Paris Review
"One of the finest literary works you will ever encounter…a nuanced wonder."                 -Irish Times 

"A feat of taut, economical storytelling…[with] moments of wonderfully dark, often unexpected, cynicism."                   Financial Times
"One of the best novels to have come out of India in recent decades."                    Pankaj Mishra, author of Age of Anger 
The Idiot by Elif Batuman
"I loved it and could have read a thousand more pages of it."                     Emma Cline
Selin, a tall, highly strung Turkish-American from New Jersey turns up at Harvard and finds herself dangerously overwhelmed by the challenges and possibilities of adulthood. She studies linguistics and literature, teaches ESL and spends a lot of time thinking about what language – and languages – can and cannot do.
Along the way she befriends Svetlana, a cosmopolitan Serb, and obsesses over Ivan, a mathematician from Hungary. The two conduct a hilarious relationship that culminates with Selin spending the summer teaching English in a Hungarian village and enduring a series of surprising excursions. Throughout her journeys, Selin ponders profound questions about how culture and language shape who we are, how difficult it is to be a failed writer, and how baffling love is.
At once clever and clueless, Batuman's heroine shows us with perfect hilarity and soulful inquisitiveness just how messy it can be to forge a self.
"Each paragraph is a small anthology of well-made observations… Batuman has a rich sense of the details of human attachment and lust."                         New York Times
"A moving, continent-hopping coming-of-age story."                        Alex Preston, Observer, 2017 Books of the Year
"I'm not Turkish, I don't have a Serbian best friend, I'm not in love with a Hungarian, I don't go to Harvard. Or do I? For one wonderful week, I got to be this worldly and brilliant, this young and clumsy and in love. The Idiot is a hilariously mundane immersion into a world that has never before received the 19th Century Novel treatment. An addictive, sprawling epic; I wolfed it down."                         Miranda July,
White Tears by Hari Kunzru
A feverish new tale from the bestselling author of The Impressionist: two ambitious young musicians are drawn into a dark underworld, haunted by the ghosts of a repressive past
Two twenty-something New Yorkers: Seth, awkward and shy, and Carter, the trust fund hipster. They have one thing in common: an obsession with music. Rising fast on the New York producing scene, they stumble across an old blues song long forgotten by history — and everything starts to unravel. Carter is drawn far down a path that allows no return, and Seth has no choice but to follow his friend into the darkness.
Trapped in a game they don't understand, Hari Kunzru's characters move unsteadily across the chessboard, caught between black and white, performer and audience, righteous and forsaken. But we have been here before, oh so many times over, and the game always ends the same way . . .
Electrifying, subversive and wildly original, White Tears is a ghost story and a love story, a story about lost innocence and historical guilt. This unmissable novel penetrates the heart of a nation's darkness, encountering a suppressed history of greed, envy, revenge and exploitation, and holding a mirror up to the true nature of America today.
"White Tears is a book that everyone should be reading right now."                       Time
"Delilloesque — moody, threatening, and profoundly dark… A story about ghosts, about grievances leaking through the fabric of decades, and about retribution, violence and hatred. At every turn, Kunzru's words concoct a dreamlike world where the past isn't dead and the boundaries of reality flicker at the margins."             Huffington Post
"Haunting, doom-drenched, genuinely and viscerally disturbing… Kunzru showcases his trademark exhilarating prose throughout – closing with a conclusion that packs a real punch."                   Independent
"A disorientating odyssey through decades of American history…Kunzru has always been an assured and intellectually gifted novelist, but I am not sure he has ever before displaying such emotional heft."                     Daily Telegraph
"What begins as dude-bro send-up soon spirals into a supernatural revenge fantasy keyed to America's history of racism."                      Observer
"Both like a radical revenge fantasia and a stern lesson in radical empathy."                    Spectator
Belladonna by Daša Drndic
Andreas Ban is a writer and a psychologist, an intellectual proper, but his world has been falling apart for years. When he retires with a miserable pension and finds out that he is ill, he gains a new perspective on the debris of his life and the lives of his friends. In defying illness and old age, Andreas Ban is cynical and powerful, and in his unravelling of his own past and the lives of others, he uncompromisingly lays bare a gamut of taboos.
Andreas Ban stands for a true hero of our times; a castaway intellectual of a society which subdues every critical thought under the guise of political correctness. Belladonna addresses some of the twentieth century's worst human atrocities in a powerful fusion of fiction and reality, the hallmark of one of Europe's finest contemporary writers.
American War by Omar el-Akkad
"Powerful . . . As haunting a postapocalyptic universe as Cormac McCarthy [created] in The Road, and as devastating a look as the fallout that national events have on an American family as Philip Roth did in The Plot Against America. . . . Omar El Akkad's debut novel, American War, is an unlikely mash-up of unsparing war reporting and plot elements familiar to readers of the recent young-adult dystopian series The Hunger Games and Divergent."                      -Michiko Kakutani, The New York Times
An audacious and powerful debut novel: a second American Civil War, a devastating plague, and one family caught deep in the middle–a story that asks what might happen if America were to turn its most devastating policies and deadly weapons upon itself.
Sarat Chestnut, born in Louisiana, is only six when the Second American Civil War breaks out in 2074. But even she knows that oil is outlawed, that Louisiana is half underwater, and that unmanned drones fill the sky. When her father is killed and her family is forced into Camp Patience for displaced persons, she begins to grow up shaped by her particular time and place. But not everyone at Camp Patience is who they claim to be. Eventually Sarat is befriended by a mysterious functionary, under whose influence she is turned into a deadly instrument of war. The decisions that she makes will have tremendous consequences not just for Sarat but for her family and her country, rippling through generations of strangers and kin alike.
"American War is an extraordinary novel. El Akkad's story of a family caught up in the collapse of an empire is as harrowing as it is brilliant, and has an air of terrible relevance in these partisan times."              Emily St. John Mandel, author of Station Eleven
"American War, a work of a singular, grand, brilliant imagination, is a warning shot across the bow of the United States. Omar El Akkad has created a novel that isn't afraid to be a pleasurable yarn as it delves into the hidden currents of American culture and extrapolates from them to envision a deeply tragic potential future."             David Means, author of Hystopia
The Fourteenth Letter by Claire Evans
A mysterious keepsake, a murdered bride, a legacy of secrets…
One balmy June evening in 1881, Phoebe Stanbury stands before the guests at her engagement party: this is her moment, when she will join the renowned Raycraft family and ascend to polite society.
As she takes her fiancé's hand, a stranger holding a knife steps forward and ends the poor girl's life. Amid the chaos, he turns to her aristocratic groom and mouths: 'I promised I would save you.'
The following morning, just a few miles away, timid young legal clerk William Lamb meets a reclusive client. He finds the old man terrified and in desperate need of aid: William must keep safe a small casket of yellowing papers, and deliver an enigmatic message: The Finder knows.
With its labyrinth of unfolding secrets, Claire Evans' riveting debut will be adored by fans of Kate Mosse, Carlos Ruiz Zafon and Jessie Burton.
"Exuberant plotting and witty prose. Great fun."                  The Times
"Claire Evans has created a cast of deliciously sinister and mysterious characters. A hugely satisfying read."                  Good Housekeeping
Reservoir 13 by Jon McGregor
From the award-winning author of If Nobody Speaks of Remarkable Things and Even the Dogs. Reservoir 13 tells the story of many lives haunted by one family's loss.
A GUARDIAN NOTABLE BOOK OF 2017
Midwinter in the early years of this century. A teenage girl on holiday has gone missing in the hills at the heart of England. The villagers are called up to join the search, fanning out across the moors as the police set up roadblocks and a crowd of news reporters descends on their usually quiet home.
Meanwhile, there is work that must still be done: cows milked, fences repaired, stone cut, pints poured, beds made, sermons written, a pantomime rehearsed.
The search for the missing girl goes on, but so does everyday life. As it must.
As the seasons unfold there are those who leave the village and those who are pulled back; those who come together or break apart. There are births and deaths; secrets kept and exposed; livelihoods made and lost; small kindnesses and unanticipated betrayals.
Bats hang in the eaves of the church and herons stand sentry in the river; fieldfares flock in the hawthorn trees and badgers and foxes prowl deep in the woods – mating and fighting, hunting and dying.
An extraordinary novel of cumulative power and grace, Reservoir 13 explores the rhythms of the natural world and the repeated human gift for violence, unfolding over thirteen years as the aftershocks of a stranger's tragedy refuse to subside.
"Absolutely magnificent; one of the most beautiful, affecting novels I've read in years. The prose is alive and ringing. There is so much space and life in every sentence. I don't know how he's done it. It's beautiful."                        Eimear McBride
"Reservoir 13 is quite extraordinary – the way it's structured, the way it rolls, the skill with which Jon McGregor lets the characters breathe and age."                       Roddy Doyle
"A work of intense, forensic noticing; an unobtrusively experimental, thickly atmospheric portrait of the life of a village which, for its mixture of truthfulness and potency, deserves to be set alongside works of such varied brilliance as Ronald Blythe's Akenfield, Jim Crace's Harvest and Dylan Thomas's Under Milk Wood."                  Sarah Crown, TLS
"Even by the standards of his mature work, McGregor's latest novel is a remarkable achievement… Fluid and fastidious, its sparing loveliness feels deeply true to its subject. There are moments, as in life, of miraculous grace, but no more than that…(a) humane and tender masterpiece."                     Irish Times
Masha Regina by Vadim Levental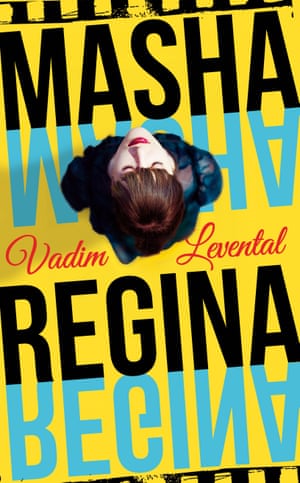 Passionate, talented, headstrong and ambitious, Masha takes the European film scene by storm, escaping her small provincial town to become the most daring, avant-garde auteur of her generation. Taking inspiration from her personal life as well as the artists and poets she meets on the streets of St Petersburg, Masha courageously puts herself on the line by transforming her own experiences into art. But as painful memories of her childhood start to resurface, she is forced to confront her demons – the betrayals, the cruelties – in this psychologically compelling debut from one of Russia's most exciting young writers.
"Sketching Masha, Saint Petersburg, and the Russian arts scene with lively and impressionistic detail, Levental swirls in fragmentary conversations, bits of internal monologue, and more than a few knowing references to the Russian literary canon to create a sophisticated twist on a bildungsroman that raises more questions than it answers and showcases the author's own considerable literary talent."                  Booklist
"Masha Regina is … populated with cultural quotations from The Iliad to Star Wars, Gogol to The Godfather, fairy tales to porn sites, Don Quixote to computer games. Levantal's work returns regularly to the "Dostoevskian spirit", even as it spans both Shakespearean allusions and social media ("nothing drives people apart like daily status updates")…. In her acknowledgements, translator Lisa Hayden comments on these references "woven into the novel." Her English version of this complex tapestry is, as ever, a delight, tackling multiple challenges from colloquialisms ("a drunk chick is not in charge of her twat") to tongue twisters ("by the burbling river bank we bumblingly bagged a burbot"). Hayden's thoughtful brilliance in this book … helps illuminate contemporary Russian literature for Anglophone readers….The novel triumphs through imagery."                      Russia Beyond the Headlines
"A spectacularly mature, fine and merciless novel."                       Vechernyi Peterburg
Selling Lipservice by Tammy Baikie
Compared to the likes of Clockwork Orange by Anthony Burgess, Lauren Beuke's Zoo City and Andrew Miller's Dub Steps, Selling LipService is a daring novel. Selling LipService introduces its reader to a strange assortment of new vocabulary, and through this touches on the familiar danger of the commercialisation of language. Through a linguistically brilliant text, Tammy Baikie has created a world that exposes a society that has been swallowed up by the ad men. Since coming of haemorrh-age, Frith must wear a LipService patch to write or speak. The words the patch produces are not her own. Scripted by copywriters, they promote one sponsoring brand or another. With them, 'You' – a voice in her head that is the patch's brand persona and her conformist alter ego – appears. Through the noise of You talking a variety of different LipService brands, Frith struggles to find her way back to speaking for herself. She believes her tastures – her ability to taste things she touches – are the key. But other elements of this consumerist society are equally interested in tastures for commercial gain.
All Their Minds in Tandem by David Sanger
The setting is October 1879. The stage is New Georgetown, West Virginia.
A mysterious figure by the name of 'The Maker' has entered this small community and, almost immediately upon doing so, started entering the minds of the townsfolk.
Townsfolk who are as curious as The Maker himself. Like Dr Umbründ, the pint-sized physician with a prodigious capacity for sin; like the three sisters in the house on the hill – one stern, one wild, one mysterious; like the tavern's semi-mythical siren, 'The Bird', who plays spellbinding music from behind a black velvet curtain, and whom no patron has ever laid eyes on; like Odell, a youth with dreams and ambitions that his craven disposition will forever prevent him from seizing; and who has spent the entirety of his erstwhile existence under the crushing heel of Clay, New Georgetown's lead cad and chief alpha male.
As we enter these characters' lives, and lightly tread our way through their brains, their bedrooms, their backstories and beyond, we will see what it is they all hope for and hide – and learn just why The Maker has chosen to meet them.
Norse Mythology by Neil Gaiman
The great Norse myths are woven into the fabric of our storytelling – from Tolkien, Alan Garner and Rosemary Sutcliff to Game of Thrones and Marvel Comics. They are also an inspiration for Neil Gaiman's own award-bedecked, bestselling fiction. Now he reaches back through time to the original source stories in a thrilling and vivid rendition of the great Norse tales. Gaiman's gods are thoroughly alive on the page – irascible, visceral, playful, passionate – and the tales carry us from the beginning of everything to Ragnarok and the twilight of the gods. Galvanised by Gaiman's prose, Thor, Loki, Odin and Freya are irresistible forces for modern readers and the crackling, brilliant writing demands to be read aloud around an open fire on a freezing, starlit night.
"No contemporary fiction writer gets more of his power from the mythological tradition than Neil Gaiman. . . . As always, Gaiman's a charming raconteur . . . [and he] recognizes a ripping yarn when he sees one."                    Douglas Wolk
"A gripping, suspenseful and quite wonderful reworking of these famous tales. Once you fall into the rhythm of its glinting prose, you will happily read on and on, in thrall to Gaiman's skillful storytelling."                        Michael Dirda
McSweeney's 49 Cover Stories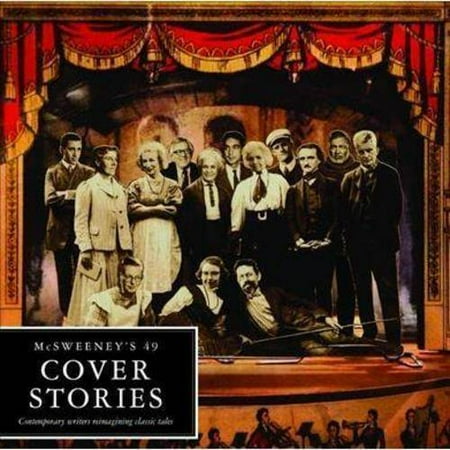 The "Covers Issue" features today's top writers rewriting (or covering) classic stories. To name a few, there's Roxane Gay channeling Margaret Atwood, Jess Walter embodying James Joyce, Meg Wolitzer taking on J.D. Salinger–fourteen stories, all told, spanning a slipcased set of five paperback volumes, each featuring stunning illustrations by the award-winning design outfit Aesthetic Apparatus. Guest–art directed by legendary album-cover designers Gary Burden and Jenice Heo of R. Twerk & Co., the issue is packaged in a 9×9-inch LP-inspired slipcase.
Local
No Longer Whispering to Power:  The Story of Thuli Madonsela by Thandeka Gqubule
Public Protector Thuli Madonsela has achieved in seven years what few accomplish in a lifetime. She has been praised and vilified in equal measures during her time in office, often putting her at centre stage.
Speaking in Cape Town last year, Madonsela said that her role as Public Protector is akin to that of the Venda traditional spiritual female leader, the Makhadzi, who whispers truth to the king or the ruler. A ruler ignores the Makhadzi at his peril. During the speech, Madonsela joked that when the sounds of exchanges between the ruler and the Makhadzi grow loud, that is when the whispering has failed.
No Longer Whispering to Power is about Madonsela's tenure as Public Protector, during which the whisper grew into a cry. It is the story of South Africa's people's attempt to hold power to account through the Office of the Public Protector. This important book stands as a record of the crucial work Madonsela has done, always acting without fear or favour.
"A new book on her tenure as Public Protector reminds us just how impactful a role Madonsela played in South African politics since 2009 – and how much courage it must have taken to stick to her path."                   Rebecca Davis
As by Fire: The End of the South African University by Jonathan Jansen
What are the real roots of the student protests of 2015–16? Why did the protests turn violent? Do the students know how to end it? Former Free State University vice-chancellor Jonathan Jansen delves into the unprecedented disruption of universities that caught SA by surprise. In frank interviews with 11 of the VCs most affected, he examines the forces at work and what is driving our youth. As by Fire gives us an insider view of the crisis and tells us what it means for our universities.
Miss Behave by Malebo Sephodi
Upon encountering historian Laurel Thatcher Ulrich's quote, 'well-behaved women seldom make history', Malebo Sephodi knew that she was tired of everyone else having a say on who and what she should be.
Appropriating this quote, Malebo boldly renounces societal expectations placed on her as a black woman and shares her journey towards misbehaviour.
According to Malebo, it is the norm for a black woman to live in a society that prescribes what it means to be a well-behaved woman. Acting like this prescribed woman equals good behaviour.
But what happens when a black woman decides to live her own life and becomes her own form of who she wants to be? She is often seen as misbehaving.
Miss-Behave challenges society's deep-seated beliefs about what it means to be an obedient woman. In this book, Malebo tracks her journey on a path towards achieving total autonomy and self-determinism.
Gift from Darkness by Patience Ibrahim
A Gift from Darkness is the harrowing yet inspirational story of a young, pregnant Nigerian girl and the hell she endured for the sake of her unborn child when she was kidnapped by Boko Haram.
When Patience Ibrahim's husband died, she feared that her life was over. She had prayed every night for a baby to complete her family, and suddenly she found herself a nineteen-year-old widow, alone in the world. But when she fell in love again, a happy future seemed possible. Patience married once more , and was overjoyed to discover that she was pregnant.
A few days later, everything fell apart. Men from Boko Haram arrived at her door, killing Patience's new husband and kidnapping her.
This is the incredible true story of her and her baby daughter's survival, against all the odds.
Graphic and Sci Fi
Mockingbird: My Feminist Agenda by Chelsea Cain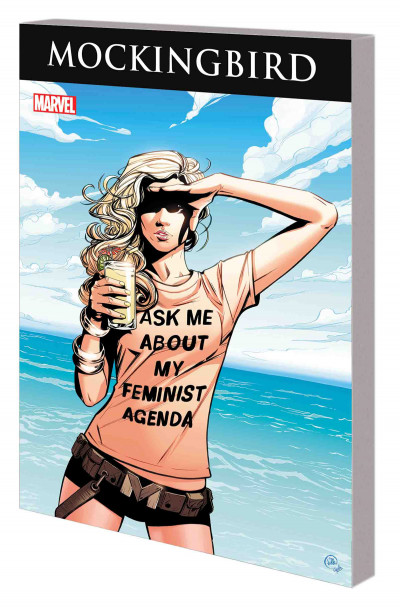 A top secret mission on behalf of an old friend, a tropical cruise. What could go wrong? Turns out it's a theme cruise -super-hero themed, naturally -a fl oating comic con. Now Bobbi is trapped on a boat with a thousand cosplayers, caped colleagues she was trying to avoid, an ex-boyfriend who keeps showing up at inopportune times and a rampaging herd of corgis. When a passenger is murdered, Bobbi must play Hercule Poirot to find the killer and confront some uncomfortable truths from her past in the process.
One Hundred Nights of Hero by Isabel Greenberg
"A feminist fairy-tale, which I recommend if you're looking for a Christmas present for a teenage girl… A wondrously intricate book, and a witty attack on the patriarchy, this is an instant classic."                        Rachel Cooke, an Observer Book of the Year
From the author who brought you The Encyclopedia of Early Earth comes another Epic Tale of Derring-Do.
Prepare to be dazzled once more by the overwhelming power of stories and see Love prevail in the face of Terrible Adversity!
You will read of betrayal, loyalty, madness, bad husbands, lovers both faithful and unfaithful, wise old crones, moons who come out of the sky, musical instruments that won't stay quiet, friends and brothers and fathers and mothers and above all, many, many sisters.
Waking Gods by Sylvain Neuvel
When an alien vessel materialises in London, does it mean peace or war? Waking Gods is the gripping sequel to the ground-breaking thriller Sleeping Giants by Sylvain Neuvel.
"A superb, powerful follow-up."                      SciFiNow
What's going on?
Turn on the television.
What channel?
Any channel.
An unknown vessel, not of this world, materializes in London. A colossal figure towering over the city, it makes no move. Is this a peaceful first contact or the prelude to an invasion?
Every child has nightmares. But the only thing scarier than little Eva Reyes' dreams – apocalyptic visions of death and destruction – is the habit they have of coming true…
Scientist Dr Rose Franklin has no memory of the last few years. The strangers she works with say she died, and was brought back to life. The question is not just how … but why?
Kara Resnik and Vincent Couture fell in love during war, and have found peace since. They are the thin line of defence against what is coming. But they do not know they have been living a lie.
And a man who claims to have the answers has his own agenda. There are things he cannot say – and others he won't.
All pieces of an epic puzzle. One we have been trying to solve since the dawn of time…
Binti 2 Home by Nnedi Okorafor
The thrilling sequel to the Hugo and Nebula-winning Binti by Nnedi Okorafor
It's been a year since Binti and Okwu enrolled at Oomza University. A year since Binti was declared a hero for uniting two warring planets. A year since she found friendship in the unlikeliest of places.
And now she must return home to her people, with her friend Okwu by her side, to face her family and face her elders.
But Okwu will be the first of his race to set foot on Earth in over a hundred years, and the first ever to come in peace.
After generations of conflict can human and Meduse ever learn to truly live in harmony?
"Binti is a supreme read about a sexy, edgy Afropolitan in space! It's a wondrous combination of extra-terrestrial adventure and age-old African diplomacy. Unforgettable!" – Wanuri Kahiu, award winning Kenyan film director of Pumzi and From a Whisper
"A perfect dove-tailing of tribal and futuristic, of sentient space ships and ancient cultural traditions, Binti was a beautiful story to read." – Little Red Reviewer
"Binti is a wonderful and memorable coming of age story which, to paraphrase Lord of the Rings, shows that one girl can change the course of the galaxy."                 Geek Syndicate
"There's more vivid imagination in a page of Nnedi Okorafor's work than in whole volumes of ordinary fantasy epics."                         Ursula Le Guin
Non-fiction
The Moth – All These Wonders
From storytelling phenomenon The Moth: a collection about risk, courage, and facing the unknown, drawn from the best stories ever told on their stages.
All These Wonders features voices both familiar and new. Storytellers include writer Jung Chang and comedian Louis C.K, as well as a hip hop 'one hit wonder', an astronomer gazing at the surface of Pluto for the first time, and a young female spy risking everything as part of Churchill's secret army during World War II. They share their ventures into uncharted territory – and how their lives were changed forever by what they found there. These true stories have been carefully selected and adapted to the page by the creative minds at The Moth, and encompass the very best of the 17,000+ stories performed in live Moth shows around the world. Filled with a variety of humourous, moving, and gripping tales from all walks of life, it is timed to celebrate the Moth's 20th anniversary year.
"Brilliant and quietly addictive."                    Guardian
"Beautifully simple, authentic, a little bit therapeutic and utterly addictive. It is a joyful reminder of the power of the story and the need for story-telling."                   Sunday Times
"The stories remain very much in the voices of those who spoke them and thus retain the vulnerability and rawness inherent in the situation of one person, alone at the mic, telling a room full of strangers something personal."                   Observer
"The stories not only maintain their oral integrity but take on new dimensions, allowing you to ponder a turn of events or swirl the language around in your head without missing the next part of the story."                  New York Times
"A wonderful new book … Some [stories] are heartbreakingly sad; some laugh-out-loud funny; some momentous and tragic; almost all of them resonant or surprising. They are stories that attest to the startling varieties and travails of human experience, and the shared threads of love, loss, fear and kindness that connect us … The stories here…have translated seamlessly to the page. Though they are all relatively short … most possess a remarkable emotional depth and sincerity … They are…closely focused, finely tuned narratives that have the force of an epiphany, while opening out to disclose the panoramic vistas of one person's life or the shockingly disparate worlds they have inhabited or traversed."                Michiko Kakutani, New York Times
"All These Wonders is replete with wondrous true stories of loves, losses, rerouted dreams, and existential crises of nearly every unsugarcoated flavour."                   Maria Popova, Brain Pickings
So Sad Today: Personal Essays by Melissa Broder
So sad today? Many are. Melissa Broder is too. How and why did she get to be so sad? And should she stay sad?
She asks herself these questions over and over here, turning them into a darkly mesmerising and strangely uplifting reading experience through coruscating honesty and a total lack of self-deceit.
Sexually confused, a recovering addict, suffering from an eating disorder and marked by one very strange sex fetish: Broder's life is full of extremes. But from her days working for a Tantric nonprofit in San Francisco to caring for a severely ill husband, there's no subject that Broder is afraid to write about, and no shortage of readers who can relate. When she started an anonymous Twitter feed @sosadtoday to express her darkest feelings, her unflinching frankness and twisted humour soon gained a huge cult following.
In its treatment of anxiety, depression, illness and instability; by its fearless exploration of the author's romantic relationships (romantic is an expanded term in her hands); and with its inventive imagery and deadpan humour, So Sad Today is radical. It is an unapologetic, unblinkingly intimate book that splays out a soul and a prose of unusual beauty.
"If Melissa Broder weren't so fucking funny I would have wept through this entire book."                        Lena Dunham
"So Sad Today is desperately honest ― Melissa Broder lays herself bare but she does so with strength, savvy, and style. Sad and uncomfortable and its own kind of gorgeous. Reveals so much about what it is to live in this world, right now."                  Roxane Gay, New York Times bestselling author of Bad Feminist
On Intelligence: The History of Espionage and the Secret World by John Hughes-Wilson
This book is a professional military-intelligence officer's and a controversial insider's view of some of the greatest intelligence blunders of recent history. It includes the serious developments in government misuse of intelligence in the recent war with Iraq. Colonel John Hughes-Wilson analyses not just the events that conspire to cause disaster, but why crucial intelligence is so often ignored, misunderstood or spun by politicians and seasoned generals alike.
This book analyses: how Hitler's intelligence staff misled him in a bid to outfox their Nazi Party rivals; the bureaucratic bungling behind Pearl Harbor; how in-fighting within American intelligence ensured they were taken off guard by the Viet Cong's 1968 Tet Offensive; how over confidence, political interference and deception facilitated Egypt and Syria's 1973 surprise attack on Israel; why a handful of marines and a London taxicab were all Britain had to defend the Falklands; the mistaken intelligence that allowed Saddam Hussein to remain in power until the second Iraq War of 2003; the truth behind the US failure to run a terrorist warning system before the 9/11 WTC bombing; and how governments are increasingly pressurising intelligence agencies to 'spin' the party-political line.
"There should be a well-thumbed copy on every general's and every intelligence officer's bedside table."                      Professor M.R.D. Foot
We: A Manifesto for Women Everywhere by Gillian Anderson and Jennifer Nadel
Imagine a sisterhood – across all creeds and cultures. An unspoken agreement that we, as women, will support and encourage one another. That we will remember we don't know what struggles each of us may be facing elsewhere in our lives and so we will assume that each of us is doing our best…
So begins WE: an inspiring, empowering and provocative manifesto for change. Change which we can all effect, one woman at a time. Change which provides a crucial and timely antidote to the 'have-it-all' Superwoman culture and instead focusses on what will make each and every one of us happier and more free. Change which provides an answer to the nagging sense of 'is that it?' that almost all of us can succumb to when we wake in the dead of night.
Written by actress Gillian Anderson and journalist Jennifer Nadel – two friends who for the last decade have stumbled along together, learning, failing, crying, laughing and trying again – WE is a not a theoretical treatise but instead a rallying cry to create a life that has greater meaning and purpose. Combining tools which are practical, psychological and spiritual, it is both a process and a vision for a more fulfilling way of living. And a truly inspiring vision of a happier, more emotionally rewarding future we can all create together…
Narconomics: How to Run a Drug Cartel  by Tom Wainwright
Everything drug cartels do to survive and prosper they've learnt from big business – brand value and franchising from McDonald's, supply chain management from Walmart, diversification from Coca-Cola. Whether it's human resourcing, R&D, corporate social responsibility, off-shoring, problems with e-commerce or troublesome changes in legislation, the drug lords face the same strategic concerns companies like Ryanair or Apple. So when the drug cartels start to think like big business, the only way to understand them is using economics.
In Narconomics, Tom Wainwright meets everyone from coca farmers in secret Andean locations, deluded heads of state in presidential palaces, journalists with a price on their head, gang leaders who run their empires from dangerous prisons and teenage hitmen on city streets – all in search of the economic truth.
"One of the pithiest and most persuasive arguments for drug law reform I have ever read."                    Misha Glenny, New York Times
"An economics manual for the Breaking Bad generation… a fascinating account."                         The Times
"Great fun… He reveals how drug barons run their illegal multi-billion dollar global businesses in much the same way as Fortune 500 chief executives."                       Sunday Times
Black Hole Blues & Other Songs from Outer Space by Janna Levin
"Brilliant and timely."                         James Gleick
The full inside story of the detection of gravitational waves at LIGO, one of the most ambitious feats in scientific history.
Travel around the world 100 billion times. A strong gravitational wave will briefly change that distance by less than the thickness of a human hair. We have perhaps less than a few tenths of a second to perform this measurement. And we don't know if this infinitesimal event will come next month, next year or perhaps in thirty years.
In 1916 Einstein predicted the existence of gravitational waves: miniscule ripples in the very fabric of spacetime generated by unfathomably powerful events. If such vibrations could somehow be recorded, we could observe our universe for the first time through sound: the hissing of the Big Bang, the whale-like tunes of collapsing stars, the low tones of merging galaxies, the drumbeat of two black holes collapsing into one. For decades, astrophysicists have searched for a way of doing so…
In 2016 a team of hundreds of scientists at work on a billion-dollar experiment made history when they announced the first ever detection of a gravitational wave, confirming Einstein's prediction. This is their story, and the story of the most sensitive scientific instrument ever made: LIGO.
Based on complete access to LIGO and the scientists who created it, Black Hole Blues provides a firsthand account of this astonishing achievement: a compelling, intimate portrait of cutting-edge science at its most awe-inspiring and ambitious.
"Gripping … very, very well written … I reached the beautiful ending of this book with a little sob of gratitude … heartbreaking … brilliant."                 Bryan Appleyard, Sunday Times
"It is hard to imagine that a better narrative will ever be written about the behind-the-scenes heartbreak and hardship that goes with scientific discovery. Black Hole Blues is a spectacular feat – a near-perfect balance of science, storytelling and insight … It is as inevitable as gravity that this book will win a swath of awards."             Michael Brooks, New Statesman
"Astonishing … superb … Ms Levin is able to tell the tale so soon, and so well, because she has had privileged access to the experiment. She has also known the experimenters for several years … Ms Levin is herself a scientist, which explains her access, but more than that she is a writer … readers feel as if they are sitting in on her interviews or watching over her shoulder as she describes two black holes colliding … A splendid book that I recommend to anyone with an interest in how science works and in the power of human imagination and ability."                         John Gribbin, Wall Street Journal
"A superb storyteller. This is the most vivid account I can remember of science policy in action … I'll be surprised if anyone brings out a more readable book on gravitational waves in the near future."                    Financial Times
"Taking on the simultaneous roles of expert scientist, journalist, historian and storyteller of uncommon enchantment, Levin delivers pure signal from cover to cover … Levin harmonizes science and life with remarkable virtuosity … exposing the invisible, incremental processes that produce the final spark we call genius … As redemptive as the story of the countless trials and unlikely triumph may be, what makes the book most rewarding is Levin's exquisite prose."                  Maria Popova,  New York Times
"The most important development in astronomy since the invention of the telescope … [Levin] excels in conveying the personalities of the scientists and their professional and personal struggles … With the success of Ligo, we stand at the dawn of a new era in astronomy, Levin says in her excellent book."                Marcus Chown, THES
The Spider Network: The Wild Story of a Maths Genius, a Gang of Backstabbing Bankers and One of the Greatest Scams in Financial History by David Enrich
Listed as an FT book of the month
"Anyone with an interest in financial services and in what has gone wrong will find The Spider Network compelling."             Daniel Finkelstein, The Times
"Will snare you in its web of deceit, lies, corruption, manipulation and colourful characters. [a] brilliant investigative exposé."              Harlan Coben
"A gripping narrative … impressive reporting and writing chops are on full display … reads like a fast-paced John le Carré thriller, and never lets up."                  New York Times
"A model of investigative financial writing… a more satisfying read than The Big Short by Michael Lewis"                      Literary Review
"Jaw-dropping."          Financial Times
In 2006, an oddball group of bankers, traders and brokers from some of the largest financial institutions made a startling realization: Libor—the London interbank offered rate, which determines the interest rates on trillions in loans worldwide—was set daily by a small group of easily manipulated administrators, and that they could reap huge profits by nudging it fractions of a percent to suit their trading portfolios. Tom Hayes, a brilliant but troubled mathematician, became the lynchpin of a wild alliance that included a prickly French trader nicknamed "Gollum"; the broker "Abbo," who liked to publicly strip naked when drinking; a nervous Kazakh chicken farmer known as "Derka Derka"; a broker known as "Village" (short for "Village Idiot") who racked up huge expense account bills; an executive called "Clumpy" because of his patchwork hair loss; and a broker uncreatively nicknamed "Big Nose" who had once been a semi-professional boxer. This group generated incredible riches —until it all unravelled in spectacularly vicious, backstabbing fashion.
With exclusive access to key characters and evidence, The Spider Network is not only a rollicking account of the scam, but also a provocative examination of a financial system that was crooked throughout.
"A damning look at the culture of trader chicanery. Enrich has sidestepped the temptation to slip into author-as-prosecutor mode, instead going the wry tour guide route to lucidly (and often hilariously) usher readers through the Looney Tunes world that wrought l'affaire Libor."                      John Helyar, coauthor of Barbarians at the Gate"
"With an unerring eye for detail, Enrich shows in this masterful work how a toxic stew of greed, arrogance and a lust for power led to a criminal scheme of unparalleled dimensions. It should be required reading for anyone who wants to understand the dirty underbelly of the financial world."                Kurt Eichenwald, Pulitzer Prize winning author of The Informant
Nabokov's Favourite Word is Mauve: The Literary Quirks and Oddities of our Most-Loved Authors by Ben Blatt
"Read this book thoughtfully. It's fun. And, I think, the shape of some very interesting things to come."               John Sutherland, The Times 
Nabokov's Favourite Word is Mauve is a playful look at what the numbers have to say about our favourite authors and their classic books. Journalist and statistician Ben Blatt asks the questions that have intrigued curious book lovers for generations: Does each writer have their own stylistic footprint? Do men and women write differently? What are the crutch words our best-loved authors fall back on? Which writer is the most cliched? Spanning from Shakespeare and Jane Austen to fan fiction, JK Rowling and Stephen King, Blatt reveals the quirks and oddities of the world's greatest writers. This is a lighthearted, humorous book that uses numbers to inform our understanding of words to enlighten, to clarify, and, above all, to entertain.
Tragic Shores: A Memoir of Dark Travel by Thomas Cook
I have come to thank dark places for the light they bring to life.'
Thomas Cook has always been drawn to dark places, for the powerful emotions they evoke and for what we can learn from them. These lessons are often unexpected and sometimes profoundly intimate, but they are never straightforward.
With his wife and daughter, Cook travels across the globe in search of darkness – from Lourdes to Ghana, from San Francisco to Verdun, from the monumental, mechanised horror of Auschwitz to the intimate personal grief of a shrine to dead infants in Kamukura, Japan. Along the way he reflects on what these sites may teach us, not only about human history, but about our own personal histories.
During the course of a lifetime of traveling to some of earth's most tragic shores, from the leper colony on Molokai to ground zero at Hiroshima, he finds not darkness alone, but a light that can illuminate the darkness within each of us. Written in vivid prose, this is at once a personal memoir of exploration (both external and internal), and a strangely heartening look at the radiance that may be found at the very heart of darkness.
A memoir of a lifetime's travel to some of the darkest places on earth: a first work of non-fiction from this much-admired and award-winning crime writer.
Happy reading!