Fiction
The Patriots by Sana Krasikov
Growing up in 1930s Brooklyn, Florence Fein will do anything to escape the confining values of her family and her city, and create a life of meaning and consequence. When a new job and a love affair lead her to Moscow, she doesn't think twice about abandoning America – only to discover, years later, that America has abandoned her.
Now, as her son Julian travels back to Moscow – entrusted to stitch together a murky transcontinental oil deal – he must dig into Florence's past to discover who his mother really was and what she became. He must also persuade his own son, Lenny, to abandon his risky quest for prosperity in the cut-throat Russian marketplace. As he traces a thread from Depression-era America, through the collective housing and work camps of Stalin's USSR, to the glittering, oil-rich world of New Russia, Julian finally begins to understand the role he has played – as a father, and as a son.
"Urgently relevant, The Patriots asks huge, complex questions about identity, loyalty, truth and self-deception, and explores tangled historical connections between Russia and the US… At the heart of this weighty and engaging novel are true stories: hundreds of Americans living in the USSR in the 1930s … The Patriots contains elements of family saga, corporate thriller, historical novel and philosophical bildungsroman. Krasikov writes with a poetic ear for sound and cadence."  Guardian
"[An] outstanding historical saga [and] a dazzling and addictive piece of work… Accomplished and packed with believable detail and entertaining dialogue [The Patriots] also feels curiously relevant, tip-toeing around the complicated relationship between the United States and Russia during and after the Cold War… As an intelligent literary commentary on Russo-American relations of the past century, it's unparalleled."             Spectator
"The Patriots is a masterwork, a Dr Zhivago for our times. It is a novel rooted in characters so real you weep over their tragic fates, so realized you think you're watching a movie, with sentences so sharp and wise they stop you in your tracks. The story of dreamy Florence Fein, from Flatbush, Brooklyn, will break your heart." Yann Martel
"A sweeping, ambitious kaleidoscope of family, faith, identity, idealism, and displacement… I found on every page an observation so acute, a sentence of such truth and shining detail, that it demanded re-reading for the sheer pleasure of it. The Patriots has convinced me that Krasikov belongs among the totemic young writers of her era."            Khaled Hosseini
"Compelling… Krasikov's characters are so vivid that you almost think you are watching events unfold on a movie screen… The Patriots is a novel which encompasses many themes – identity, family, love, self-deception and the dangers of political ideology. it's a beautifully written epic novel, and it will certainly be one of my stand-out reads of the year."    Culture Life
"[The Patriots] draws you in and envelops you completely, [with] characters who are as vivid as friends. Krasikov tackles huge themes with aplomb, her writing as confident as a veteran's. Particularly in the anniversary year of the Revolution, what she has to say on the compromises we make for idealism – for love of country – is worth reading."         Elle
Erotic Stories for Punjabi Widows by Balli Kaur Jaswal
"Big-hearted, earthy and funny… A rattlingly good story."   Deborah Moggach
Every woman has a secret life…
When Nikki takes a creative writing job at her local temple, with visions of emancipating the women of the community she left behind as a self-important teenager, she's shocked to discover a group of barely literate women who have no interest in her ideals.
Yet to her surprise, the white dupatta of the widow hides more than just their modesty – these are women who have spent their lives in the shadows of fathers, brothers and husbands; being dutiful, raising children and going to temple, but whose inner lives are as rich and fruitful as their untold stories. But as they begin to open up to each other about womanhood, sexuality, and the dark secrets within the community, Nikki realises that the illicit nature of the class may place them all in danger.
East meets west and tradition clashes with modernity in a thought-provoking cross-cultural novel that might make you look again at the women in your life…
"Erotic Stories for Punjabi Widows balances darkness and light, social commentary and ecstatic escapism… funny and moving tale of desire and its discontents."                     Economist
"Poignant, intelligent yet wickedly funny – a delightful read that reignites one's belief in the power of sisterhood."                        June Sarpong
The Witchfinder's Sister by Beth Underwood
"Vivid and Terrifying."             Paula Hawkins, author of The Girl on the Train
The number of women my brother Matthew killed, so far as I can reckon it, is one hundred and six…
When Alice Hopkins' husband dies in a tragic accident, she returns to the small Essex town of Manningtree, where her brother Matthew still lives.
But home is no longer a place of safety. Matthew has changed, and there are rumours spreading through the town: whispers of witchcraft, and of a great book, in which he is gathering women's names.
To what lengths will Matthew's obsession drive him?
And what choice will Alice make, when she finds herself at the very heart of his plan?
"At once a feminist parable and an old-fashioned, check-twice-under-the-bed thriller."     Patrick Gale
"A tense, surprising and elegantly-crafted novel."    Ian McGuire, author of The North Water
"A richly told and utterly compelling tale, with shades of Hilary Mantel."  Kate Hamer, author of The Girl in the Red Coat
"A clever, pacey read that blends truth and fiction."                        The Times
"A clever novel with a slow burn of horror."             Guardian
'A haunting, brooding debut' (Psychologies)
In the Name of the Family by Sarah Dunant
In the Name of the Family – as Blood and Beauty did before – holds up a mirror to a turbulent moment of history, sweeping aside the myths to bring alive the real Borgia family; complicated, brutal, passionate and glorious. Here is a thrilling exploration of the House of Borgia's doomed years, in the company of a young diplomat named Niccolo Machiavelli.
It is 1502 and Rodrigo Borgia, a self-confessed womaniser and master of political corruption is now on the Papal throne as Alexander VI. His daughter Lucrezia, aged twenty-two, already thrice married and a pawn in her father's plans, is discovering her own power. And then there is Cesare Borgia: brilliant, ruthless and increasingly unstable; it is his relationship with the diplomat Machiavelli which offers a master class on the dark arts of power and politics. What Machiavelli learns will go on to inform his great work of modern politics, The Prince.
But while the pope rails against old age and his son's increasing maverick behavior it is Lucrezia who will become the Borgia survivor: taking on her enemies and creating her own place in history.
"A thrilling period vividly brought to life."                 Woman & Home
"In the end, what's a historical novelist's obligation to the dead? Accuracy? Empathy? Justice? Or is it only to make them live again? Dunant pays these debts with a passion."              Washington Post
"Which one of us will go down in history?" asks Cesare of Machiavelli. There are many words written about both men in fiction and non-fiction. However Dunant has a storyteller's instincts for the telling detail and the broad sweep of history. This, and her glorious prose make Dunant's version irresistible."                         The Times
"Dunant has made completely her own the story of Italy's most infamous ruling family. Retaining the knack for plotting and pacing from the crime novels that began her career, she depicts history in a way that we can see, hear and smell . . . Dunant's Italian novels are an enthralling education."              Mark Lawson, Guardian
Being Kari by Qarnita Loxton
For Kari du Toit, Valentine's Day will never be the same again. When the love of her life reveals he's been unfaithful to her, life, romance, and everything in-between come crashing down. Suddenly it seems as if her previous life – one far removed from Bloubergstrand's sandy beaches – is slowly catching up with her.
After ten years of silence, Kari receives a call from her estranged brother. At the foot of Devil's Peak, where neighbourly salaams and burkas are as ordinary as yellow polka-dot bikinis in Blouberg, she once again becomes Karima Essop, daughter of Amina and Farouk Essop. Daughter, sister, deserter.
For Kari, sometimes finding love means going back to where you came from.
An outstanding debut, and definitely an author to watch.
Blackout by Marc Elsberg
"A dazzling debut."     Marcel Berlins, The Times
The Global Million-Copy Bestseller. Published In 15 Languages Worldwide. A 21st-Century High-Concept Disaster Thriller
"Fast, tense, thrilling – and timely: this will happen one day. Highly recommended."         Lee Child
Tomorrow will be too late.
A cold night in Milan, Piero Manzano wants to get home.
Then the traffic lights fail. Manzano is thrown from his Alfa as cars pile up. And not just on this street – every light in the city is dead.
Across Europe, controllers watch in disbelief as electricity grids collapse.
Plunged into darkness, people are freezing. Food and water supplies dry up. The death toll soars.
Former hacker and activist Manzano becomes a prime suspect. But he is also the only man capable of finding the real attackers.
Can he bring down a major terrorist network before it's too late?
A Line Made by Walking by Sara Baume
"When I finished Sara Baume's new novel I immediately felt sad that I could not send it in the post to the late John Berger. He, too, would have loved it and found great joy in its honesty, its agility, its beauty, its invention. Baume is a writer of outstanding grace and style. She writes beyond the time we live in."    Colum McCann
Struggling to cope with urban life – and with life in general – Frankie, a twenty-something artist, retreats to the rural bungalow on 'turbine hill' that has been vacant since her grandmother's death three years earlier. It is in this space, surrounded by nature, that she hopes to regain her footing in art and life. She spends her days pretending to read, half-listening to the radio, failing to muster the energy needed to leave the safety of her haven. Her family come and go, until they don't and she is left alone to contemplate the path that led her here, and the smell of the carpet that started it all.
Finding little comfort in human interaction, Frankie turns her camera lens on the natural world and its reassuring cycle of life and death. What emerges is a profound meditation on the interconnectedness of wilderness, art and individual experience, and a powerful exploration of human frailty.
"A fascinating portrait of an artist's breakdown in rural Ireland … a remarkable ability to generate narrative pace while eschewing plot, making it enough for the reader to observe a mind observing the world … it's fascinating, because of the cumulative power of the precise, pleasingly rhythmic sentences, and the unpredictable intelligence of the narrator's mind … Art may also require a willingness to question the ordinary that is incompatible with conventional criteria of sanity. One of the most radical aspects of this novel is its challenge to received wisdom about mental illness … There are no answers here, but there is a reminder of the beauty that can be found when you allow yourself to look slowly and sadly at the world."                Guardian
"After a remarkable and deservedly award-winning debut, here is a novel of uniqueness, wonder, recognition, poignancy, truth-speaking, quiet power, strange beauty and luminous bedazzlement."      Joseph O'Connor
"Extraordinarily compelling … What makes it so gripping as that the reader is trapped in Frankie's mind as much as she is; every tiny detail is magnified into metaphysical significance that she cannot understand and that the reader cannot parse … Frankie's surreal and yet understandable mind-patterns are eloquent as well as awful."            Spectator
"Baume's mixing of the visual arts and fiction is as satisfying as Ali Smith's … [a] raw-nerved and wonderful novel."                          New Statesman
Stay With Me by Ayobami Adebayo
Shortlisted For The 2017 Baileys Women's Prize For Fiction
There are things even love can't do … If the burden is too much and stays too long, even love bends, cracks, comes close to breaking and sometimes does break. But even when it's in a thousand pieces around your feet, that doesn't mean it's no longer love …

Yejide is hoping for a miracle, for a child. It is all her husband wants, all her mother-in-law wants, and she has tried everything – arduous pilgrimages, medical consultations, appeals to God. But when her relatives insist upon a new wife, it is too much for Yejide to bear. It will lead to jealousy, betrayal and despair.
Unravelling against the social and political turbulence of 1980s Nigeria, Stay With Me sings with the voices, colours, joys and fears of its surroundings. Ayobami Adebayo weaves a devastating story of the fragility of married love, the undoing of family, the wretchedness of grief, and the all-consuming bonds of motherhood. It is a tale about our desperate attempts to save ourselves and those we love from heartbreak.
"Scorching, gripping, ultimately lovely."       Margaret Atwood
"Affecting and powerful … Adebayo's prose is a pleasure: immediate, unpretentious and flecked with whip-smart Nigerian-English dialogue. There are only three first-time novelists on this year's Baileys longlist; Adebayo deserves her spot among them."       Sunday Times
"A thoroughly contemporary style that is all her own … clever and funny … despite the intense sadness of her subject matter, she has produced a bright, big-hearted demonstration of female spirit, as well as the damage done by the boundlessness of male pride."                        Guardian
"Colourful, vibrant, energetic – a stunning tale of what happens when societal expectations collide with reality."                        Tendai Huchu, author of The Hairdresser of Harare
All Our Wrong Todays by Elam Mastai
When Tom loses the love of his life, time travel seems like the only answer. . . what could possibly go wrong?
So, the thing is, I come from the world we were supposed to have.
That means nothing to you, obviously, because you live here, in the crappy world we do have.
But it never should've turned out like this. And it's all my fault – well, me and to a lesser extent my father.
And, yeah, I guess a little bit Penelope.
In both worlds, she's the love of my life. But only a single version of her can exist.
I have one impossible chance to fix history's greatest mistake and save this broken world.
Except it means saving one Penelope and losing the other forever – and I have absolutely no idea which to choose …
"A mind-bending time travel caper."             Guardian
"A thrilling tale of time travel and alternate timelines with a refreshingly optimistic view of humanity's future."             Andy Weir, author of international bestseller The Martian
"All Our Wrong Todays is elaborately constructed and incredibly emotionally intelligent; it's a story with super high stakes that genuinely makes you feel every part of Tom's awful predicament."                 SciFiNow
"A timeless, if mind-bending, story about the journeys we take, populated by friends, family, lovers and others, that show us who we might be, could be – and maybe never should be – that eventually leads us to who we are."                        USA Today
Roanoke Girls by Amy Engel
Underneath the Roanoke Girls' perfect exterior lies a chilling secret…
Beautiful.
Rich.
Mysterious.
The Roanoke girls seem to have it all. But there's a dark truth about them which is never spoken. Every girl either runs away, or dies.
Lane is one of the lucky ones. When she was fifteen, over one long, hot summer at her grandparents' estate in rural Kansas, she found out what it really means to be a Roanoke girl. Lane ran, far and fast. Until eleven years later, when her cousin Allegra goes missing – and Lane has no choice but to go back.
She is a Roanoke girl.
Is she strong enough to escape a second time?
"I was immediately drawn into The Roanoke Girls, a haunting and riveting look at one family's tangled legacy. You won't stop reading until you've unraveled the darkest of Roanoke's shocking secrets."               Laura McHugh, author of The Weight of Blood
"Dark and intense… with a compelling twist which will remain with you long after the book's last sentence."    L.S. Hilton, author of Maestra
The Accusation by Bandi
In 1989, a North Korean dissident writer, known to us only by the pseudonym Bandi, began to write a series of stories about life under Kim Il-sung's totalitarian regime. Smuggled out of North Korea and set for publication around the world in 2017, The Accusation provides a unique and shocking window on this most secretive of countries.
Bandi's profound, deeply moving, vividly characterised stories tell of ordinary men and women facing the terrible absurdity of daily life in North Korea: a factory supervisor caught between loyalty to an old friend and loyalty to the Party; a woman struggling to feed her husband through the great famine; the staunch Party man whose actor son reveals to him the absurd theatre of their reality; the mother raising her child in a world where the all-pervasive propaganda is the very stuff of childhood nightmare.
The Accusation is a heartbreaking portrayal of the realities of life in North Korea. It is also a reminder that humanity can sustain hope even in the most desperate of circumstances – and that the courage of free thought has a power far beyond those seek to suppress it.
"A must-read! The first book of fiction to come out of North Korea. (Smuggled.) Fascinating and chilling. Heartfelt and heartbreaking."               Margaret Atwood
"If poetry, as Wordsworth said, can be glossed as powerful emotion recollected in tranquillity, The Accusation reads like powerful emotion felt right now, in a condition of ongoing crisis … In its scope and courage, The Accusation is an act of great love."                 Guardian
"A collection of courageous and confounding short stories … It's a quiet privilege to be given access to the voiceless by listening to such vivid and uncompromised storytelling … this collection of stories seems both a flickering light in North Korea's darkness and an unintentional reminder that it is getting darker here, too."                  New Statesman
Georgia: A Novel of Georgia O'Keeffe  by Dawn Tripp
In a dazzling work of historical fiction in the vein of Nancy Horan's Loving Frank, Dawn Tripp brings to life Georgia O'Keeffe, her love affair with photographer Alfred Stieglitz, and her quest to become an independent artist.
This is not a love story. If it were, we would have the same story. But he has his, and I have mine. 
In 1916, Georgia O'Keeffe is a young, unknown art teacher when she travels to New York to meet Stieglitz, the famed photographer and art dealer, who has discovered O'Keeffe's work and exhibits it in his gallery. Their connection is instantaneous. O'Keeffe is quickly drawn into Stieglitz's sophisticated world, becoming his mistress, protégé, and muse, as their attraction deepens into an intense and tempestuous relationship and his photographs of her, both clothed and nude, create a sensation.
Yet as her own creative force develops, Georgia begins to push back against what critics and others are saying about her and her art. And soon she must make difficult choices to live a life she believes in.
"Complex and original . . . Georgia conveys O Keeffe s joys and disappointments, rendering both the woman and the artist with keenness and consideration."             New York Times Book Review
"As magical and provocative as O Keeffe s lush paintings of flowers that upended the art world in the 1920s . . . [Dawn] Tripp inhabits Georgia s psyche so deeply that the reader can practically feel the paintbrush in hand as she creates her abstract paintings and New Mexico landscapes. . . . Evocative from the first page to the last, Tripp s Georgia is a romantic yet realistic exploration of the sacrifices one of the foremost artists of the twentieth century made for love."                      USA Today

Invisible Planets: Collected Fiction by Hannu Rajaniemi
Mindblowingly inventive and beautifully written short stories from the most exciting new name in SF.
Hannu Rajaniemi exploded onto the SF scene in 2010 with the publication of his first novel The Quantum Thief. Acclaimed by fellow authors such as Charles Stross, Adam Roberts and Alastair Reynolds and brilliantly reviewed everywhere from Interzone to the Times and the Guardian he swiftly established a reputation as an author who could combine extraordinary cutting edge science with beautiful prose and deliver it all with wit, warmth and a delight in the fun of storytelling.
It is exactly these qualities that are showcased in this his first collection of short stories. Drawn from antholgies, magazines and online publications and brought together in book form for the first time in this collection here is a collection of seventeen short stories that range from the lyrical to the bizarre, from the elegaic to the impish. It is a collection that shows one of the great new imaginations in SF having immense fun.
"A collection that combines the hard science smarts of Gregory Benford with the hipster speak-infected experimentation of M John Harrison, it's the perfect starting point for Rajaniemi's fiction."                     SFX
New York 2140 by Kim Stanley Robinson
"Robinson is one of the world's finest working novelists, in any genre. New York 2140 is a towering novel about a genuinely grave threat to civilisation."                       Guardian
The waters rose, submerging New York City.
But the residents adapted and it remained the bustling, vibrant metropolis it had always been. Though changed forever.
Every street became a canal. Every skyscraper an island.
Through the eyes of the varied inhabitants of one building Kim Stanley Robinson shows us how one of our great cities will change with the rising tides.
And how we too will change.
"Like all great sci-fi, New York 2140 is as much inward-looking as it is forward- . . . Robinson's work has a strong, intelligent social conscience."                         GQ
"Robinson seamlessly binds together characters and narrative strands . . . An immensely enjoyable reading experience."               SciFiNow
"It's near impossible to capture the vibrance of the entire city in the span of one single novel, yet Kim Stanley Robinson manages to do just that and more."           Newsweek
The Djinn Falls in Love & Other Stories edited by Jared Shurin and Mahvesh Murad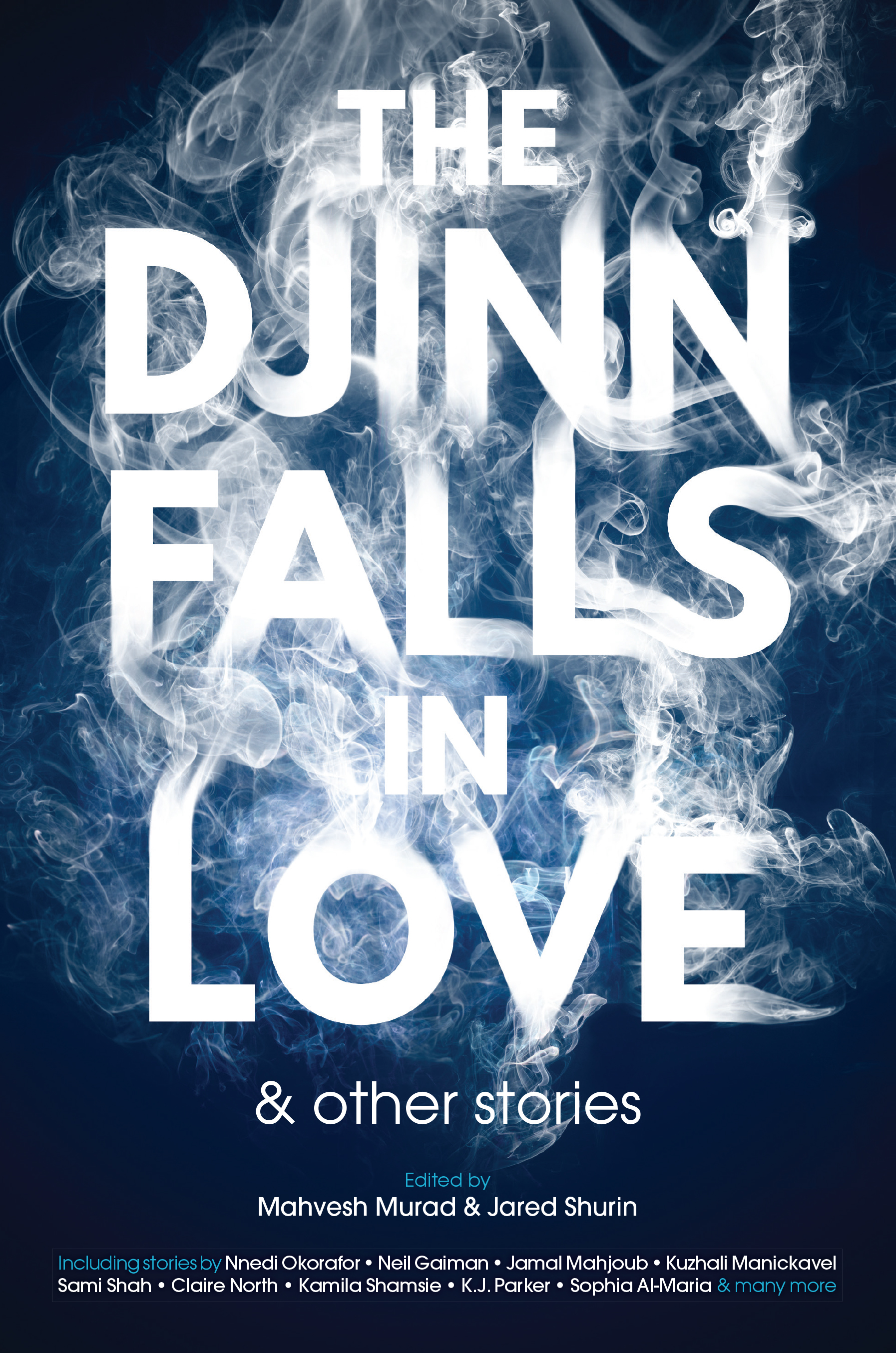 A fascinating collection of new and classic tales of the fearsome Djinn, from bestselling, award-winning and breakthrough international writers.
Imagine a world filled with fierce, fiery beings, hiding in our shadows, in our dreams, under our skins. Eavesdropping and exploring; savaging our bodies, saving our souls. They are monsters, saviours, victims, childhood friends.
These are the Djinn. And they are everywhere. On street corners, behind the wheel of a taxi, in the chorus, between the pages of books. Every language has a word for them. Every culture knows their traditions. Every religion, every history has them hiding in their dark places.
There is no part of the world that does not know them. They are the Djinn. They are among us.
With stories from Neil Gaiman, Nnedi Okorafor, Amal El-Mohtar, Helene Wecker, Catherine Faris King, Claire North, E.J. Swift, Hermes (trans. Robin Moger), Jamal Mahjoub, James Smythe, J.Y. Yang, Kamila Shamsie, Kirsty Logan, K.J. Parker, Kuzhali Manickavel, Maria Dahvana Headley, Monica Byrne, Saad Hossain, Sami Shah, Sophia Al-Maria, and Usman Malik.
"Exquisite and audacious, and highly recommended."         New York Times
"Ignites like the creature it profiles… a rich and illuminating cultural experience."           Washington Post
Graphic
Sticks Angelica: Folk Hero by Michael deForge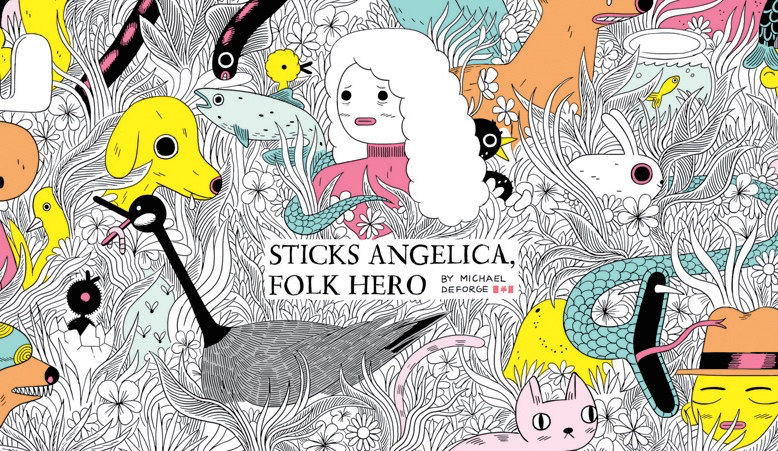 Sticks Angelica is, in her own words, 49 years old. Former: Olympian, poet, scholar, sculptor, minister, activist, Governor General, entrepreneur, line cook, head- mistress, Mountie, columnist, libertarian, cellist. After a high-profile family scandal, Sticks escapes to the woods to live in what would be relative isolation were it not for the many animals that surround and inevitably annoy her. Sticks is an arrogant self-obsessed force who wills herself on the flora and fauna. There is a rabbit named Oatmeal who harbours an unrequited love for her, a pair of kissing geese, a cross- dressing moose absurdly named Lisa Hanawalt. When a reporter named, ahem, Michael DeForge shows up to interview Sticks for his biography on her, she quickly slugs him and buries him up to his neck, immobilizing him. Instead, Sticks narrates her way through the forest, recalling formative incidents from her storied past in what becomes a strange sort of autobiography. Deforge s witty dialogue and deadpan narration create a bizarre yet eerily familiar world. Sticks Angelica plays with autobiography, biography, and hagiography to look at how we build our own sense of self and how others carry on the roles we create for them in our own personal dramas.
"A surreal trip into the Canadian wilderness."           Vice
"Toying with autobiography, biography, and hagiography, DeForge examines both how we build our own sense of self and how others take on the roles we create for them."             Guardian
"[Sticks Angelica is] a meditation on fame… a beautiful, disturbing daydream in pink-and-black ink."                  Publishers Weekly Starred Review
Terms & Conditions by R. Sikoryak
For his newest project, R. Sikoryak tackles the monstrously and infamously dense legal document, iTunes Terms and Conditions, the contract everyone agrees to but no one reads. In a word for word 94-page adaptation, Sikoryak hilariously turns the agreement on its head each page features an avatar of Apple cofounder and legendary visionary Steve Jobs juxtaposed with a different classic strip such as Mort Walker's Beetle Bailey, or a contemporary graphic novel such as Craig Thompson's Blankets or Marjane Satrapi's Persepolis. Adapting the legalese of the iTunes Terms and Conditions into another medium seems like an unfathomable undertaking, yet Sikoryak creates a surprisingly readable document, far different from its original, purely textual incarnation and thus proving the accessibility and flexibility of comics. When Sikoryak parodies Kate Beaton's Hark A Vagrant peasant comics with Steve Jobs discussing objectionable material or Homer Simpson as Steve Jobs warning of the penalties of copyright infringement, Terms and Conditions serves as a surreal record of our modern digital age where technology competes with enduringly ironclad mediums.
"The juxtaposition is hilarious, and we see a Steve Jobs-like character as a stand-in for the heroes of each original work, with the scenes peppered with Apple devices and references alike."             Macworld
"It's a prodigious feat of pastiche that gives rise to multiple interpretations… Sikoryak (Masterpiece Comics) is an undeniably talented artist with a keen ability to capture different styles, as well as a sly conceptual satirist and prankster. Few will ever actually read these terms and conditions, but that's basically the point."                        Publishers Weekly Starred Review
"Each page is a loving tribute to a comic book that Sikoryak loves or respects… Sikoryak hasn't just thrown the text at random pictures; he appears to have actually read this thing through and selected from the vast historic tapestry of comic book imagery a highly appropriate sequence that seems to suit the relevant quoted words perfectly."                   Independent
Non-Fiction
Dear Ijeawele, or a Feminist Manifesto in Fifteen Suggestions by Chimamanda Ngozi Adichie
From the best-selling author of Americanah and We Should All Be Feminists comes a powerful new statement about feminism today – written as a letter to a friend.
I have some suggestions for how to raise Chizalum. But remember that you might do all the things I suggest, and she will still turn out to be different from what you hoped, because sometimes life just does its thing. What matters is that you try.
In We Should All be Feminists, her eloquently argued and much admired essay of 2014, Chimamanda Ngozi Adichie proposed that if we want a fairer world we need to raise our sons and daughters differently. Here, in this remarkable new book, Adichie replies by letter to a friend's request for help on how to bring up her newborn baby girl as a feminist. With its fifteen pieces of practical advice it goes right to the heart of sexual politics in the twenty-first century.
"Dear Ijeawele reminds us that, in the history of feminist writing, it is often the personal and epistolary voice that carries the political story most powerfully – For me, the most powerful sentence in the book is its simplest, and comes in only the third paragraph. Chimamanda Ngozi Adichie urges Ijeawele to remember to transmit to her daughter "the solid unbending belief that you start off with . . . Your feminist premise should be: I matter. I matter equally. Not 'if only'. Not 'as long as'. I matter equally. Full stop."..there is no doubt that if we raised all of our daughters to believe completely that they "matter equally", to trust what they feel and think and to worry less about how they look and come across, we would soon find new ways to challenge the multiple injustices and indignities that still limit, and even wreck, so many women's lives."                       New Statesman
"Personal and urgent . . . Adichie is passionate about equality. Her new book offers 15 ways that we can encourage girls to be strong, to plant seeds of feminism. But more than that, Adichie hopes the book will help 'move us toward a world that is more gender equal.' Doing so means knocking down ingrained assumptions about how men and women think and behave."                      Washington Post
On Tyranny: Twenty Lessons from the Twentieth Century by Timothy Snyder
The New York Times Bestseller
"These 128 pages are a brief primer in every important thing we might have learned from the history of the last century, and all that we appear to have forgotten."              Observer
History does not repeat, but it does instruct.
In the twentieth century, European democracies collapsed into fascism, Nazism and communism. These were movements in which a leader or a party claimed to give voice to the people, promised to protect them from global existential threats, and rejected reason in favour of myth. European history shows us that societies can break, democracies can fall, ethics can collapse, and ordinary people can find themselves in unimaginable circumstances.
History can familiarise, and it can warn. Today, we are no wiser than the Europeans who saw democracy yield to totalitarianism in the twentieth century. But when the political order seems imperilled, our advantage is that we can learn from their experience to resist the advance of tyranny.
Now is a good time to do so.
"Timothy Snyder reasons with unparalleled clarity, throwing the past and future into sharp relief. He has written the rare kind of book that can be read in one sitting but will keep you coming back to help regain your bearings. Put a copy in your pocket and one on your bedside table, and it will help you keep going for the next four years or however long it takes."           Masha Gessen
"Easily the most compelling volume among the early resistance literature. . . . A slim book that fits alongside your pocket Constitution and feels only slightly less vital. . . . Clarifying and unnerving. . . . A memorable work that is grounded in history yet imbued with the fierce urgency of what now."                   Washington Post
"We are rapidly ripening for fascism. This American writer leaves us with no illusions about ourselves."                        Svetlana Alexievich, Winner of the Nobel Prize in Literature
"Please read this book. So smart, so timely."                        George Saunders
"As Timothy Snyder explains in his fine and frightening On Tyranny, a minority party now has near-total power and is therefore understandably frightened of awakening the actual will of the people."                     Adam Gopnik,  New Yorker

The Islamic Enlightenment: The Modern Struggle between Faith and Reason by Christopher de Bellaigue
"The best sort of book for our disordered days: timely, urgent and illuminating."  Pankaj Mishra
The Islamic Enlightenment: a contradiction in terms?
The Muslim world has often been accused of a failure to modernise, reform and adapt. But, from the beginning of the nineteenth century to the present day, Islamic society in its Middle Eastern heartlands has in fact been transformed by modern ideals and practices, including the adoption of modern medicine, the emergence of women from purdah and the development of democracy.
Who were the scholars and scientists, writers and politicians that brought about these remarkable changes? And why is their legacy now under threat?
Beginning with the dramatic collision of East and West following Napoleon's arrival in Egypt, and taking us through 200 tumultuous years of Middle Eastern history, Christopher de Bellaigue introduces us to key figures and reformers; from Egypt's visionary ruler Muhammad Ali to brave radicals like Iran's first feminist Qurrat al-Ayn and the writer Ibrahim Sinasi, who transformed Ottoman Turkey's language and literature.
This book tells the forgotten story of the Islamic Enlightenment. It shows us how to look beyond sensationalist headlines to foster a genuine understanding of modern Islam and Muslim culture, and is essential reading for anyone engaged with the state of the world today.
"It strikes a blow … for common humanity."  Sunday Times
"This book is an enlightenment in itself, and a salient one in this age when everyone seems to feel entitled to a firm opinion about Islam and Muslims."        David Aaronovitch, The Times
"A highly original and informative survey of the clashes between Islam and modernity in Istanbul, Cairo and Tehran in the last two hundred years. Brilliant." (Orhan Pamuk)
"A refreshingly optimistic counterpoint to the idea that Muslim and Western world-views are doomed to clash."                          Economist
"Timely, thoughtful and provocative."           Peter Frankopan
"A brilliantly learned and entertaining study of a topic that is of far more than merely antiquarian interest: the encounter between the Islamic world and the post-Enlightenment West."              Tom Holland
Cleverlands: The Secret Behind the Success of the World's Education Superpowers by Lucy Crehan
As a teacher in an inner-city school, Lucy Crehan was exasperated with ever-changing government policy claiming to be based on lessons from 'top-performing' education systems. She became curious about what was really going on in classrooms of the countries whose teenagers ranked top in the world in reading, maths and science.
Determined to dig deeper, Lucy set off on a personal educational odyssey through Finland, Japan, Singapore, Shanghai and Canada, teaching in schools, immersing herself in their very different cultures and discovering the surprising truths about school life that don't appear in the charts and graphs.
Cleverlands documents her journey, weaving together her experiences with research on policy, history, psychology and culture to offer extensive new insights and provide answers to three fundamental questions:
How do these countries achieve their high scores? What can others learn from them? And what is the price of this success?
"Lucy Crehan's book is refreshingly fair-minded and makes a case that there is a lot to learn about how other countries learn."                     Books of the Year, Economist
"Audacious and important . . . Cleverlands is not just for specialists: it's a wry and accessible narrative of personal enterprise."                 Prospect
Republic of Gupta: A Story of State Capture by Pieter-Louis Myburgh
The Guptas rose to national infamy when a commercial airliner packed with guests for a family wedding was allowed to land at Air Force Base Waterkloof in 2013, sparking an onslaught of public outrage. Since then, they have become embroiled in allegations of state capture, of dishing out cabinet posts to officials who would do their bidding, and of benefiting from lucrative state contracts and dubious loans.
The Republic of Gupta  investigates what the Gupta brothers were up to during Thabo Mbeki's presidency and how they got into the inner circle of President Jacob Zuma. It shines new light on their controversial ventures in computers, cricket, newspapers and TV news, and coal and uranium mining. And it explores their exposure by public protector Thuli Madonsela, their conflict with finance minister Pravin Gordhan, and the real reasons behind the cabinet reshuffle of March 2017.
Pieter-Louis Myburgh delves deeper than ever before into the Guptas' business dealings and their links to prominent South African politicians, and explains how one family managed to transform an entire country into the Republic of Gupta.
Black Like You: An Autobiography by Herman Mashaba
Herman Mashaba rose from humble beginnings to become one of South Africa's wealthiest and best-known entrepreneurs.
His remarkable story begins in a small village in Gauteng, where we meet the cocky youngster who refused to settle for a future that offered nothing. Forced to drop out of university, the determined young man fought to establish the first black-owned haircare company in South Africa. Mashaba struggled every day of his life – against apartheid, with its demeaning laws, and against his competitors to grab market share for his business. In the process, Mashaba learnt lessons that few business schools teach today.
This is a story of survival, and of determination in adversity. It is also a love story between Herman and Connie, his wife of 30 years, who embarked on this journey together. Mashaba shows the importance of having a vision, daring to dream it, and then making it happen.
This inspiring book will leave you with the question: "If he did it, why can't I?"
"The experiences reflected in this book are real and the manner in which he rose above the hurdles he faced is a reliable framework to self-actualisation and achievement."                         Dr Thami Mazwai
"After reading Black Like You … I appeal to the government to save taxpayers money and stop writing more reports and instead study Herman Mashaba's autobiography."                    Moeletsi Mbeki
"A better role model, truer patriot and son of the soil I can hardly imagine. At a time when somewhat limited and even rapacious young business leaders descend on the trough of public tenders, our youth would do well to read Black Like You."          Justice Dikgang Moseneke
"He tells sometimes uncomfortable truths and shares moments of inspiration which have led to his becoming one of this country's enduring role models. If this modest little book doesn't inspire you, nothing will!"                       Jenny Crwy-Williams
A Crime in the Family by Sacha Batthyány
A memoir of brutality, heroism and personal discovery from Europe's dark heart, revealing one of the most extraordinary untold stories of the Second World War
In the spring of 1945, at Rechnitz on the Austrian-Hungarian border, not far from the front lines of the advancing Red Army, Countess Margit Batthyany gave a party in her mansion. The war was almost over, and the German aristocrats and SS officers dancing and drinking knew it was lost. Late that night, they walked down to the village, where 180 enslaved Jewish labourers waited, made them strip naked, and shot them all, before returning to the bright lights of the party. It remained a secret for decades, until Sacha Batthyany, who remembered his great-aunt Margit only vaguely from his childhood as a stern, distant woman, began to ask questions about it.
A Crime in the Family is Sacha Batthyany's memoir of confronting these questions, and of the answers he found. It is one of the last untold stories of Europe's nightmare century, spanning not just the massacre at Rechnitz, the inhumanity of Auschwitz, the chaos of wartime Budapest and the brutalities of Soviet occupation and Stalin's gulags, but also the silent crimes of complicity and cover-up, and the damaged generations they leave behind.
Told partly through the surviving journals of others from the author's family and the vanished world of Rechnitz, A Crime in the Family is a moving and revelatory memoir in the vein of The Hare with the Amber Eyes and The House by the Lake. It uncovers barbarity and tragedy but also a measure of peace and reconciliation. Ultimately, Batthyany discovers that although his inheritance might be that of monsters, he does not bear it alone.
What We Do Now: Standing Up For Your Values in Trump's America  edited by Dennis Johnson & Valerie Merians
The election of Donald Trump to be the 45th President of the United States of America shocked and dismayed progressives across the country. What We Do Now, a collection of passionate manifestos by some of the country's leading progressives, aims to provide a blueprint for how those stunned progressives can move forward. Its powerful contributions — from economists, environmentalists, activists, artists, politicians, and novelists — will offer encouragement and guidance to practicing constitutionally protected acts of resistance throughout the unprecedented upcoming administration.
Among the contributors are Bernie Sanders, Elizabeth Warren, Gloria Steinem, Paul Krugman, Robert B. Reich, George Saunders and Dave Eggers as well the heads of the ACLU, the NAACP, the Sierra Club, the Arab American Association, the National GLBTQ Task Force, the Freedom of the Press Association, and other prominent activists.
"Eloquent literary and political essays on propaganda and resistance… the collection's most important function may be to simply remind readers that showing up has worked before."      Economist
Cast Away: Stories of Survival from Europe's Refugee Crisis by Charlotte McDonald-Gibson
Riot police are shutting down borders, 800 lives are lost in a single shipwreck, a boy's body washes up on a beach: this is the European Union in summer 2015. But how did a bloc founded upon the values of human rights and dignity for all reach this point? And what was driving millions of desperate people to risk their lives on the Mediterranean? Charlotte McDonald-Gibson has spent years reporting on every aspect of Europe's refugee crisis, and Cast Away offers a vivid glimpse of the personal dilemmas, pressures, choices and hopes that lie beneath the headlines. We meet Majid, a Nigerian boy who exchanges the violence of his homeland for Libya, only to be driven onto a rickety boat during Colonel Gaddafi's crackdown on migrants. Nart is an idealistic young lawyer who risks imprisonment and torture in Syria until it is no longer safe for him to stay. Sina has to leave her new husband behind and take their unborn son across three continents to try and escape the Eritrean dictatorship. Mohammed is a teenager who dreams of becoming the world's best electrician until he is called to serve as a foot-soldier in the Syrian army. And Hanan watches in horror as the safe life she built for her four children in Damascus collapses, and she has to entrust their lives to people smugglers. While the politicians wrangle over responsibility, and the media talk in statistics, Cast Away brings to life the human consequences of the most urgent humanitarian issue of our time.
"McDonald-Gibson's gripping storytelling has a cinematic quality… At times it's easy to forget that these are experiences of real people, not fictional characters, as the reader becomes immersed in harrowing stories of danger, deception and disillusionment. But McDonald-Gibson also balances individual stories with a wider historical sweep [and] offers insights into the extraordinary political and historical contexts of the migrants' home countries… [One of] the most important books you will read this year."                 Irish Times
"A closely reported, passionately argued, often deeply moving account of five refugees' journeys to Europe. The unapologetically narrative style creates an effect similar to that of the photograph of the corpse of three year old Alan Kurdi in his red T shirt in 2015. It yanks away the anonymous screen of numbers and brings you face to face with real people – people you can recognise, in situations you can't. [Cast Away] start[s] to do for the refugees what British abolitionists did for the slave trade… mobilise eyewitness testimony to promote empathy, and through empathy, better policy."                     Guardian