Fiction
Nutshell by Ian McEwan
Trudy has betrayed her husband, John. She's still in the marital home – a dilapidated, priceless London townhouse – but not with John. Instead, she's with his brother, the profoundly banal Claude, and the two of them have a plan. But there is a witness to their plot: the inquisitive, nine-month-old resident of Trudy's womb.
Told from a perspective unlike any other, Nutshell is a classic tale of murder and deceit from one of the world's master storytellers.
"An astonishing act of literary ventriloquism unlike any in recent literature. A bravura performance, it is the finest recent work from a true master… Told from a perspective unlike any other, Nutshell is a shocking tale of murder and treachery from one of the world's master storytellers."      Telegraph
"Ian McEwan's embryonic spin on Hamlet is a virtuoso feat of wordplay … Virtuoso entertainment."                    Observer
"At once playful and deadly serious, delightful and frustrating it is one of McEwan's hardest to categorise works, and all the more interesting for it."             The Times
"A fast, arch beach read… A psychological thriller with a bad marriage and murder at its centre… McEwan has thrown in Gone Girl intrigue with The Girl on the Train suspense and given us his take on how toxic a marriage can get when spliced with a Shakespearean cast. Who knew McEwan could mix high and low literary genres to create such a bizarrely readable mash-up?"                        Independent
Here I Am by Jonathan Safran Foer
A monumental new novel about modern family lives from the bestselling author of Everything Is Illuminated and Extremely Loud and Incredibly Close
God asked Abraham to sacrifice his beloved son Isaac, and Abraham replied obediently, 'Here I am'.
This is the story of a fracturing family in a moment of crisis. Over the course of three weeks in present-day Washington DC, three sons watch their parents' marriage falter and their family home fall apart. Meanwhile, a larger catastrophe is engulfing another part of the world: a massive earthquake devastates the Middle East, sparking a pan-Arab invasion of Israel. With global upheaval in the background and domestic collapse in the foreground, Jonathan Safran Foer asks us – what is the true meaning of home? Can one man ever reconcile the conflicting duties of his many roles – husband, father, son? And how much of life can a person bear?
"[Here I Am is] an ambitious platter of intellection and emotion. Its observations are crisp; its intimations of doom resonate; its jokes are funny. Here I Am consistently lit up my pleasure centers . . . This is also Mr. Foer's best and most caustic novel, filled with so much pain and regret that your heart sometimes struggles to hold it all."                    New York Times
 "Here I Am is one of those books, like Middlemarch, or for that matter Gone Girl, which lays bare the interior of a marriage with such intelligence and deep feeling and pitiless clarity, it's impossible to read it and not re-examine your own family, and your place in it."                   Time
"Brilliant, always original . . . Certain set pieces . . show a masterly sense of timing and structure and deep feeling . . . Foer strews small, semiprecious comic and gnomic gems all along the trail he is breaking . . Here I Am is not only the novel's title but also, maybe, an announcement of its ambitious and crazy-talented author's literary residence―an announcement that not only his location but his basic sensibility and very identity are to be found in this work."                 New York Times Book Review
Lament for the Fallen by Gavin Chait
'Father, tell me a story?' asks Isaiah, moments before a strange craft falls from the sky and smashes into the jungle near his isolated West African community. Inside the ruined vessel the villagers find the shattered body of a man. His name is Samara and he is a man unlike any the villagers have seen before – a man who is perhaps something more than human.
With his city home of Achenia hiding in the rubble left by a devastating war, Samara has fallen 35,000 km to earth in order to escape the automated hell of an orbiting prison called Tartarus. As he struggles to heal himself, he helps transform the lives of those who rescued him but in so doing attracts the attention of the brutal warlord who rules over this benighted, ravaged post-21st century land. He is not a man to be crossed, and now he threatens the very existence of the villagers themselves and the one, slim chance Samara has of finding his way home and to the woman – and the world – he loves.
And all the while – in the darkness above – waits the simmering fury that lies at the heart of Tartarus . . .
"Refreshingly different . . . exhilarating . . . a compulsively readable, life-affirming tale told in direct, lambent prose, and Chait does a masterful job of juxtaposing a traditional African setting with a convincing depiction of a far-future alien society."      Guardian
The Crime Writer by Jill Dawson
In 1964, the eccentric American novelist Patricia Highsmith is hiding out in a cottage in Suffolk, to concentrate on her writing and escape her fans. She has another motive too – a secret romance with a married lover based in London.
Unfortunately it soon becomes clear that all her demons have come with her. Prowlers, sexual obsessives, frauds, imposters, suicides and murderers: the tropes of her fictions clamour for her attention, rudely intruding on her peaceful Suffolk retreat. After the arrival of Ginny, an enigmatic young journalist bent on interviewing her, events take a catastrophic turn. Except, as always in Highsmith's troubled life, matters are not quite as they first appear . . .
Masterfully recreating Highsmith's much exercised fantasies of murder and madness, Jill Dawson probes the darkest reaches of the imagination in this novel – at once a brilliant portrait of a writer and an atmospheric, emotionally charged, riveting tale.
"An ingenious concept . . . Dawson can be applauded for her passionate immersion in her subject, and for creating a novel as dark and odd as the subject herself."                      Guardian
"Dawson has drawn a witty, creepy plot as well as a convincing character sketch of a woman all too easy to caricature."                        Daily Telegraph
"Dawson skilfully constructs a dark tale that Highsmith fans will love."                       Sunday Times
Underground Airlines by Ben H Winters
"The most timely of alternate history novels. Ben Winters has created a spellbinding world that forces the reader to look around―and to look within. This is a thriller not to be missed and one that will not be easily forgotten."                  Hugh Howey
It is the present-day, and the world is as we know it. Except for one thing: slavery still exists.
Victor has escaped his life as a slave, but his freedom came at a high price. Striking a bargain with the government, he has to live his life working as a bounty hunter. And he is the best they've ever trained.
A mystery to himself, Victor tries to suppress his memories of his own childhood and convinces himself that he is just a good man doing bad work, unwilling to give up the freedom he is desperate to preserve. But in tracking his latest target, he can sense that that something isn't quite right.
For this fugitive is a runaway holding something extraordinary. Something that could change the state of the country forever.
And in his pursuit, Victor discovers secrets at the core of his country's arrangement with the system that imprisoned him, secrets that will be preserved at any cost.
"A rich noir in a terrifingly convincing alternate America. It's both beautiful and brutal. The Handmaid's Tale for Black Lives Matter."                       Lauren Beukes
"Winters has written a book that will make you see the world in a new light."            Washington Post
"Ben H. Winters new novel (Underground Airlines) makes the word 'thrilling' seem inadequate. Not only could I not stop reading it, it changed the way I looked at everything around me once I was finished."             Observer
"What distinguishes Underground Airlines as literature is the acuity and penetration of Winter's moral vision – a perception that goes far beyond and specific historical injustices … Winters allows Victor to exquisitely express our own moral unease." Financial Times
Field Service by Robert Edric
Morlancourt, Northern France, 1920
In the aftermath of the world's bloodiest conflict, a small contingent of battle-worn soldiers remains in France. Captain James Reid and his men are tasked with the identification and burial of innumerable corpses as they come to terms with the events of the past four years.
The stark contrast between the realities of burying men in France and the reports of honouring the dead back in Britain is all too clear. But it is only when the daily routine is interrupted by a visit from two women, both seeking solace from their grief, that the men are forced to acknowledge the part they too have played.
With his trademark unerring precision, Robert Edric explores the emotional hinterland which lies behind the work done by the War Graves Commission in the wake of the First World War.
"There has been a slew of novels commemorating the First World War's anniversaries. Field Service will be judged one of the best."                         The Times
"A masterly analyst of human behaviour….Carefully nuanced and engaging…Puts the work of most other historical novelists in the shade"    Sunday Times
Arrowood by Lauren McHugh
"I thought I knew who did it, but I was wrong – four times."     Lee Child
Arrowood is the most ornate and beautiful of the grand historical houses that line the Mississippi river in southern Iowa where the days are long and humid and communities are small and closed.
It has its own secrets and ghostly presence: it's where two small twin girls were abducted ten years previously – never to be seen again.
Now, Arden has inherited Arrowood, and she returns to her childhood home determined to establish what really happened to her sisters that traumatic summer. But the house and the surrounding town hold their secrets close – and the truth, when Arden finds it, is more devastating than she ever could have imagined.
Family lies, buried secrets and a terrifying truth lie at the heart of this brilliant and haunting crime novel.
"A failed graduate student's return to the family mansion she inherited from her grandfather touches off a maelstrom of emotion, regret and memories in McHugh's poignant second novel . . . Lyrical prose and in-depth character studies examine the reliability of memory, punctuated by believable suspense and aided by a careful look at a small town."                         Publishers Weekly
"McHugh's slow exposure of an old crime is a pitch-perfect example of a Southern gothic."                      Sunday Times
I See You by Clare Mackintosh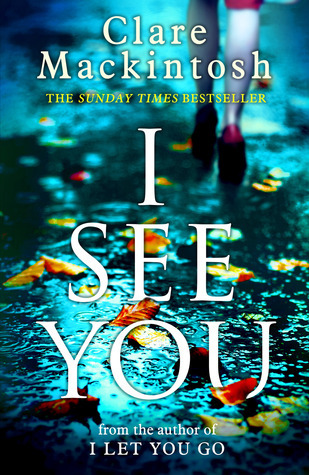 When Zoe Walker sees her photo in the classifieds section of a London newspaper, she is determined to find out why it's there. There's no explanation, no website: just a grainy image and a phone number. She takes it home to her family, who are convinced it's just someone who looks like Zoe. But the next day the advert shows a photo of a different woman, and another the day after that.
Is it a mistake? A coincidence? Or is someone keeping track of every move they make . . .
I See You is an edge-of-your-seat, page-turning psychological thriller from one of the most exciting and successful British debut talents of 2015
"I See You stands out from the crowd with flawless plotting and an eye for detail which will send a satisfying chill through its readers. I loved it!"                           Renee Knight, number one bestselling author of Disclaimer
"Compelling and suffused with menace."             Sunday Mirror
Lilac Girls by Martha Hall Kelly
Inspired by the life of a real World War II heroine, this powerful debut novel reveals an incredible story of love, redemption, and terrible secrets that were hidden for decades.
New York socialite Caroline Ferriday has her hands full with her post at the French consulate and a new love on the horizon. But Caroline s world is forever changed when Hitler s army invades Poland in September 1939 and then sets its sights on France.
An ocean away from Caroline, Kasia Kuzmerick, a Polish teenager, senses her carefree youth disappearing as she is drawn deeper into her role as courier for the underground resistance movement. In a tense atmosphere of watchful eyes and suspecting neighbors, one false move can have dire consequences.
For the ambitious young German doctor, Herta Oberheuser, an ad for a government medical position seems her ticket out of a desolate life. Once hired, though, she finds herself trapped in a male-dominated realm of Nazi secrets and power.
The lives of these three women are set on a collision course when the unthinkable happens and Kasia is sent to Ravensbrück, the notorious Nazi concentration camp for women. Their stories cross continents from New York to Paris, Germany, and Poland as Caroline and Kasia strive to bring justice to those whom history has forgotten.
"A powerful story for readers everywhere . . . Martha Hall Kelly has brought readers a firsthand glimpse into one of history s most frightening memories. A novel that brings to life what these women and many others suffered. . . . I was moved to tears."                       San Francisco Book Review"
"[A] compelling first novel . . . This is a page-turner demonstrating the tests and triumphs civilians faced during war, complemented by Kelly s vivid depiction of history and excellent characters."                        Publishers Weekly
Dead Man's Blues by Ray Celestin
Dead Man's Blues is the gripping historical crime novel from Ray Celestin, the author of The Axeman's Jazz, winner of the CWA John Creasey (New Blood) Dagger for Best First Novel 2014.
Chicago, 1928. In the stifling summer heat three disturbing events take place. A clique of city leaders is poisoned in a fancy hotel. A white gangster is found mutilated in an alleyway in the Blackbelt. And a famous heiress vanishes without a trace.
Pinkerton detectives Michael Talbot and Ida Davis are hired to find the missing heiress by the girl's troubled mother. But it proves harder than expected to find a face that is known across the city, and Ida must elicit the help of her friend Louis Armstrong.
While the police take little interest in the Blackbelt murder, Jacob Russo, crime scene photographer, can't get the dead man's image out of his head, and so he embarks on his own investigation.
And Dante Sanfelippo – rum-runner and fixer – is back in Chicago on the orders of Al Capone, who suspects there's a traitor in the ranks and wants Dante to investigate. But Dante is struggling with his own problems as he is forced to return to the city he thought he'd never see again . . .
As the three parties edge closer to the truth, their paths cross and their lives are threatened. But will any of them find the answers they need in the capital of jazz, booze and corruption?
Heroes of the Frontier by Dave Eggers
From the bestselling author of The Circle comes a brilliant new black comedy about modern America.
A mother and her two young children rent a battered old RV (optimistically christened the 'Chateau') and embark upon a journey through the Alaskan wilderness. At first their trip feels like a vacation: they spot wild animals, build bonfires, enjoy the scenery. But as Josie drives her kids deeper into the forest, dodging wildfires and increasingly eccentric locals, we learn more of the events that forced her to escape her old life. Fraught with unexpected encounters from the sublime to the ridiculous, her tiny family must survive this surreal adventure at all costs, in order to finally discover something clean and redemptive out at the very edge of civilization.
Heroes of the Frontier is a captivating and hilarious novel about family, loss and recovery, and a powerful examination of contemporary American life.
"This is a novel about America, about what forces people to leave the lower 48 to seek refuge in a forbidding, unpeopled landscape Eggers renders it with such passion and good humour, and describes the land of mountains and light in such stirring, lustrous prose There is a feeling of utopianism about the novel, a sense that, in Alaska, some original American dream slumbers just beneath the ice. Heroes of the Frontier acts on the reader like a breath of Alaskan air, cleansing the spirit and lifting the heart."                  Alex Preston, Guardian 
The Hide by Matthew Griffin
Wendell Wilson, a taxidermist, and Frank Clifton, a veteran, meet after the Second World War. But, in this declining textile town in a southern US state, their love holds real danger. Severing nearly all ties with the rest of the world, they carve out a home for themselves on the outskirts of town. For decades, their routine of self-reliant domesticity – Wendell's cooking, Frank's care for a yard no one sees, and the vicarious drama of courtroom TV – seems to protect them.
But when Wendell finds Frank lying motionless outside at the age of eighty-three, their carefully crafted life together begins to unravel. As Frank's memory and physical strength deteriorate, Wendell struggles in vain to hold on to the man he once knew. Faced with giving care beyond his capacity, he must come to terms with the consequences of half a century in seclusion: the different lives they might have lived – and the impending, inexorable loss of the one they had.
"Tender, restrained, Hide is the freshly imagined story of a gay male couple who decide to give up the world -friends, family, career – in order to live out their forbidden love in the decades before gay liberation. This is a great love story."               Edmund White, author of A Boy's Own Story
"Graceful and understated."                        New York Times Book Review
"One of the best debut novels we've had the pleasure to read this year . A profoundly compassionate book about how we administer to those we love, the tender acrimony of intimacy and facing loss in a world dominated by threat. The story is understated, poignant, beautifully observed and lingers with you long after you've reluctantly read the final page."                    Attitude
"A tough, thoughtful story beautifully told."                       Eithne Farry, Sunday Express
Infinite Ground by Martin MacInnes
A luminous debut novel of modern alienation, of the sinister beauty of the human body and of the enduring splendour of the natural world.
During a sweltering South American summer, a family convenes for dinner at a restaurant. Midway through the meal, Carlos disappears. An experienced, semi-retired inspector takes the case, but what should be a routine investigation becomes something strange, intangible, even sinister. The corporation for which Carlos worked seems to serve no purpose; the staff talk of their missing colleague's alarming, shifting physical symptoms; a forensic scientist uncovers evidence of curious abnormalities in the thriving microorganisms that shared Carlos's body. As the inspector relives and retraces the missing man's footsteps, the trail leads him away from the city sprawl and deep into the country's rainforest interior, where he encounters both horror and wonder.
"Stunning – a totally original, surreal mystery shot through with hints of the best of César Aira, Vladimir Nabokov, Angela Carter, and Julio Cortázar. Smart, clever, and honest. I doubt you've read anything quite like it."             Jeff VanderMeer, author of The Southern Reach trilogy
"Weird, wonderful, totally indefinable… If not the Booker, then surely the Goldsmiths beckons."                Guardian
"A novel of intelligence, grace, cunning and warped imagination, one that melds and sometimes clashes styles and influences to create something original and unsettling. It is a bravura performance, and one that announces Martin McInnes as one of our most exciting new voices."             Stuart Evers, author of Your Father Sends his Love

The Last Photograph by Emma Chapman
He walks into the living room and June is dead.
He centres her, checking the light. Focusing, he clicks the shutter.
He'll ask himself later, if he knew. It's easy to say that he had acted without thinking, out of instinct.
Rook Henderson is an award-winning photographer, still carrying the hidden scars of war. Now, suddenly, he is also a widower. Leaving his son Ralph to pick up the pieces, Rook flies to Vietnam for the first time in fifty years, escaping to the landscape of a place he once knew so well.
But when Ralph follows him out there, seeking answers from the father he barely knows, Rook is forced to unwind his past: his childhood in Yorkshire, his life in London in the 1960s and his marriage to the unforgettable June – and to ask himself what price he has paid for a life behind the lens . . .
Gripping, evocative and unforgettable, The Last Photograph is a story of a life shaped by trauma and love – and the secrets that make us who we are.
"Evocative, harrowing. . .Emma Chapman tackles the big subjects of love and war with aplomb."                       Tatler
Non-fiction
Rogue: The Inside Story of SARS' Elite Crime-Busting Unit by Johann van Loggerenberg with Adrian Lackey
The story of a 'rogue unit' operating within the South African Revenue Service (SARS) became entrenched in the public mind following a succession of sensational reports published by theSunday Times in 2014. The unit, the reports claimed, had carried out a series of illegal spook operations: they had spied on President Jacob Zuma, run a brothel, illegally bought spy ware and entered into unlawful tax settlements.
In a plot of Machiavellian proportions, head of the elite crime‐busting unit Johann van Loggerenberg and many of SARS's top management were forced to resign. Van Loggerenberg's select team of investigators, with their impeccable track record of busting high‐level financial fraudsters and nailing tax criminals, lost not only their careers but also their reputations.
Now, in this extraordinary account, they finally get to put the record straight and the rumours to rest: there was no 'rogue unit'. The public had been deceived, seemingly by powers conspiring to capture SARS for their own ends. Shooting down the allegations he has faced one by one, Van Loggerenberg tells the story of what really happened inside SARS, revealing details of some of the unit's actual investigations.
Homo Deus: A Brief History of Tomorrow by Noah Yuval Harari
'Homo Deus will shock you. It will entertain you. Above all, it will make you think in ways you had not thought before.'                     Daniel Kahneman, author of Thinking Fast, and Slow
Yuval Noah Harari, author of the bestselling Sapiens: A Brief History of Humankind, envisions a not-too-distant world in which we face a new set of challenges. In Homo Deus, he examines our future with his trademark blend of science, history, philosophy and every discipline in between.
Homo Deus explores the projects, dreams and nightmares that will shape the twenty-first century – from overcoming death to creating artificial life. It asks the fundamental questions: Where do we go from here? And how will we protect this fragile world from our own destructive powers? This is the next stage of evolution. This is Homo Deus.
War is obsolete
You are more likely to commit suicide than be killed in conflict
Famine is disappearing
You are at more risk of obesity than starvation
Death is just a technical problem
Equality is out – but immortality is in
What does our future hold?
"Spellbinding… This is a very intelligent book, full of sharp insights and mordant wit… It is a quirky and cool book, with a sliver of ice at its heart… It is hard to imagine anyone could read this book without getting an occasional, vertiginous thrill."               Guardian
"What elevates Harari above many chroniclers of our age is his exceptional clarity and focus."                Sunday Times
"I think the mark of a great book is that it not only alters the way you see the world after you've read it, it also casts the past in a different light. In Homo Deus, Yuval Noah Harari shows us where mankind is headed in an absolutely clear-sighted & accessible manner. I don't normally ask for autographs but I got a bit starstruck & asked him to sign my copy of his book after we'd had a conversation for my show on BBC 6Music. His inscription reads: 'The future is in your hands' – a good thing to remember when such great changes are afoot."              Jarvis Cocker
AB by AB de Villiers
AB de Villiers is one of the finest batsmen ever to play cricket, and yet his achievement extends beyond his outrageous armoury of drives, pulls, paddles, scoops and flicks.
Whether he is delighting home crowds at the Wanderers or Newlands or setting new records in Bengaluru or Sydney, he plays the game in a whole-hearted manner that projects a positive image of his country around the world and also makes millions of South Africans feel good about themselves.
This is AB's story, in his own words … the story of the youngest of three talented, sports-mad brothers growing up in Warmbaths, of a boy who excelled at tennis, rugby and cricket, of a youngster who made his international debut at the age of 20 and was then selected in every single Test played by South Africa for the next 11 seasons, of a batsman who has started to redefine the art, being ranked among the world's very best in Test, ODI and T20.
Through all the pyrotechnics and consistency, AB has remained a true sportsman – quick to deflect praise, swift to praise opponents, eager to work hard, to embrace the team's next challenge and to relish what he still regards as the huge privilege of representing his country.
This is the story of a modern sporting phenomenon.
Under Nelson Mandela Boulevard: A Life Among the Stowaways by Sean Christie
Part memoir, part ethnography, Under Nelson Mandela Boulevard is journalist Sean Hunter Christie's account of time spent amongst the Tanzanian stowaways who live rough under the Nelson Mandela Boulevard flyover, at the foot of Cape Town.
After a year living in South Africa's most unequal city, the young Zimbabwean is introduced to serial stowaway Adam Bashili, through the photographer David Southwood. This encounter changes everything. Adam introduces Christie to the extraordinary world of the "beachboys", a multi-port, fourth generation sub-culture of young men from the slums of Dar es Salaam, who came to South Africa with the aim of stowing away on ships bound for other continents.
Under Nelson Mandela Boulevard presents Cape Town as it has not yet been seen: as a series of desperate social margents and cloying controls, but also of unbelievable and somehow hopeful beliefs and survival strategies.
.
Make or Break by Richard Calland
In his new book, Richard Calland raises a compelling argument: South Africa is at a critical juncture, and events over the next three years are going to shape the country s next three decades. Jacob Zuma s term as president is due to end in 2019 and there are calls for him to resign; the ANC is declining in popularity and moral stature; opposition parties are gaining ground; the economy and the currency are in trouble; the Treasury has been racked by power struggles; the Public Protector s term ends later in 2016; the rule of law and judicial independence are under pressure. Looking at these and other issues, Calland explores possible futures for South Africa, showing how the next few years are the most critical since the 1990s, and how South Africa can set itself on a path to success or failure.
The Kingdom of Speech by Tom Wolfe
Tom Wolfe, whose legend began in journalism, takes us on an eye-opening journey that is sure to arouse widespread debate. The Kingdom of Speech is a captivating, paradigm-shifting argument that speech – not evolution – is responsible for humanity's complex societies and achievements.
From Alfred Russel Wallace, the Englishman who beat Darwin to the theory of natural selection but later renounced it, and through the controversial work of modern-day anthropologist Daniel Everett, who defies the current wisdom that language is hard-wired in humans, Wolfe examines the solemn, long-faced, laugh-out-loud zig-zags of Darwinism, old and Neo, and finds it irrelevant here in our Kingdom of Speech.
"A great journalist with a whip-like satirical prose style… Wolfe's great gift is to make the heavy seem light and this book is such an entertaining polemic that I read it in a day and immediately wanted to read it again."                        Bryan Appleyard, Sunday Times
"It is clear how much we have missed him…. The wonder of his book is its point of view. He is a polemicist, a slayer of reputation and pretension… It is wonderful to have him back."                     Financial Times
The Maverick Mountaineer: The Remarkable Life of George Ingle Finch – Climber, Scientist, Inventor by Robert Wainwright
In the spring of 1901 a teenager stood on top of a hill, gazed out in wonderment at the Australian landscape and decided he wanted to be a mountaineer. Two decades later, the same man stood in a blizzard beneath the summit of Mount Everest, within sight of his goal to be the first to stand on the roof of the world. George Finch was at the highest point ever reached by a human being and only his decision to save the life of his stricken companion stopped him from reaching the summit.
George Finch was a rebel of the first order, a man who dared to challenge the British establishment who disliked his independence, background, long hair and lack of an Oxbridge education. Despite this, he not only became one of the world's greatest alpinists, earning the grudging respect of his rival George Mallory, but pioneered the use of the artificial oxygen that enabled Everest to finally be conquered thirty years after his own attempt. A renowned scientist, a World War I hero and a Fellow of the Royal Society, involved in the development of some of the twentieth century's most important inventions, his skills helped save London from burning to the ground during the Blitz. Finch's public accomplishments, however, were shadowed by his complicated private life and his fraught relationship with his son, the actor Peter Finch.
Acclaimed biographer Robert Wainwright restores George Finch to his rightful place in history with this remarkable tribute to one of the twentieth century's most eccentric anti-heroes.
"[A] compelling biography… As a study of a man whose greatness we would do well to remember and applaud, it sparkles."                       Independent
James Connolly: My Search for the Man the Myth and his Legacy by Sean OÇallaghan
'Very interesting on how fanaticism can develop within a community, and especially relevant today.'                 Bob Geldof
By former member of the IRA and police informant, Sean O'Callaghan, the story of revolutionary James Connolly, his role in the 1916 Easter Rising, and his subsequent influence both on O'Callaghan himself, and on 20th century Irish politics.
Easter Monday, 24th April, 1916: James Connolly, a 48-year-old Edinburgh-born Marxist and former British soldier, stands at the top of the steps of Liberty Hall, Dublin.
'We are going out to be slaughtered,' Connolly told his comrades, and with this he set in train the Easter Rising of 1916.
Two weeks later, in a scene that has haunted Nationalist Ireland ever since, he was carried to his place of execution having been badly wounded. Placed on a chair, he was shot dead by soldiers of the army he had once served in.
This is not a traditional biography; it is a book about Sean O'Callaghan's relationship with a man who was to deeply influence his formative years; it is about the politics of violent extremism that O'Callaghan subsequently became caught up in; and it's about the kind of individuals who are willing to sacrifice everything, including their lives, for a holy cause.
Ottoman Endgame: War, Revolution and the Making of the Modern Middle East 1908-1923 by Sean McMeekin
'An outstanding history … one of the best writers on the First World War.'                  Simon Sebag Montefiore
The Ottoman Endgame is the first, and definitive, single-volume history of the Ottoman empire's agonising war for survival. Beginning with Italy's invasion of Ottoman Tripoli in September 1911, the Empire was in a permanent state of emergency, with hardly a frontier not under direct threat. Assailed by enemies on all sides, the Empire-which had for generations been assumed to be a rotten shell-proved to be strikingly resilient, beating off major attacks at Gallipoli and in Mesopotamia before finally being brought down in the general ruin of the Central Powers in 1918.
As the Europeans planned to partition all its lands between them and with even Istanbul seemingly helpless in the face of the triumphant Entente, an absolutely unexpected entity emerged: modern Turkey. Under the startling genius of Mustafa Kemal Atatürk, a powerful new state emerged from the Empire's fragments.
This is the first time an author has woven the entire epic together from start to finish – and it will cause many readers to fundamentally re-evaluate their understanding of the conflict. The consequences, well into the 21st century, could not have been more momentous – with countries as various as Serbia, Greece, Libya, Armenia, Iraq and Syria still living with them.
"It is an enormous story, and McMeekin is a worthy chronicler of it … The Ottoman Endgame is the most satisfactory and thought-through of the recent books on the subject that I have seen."                    Norman Stone)
"Masterful and sympathetic … superb."                 Literary Review
"A marvellous exposition of the historian's art."                Guardian
The Caliphate: A Pelican Introduction by Hugh Kennedy
What is a caliphate?
What is the history of the idea?
How is the term used and abused today?
In the first modern account of a subject of critical importance today, acclaimed historian Hugh Kennedy answers these questions by chronicling the rich history of the caliphate, from the death of Muhammad to the present. At its height, the caliphate stretched from Spain to the borders of China and was the most powerful political entity in western Eurasia. In an era when Paris and London boasted a few thousand inhabitants, Baghdad and Cairo were sophisticated centres of trade and culture, and the Umayyad and Abbasid caliphates were distinguished by major advances in science, medicine and architecture. By ending with the recent re-emergence of caliphal ideology within fundamentalist Islam,The Caliphate underscores why it is crucial that we know about this form of Islamic government to understand the political ideas of the so-called Islamic State and other Islamist groups in the twenty first century.
Lab Girl: A Story of Trees, Science & Love by Hope Jahren
Lab Girl is a book about work and about love, and the mountains that can be moved when those two things come together. It is told through Jahren's remarkable stories: about the discoveries she has made in her lab, as well as her struggle to get there; about her childhood playing in her father's laboratory; about how lab work became a sanctuary for both her heart and her hands; about Bill, the brilliant, wounded man who became her loyal colleague and best friend; about their field trips – sometimes authorised, sometimes very much not – that took them from the Midwest across the USA, to Norway and to Ireland, from the pale skies of North Pole to tropical Hawaii; and about her constant striving to do and be her best, and her unswerving dedication to her life's work.
Visceral, intimate, gloriously candid and sometimes extremely funny, Jahren's descriptions of her work, her intense relationship with the plants, seeds and soil she studies, and her insights on nature enliven every page of this thrilling book. In Lab Girl, we see anew the complicated power of the natural world, and the power that can come from facing with bravery and conviction the challenge of discovering who you are.
"[Lab Girl] does for botany what Oliver Sacks's essays did for neurology."                 Michiko Kakutani, New York Times
"Some people are great writers, while other people live lives of adventure and importance. Almost no one does both. Hope Jahren does both. She makes me wish I'd been a scientist."                     Ann Patchett, author of State of Wonder and Bel Canto (winner of the Orange Prize)
"The Jane Goodall of botany . . . I am not sure which is more extraordinary, the plants or the woman who studies them. If the next generation of scientists have role models like Jahren, then the world of science will be better off indeed."                 Science
"This is an absolutely extraordinary book . . . By the end, I was babbling about it to complete strangers and determined to give a copy to just about everyone I know . . . Jahren is not just a scientist, though, but a poet who has given us insight into her mind and her passions, and I feel privileged to have been granted a glimpse."                    Times Higher Education Supplement
Far and Away by Andrew Solomon
From the winner of the National Book Award and the National Books Critics Circle Award and one of the most original thinkers of our time Andrew Solomon s magisterial Far and Away collects a quarter-century of soul-shaking essays (Vanity Fair).
Far and Away chronicles Andrew Solomon's writings about places undergoing seismic shifts political, cultural, and spiritual. From his stint on the barricades in Moscow in 1991, when he joined artists in resisting the coup whose failure ended the Soviet Union, his 2002 account of the rebirth of culture in Afghanistan following the fall of the Taliban, his insightful appraisal of a Myanmar seeped in contradictions as it slowly, fitfully pushes toward freedom, and many other stories of profound upheaval, this book provides a unique window onto the very idea of social change. With his signature brilliance and compassion, Solomon demonstrates both how history is altered by individuals, and how personal identities are altered when governments alter.
"Far and Away takes a magnificent journey into the heart of extraordinarily diverse experiences: You will not only know the world better after having seen it through Solomon s eyes, you will also care about it more."                        Elizabeth Gilbert
"This is a beautiful book, inspired by love of away' and uncertainty about home, ' a celebration of freedom which valuably warns that freedom must sometimes be learned. Much more than 'travel writing, ' it's a portrait of our world, made by someone who has been there."             Salman Rushdie
The Gene: An Intimate History by Siddhartha Mukherjee
'Dramatic and precise… [A] thrilling and comprehensive account of what seems certain to be the most radical, controversial and, to borrow from the subtitle, intimate science of our time… He is a natural storyteller… A page-turner… Read this book and steel yourself for what comes next.'                    Bryan Appleyard, Sunday Times
The Gene is the story of one of the most powerful and dangerous ideas in our history, from bestselling, prize-winning author Siddhartha Mukherjee.
Spanning the globe and several centuries, The Gene is the story of the quest to decipher the master-code that makes and defines humans, that governs our form and function.
This is an epic, moving history of a scientific idea coming to life, by the author of The Emperor of All Maladies. But woven through The Gene, like a red line, is also an intimate history – the story of Mukherjee's own family and its recurring pattern of mental illness, reminding us that genetics is vitally relevant to everyday lives. These concerns reverberate even more urgently today as we learn to "read" and "write" the human genome – unleashing the potential to change the fates and identities of our children.
The story of the gene begins in an obscure Augustinian abbey in Moravia in 1856 where a monk stumbles on the idea of a 'unit of heredity'. It intersects with Darwin's theory of evolution, and collides with the horrors of Nazi eugenics in the 1940s. The gene transforms post-war biology. It reorganizes our understanding of sexuality, temperament, choice and free will. This is a story driven by human ingenuity and obsessive minds – from Charles Darwin and Gregor Mendel to Francis Crick, James Watson and Rosalind Franklin, and the thousands of scientists still working to understand the code of codes.
Majestic in its ambition, and unflinching in its honesty, The Gene gives us a definitive account of the fundamental unit of heredity – and a vision of both humanity's past and future.
"The Gene is prodigious, sweeping, and ultimately transcendent. If you're interested in what it means to be human, today and in the tomorrows to come, you must read this book."                    Anthony Doerr, Pulitzer Prize-winning author of All the Light We Cannot See

"The story has been told, piecemeal, in different ways, but never before with the scope and grandeur that Siddhartha Mukherjee brings to his new history, The Gene. He fully justifies the claim that it is "one of the most powerful and dangerous ideas in the history of science. … Definitive."                        James Gleick New York Times Book Review
The Rise & Fall of Nations: Ten Rules of Change in the Post-Crisis World by Ruchir Sharma
The crisis of 2008 ended the illusion of a golden era in which many people imagined that prosperity and political calm would continue to spread indefinitely. In a world now racked by slowing growth and mounting unrest, how can we discern which nations will thrive and which will fail?
Shaped by prize-winning author Ruchir Sharma's twenty-five years travelling the world, The Rise and Fall of Nations rethinks economics as a practical art. By narrowing down the thousands of factors that can shape a country's future, it spells out ten clear rules for identifying the next big winners and losers in the global economy.
Each rule looks at a nation's political, economic, and social conditions in real time to filter out the hype and noise. He shows, for example, how slow population growth is eroding economic growth, and ranks nations by how well they respond. He describes the way cycles of political complacency and revolt fuel economic booms and busts. Amid growing tensions over inequality, he demonstrates how billionaire lists yield clues to which economies are most or least threatened by extreme wealth. In a period when the world is struggling with trillions of dollars in new debt, he explains which nations are most likely to avert this threat or buckle under it. Sharma's rules are based on the data he has collected over many years at Morgan Stanley Investment Management in New York, where he is now Head of Emerging Markets and Chief Global Strategist. This is a book of original research, not mere opinion.
The final chapter takes the reader on a surprising world tour of the likely winners and losers in the near future. The Rise and Fall of Nations is enlivened by Sharma's stories from the road and his encounters with presidents, tycoons, and villagers from Rio to Beijing. It is a pioneering field guide to understanding our impermanent world.
"Filled with amazing data … fascinating insights and revealing anecdotes, this is quite simply the best guide to the global economy today. Whether you are an observer or an investor, you cannot afford to ignore it."                    Fareed Zakaria
"If Mr Sharma is right that global capital flows will remain depressed, and that developing economies face a pedestrian future, then the hot money chasing them will recede-as, perhaps, will the influence of famous fund managers. Until then, Mr Sharma's book is a fine guide to the great emerging market boom and bust."              Economist
"For sheer readability and insight on the developing world drama, I dare say you won't find a better choice."                      Wall Street Journal
Rendezvous at the Russian Tearooms: The Spyhunter, The Fashion Designer and the Man from Moscow by Paul Willetts
Rendezvous at the Russian Tea Rooms provides the first comprehensive account of what was once hailed by a leading American newspaper as the greatest spy story of World War II. This dramatic yet little-known saga, replete with telephone taps, kidnappings, and police surveillance, centres on the furtive escapades of Tyler Kent, a handsome, womanising 28-year-old Ivy League graduate, who doubles as a US Embassy code clerk and Soviet agent.
Against the backdrop of London high society during the so-called Phoney War, Kent's life intersects with the lives of the book's two other memorably flamboyant protagonists. One of those is Maxwell Knight, an urbane, endearingly eccentric MI5 spyhunter. The other is Anna Wolkoff, a White Russian fashion designer and Nazi spy whose outfits are worn by the Duchess of Windsor and whose parents are friends of the British royal family. Wolkoff belongs to a fascist secret society called the Right Club, which aims to overthrow the British government. Her romantic entanglement with Tyler Kent gives her access to a secret correspondence between President Roosevelt and Winston Churchill, a correspondence that has the potential to transform the outcome of the war.
Max Perkins: Editor of Genius by A. Scott Berg
The talents Maxwell Perkins nurtured were known worldwide: F. Scott Fitzgerald, Ernest Hemingway, Thomas Wolfe among numerous others. But the man himself remained a mystery, a backstage presence who served these authors not only as editor but as critic, career manager, moneylender, psychoanalyst, confessor and friend. This outstanding biography, a winner of the National Book Award, is the first to explore the fascinating life of this editor extraordinaire in both professional and personal domains. It tells not only of Perkins' stormy marriage and secret twenty-five-year romance with Elizabeth Lemmon, but also of his intensely intimate relationships with the leading literary lights of the twentieth century.
.
.
Intercept: The Secret History of Computers and Spies by Gordon Corera
The computer was born to spy, and now computers are transforming espionage. But who are the spies and who is being spied on in today's interconnected world?
This is the exhilarating secret history of the melding of technology and espionage. Gordon Corera's compelling narrative, rich with historical details and characters, takes us from the Second World War to the internet age, revealing the astonishing extent of cyberespionage carried out today. Drawing on unique access to intelligence agencies, heads of state, hackers and spies of all stripes, INTERCEPT is a ground-breaking exploration of the new space in which the worlds of espionage, geopolitics, diplomacy, international business, science and technology collide. Together, computers and spies are shaping the future. What was once the preserve of a few intelligence agencies now matters for us all.
"Riveting … Making use of excellent sources, Corera, the BBC's security correspondent, has produced a highly relevant read that addresses the key debate in intelligence gathering – the balance between privacy and security."                        Sunday Times
"If you are looking for a clear and comprehensive guide to how communications have been intercepted, from cable-cutting in the First World War to bulk data collection exposed by Ed Snowden, this is it … A most readable account of how computers and the internet have transformed spying."                    Guardian
Ministry of Ungentlemanly Warfare: Churchill's Mavericks – Plotting Hitler's Defeat by Giles Milton
Six gentlemen, one goal – the destruction of Hitler's war machine
In the spring of 1939, a top secret organisation was founded in London: its purpose was to plot the destruction of Hitler's war machine through spectacular acts of sabotage.
The guerrilla campaign that followed was to prove every bit as extraordinary as the six gentlemen who directed it. Winston Churchill selected them because they were wildly creative and thoroughly ungentlemanly. One of them, Cecil Clarke, was a maverick engineer who had spent the 1930s inventing futuristic caravans. Now, his talents were put to more devious use: he built the dirty bomb used to assassinate Hitler's favourite, Reinhard Heydrich. Another member of the team, William Fairbairn, was a portly pensioner with an unusual passion: he was the world's leading expert in silent killing. He was hired to train the guerrillas being parachuted behind enemy lines.
Led by dapper Scotsman Colin Gubbins, these men – along with three others – formed a secret inner circle that planned the most audacious sabotage attacks of the Second World War. Winston Churchill called it his Ministry of Ungentlemanly Warfare. The six 'ministers', aided by a group of formidable ladies, were so effective that they single-handedly changed the course of the war.
Told with Giles Milton's trademark verve and eye for detail, The Ministry of Ungentlemanly Warfare is thoroughly researched and based on hitherto unknown archival material. It is a gripping and vivid narrative of adventure and derring-do and is also, perhaps, the last great untold story of the Second World War.
"What sets Milton's work apart from other recounting is his behind-the-scenes access to the stories of the small group of men who put their minds to creating new ways to wage war."                        Spectator
"A magnificent story, brilliantly told. Read it!"                  Anthony Horowitz
"[Giles Milton] writes with relish about the eccentrics who dreamed up the likes of anti-tank 'sticky bombs' while the adventures he describes could not be faster-moving or more exciting."                Literary Review
War and Turpentine by Stefan Hertman
Shortly before his death at the age of 90, Stefan Hertmans' grandfather Urbain gave his grandson a set of notebooks.
As Stefan began to read, he found himself drawn into a conversation across the centuries, as Urbain – so quiet and reserved in life – revealed his eloquence and his private passions on the page. Gradually, as he learned of his grandfather's heroics in the First World War, the loss of his great love, and his later years spent seeking solace in art and painting, a portrait emerged of the grandfather he had never fully known.
War and Turpentine is an exquisite, loving reconstruction of a man's interior life, at once deeply personal and yet so evocative of many of his generation, affected by the long shadow of war. In beautiful, glimmering prose, Hertmans shows us how our experiences shape us all, and how, even in a life of sorrow and heartache, dignity can be found.
"War and Turpentine is the astonishing result of Hertmans' reckoning with his grandfather's diaries. It is a book that lies at the crossroads of novel, biography, autobiography and history… It seems aching to be called "Sebaldian", and earns the epithet glowingly… In McKay's lyrical translation, every detail has the heightened luminosity of poetry… War and Turpentine has all the marking of a future classic."   Neel Mukherjee, Guardian
"Skilful and lyrical reconstruction of a life transformed by war, love and art… It is not often a book succeeds on many levels, but War and Turpentine manages to be a mesmerising portrait of an artist as a young man, a significant contribution to First World War literature and a brilliant evocation of a vanished world."                        Herald
Broke and Broken: The Shameful Legacy of Gold Mining in South Africa by Lucas Ledwaba and Leon Sadiki
Z
welendaba Mgidi is dying. He is a depressed, sickly man who cannot even leave his home or perform the simplest of duties such as gardening. He used to be a very fit man; a boxer and road runner full of life and energy. But the 28 years he spent working underground in the mines of South Africa's Gold Fields in the Free State have left him a wreck. In 2008, aged 48, he received devastating news. The Medical Bureau for Occupational Diseases diagnosed him with silicosis, "an irreversible, progressive, incurable and at a later stage disabling and potentially fatal disease."
Broke and Broken: The Shameful Legacy of Gold Mining in South Africa explores the exploitation, the blatant disregard for health and safety regulations whose implications continue to be felt in rural villages far away from the imposing mine shafts.
It examines how, following the deaths of their spouses, widows are left to live in deprivation and struggle to raise children on handouts, thus creating fertile ground for another generation of poor young men with no choice but to follow the same route followed by their fathers before them to the gold mines. It is a story of human tragedy, suffering and how in their quest for profit, the mining houses cared very little about the health and safety of the very men whose sweat made them millions in profit.
The Return by Hisham Matar
The Return is at once a universal and an intensely personal tale. It is an exquisite meditation on how history and politics can bear down on an individual life. And yet Hisham Matar's memoir isn't just about the burden of the past, but the consolation of love, literature and art. It is the story of what it is to be human.
Hisham Matar was nineteen when his father was kidnapped and taken to prison in Libya. He would never see him again. Twenty-two years later, the fall of Gaddafi meant he was finally able to return to his homeland. In this moving memoir, the author takes us on an illuminating journey, both physical and psychological; a journey to find his father and rediscover his country.
"What a brilliant book. The Return reads as easily as a thriller, but is a story that will stick; a person is lost but gravity and resonance remain."                       Hilary Mantel
"A total work of art. It reminded me of Solzhenitsyn. It is of the same importance. I love it."                        James Rebanks
"Wise and agonizing and thrilling to read."          Zadie Smith
White Sands: Experiences from the Outside World by Geoff Dyer
From one of Britain's most original writers, White Sands is a creative exploration of why we travel.
Episodic, wide-ranging, funny and smart, the linked journeys recall the themes of Dyer's Yoga for People Who Can't Be Bothered to Do It – albeit with the wisdom of (middle) age.
From a trip to the Lightning Field in New Mexico, to chasing Gauguin's ghost in French Polynesia, from falling for someone who may or may not be a tour guide in Beijing's Forbidden City, to tracking down the house of an intellectual hero in Los Angeles, Dyer pursues all permutations of the peak experience including the trough experience.
In his trademark style he blends travel writing, essay, criticism and fiction with a smart and cantankerous wit that is unmatched. This is a book for armchair travellers and procrastinating philosophers everywhere.
"Even Chekhov might have envied Geoff Dyer's talent . . . Almost perfect."              Jan Morris, Spectator
"Reading Dyer is akin to the sudden elation and optimism you feel when you make a new friend, someone as silly as you but cleverer too, in whose company you know you will travel through life more vagrantly, intensely, joyfully."                     Daily Telegraph
The War on Women: And the Brave Ones Who Fight Back by Sue Lloyd Roberts
In 1973, Sue Lloyd Roberts joined ITN as a news trainee and went on to be one of the UK's first video-journalists to report from the bleak outposts of the Soviet Union. Travelling as a tourist, she also gained access to some of the world's most impenetrable places like China, Tibet and Burma. During her 30-year-long career she witnessed the worst atrocities inflicted on women across the world. But in observing first-hand the war on the female race she also documented their incredible determination to fight back.
The War on Women brings to life the inconceivable and dangerous life Sue led. It tells the story of orphan Mary Merritt who, age sixteen, instead of being released from the care of nuns was interned by them in a Magdalen Laundry and forced to work twelve hours a day six days a week, without pay, for over a decade. She gives voice to Maimouna, the woman responsible for taking over her mother's role as the village female circumciser in The Gambia and provides a platform for the 11-year-old Manemma, who was married off in Jaipur at the age of six. From the gender pay gap in Britain to forced marriage in Kashmir and from rape as a weapon of war to honour killings, Sue has examined humankind's history and takes us on a journey to analyse the state of women's lives today. Most importantly she acts as a mouthpiece for the brave ones; the ones who challenge wrongdoing; the ones who show courage no matter how afraid they are; the ones who are combatting violence across the globe; the ones who are fighting back.
Sue sadly died in 2015, shortly after writing this book, today she is widely recognised as one of the most acclaimed television journalists of her generation. This book is the small tribute to the full and incredible life she lived and through it these women's voices are still being heard.
And finally…..
The Great South African Cookbook
67 South African chefs were honoured to contribute to The Great South African Cookbook and answer the question 'What is the food you make for the people you love'? This cookbook has been created to honour of Madiba's legacy in South Africa and the world. SA's finest cooks, chefs, gardeners, bakers, farmers, foragers and local food heroes let us into their homes – and their hearts – as they share the recipes they make for the people they love. Each recipe is accompanied by stunning original photography that captures the essence of our beautiful country
The 150 recipes that went into the 372 pages cookbook were contributed by renowned chefs like Luke Dale-Roberts, Ina Paarman , Dorah Sitole and Siphokazi Mdlankomo.
Nelson Mandela gave 67 years of his life to the struggle for human rights and social justice. The Great South African Cookbook will be released in conjunction with Mandela Day in July 2016, and The Nelson Mandela Foundation will receive all royalties from sales of the book to develop and support community food and agricultural projects that will improve the lives of those who are in need of food and who need to be freed from poverty.
Simplissime: The Easiest French Cookbook by Jean-François Mallet
Learn to cook classic French cuisine the easy way with this French bestseller from professionally trained chef Jean-François Mallet.
Taking cooking back to basics, Simplissime is bursting with easy-to-follow and quick recipes for delicious French food. Discover how to make a mouth-watering Apple Tart with Cinnamon with just five ingredients, or Spaghetti with Asparagus and Orange in just three steps. For an impressive dish, whip up mouth-watering Mussels in Curry in a short 15 minutes.
Each of the 160 recipes in this book is made up of only 2-6 ingredients, and can be made in a short amount of time. Recipe steps are precise and simple, accompanied by clear photographs of each ingredient and finished dish.
Cooking has never been so easy! It's no surprise that this book has been selling a copy every ten seconds in France.
Remarkable Birds by Mark Avery
We share the Earth with more than 10,000 species of birds and we have always been enchanted by them. Here, over 60 birds, organized thematically into eight sections, cover all aspects of our relationship with birds. 'Songbirds' celebrates the greatest bird virtuosi, such as the Nightingale, while 'Birds of Prey' include majestic hunters such as the Harpy Eagle, which catches prey as large as monkeys and sloths. 'Feathered Travellers' describes astounding journeys made by birds – even some tiny Hummingbirds migrate huge distances. 'The Love Life of Birds' can rival any soap opera and involves the most brilliant displays, notably the Birds of Paradise, with their extravagant feathers and dances. 'Avian Cities' explores species such as the Flamingo that live in spectacular large colonies. 'Useful to Us' examines the ways we find birds of value, such as the Turkey, but also the Canary. 'Threatened and Extinct' describes some no longer living and others that seem on the brink. Birds have also had great mystical significance, both for good and evil, and 'Revered and Adored' considers such species as the Sacred Ibis, believed by the ancient Egyptians to represent the god Thoth.
For anyone interested in the natural world and the wonderful variety of birds around us, this beautifully illustrated book is a visual treat that will inspire, inform and delight.
Yuge! 30 Years of Doonesbury on Trump
"Doonesbury is one of the most overrated strips out there. Mediocre at best."                       Donald Trump, 1989
He tried to warn us. Ever since the release of the first Trump-for-President trial balloon in 1987, Doonesbury's Garry Trudeau has tirelessly tracked and highlighted the unsavory career of the most unqualified candidate to ever aspire to the White House. It's all there–the hilarious narcissism, the schoolyard bullying, the loathsome misogyny, the breathtaking ignorance; and a good portion of the Doonesbury cast has been tangled up in it.  Join Duke, Honey, Earl, J.J., Mike, Mark, Roland, Boopsie, B.D., Sal, Alice, Elmont, Sid, Zonker, Sam, Bernie, Rev. Sloan, and even the Red Rascal as they cross storylines with the big, orange airhorn who's giving the GOP such fits.
Garry Trudeau is the "sleazeball" "third-rate talent" who draws the "overrated" comic strip Doonesbury, which "very few people read." He lives in New York City with his wife Jane Pauley, who "has far more talent than he has."
"Trump and 'Doonesbury': The Comic Gift That Keeps On Giving"                New York Times
"How Doonesbury predicted Donald Trump's presidential run 29 years ago."                      Washington Post
"Why so surprised, America? Doonesbury has been preparing us for President Trump since 1987."                  USA Today
"If anybody thinks Trump can do a presidential pivot and change his personality "Yuge!" should be required reading."                 Daily Kos
The Initiation by Mogorosi Motshumi
The First Graphic Autobiography by a black South African. An artist's struggle for survival and redemption. Set against the turbulent backdrop of a nation in transition, the first book of Motshumi's autobiography trilogy begins with his childhood in Batho township, Bloemfontein, i the early 60s, and runs thought to the late 1970s when he arrives in Johannesburg as a budding political cartoonist on the run from the security police.
.
.
Angel Catbird Volume 1 by Margaret Atwood and Johnnie Christmas
Lauded novelist Margaret Atwood and acclaimed artist Johnnie Christmas collaborate on one of the most highly anticipated comic book and literary events of the year.
On a dark night, young genetic engineer Strig Feleedus is accidentally mutated by his own experiment and merges with the DNA of a cat and an owl. What follows is a humorous, action-driven, pulp-inspired superhero adventure with a lot of cat puns.
Published in over 35 countries, Margaret Atwood is one of the most important living writers of our day and is the author of more than 40 books of fiction, poetry and critical essays. Her work has won the Man Booker Prize, the Giller Prize, Premio Mondello and more. Angel Catbird is her first graphic novel series.
The Paper Girls Volume 1 by Brian K. Vaughan and Cliff Chiang
From Brian K. Vaughan, #1 New York Times bestselling writer of SAGA, and Cliff Chiang, legendary artist of WONDER WOMAN, comes the first volume of an all-new ongoing adventure.
In the early hours after Halloween of 1988, four 12-year-old newspaper delivery girls uncover the most important story of all time. Suburban drama and otherworldly mysteries collide in this smash-hit series about nostalgia, first jobs, and the last days of childhood.
HAPPY READING!