Fiction
South by Frank Owen
The USA has been ravaged by Civil War. It's thirty years since the first wind-borne viruses ended the war between North and South – and still they keep coming. Every wind brings a new and terrifying way to die. The few survivors live in constant fear, hiding from the wind – and from each other.
In this harsh Southern expanse, brothers Garrett and Dyce Jackson are on the run from brutal law-enforcers. They meet Vida, a lone traveller on a secret quest. Together, they will journey into the dark heart of a country riven by warfare and disease.
This is the story of Dyce and Vida.
This is the story of The Cure and how it came too late.
This is the story of South.
"Dark and beautiful and surprising. I loved it."                     -Lauren Beukes
"South is an absolute blinder of a book. With its cracking pace, unforgettable characters, deliciously gruesome premise and you-won't-see-them-coming twists, if this doesn't make 'book of the year' shortlists, I will eat my Stetson. The Sisters Brothers meets The Stand, it's a post-apocalyptic genre game changer."                   Sarah Lotz
Outside the Lines by Ameera Patel
Outside the Lines is both a thriller and a family drama. It tells the story of two women: Cathleen, a troubled young woman living in the northern suburbs of Johannesburg; and Flora, who is the domestic worker at Cathleen's house. Cathleen disappears – tensions and drama ensue.
The Printmaker by Bronwyn Law-Viljoen
When a reclusive printmaker dies, his friend inherits the thousands of etchings and drawings he has stored in his house over the years. Overwhelmed by the task of sorting and exhibiting this work, she seeks the advice of a curator.
What compulsion drove the printmaker to make art for four decades, and why did he so seldom show his prints?
When the curator discovers a single, sealed box addressed to a man in Zimbabwe, she feels compelled to go in search of him to present him with the package, hoping to find an answer to the enigma of the printmakers solitary life.
Bronwyn Law-Viljoen's subtle and sophisticated novel reflects on one man's obsessive need to make meaning through images and to find, in art, the traces of love and friendship.
Koors by Deon Meyer
Die verhaal bly jou onthuts, verras en oorrompel. Die manier waarop die skrywer nooit die draad verloor nie, nooit die spanning laat verslap nie en oënskynlik moeiteloos landskappe, situasies en karakters optower. Dit alles terwyl die verhaal onstuitbaar voortstu. Die einde het niemand sien kom nie. Ek het absoluut geen kritiek te lewer nie, ek probeer nog om my bewondering te verteer.
Dis 'n inisiasie- en vormingsroman oor die dood van onskuld. Dis 'n verhaal oor die liefde in sy vele fasette en gedaantes. Die taal is soepel en gedienstig. Daar is niks oorbodig nie. Dis vaartbelyn, innoverend en briljant ontwerp. Die leser is ná die laaste bladsy nie meer dieselfde mens nie, soos dit hoort. Dis relevant en lewer ongesiens maatskaplike kommentaar. Dit preek nooit nie, gorrel nooit nie.
Koors pak jou beet en laat jou nie los voordat jy dit uitgesweet het en bewerig bly lê nie. Bravo!
Born on a Tuesday by Elnathan John
From one of Nigeria's finest contemporary literary talents comes Elnathan John's highly awaited debut novel. Told through the irresistible voice of a young boy, Dantala, Born on a Tuesday is a masterful and haunting coming-of-age story set against the backdrop of extremist politics and religion in Northern Nigeria. Dantala is a naive but bright Quranic student, who falls in with a gang of street boys, surviving on a regime of petty crime and violence. After being paid to set fire to the local headquarters of an opposition party, Dantala is forced to run for his life. Still reeling from the trauma of events, he stumbles into a Salafi mosque where he quickly becomes the favoured apprentice of the Sheikh and finds stability and friendship. From his place of refuge, Dantala confronts the hurdles of adolescence, first love and the splintering of family life – as his mother becomes increasingly unstable in the wake of a family tragedy and his brothers join a rival religious sect. But as political and religious tensions mount, he is torn between loyalty to his benefactor, Sheikh Jamal, and adherence to the Sheikh's charismatic advisor, Malam Abdul-Nur.When bloodshed erupts around him, Dantala is tested to his limits. In this raw, authentic and deceptively simple novel, Elnathan John explores boyhood in the wake of extremism and fundamentalism. Born on a Tuesday delves behind the scenes of the media's portrayal of Boko Haram bringing us a powerful and intensely personal picture of life in Northern Nigeria today.
"With brave, unflinching candor expressed through spare, unadorned prose, Elnathan John considers the rise of Islamic extremism in Nigeria as experienced by one young man. Anyone seeking to peer beyond the media's portrayals of Boko Haram must read this book, not because it offers a hopeful account but because it offers a human one."               Taiye Selasi
What Belongs to You by Garth Greenwell
On an unseasonably warm autumn day, an American teacher walks down a staircase beneath Sofia's National Palace of Culture, looking for sex. Among the stalls of a public bathroom he encounters Mitko, a charismatic young hustler. He returns to Mitko again and again over the next few months, and their trysts grow increasingly intimate and unnerving as the enigma of this young man becomes inseparable from that of his homeland, Bulgaria, a country with a difficult past and an uncertain future.
Garth Greenwell's What Belongs to You is a stunning debut about an American expat struggling with his own complicated inheritance while navigating a foreign culture. Lyrical and intense, it tells the story of a man caught between longing and resentment, unable to separate desire from danger, and faced with the impossibility of understanding those he most longs to know.
"What Belongs to You stands naturally alongside the great works of compromised sexual obsession such as Thomas Mann's Death in Venice . . . we are dealing with a writer who deserves his plaudits . . . I found myself unable to stop reading . . . Headily accomplished . . . an essential work of our time."                        Daily Telegraph
"Worthy of its comparisons to James Baldwin and Alan Hollinghurst as well as Virginia Woolf and W G Sebald . . . spellbinding . . . a novel of rejection and disgust, displacement and transcendence . . . I found myself trembling as I read it."                       Evening Standard
Dead in the Water by Irna van Zyl
Detective Storm van der Merwe is walking her dog on the beach when she makes a gruesome discovery: the body of a young journalist – missing a limb.
For the residents of Grootbaai, corpses are bad for business: thousands of tourists from all over the world flock to this coastal town to shark-cage dive with its famous great whites.
Storm is desperate to investigate the matter, but she's been banished from the field to a dreary back office. She's also carless after a tow-truck driver – an attractive one at that – crashed his truck into her Beetle.
Meanwhile, in Cape Town, Storm's former colleague Andreas Moerdyk is having problems of his own while investigating the death of a famous Springbok rugby player whose car was also hit by a tow truck. Is Storm's car accident in some way related to the sports star's fatal collision? And is there a link between the journalist's death and stories of abalone poaching in Grootbaai?
As Storm searches for answers, she realises that everyone's a suspect and the stakes are deadly.
The Prophets of Eternal Fjord by Kim Leine
Idealistic, misguided Morten Falck is a newly ordained priest sailing to Greenland in 1787 to convert the Inuit to the Danish church. A rugged outpost battered by harsh winters, Sukkertoppen is overshadowed by the threat of dissent; natives from neighboring villages have united to reject Danish rule and establish their own settlement atop Eternal Fjord. As Falck becomes involved with those in his care-his ambitious catechist, a lonely trader's wife, and a fatalistic widow he comes to love-his faith and reputation are dangerously called into question.
"An astonishing, hallucinatory journey into the frozen heart of Denmark's colonial darkness… A fervid, exhilarating evocation of faith versus hypocrisy, empathy versus dislocation and desperate rebellion versus grim destiny, The Prophets of Eternal Fjord is a slow-release depth charge of a novel whose reverberations bear the terrible poignancy of global and timely relevance."              Guardian
"Superb… A raw, hugely powerful chronicle of lives lived on the edge… The Prophets of Eternal Fjord has a grandeur and a compass that few novels this year will match."                   Sunday Times
The Safest Place You Know by Mark Winkler
After his father's violent death on a hot November day in the droughtstricken Free State, a young man leaves the derelict family farm with no plan, and with no way of knowing that his life will soon be changed for ever by two strangers he encounters on his journey south: a mute little girl who bears a striking resemblance to his late niece, and a troubled lawyer who detests the Cape wine estate she's inherited from a father she despised.
Set in South Africa against the backdrop of a country in flux, The Safest Place You Know is a powerful story, rendered in meticulously crafted, lyrical prose, about redemption and recovery, and what it means to carry the past with you.
The House Without Windows by Nadia Hashimi
A vivid, unforgettable story of an unlikely sisterhood—an emotionally powerful and haunting tale of friendship that illuminates the plight of women in a traditional culture—from the author of the bestselling The Pearl That Broke Its Shell and When the Moon Is Low.
For two decades, Zeba was a loving wife, a patient mother, and a peaceful villager. But her quiet life is shattered when her husband, Kamal, is found brutally murdered with a hatchet in the courtyard of their home. Nearly catatonic with shock, Zeba is unable to account for her whereabouts at the time of his death. Her children swear their mother could not have committed such a heinous act. Kamal's family is sure she did, and demands justice.
Barely escaping a vengeful mob, Zeba is arrested and jailed. As Zeba awaits trial, she meets a group of women whose own misfortunes have also led them to these bleak cells: thirty-year-old Nafisa, imprisoned to protect her from an honor killing; twenty-five-year-old Latifa, who ran away from home with her teenage sister but now stays in the prison because it is safe shelter; and nineteen-year-old Mezhgan, pregnant and unmarried, waiting for her lover's family to ask for her hand in marriage. Is Zeba a cold-blooded killer, these young women wonder, or has she been imprisoned, as they have been, for breaking some social rule? For these women, the prison is both a haven and a punishment. Removed from the harsh and unforgiving world outside, they form a lively and indelible sisterhood.
Into this closed world comes Yusuf, Zeba's Afghan-born, American-raised lawyer, whose commitment to human rights and desire to help his motherland have brought him back. With the fate of this seemingly ordinary housewife in his hands, Yusuf discovers that, like Afghanistan itself, his client may not be at all what he imagines.
A moving look at the lives of modern Afghan women, A House Without Windows is astonishing, frightening, and triumphant.
Poison City by Paul Crilley
The name's Gideon Tau, but everyone just calls me London. I work for the Delphic Division, the occult investigative unit of the South African Police Service. My life revolves around two things – finding out who killed my daughter and imagining what I'm going to do to the bastard when I catch him.
I have two friends. The first is my boss, Armitage, a fifty-something DCI from Yorkshire who looks more like someone's mother than a cop. Don't let that fool you. The second is the dog, my magical spirit guide. He talks, he watches TV all day, and he's a mean drunk.
Life is pretty routine – I solve crimes, I search for my daughter's killer. Wash, rinse, repeat. Until the day I'm called out to the murder of a ramanga – a low-key vampire – basically, the tabloid journalist of the vampire world. It looks like an open and shut case. There's even CCTV footage of the killer.
Except… the face on the CCTV footage? It's the face of the man who killed my daughter. I'm about to face a tough choice. Catch her killer or save the world? I can't do both.
It's not looking good for the world.
Poison City is the first in a fantastical new series for fans of Ben Aaronovitch, Lauren Beukes, Sarah Lotz and Stephen King.
Zodiac by Sam Wilson
In a society divided along Zodiac lines, status is cast at birth – and binding for life. Who you are can be determined by a matter of days, hours, even minutes.
Even for the most experienced detectives, every once in a while a murder can shake them to the core. Like when the Chief of Police is killed in his own home.
For Detective Jerome Burton, catching the case will change his life forever.
Because this murder is only the first piece of a vast and twisted puzzle made of secrets, lies and tragedy.
The signs are everywhere. But is the truth written in the stars or hiding in the shadows?
"A bold storyteller with an amazing mind."               Lauren Beukes
"A brilliant, original and gripping thriller. I'm struggling to think of a reader who won't love this."                      Sarah Lotz
Your Heart is a Muscle the Size of a Fist by Sunil Yapa
Victor, homeless after a family tragedy, finds himself pounding the streets of Seattle with little meaning or purpose. He is the estranged son of the police chief of the city, and today his father is in charge of one of the largest protests in the history of Western democracy.
But in a matter of hours reality will become a nightmare. Hordes of protesters – from all sections of society – will test the patience of the city's police force, and lives will be altered forever: two armed police officers will struggle to keep calm amid the threat of violence; a protester with a murderous past will make an unforgivable mistake; and a delegate from Sri Lanka will do whatever it takes to make it through the crowd to a meeting – a meeting that could dramatically change the fate of his country. In amongst the fray, Victor and his father are heading for a collision too.
Your Heart is a Muscle the Size of a Fist, set during the World Trade Organization protests, is a deeply charged novel showcasing a distinct and exciting new literary voice.
"A gorgeous riot against injustice."               Guardian
"Yapa shines in the thickness of the here-and-now, amid the gas, fear, courage and flawed humanity of the street battle, in passages that are cinematic . . . moving."             New York Times
"Fast-paced and unflinching . . . As these characters encounter one another in a fog of tear gas and pepper spray, Yapa vividly evokes rage and compassion."               New Yorker
Non-fiction
Holding My Breath by Ace Moloi
Dear Mama,
It is me, your broken son.
Although the earth's sorrows dimmed your light from us, I trust heaven has bestowed upon you the glory and dignity you deserve. You and I last spoke in February 2005, five days before you passed away. When you succumbed to your illness – which remains a mystery to this day – I was a mere 13-year-old who not only had to adjust to a new school, but also get used to the reality that you would never live to tell intriguing tales of your childhood. A decade has since passed and as I write you this note I have only heard from you once. You appeared in a dream to reprimand us for the culture of begging which we had adopted shortly after we laid you to your final rest.
This is how Ace Moloi starts his book, a letter to his deceased mother. This book, this letter, is an important and necessary look at the state of our country 21 years into our democracy. It is the story of constantly holding your breath, hoping nothing else goes wrong.
In a searing and beautiful narrative, Moloi manages to take the reader through various South African issues like:
The trials of child-headed families in South Africa
The volatile issue of service delivery in townships
The story of broken families
Why Fees Must Fall
Racial division in universities
Funny in parts and tragic in others, this is the ultimate South African story.
Good Cop Bad Cop by Andrew Brown
Once an enemy of the apartheid police, Andrew Brown has worked as a police reservist for almost twenty years. In this book he takes the reader on patrol with him – into the ganglands of the Cape Flats, the townships of Masiphumelele and Nyanga, and the high-walled Southern Suburbs.
Good Cop, Bad Cop is a personal account of the perilous and often conflicting work of a SAPS officer. Brown describes being shot at, arresting suspects in a drug bust, chasing down leads in a homicide investigation and keeping the peace during the UCT student protests.
Brown illustrates how difficult the job of the police is, and how easy it is to react with undue force. Yet he argues passionately that the role of the police is to be a service to communities and not a force to suppress social discontent.
Gripping and thought-provoking, this is a fascinating insight into the social fabric of current South Africa.
History Matters by Bill Nasson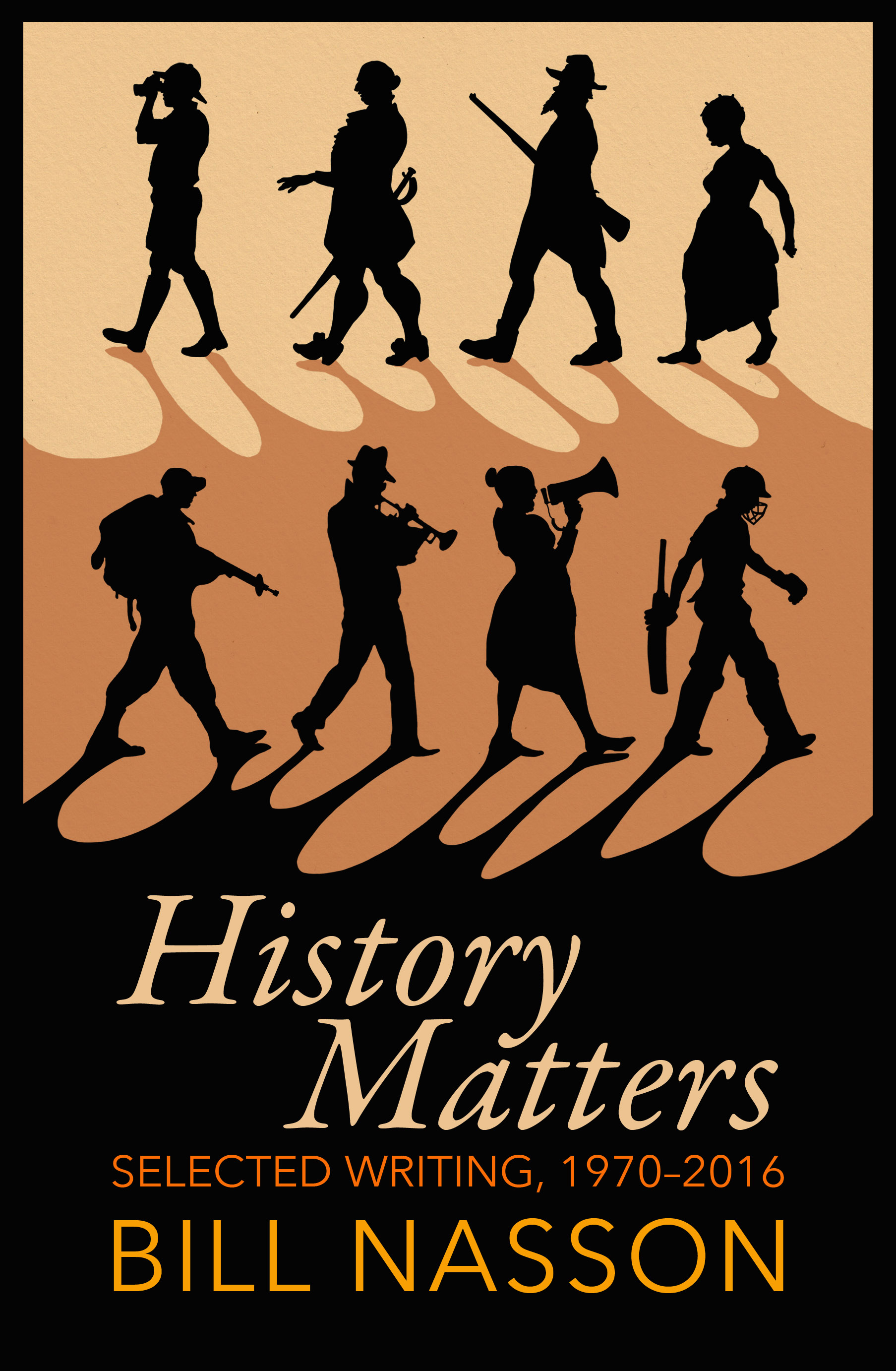 History Matters is an eloquent selection of writings over four decades by Bill Nasson, one of South Africa s most popular and highly respected historians. The pieces in this compendium are lively and entertaining, written with wit, humour and a finely tuned sense of irony. Chapters cover the Anglo-Boer War, the two World Wars, cricket, District Six, schooldays and education, Spike Lee, Hollywood and history, Mandela and other political biographies, and a great many other topics. Resembling a pudding of spicy plums, this is a perfect book for anyone interested in South Africa and its history, and in a broader appreciation of tweaking the tail of life in the past.
Relatively Public Life of Jules Browde by Daniel Browde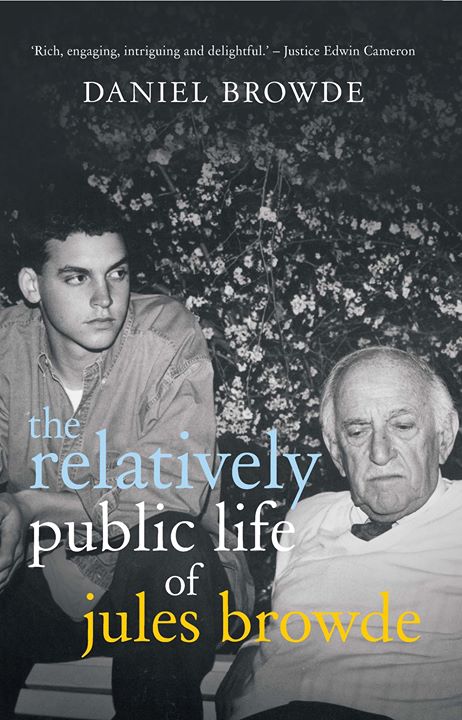 I sat there divided. Though my grandfather was visibly shaken by the force of this memory, and I knew I was seeing him more vulnerable than I had ever seen him, I felt a bubbly thrill because this was such good stuff, and I remember turning my eyes away from his distressed face to make sure the wheels of the dictaphone were still turning.
When Daniel is tasked with writing the biography of his grandfather, Jules Browde – one of South Africa's most celebrated advocates – he sharpens his pencil and gets to work. But the task that at first seems so simple comes to overwhelm him. As the book begins to recede – month after month, year after year – he must face the possibility of disappointing his grandfather, whose legacy now rests uncomfortably in his hands.
The troubled progress of Daniel's book stands in sharp contrast to the clear-edged tales his grandfather tells him. Spanning almost a century, these gripping stories compellingly conjure other worlds: the streets of 1920s Yeoville, the battlefields of the Second World War, the courtrooms of apartheid South Africa.
The Relatively Public Life of Jules Browde turns the conventions of a biography inside out. It is more than the portrait of an unusual South African life, it is the moving tale of a complex and tender relationship between grandfather and grandson, and an exploration of how we are made and unmade in the stories we tell about our lives.
Blood on Their Hands by Jessica Pitchford
When Johan Booysen hears that the new Provincial Police Chief takes backhanders from a Durban businessman, he decides to give her the benefit of the doubt. But the evidence becomes impossible to ignore and he soon gets dragged down the corridors of power and politics into a web of intrigue, deceit and betrayal that, at times, he has trouble making sense of. Only when he is arrested, handcuffed and tossed into a cell does Booysen realise just how ruthless those opposed to him are – an opposition he comes to call the 'cabal' – and whom he believes have more blood on their hands than the so-called Cato Manor Death Squad with which he is closely associated.
Blood on their Hands traces Johan Booysen's life and career – from patrolling the streets of Amanzimtoti in the 1970s to his rise in 2010 to major general and head of KZN's Directorate for Priority Crime Investigation unit, the Hawks. But his tenure is short-lived. When Booysen decides to take on those so determined to be rid of him, each legal battle he wins is met by hostility and further efforts to shut him out of the of the criminal justice system. But capitulating is not in his DNA…
Hitler, Verwoerd, Mandela and Me by Marianne Thamm
Marianne Thamm delves into her own unconventional life story. Her German father fought for Hitler and made munitions for Verwoerd. He married her largely illiterate Portuguese mother who worked as a cleaner in England. Today Marianne is the proud mother of two (black) teenagers … Hers is the story of the last century, of the defeat of bigotry and a new era ushered in by Mandela. Sad at times, deeply moving and, like Marianne, hugely entertaining.
The Street: Exposing a World of Cops, Bribes and Drug Dealers by Paul McNally
There are no villains here. Award-winning journalist Paul McNally finds corrupt cops, drug dealers, vigilante residents, addicts, torturers, murders and cops partnered to drug dealers. But no villains.
Raymond is a shop owner on Ontdekkers Road who takes a baseball bat to the dealers when they break his rules. He systematically records in his notebook the police officers who come – all day, every day – to collect their bribe money from the dealers, and is looking for someone to trust.
Khaba is a middle-aged police officer who wants a quiet life but whose demons will not leave him in peace. He is trying to regain his trust in what he once regarded as an honourable profession.
Wendy is a petite, ageing police reservist who can handle an R5 rifle with confidence, but not the sadness that accompanies her in her daily life – the loss of her police officer husband, brutally murdered by a drug lord, and the addiction that has her young son in its grip. She is looking for respect and affirmation and for her own life to have meaning.
Through different paths, the lives of Raymond, Khaba and Wendy intersect on the street as their attention is focused on the current power couple – a drug dealer named Obi and his police officer wife, Lerato. Seemingly untouchable, Obi and Lerato terrorise Ontdekkers, and in the process upset the balance of this already lawless world.
Under Nelson Mandela Boulevard by Sean Christie
Beneath the Nelson Mandela Boulevard flyover on Cape Town's foreshore live a community of stowaways, young Tanzanian men from the slums of Dar es Salaam. When journalist Sean Christie meets Adam Bashili, he comes to know the extraordinary world of the Beachboys, a multi-port, fourth-generation subculture that lives to stow away and stows away to survive. But as Sean starts to accompany the Beachboys on trips around their everyday Cape Town, he becomes more than a casual observer, serving as sometime moneylender, driver, confidant and scribe, and eventually joining Adam on an unprecedented tour of Dar es Salaam's underworld and a reckless run down Africa's east coast. Under Nelson Mandela Boulevard remaps both city and continent, introducing us to the places and people we so frequently overlook.
"Sean Christie is wonderful. With his huge heart and his sharp eye, he has conjured a Cape Town you are unlikely to have imagined."                  Jonny Steinberg
"A genre-busting book, Under Nelson Mandela Boulevard does a rare thing – it is non-fiction that breaks the mould of works that look in on the continent from the outside. It shows the ancient andd complex connections that exist within and beyond African boders in emotional, historical, cultural and metaphysical ways that others shirk from."                         Billy Kahora
Eyes in the Night Nomavenda Mathiane
'1879, the year in which I grew up faster than I could shout my name. That year was the one in which we experienced events and encounters that no one, particularly a child, should ever witness. It was also the year my people lost everything – their land and fields – and were reduced to being vagrants and beggars in the land of their birth.
I am the daughter of Mqokotshwa Makhoba, one of King Cetshwayo's generals of the iNgobamakhosi regiment, he named me Nombhosho, which means bullet. He said I would come out of any situation fast and unscathed, like a bullet…'
Nomavenda Mathiane stumbled upon her grandmother's story well over a century after the gruelling events of the Battle of Isandlwana that formed her life. Astounded to hear how her grandmother had survived the Anglo-Zulu War as a young girl, Mathiane spent hours with her elder sisters reconstructing the extraordinary life of their grandmother. The result is a sweeping epic of both personal and political battles.
Eyes in the Night is a young Zulu woman's story of drama, regret, guilt and, ultimately, triumph – set against the backdrop of a Zululand changed beyond recognition. A true story almost lost, but for a chance remark at a family gathering.
Flame and Song: A Memoir by Philippa Kabali-Kagwa
Philippa Namutebi Kabali-Kagwa's soul-warming memoir tells of a life enriched by song, literature, food and spirituality at the heart of a loving family. Born into a newly independent Uganda, she grew up in a volatile political landscape but never lacked the inspiration and protection of generations of friends and relatives. Her story travels from her expansive childhood homes in Uganda, to the novelties of living in Addis Ababa, before settling in Cape Town, her current home. But no matter how far her journeys take her, it's clear that home is not only about places but people.
Safe House: Explorations in Creative Non-fiction edited by Ellah Wakatama Allfrey
Illuminating African narratives for readers both inside and outside the continent.
A Nigerian immigrant to Senegal explores the increasing influence of China across the region, a Kenyan student activist writes of exile in Kampala, a Liberian scientist shares her diary of the Ebola crisis, a Nigerian journalist travels to the north to meet a community at risk, a Kenyan author travels to Senegal to interview a gay rights activist, and a South African writer recounts a tale of family discord and murder in a remote seaside town.
In a collection that ranges from travel writing and memoir to reportage and meditative essays, editor Ellah Wakatama Allfrey has brought together some of the most talented writers of creative nonfiction from across Africa.
For Kids
Burger Boy by Alan Durant
Benny liked burgers. Benny LOVED burgers.
Burgers were the only food that Benny would eat.
"You'll turn into a burger one day," his mum warned.
And one day, Benny did.
And that is just the start of a madcap chase in which the hapless Benny is pursued across the countryside by a mob of hungry dogs, boys and angry cows.
An hilarious cautionary tale with a twist from a winning author and artist team.
The Truth About My Unbelievable Summer by Benjamin Chaud
Its a first-day-of-school moment of truth: What really happened over the summer break? A curious teacher wants to know. The epic explanation? What started out as a day at the beach turned into a globe-spanning treasure hunt with high-flying hijinks, an outrageous cast of characters, and one very mischievous bird! At least, thats what the student says. Is this yet another tall tale, or is the truth just waiting to be discovered?
See you at the festival!