Fiction
.
.
.
The Lost Time Accidents by John Wray
.
The Lost Time Accidents is a bold and epic saga set against the greatest upheavals of the twentieth century.
Haunted by a failed love affair and the darkest of family secrets, Waldemar 'Waldy' Tolliver wakes one morning to discover that he has been exiled from the flow of time. The world continues to turn, and Waldy is desperate to find his way back.
In his ambitious and fiercely inventive new novel, John Wray takes us from turn-of-the-century Viennese salons buzzing with rumours about Einstein's radical new theory to the death camps of the Second World War, from the golden age of post-war pulp science fiction to a startling discovery in a modern-day Manhattan apartment packed to the ceiling with artefacts of contemporary life.
"This is literature as high-wire act without the net; epic in scale, even bigger in heart."                Marlon James
"John Wray gets his Calvino on, his Mitchell on, his Murakami on, and even his Joyce on in this spectacular rattlebag of a novel . . . Who says the novel is dead? Just smash the clocks and open this novel."               Colum McCann
"With this darkly playful chronicle of three generations of crackpots and criminals, losers and visionaries, John Wray has written a book of eerie magic: Waldy Tolliver's love letter to the mysterious Mrs. Haven is a secret love letter to fiction itself. A mischievous epic, luminous and strange."                  Kiran Desai
"John Wray is the next wave of American fiction."                         Jonathan Lethem
"One of our most astonishing and relevant young writers."                    Esquire
.
.
Our Young Man by Edmund White
.
Has everyone always been in love with you? Of course they have, who am I kidding? What did they say about Helen of Troy? That her face launched a thousand ships? That's you, you're that beautiful. A thousand ships.
New York City in the eighties, and at its decadent heart is Guy. The darling of Fire Island's gay community and one of New York's top male models, Guy is gliding his way to riches that are a world away from his modest provincial upbringing back home in France. Like some modern-day Dorian Gray he seems untouched by time: the decades pass, fashions change, yet his beauty remains as transcendent and captivating as ever.
Such looks cannot help but bring him adoration. From sweet yet pathetic Fred to the wealthy and masochistic Baron, from the acerbic and cynical Pierre-Georges to Andre, fabricating Dalí fakes and hurtling towards prison and the abyss, all are in some way fixated on him. In return for the devotion and expensive gifts they lavish on him, he plays with unswerving loyalty, whatever role they project onto him: unattainable idol, passionate lover, malleable client. But just as the years are catching up on his smooth skin and perfect body, so his way of life is closing in on him and destroying the men he loves.
Edmund White has in Our Young Man created some of the richest representations of gay male identity, from the disco era to the age of AIDs. What links them all is the allure and enchantment they find in beauty. Revelling in its magic, Our Young Man nonetheless slips beneath the seductive surface to examine its dangerous depths, exploring its power to fascinate, enslave and deceive.
"Edmund White is one of the best writers of my generation; he's certainly the contemporary American writer I reread more than any other, and the one whose next book I look forward to reading most."                   John Irving
"Edmund White continues to chronicle, with more insight and compassion than any other writer I could name, the points at which gay life is simultaneously particular unto itself, and contiguous with universal human states. Thank you, Edmund, for insisting on our differences while reminding us, as well, that none of us is truly different, not in our innermost selves."                    Michael Cunningham
"So funny – it's really one of his best – full of life, and so nasty."             Andrew Holleran
.
.
A Hero in France by Alan Furst
.
From the undisputed master of historical espionage, a story of courage, love and treachery during the French Resistance.
"Furst's ability to recreate the terrors of espionage is matchless."                    Robert Harris
Spring, 1941. Britain is losing the war.
Paris is occupied by the Nazis, dark and silent at night. But when the clouds part, and moonlight floods the city, a Resistance leader called Mathieu steps out to begin his work.
The fighters of the French Resistance are determined not to give up. These courageous men and women – young and old, aristocrats and nightclub owners, teachers and students – help downed British airmen reach the border with Spain. In farmhouses and rural churches, in secret hotels, and on the streets, they risk everything to open Europe's sealed doors and lead Allied fighters to freedom.
But as the military police heightens surveillance, Mathieu and his team face a new threat, dispatched from the Reich to destroy them all.
"When the theme is espionage during the dark days of wartime Europe, Alan Furst is one of its elite novelists."                   The Times
.
.
LaRose by Louise Erdrich
.
Late summer in North Dakota, 1999: Landreaux Iron stalks a deer along the edge of the property bordering his own. He shoots with easy confidence but only when he staggers closer does he realise he has killed his neighbour's son.
Dusty Ravich, the deceased boy, was best friends with Landreaux's five-year-old son, LaRose. The two families have been close for years and their children played together despite going to different schools. Landreaux is horrified at what he's done; fighting off his longstanding alcoholism, he ensconces himself in a sweat lodge and prays for guidance. And there he discovers an old way of delivering justice for the wrong he's done. The next day he and his wife Emmaline deliver LaRose to the bereaved Ravich parents. Standing on the threshold of the Ravich home, they say, 'Our son will be your son now'.
LaRose is quickly absorbed into his new family. Gradually he's allowed visits with his birth family, whose grief for the son and brother they gave away mirrors that of the Raviches. The years pass and LaRose becomes the linchpin that links both families. As the Irons and the Raviches grow ever more entwined, their pain begins to subside. But when a man who nurses a grudge against Landreaux fixates on the idea that there was a cover-up the day Landreaux killed Dusty – and decides to expose this secret – he threatens the fragile peace between the two families…
"Grief and guilt and unquenchable yearning overwhelm the pages … Erdrich has considerable powers as a writer of tragedy and comedy … it's wonderful."               Literary Review
"LaRose, [Erdrich's] 15th novel, is excellent. It is heartbreaking; it is nuanced; the prose is as strong and stark as the wintry western landscape it describes. The story is both simple and incredibly complex . . . Erdrich exposes the messy aftermath of a tragedy. She does so without sentimentality, without pity. Her themes are the limitations of love as a healing power as much as the healing power of love. It is important to say that Erdrich is one of the greatest living American writers, and LaRose is brilliant."                        Guardian
"Warm-hearted . . . a novel remarkable for its forgiveness and sheer magnanimity."                   Sunday Times
.
.
End of Watch by Stephen King
.
The cell rings twice, and then his old partner in his ear… 'I'm at the scene of what appears to be a murder-suicide. I'd like you to come and take a look. Bring your sidekick with you, if she's available…'
Retired Detective Bill Hodges now runs a two-person firm called Finders Keepers with his partner Holly Gibney. They met in the wake of the 'Mercedes Massacre' when a queue of people was run down by the diabolical killer Brady Hartsfield.
Brady is now confined to Room 217 of the Lakes Region Traumatic Brain Injury Clinic, in an unresponsive state. But all is not what it seems: the evidence suggests that Brady is somehow awake, and in possession of deadly new powers that allow him to wreak unimaginable havoc without ever leaving his hospital room.
When Bill and Holly are called to a suicide scene with ties to the Mercedes Massacre, they find themselves pulled into their most dangerous case yet, one that will put their lives at risk, as well as those of Bill's heroic young friend Jerome Robinson and his teenage sister, Barbara. Brady Hartsfield is back, and planning revenge not just on Hodges and his friends, but on an entire city.
The clock is ticking in unexpected ways …
Both a stand-alone novel of heart-pounding suspense and a sublimely terrifying final episode in the Hodges trilogy, End of Watch takes the series into a powerful new dimension.
.
.
The Fireman by Joe Hill
.
Nobody knew where the virus came from.
Fox News said it had been set loose by ISIS, using spores that had been invented by the Russians in the 1980s.
MSNBC said sources indicated it might've been created by engineers at Halliburton and stolen by culty Christian types fixated on the Book of Revelation.
CNN reported both sides.
While every TV station debated the cause, the world burnt.
Pregnant school nurse, Harper Grayson, had seen lots of people burn on TV, but the first person she saw burn for real was in the playground behind the school.
With the epic scope of The Passage and the emotional impact of The Road, this is one woman's story of survival at the end of the world.
"If you haven't yet grabbed a copy of Joe Hill's The Fireman, you need to. Original and gripping, a page-turner."                     George R.R.Martin
"I devoured this book as if the pages themselves were on fire…an end of the world tale with a blazing heart of hope at its core. A contender for book of the year."               Sarah Pinborough, author of 13 Minutes
"Joe Hill has always been good, but he's created something incandescent here,
soaring and original. He's a master storyteller who writes with fire in his veins."                 Lauren Beukes
"Hill's writing has matured along with his ideas. He plays out the apocalypse so quickly and efficiently, through small-town witnesses and television broadcasts, that it feels absolutely devastating. And in the aftermath, he juggles a huge cast of characters with aplomb, giving each their time to shine, yet still managing to keep the tension high throughout."                        Guardian
.
.
The Prophet of Eternal Fjord by Kim Leine
.
Idealistic, misguided Morten Falck is a newly ordained priest sailing to Greenland in 1787 to convert the Inuit to the Danish church. A rugged outpost battered by harsh winters, Sukkertoppen is overshadowed by the threat of dissent; natives from neighboring villages have united to reject Danish rule and establish their own settlement atop Eternal Fjord. As Falck becomes involved with those in his care-his ambitious catechist, a lonely trader's wife, and a fatalistic widow he comes to love-his faith and reputation are dangerously called into question.
"An astonishing, hallucinatory journey into the frozen heart of Denmark's colonial darkness… A fervid, exhilarating evocation of faith versus hypocrisy, empathy versus dislocation and desperate rebellion versus grim destiny, The Prophets of Eternal Fjord is a slow-release depth charge of a novel whose reverberations bear the terrible poignancy of global and timely relevance."              Guardian
"Superb… A raw, hugely powerful chronicle of lives lived on the edge… The Prophets of Eternal Fjord has a grandeur and a compass that few novels this year will match."              Sunday Times
"The result of this novel is symphonic: politics, history, sexuality, and religion deftly interwoven. The combination is perfectly balanced, fascinating, and irresistible."                          Le Monde
.
.
Hitman Anders and the Meaning of it All by Jonas Jonasson
.
A madcap new novel from the author of The Hundred-Year-Old Man Who Climbed Out of the Window and The Girl Who Saved the King of Sweden.
It's never too late to start again. And again.
It's always awkward when five thousand kronor goes missing. When it happens at a certain grotty hotel in south Stockholm, it's particularly awkward because the money belongs to the hitman currently staying in room seven. Per Persson, the hotel receptionist, just wants to mind his own business, and preferably not get murdered. Johanna Kjellander, temporarily resident in room eight, is a priest without a vocation, and, as of last week, without a parish. But right now she has two things at her disposal: an envelope containing five thousand kronor, and an excellent idea . . .
 "Enormous fun … The subversive charm of it lies in the hints that God, or the Universe or whatever, is smarter and funnier than any of us."             Kate Saunders, The Times
"Jonasson matches the irreverence of his debut The Hundred-Year-Old Man Who Climbed Out of the Window and Disappeared … It's a thrilling ride."                     Financial Times
.
.
This Must Be the Place by Maggie O'Farrell
.
This wonderful new novel from Costa Novel Award-winner Maggie O'Farrell crosses time zones and continents to reveal an extraordinary portrait of a marriage.
"A tour de force… her best novel to date, a book that surely confirms her as one of the UK's most assured, accomplished and inventive storytellers."                        Observer
"A symphony of stories and voices… absolutely gripping."                      Sunday Times
Meet Daniel Sullivan, a man with a complicated life. A New Yorker living in the wilds of Ireland, he has children he never sees in California, a father he loathes in Brooklyn and a wife, Claudette, who is a reclusive ex-film star given to shooting at anyone who ventures up their driveway.
He is also about to find out something about a woman he lost touch with twenty years ago, and this discovery will send him off-course, far away from wife and home. Will his love for Claudette be enough to bring him back?
"A tour de force, a complex and nuanced story leaping effortlessly across multiple time frames… This Must Be The Place is that rare literary beast, both technically dazzling and deeply moving. It has all the structural and temporal playfulness of a Kate Atkinson novel while retaining the hallmark emotional insight for which O'Farrell has become renowned. It is her best novel to date, a book that surely confirms her as one of the UK's most assured, accomplished and inventive storytellers."                        Observer
"A symphony of stories and voices… absolutely gripping… A rare talent to enthral… It will leave you bereft and wanting more."                        Sunday Times
"Some books are for lingering over. Every sentence Maggie O'Farrell writes is so perfectly formed that you want to wallow in it. As a writer, she's perceptive, warm and particularly good at the nuances of family relationships. In This Must Be The Place, she casts her sharp but humane eye on a marriage in trouble."                Good Housekeeping
.
.
Moonstone: The Boy Who Never Was by Sjón
.
Winner of the Icelandic Literary Prize
The year is 1918 and in Iceland the erupting volcano Katla can be seen colouring the sky night and day from the streets of Reykjavik. Yet life in the small capital carries on as usual, despite the natural disaster, a shortage of coal and, in the outside world, the Great War grinding on.
There, sixteen-year-old Máni Steinn lives for the new fashion – the movies. Asleep he dreams altered versions of them, their tapestry of events threaded with strands from his own life. Awake he hovers on the fringes of society. But then the Spanish flu epidemic comes ashore, killing hundreds and driving thousands into their sick beds. The shadows of existence deepen and for Máni everything changes.
Capturing Iceland at a moment of profound transformation, this is the story of a misfit in a place where life and death, reality and imagination, secrets and revelations jostle for dominance. With not a word wasted, this mesmerising and original novel is the work of a major international writer.
"Sjón's prose is never histrionic or overwrought, balancing rage and hallucination . . . with a gentleness of spirit, an affection for precision and the small scale. The result is sure to delight his fans and convert many new ones. "                Hari Kunzru, Guardian
"Moonstone is Sjón's slim, simmering masterpiece. Vibrant and visceral, briskly paced but meditative, unsettling yet droll and flecked with beauty, it is a pitch-perfect study of transgression, survival and love."                    David Mitchell
"A work of miniaturist perfection: a brief, brilliant jewel of a book in which each paragraph is precision-cut, each sentence burnished. "                 Guardian
"A magical book, the work of a great illusionist. You see the historical moment unfurl, luminous with desire and imagination and the flames of an erupting volcano, dark with repression, disease and death. You see it all through the poetic, poignant images of Máni Steinn's story. And then in a final flourish you see it all vanish in a way that makes it unforgettable. "                   Adam Foulds
.
.
The Chosen Ones by Steve Sem-Sandberg
.
The Am Spiegelgrund clinic, in glittering Vienna, masqueraded as a well-intentioned reform school for wayward boys and girls and a home for chronically ill children. The reality, however, was very different: in the wake of Germany's annexation of Austria on the eve of World War Two, its doctors, nurses, and teachers created a monstrous parody of the institution's benign-sounding brief. The Nazi regime's euthanasia program would come to determine the fate of many of the clinic's inhabitants.
Through the eyes of a child inmate, Adrian Ziegler, and a nurse, Anna Katschenka, Steve Sem-Sandberg, the author of the award-winning The Emperor of Lies, explores the very meaning of survival. An absorbing, emotionally overwhelming novel, rich in incident and character, The Chosen Ones is obliquely illuminated by the author's sharp sense of the absurd. Passionately serious, meticulously researched, and deeply profound, this extraordinary and dramatic novel bears witness to oppression and injustice, and offers invaluable and necessary insight on an intolerable chapter in Austria's past.
"You don't so much read Sem-Sandberg as stand in the fiery wind of his prose . . . There is something here of Samuel Beckett's trilogy – nothing is too small to shine an unwavering light on . . . The Chosen Ones is the logical outlay of a worst-case scenario of the human soul. It is not a book that can be read for "delight", though it features beautiful sentences, and when Sem-Sandberg describes landscape and weather he has the sudden generosity of a poet. But he is also the ambassador of the unwanted child everywhere, then and now, and that is a rarer profession even than poet . . . Some novels are described as dark, in order to alert the reader. But this novel, translated into English by Anna Paterson, is as bright as a cloudless June sky under which, behind walls and doors, we go about our inexplicable human business."                     Sebastian Barry, Guardian
"An extraordinary, harrowing story … a novel that might often be hard to read but has a rare and raw power."               Sunday Times
"The Chosen Ones is meticulously researched and laden with history but such is Sem-Sandberg's skill that it does not feel this way: he jumps between his characters and weaves the historical details into their conversations, thoughts and actions. It's an education but do not approach this book lightly. This is historical fiction at its most raw and disturbing."               The Times
.
.
Emperor of the Eight Islands by Lian Hearn
.
From the author of the hugely successful Tales of Otori trilogy.
An ambitious warlord leaves his nephew for dead and seizes his lands.
A stubborn father forces his younger son to surrender his wife to his older brother.
A mysterious woman seeks five fathers for her children.
A powerful priest meddles in the succession to the Lotus Throne.
These are the threads of an intricate tapestry in which the laws of destiny play out against a backdrop of wild forest, elegant court, and savage battlefield. Set in a mythical medieval Japan inhabited by warriors and assassins, ghosts and guardian spirits, Emperor of the Eight Islands by Lian Hearn is a brilliantly imagined novel, full of drama and intrigue – and it is just the beginning of an enthralling, epic adventure: The Tale of Shikanoko.
.
.
A Divided Spy by Charles Cumming
.
From the winner of the CWA Ian Fleming Steel Dagger 2012 for Best Thriller of the Year comes a suspenseful new spy novel.
Thomas Kell thought he was done with spying. A former MI6 officer, he devoted his life to the Service, but it has left him with nothing but grief and a simmering anger against the Kremlin.
Then Kell is offered an unexpected chance at revenge. Taking the law into his own hands, he embarks on a mission to recruit a top Russian spy who is in possession of a terrifying secret. As Kell tracks his man from Moscow to London, he finds himself in a high stakes game of cat and mouse in which it becomes increasingly difficult to know who is playing whom.
As the mission reaches boiling point, the threat of a catastrophic terrorist attack looms over Britain. Kell is faced with an impossible choice. Loyalty to MI6 – or to his own conscience?
"A gripping psychological clash of wills, tactics and morals … Kell's third appearance confirms him as one of the most interesting and sympathetic characters in the spy thriller field."                       The Times
"Thomas Kell has become one of the most interesting and well-drawn spies in contemporary literature – a man who deserves to be spoken in the same breath as George Smiley … Delicately written, with Cumming's customary subtle humour, it confirms him as le Carré's heir."                Daily Mail
"This a convincing and gripping spy thriller with a clever, twisty plot, believable characters and an abundance of credible spy lore. Highly recommended."               Herald
.
.
Non-Fiction
.
.
Rendezvous at the Russian Tea Rooms: The Spyhunter, the Fashion Designer and the Man from Moscow by Paul Willetts
.
Rendezvous at the Russian Tea Rooms provides the first comprehensive account of what was once hailed by a leading American newspaper as the greatest spy story of World War II. This dramatic yet little-known saga, replete with telephone taps, kidnappings, and police surveillance, centres on the furtive escapades of Tyler Kent, a handsome, womanising 28-year-old Ivy League graduate, who doubles as a US Embassy code clerk and Soviet agent.
Against the backdrop of London high society during the so-called Phoney War, Kent's life intersects with the lives of the book's two other memorably flamboyant protagonists. One of those is Maxwell Knight, an urbane, endearingly eccentric MI5 spyhunter. The other is Anna Wolkoff, a White Russian fashion designer and Nazi spy whose outfits are worn by the Duchess of Windsor and whose parents are friends of the British royal family. Wolkoff belongs to a fascist secret society called the Right Club, which aims to overthrow the British government. Her romantic entanglement with Tyler Kent gives her access to a secret correspondence between President Roosevelt and Winston Churchill, a correspondence that has the potential to transform the outcome of the war.
.
.
The View from the Cheap Seats: Selected Non-Fiction by Neil Gaiman
.
The View from the Cheap Seats draws together myriad non-fiction writing by international phenomenon and Sunday Times bestselling author Neil Gaiman. From Make Good Art, the speech that went viral, to pieces on artists and legends including Terry Pratchett and Lou Reed, the collection offers a glimpse into the head and heart of one of the most acclaimed writers of our time.
Literature does not occur in a vacuum. It cannot be a monologue. It has to be a conversation.
Welcome to the conversation. Neil Gaiman fled the land of journalism to find truths through storytelling and sanctuary in not needing to get all the facts right. Of course, the real world continued to make up its own stories around him, and he has responded over the years with a wealth of ideas and introductions, dreams and speeches. Here 'we can meet the writer full on' (Stephen Fry) as he opens our minds to the people he admires and the things he believes might just mean something – and makes room for us to join the conversation too.
"Like a series of thoughts for the day, it's a perfect antidote to cynicism and a paean to the power of reading."             Observer
.
.
A Life Discarded by Alex Masters
.
Unique, transgressive and as funny as its subject, A Life Discarded has all the suspense of a murder mystery. Written with his characteristic warmth, respect and humour, Masters asks you to join him in celebrating an unknown and important life left on the scrap heap.
A Life Discarded is a biographical detective story. In 2001, 148 tattered and mould-covered notebooks were discovered lying among broken bricks in a skip on a building site in Cambridge. Tens of thousands of pages were filled to the edges with urgent handwriting. They were a small part of an intimate, anonymous diary, starting in 1952 and ending half a century later, a few weeks before the books were thrown out. Over five years, the award-winning biographer Alexander Masters uncovers the identity and real history of their author, with an astounding final revelation.
A Life Discarded is a true, shocking, poignant, often hilarious story of an ordinary life. The author of the diaries, known only as 'I', is the tragicomic patron saint of everyone who feels their life should have been more successful. Part thrilling detective story, part love story, part social history, A Life Discarded is also an account of two writers' obsessions: of 'I's need to record every second of life and of Masters' pursuit of this mysterious yet universal diarist.
"A bizarre, engrossing, affectionate book that is a triumph on every level."             The Times
 "If Masters investigations feel like a Paul Auster detective story, there are also traces of Alan Bennet bad Barbary Pym seeping through the Cambridge hedges … It's not life affirming – Masters isn't slick or pompous enough for that – but life-probing, pushing at the boundaries of empathy and understanding."              Sunday Times
"Masters wonderfully exposes all the questions about identity, in writing or in the flesh, that this enormous, rambling, sad diary raises … Masters tells his tale with such verve."                   Mary Beard, Guardian
.
.
Shrill: Notes from a Loud Woman by Lindy West
.
"Lindy West is an essential (and hilarious) voice for women. Her talent and bravery have made the Internet a place I actually want to be."   Lena Dunham
"A thrilling, kick-ass, joyous ROAR of a book."                     Caitlin Moran
Guardian columnist Lindy West wasn't always loud. It's difficult to believe she was once a nerdy, terror-stricken teen who wanted nothing more than to be invisible. Fortunately for women everywhere, along the road she found her voice – and how she found it! That cripplingly shy girl, who refused to make a sound, grew up to be one of the loudest, shrillest, most fearless feminazis on the internet, making a living speaking up for what's right instead of what's 'cool'.
In Shrill, Lindy recounts how she went from being the butt of people's jokes, to telling her own brand of jokes – ones that come with a meaningful agenda and aren't at someone else's expense. She reveals the obstacles and misogyny she's had to overcome to make herself heard, in a society that doesn't believe women (especially fat women and feminists) can ever be funny.
A catalyst for conversation, West also addresses some of the most burning issues of popular culture today, taking a frank and provocative look at social injustice, racism, fat-shaming, twitter-trolling and even rape culture, unpicking the bullshit and calling out unpalatable truths with conviction, intelligence and a large dose of her trademark black humour.
"It made me hurt, both from laughing and crying. Required reading if you are a feminist. Recommended reading if you aren't."                        Jenny Lawson, #1 bestselling author of Let's Pretend This Never Happened and Furiously Happy
"The surge of love and joy I felt while crylaughing through this book almost made my cold dead heart explode. Lindy is so smart and so funny that it almost hurts my little jealous-ass feelings. She is my most favorite writer ever."              Samantha Irby, author of Meaty
.
.
Mmusi Maimane: Prophet or Puppet? by S'Thembiso Msomi
.
'Mr Maimane, good evening to you and, with the greatest of respect, who are you?'
This is how journalist Jeremy Maggs began his television interview with Mmusi Maimane in 2011 when he was unveiled as the Democratic Alliance's mayoral candidate for Johannesburg. Since then, the charismatic Maimane's rise from obscurity to leader of the DA in 2015 has been nothing short of meteoric.
His anointment as leader of the DA made history, marking the completion of this political party's transformation from 'white' political party to one whose new leader shared similar experiences to those of the majority voters. Yet there are those, even within the party, who denounce Maimane as nothing more than a puppet dancing to the tune of white masters.
So who is the real Maimane? Experienced political reporter S'thembiso Msomi goes behind the scenes to examine how and why Maimane rose head up the opposition party. He delves into Maimane's formative years, his time at the pulpit in the church, and his family, to bring substance to the man.
Msomi also examines Maimane's first year as head of the DA in the run-up to the local government elections, assessing how this young man has negotiated the often treacherous waters of political power. Finally, the author attempts to answer these burning questions: is Maimane his own man, and can he deliver the electorate that the DA so fervently desires?
.
.
Writing Home: Lewis Nkosi on South African Writing edited by Lindy Stiebel and Michael Chapman
.
Lewis Nkosi's insights into South African literature, culture and society first appeared in the 1950s, when the 'new' urban African in Sophiatown and on 'Drum' magazine mockingly opposed then Prime Minister H.F. Verwoerd's Bantu retribalisation policies.
Before his death in 2010, Nkosi focused on the literary-cultural challenges of post-Mandela times. Having lived for 40 years in exile, he returned to South Africa, intermittently, after the unbannings of 1990. His critical eye, however, never for long left the home scene. Hence, the title of this selection of his articles, essays and reviews, 'Writing Home'.
Writing home with wit, irony and moral toughness Nkosi assesses a range of leading writers, including Herman Charles Bosman, Breyten Breytenbach, J.M. Coetzee, Athol Fugard, Nadine Gordimer, Bessie Head, Alex La Guma, Bloke Modisane, Es'kia Mphahlele, Nat Nakasa, Njabulo S. Ndebele, Alan Paton and Can Themba. Combining the journalist's penchant for the human-interest story with astute analysis, Nkosi's ideas, observations and insights are as fresh today as when he began his 60-year career as a writer and critic.
.
.
Learning Zulu  by Mark Sanders
.
"Why are you learning Zulu?" When Mark Sanders began studying the language, he was often asked this question. In Learning Zulu, Sanders places his own endeavors within a wider context to uncover how, in the past 150 years of South African history, Zulu became a battleground for issues of property, possession, and deprivation. Sanders combines elements of analysis and memoir to explore a complex cultural history.
Perceiving that colonial learners of Zulu saw themselves as repairing harm done to Africans by Europeans, Sanders reveals deeper motives at work in the development of Zulu-language learning—from the emergence of the pidgin Fanagalo among missionaries and traders in the nineteenth century to widespread efforts, in the twentieth and twenty-first centuries, to teach a correct form of Zulu. Sanders looks at the white appropriation of Zulu language, music, and dance in South African culture, and at the association of Zulu with a martial masculinity. In exploring how Zulu has come to represent what is most properly and powerfully African, Sanders examines differences in English- and Zulu-language press coverage of an important trial, as well as the role of linguistic purism in xenophobic violence in South Africa.
Through one person's efforts to learn the Zulu language, Learning Zulu explores how a language's history and politics influence all individuals in a multilingual society.
.
.
Generation Revolution: On the Frontline Between Tradition and Change in the Middle East by Rachel Aspden
.
In 2003, Rachel Aspden arrived in Egypt as a 23-year-old trainee journalist. She found a country on the brink of change. Of Egypt's 80 million citizens, two-thirds were under 30. The new generation were stifled, broken and frustrated – caught between a dictatorship with nothing to offer them and autocratic parents still clinging to tradition and obedience after a lifetime of fear.
In January 2011, the young people's patience ran out. They thought the revolution that followed would change everything for them. But as violence escalated, the economy collapsed and as the united front against Mubarak shattered into sectarianism, many found themselves wavering, hesitant to discard the old ways.
What happens when a revolution unravels?
Why is a generation raised on Hollywood movies and global brand names turning to religion?
How do you choose between sex and tradition, consumerism and faith?
Why would people who once chanted for freedom support a military state?
And where will the next generation take the Middle East?
Following the stories of four young Egyptians – Amr the atheist software engineer, Amal the village girl who defied her family and her entire community, Ayman the one-time religious extremist and Ruqayah the would-be teenage martyr – Generation Revolution unravels the complex forces shaping the lives of young people caught between tradition and modernity, and what their stories mean for the future of the Middle East.
"Fascinating study… A deep dive into one of the revolution's most critical faultlines."                                Evening Standard
"The Arab spring has yielded a bumper crop of books about youth across the region and Generation Revolution is among its more fruitful reads… Always compelling… Particularly interesting for its nuanced portraits of young Egyptian Men."               Shereen El Feki, Observer
"Having lived on and off in Cairo for more than a decade, Aspden has a clear eye for its marvelous and maddening details… her stories are always compelling… Generation Revolution is particularly interesting for its nuanced portraits of young Egyptian men… A welcome prism, separating the spectrum of political Islam through the coming of age of its characters… A sobering tale for anyone with an interest in Egypt's future."                  Guardian
.
.
My Dear Ones: One Family and the Final Solution by Jonathan Wittenberg
.
A family's story of human tenacity, faith and a race for survival in the face of unspeakable horror and cruelty perpetrated by the Nazi regime against the Jewish people.
Growing up in the safety of England, far away from his family's past, Jonathan Wittenberg had never asked too many questions about his ancestors, although his father had told him Hitler murdered millions of people and 'turned thousands of them into bars of soap, including several of your relatives.'
On a burning June day in Jerusalem, Jonathan, now a rabbi, and his family, bury his aunt Steffi in the Jewish cemetery on the Mount of Olives. Afterwards, Jonathan discovers a plain linen bag, nestled for years in a suitcase on her balcony, which delves him into his family history.
Through the war-time correspondence of his great-grandmother Regina, his great aunts and uncles Sophie, Trude and Alfred, Jonathan weaves together the strands of an ancient rabbinical family with the history of Europe during the Second World War.
My Dear Ones takes us on a tumultuous journey throughout Europe and the United States and tells the moving story of a family whose lives hang by a silken thread but whose faith in God remains unshakeable throughout.
"One of Britain's greatest religious thinkers – asking the toughest, and most enduring, questions. It's time Britain got the chance to hear him in his own voice, telling his own story."                                    -Jonathan Freedland
"Moving – at times almost unbearably so – and fascinating."                Antonia Fraser
.
.
The Rise & Fall of Nations: Ten Rules of Change in the Post-Crisis World by Ruchir Sharma
.
The crisis of 2008 ended the illusion of a golden era in which many people imagined that prosperity and political calm would continue to spread indefinitely. In a world now racked by slowing growth and mounting unrest, how can we discern which nations will thrive and which will fail?
Shaped by prize-winning author Ruchir Sharma's twenty-five years travelling the world, The Rise and Fall of Nations rethinks economics as a practical art. By narrowing down the thousands of factors that can shape a country's future, it spells out ten clear rules for identifying the next big winners and losers in the global economy.
Each rule looks at a nation's political, economic, and social conditions in real time to filter out the hype and noise. He shows, for example, how slow population growth is eroding economic growth, and ranks nations by how well they respond. He describes the way cycles of political complacency and revolt fuel economic booms and busts. Amid growing tensions over inequality, he demonstrates how billionaire lists yield clues to which economies are most or least threatened by extreme wealth. In a period when the world is struggling with trillions of dollars in new debt, he explains which nations are most likely to avert this threat or buckle under it. Sharma's rules are based on the data he has collected over many years at Morgan Stanley Investment Management in New York, where he is now Head of Emerging Markets and Chief Global Strategist. This is a book of original research, not mere opinion.
The final chapter takes the reader on a surprising world tour of the likely winners and losers in the near future. The Rise and Fall of Nations is enlivened by Sharma's stories from the road and his encounters with presidents, tycoons, and villagers from Rio to Beijing. It is a pioneering field guide to understanding our impermanent world.
"For sheer readability and insight on the developing world drama, I dare say you won't find a better choice."                    Wall Street Journal
"A vital guide to the new economic order…he looks to help readers navigate this turbulent world with rules that can help them identify which countries might, over 5 to 10 year time horizons, rise, fall, or muddle through."               Rana Foroohar, Time
.
.
Secondhand Time: The Last of the Soviets by Svetlana Alexievich
.
The magnum opus and latest work from Svetlana Alexievich, the 2015 winner of the Nobel Prize in Literature a symphonic oral history about the disintegration of the Soviet Union and the emergence of a new Russia
When the Swedish Academy awarded Svetlana Alexievich the Nobel Prize, it cited her for inventing a new kind of literary genre, describing her work as a history of emotions a history of the soul. Alexievich's distinctive documentary style, combining extended individual monologues with a collage of voices, records the stories of ordinary women and men who are rarely given the opportunity to speak, whose experiences are often lost in the official histories of the nation.
In Secondhand Time,  Alexievich chronicles the demise of communism. Everyday Russian citizens recount the past thirty years, showing us what life was like during the fall of the Soviet Union and what it s like to live in the new Russia left in its wake. Through interviews spanning 1991 to 2012, Alexievich takes us behind the propaganda and contrived media accounts, giving us a panoramic portrait of contemporary Russia and Russians who still carry memories of oppression, terror, famine, massacres but also of pride in their country, hope for the future, and a belief that everyone was working and fighting together to bring about a utopia. Here is an account of life in the aftermath of an idea so powerful it once dominated a third of the world.
"Like the greatest works of fiction, Secondhand Time is a comprehensive and unflinching exploration of the human condition. . . . Alexievich s tools are different from those of a novelist, yet in its scope and wisdom, Secondhand Time is comparable to War and Peace."               Wall Street Journal
"Already hailed as a masterpiece across Europe, Secondhand Time is an intimate portrait of a country yearning for meaning after the sudden lurch from Communism to capitalism in the 1990s plunged it into existential crisis. A series of monologues by people across the former Soviet empire, it is Tolstoyan in scope, driven by the idea that history is made not only by major players but also by ordinary people.                               New York Times
"[Alexievich s] longest and most ambitious project to date: an effort to use an oral history of the nineties to understand Soviet and post-Soviet identity."                           New Yorker
"In this spellbinding book, Svetlana Alexievich orchestrates a rich symphony of Russian voices telling their stories of love and death, joy and sorrow, as they try to make sense of the twentieth century."                  J. M. Coetzee
.
.
The Violet Hour: Great Writers at the End by Katie Roiphe
.
In The Violet Hour, Katie Roiphe takes an unexpected and liberating approach to the most unavoidable of subjects. She investigates the last days of six great thinkers, writers and artists as they come to terms with the reality of approaching death.
Roiphe draws on her own extraordinary research and access to the family, friends and caretakers of her subjects. Here is Susan Sontag, the consummate public intellectual, who finds her commitment to rational thinking tested during her third bout with cancer. Roiphe takes us to the hospital room where, after receiving the worst possible diagnosis, seventy-six-year-old John Updike begins writing a poem. She vividly re-creates the fortnight of almost suicidal excess that culminated in Dylan Thomas's fatal collapse on the floor of a Greenwich Village tavern. She gives us a bracing portrait of Sigmund Freud fleeing Nazi-occupied Vienna only to continue in his London exile the compulsive cigar smoking that he knows will hasten his decline. She shows us how Maurice Sendak's beloved books for children are infused with his lifelong obsession with death, if you know where to look. And from James Salter she learns that 'we make our own comfort.'
The Violet Hour is a book filled with intimate and surprising revelations. In the final acts of each of these creative geniuses are examples of courage, passion, self-delusion, pointless suffering and superb devotion.
"In this elegant and beautifully written set of elegies, Katie Roiphe looks death squarely in the face, describing how people evanesce, how others lose them, how they lose themselves, how writing is a means to negotiate for immortality. This courageous, generous, intimate book is suffused with affection, and therefore provides comfort even when its topic is the loneliness that inheres in finality."                        Andrew Solomon, author of Far from the Tree
"The Violet Hour is a revelation, at least to me. Her case studies-of Susan Sontag, Sigmund Freud, Dylan Thomas, John Updike, and Maurice Sendak – focus on the last months of life, using each writer's final struggle as a key to his or her character. This is the best book Roiphe has written. She shows that our interest in dying is not just an interest in endings, or in final things, or in posterity. Instead, it has to do with how we get along, how families and friendship work, in short, how we live."                      Paris Review
"Her technique is never anything less than insightful . . . on every page, she turns up something interesting, lets in some astonishing shaft of light. Her writing is elegant, cool, unforgettable."                         Observer
"Engrossing . . . Such an immersive book is testament to her remarkable literary skills. This is an immensely sympathetic and satisfying read."                      Sunday Times
.
.
Country of Refuge: An Anthology of Writing on Asylum Seekers edited by Lucy Popescu
.
A Country of Refuge is a poignant, thought-provoking and timely anthology of writing on asylum seekers from some of Britain and Ireland's most influential voices.
Compiled and edited by human rights activist and writer Lucy Popescu, this powerful collection of short fiction, memoir, poetry and essays explores what it really means to be a refugee: to flee from conflict, poverty and terror; to have to leave your home and family behind; and to undertake a perilous journey, only to arrive on less than welcoming shores.
These writings are a testament to the strength of the human spirit. The contributors articulate simple truths about migration that will challenge the way we think about and act towards the dispossessed and those forced to seek a safe place to call home.
"A powerful, and frequently harrowing, collection … I read it with fascination."                 Penelope Lively
"A beautiful insight into the painful individuality of the refugee."                     Jon Snow
.
.
.
Sicily: A Short History from the Greeks to the Cosa Nostra by John Julius Norwich
.
'Sicily is the key to everything'               Johann Wolfgang von Goethe
'I discovered Sicily almost by mistake . . .We drove as far as Naples, then put the car on the night ferry to Palermo. There was a degree of excitement in the early hours when we passed Stromboli, emitting a rich glow every half-minute or so like an ogre puffing on an immense cigar; and a few hours later, in the early morning sunshine, we sailed into the Conca d'Oro, the Golden Shell, in which the city lies. Apart from the beauty of the setting, I remember being instantly struck by a change in atmosphere. The Strait of Messina is only a couple of miles across and the island is politically part of Italy; yet somehow one feels that one has entered a different world . . . This book is, among other things, an attempt to analyse why this should be.'
The stepping stone between Europe and Africa, the gateway between the East and the West, at once a stronghold, clearing-house and observation post, Sicily has been invaded and fought over by Phoenicians and Greeks, Carthaginians and Romans, Goths and Byzantines, Arabs and Normans, Germans, Spaniards and the French for thousands of years. It has belonged to them all – and yet has properly been part of none.
John Julius Norwich was inspired to become a writer by his first visit in 1961 and this book is the result of a fascination that has lasted over half a century. In tracing its dark story, he attempts to explain the enigma that lies at the heart of the Mediterranean's largest island.
This vivid short history covers everything from erupting volcanoes to the assassination of Byzantine emperors, from Nelson's affair with Emma Hamilton to Garibaldi and the rise of the Mafia. Taking in the key buildings and towns, and packed with fascinating stories and unforgettable characters, Sicily is the book he was born to write.
"The most amiable and freewheeling of guides, Norwich will always find room for the amusing anecdote . . . Written Sicilian history dates back 2,500 years, so compressing it into one book means a swift and exhilarating gallop . . . Norwich renders it entertaining on every page."                    Sunday Times
"Norwich is an authoritative historian, but his writing is charmingly personal . . . Sicily's political history is full of some much turbulence it's sometimes hard to keep track of the battles, murders and successions, but Norwich sketches personalities vividly . . . Norwich calls this book his 'valediction' to Sicily: he does the island and the reader a generous service in providing such an amiable introduction."                 Sunday Telegraph
.
.
Trigger Warning: Is the Fear of Being Offensive Killing Free Speech? by Mick Hume
.
Do we really have the right to say the 'wrong' thing?
"I strongly recommend this book. Hume is right that the current proliferation of trigger warnings is absurd."                Guardian
In a fierce defence of free speech – in all its forms – Mick Hume's blistering polemic exposes the new threats facing us today in the historic fight for freedom of expression. In 2015, the cold-blooded attacks in Paris on the Charlie Hebdo cartoonists united the free-thinking world in proclaiming 'Je suis Charlie'. But it wasn't long before many were arguing that the massacres showed the need to restrict the right to be offensive. Meanwhile sensitive students are sheltered from potentially offensive material and Twitter vigilantes police those expressing the 'wrong' opinion. But the basic right being suppressed – to be offensive, despite the problems it creates – is not only acceptable but vital to society. Without a total freedom of expression, other liberties will not be possible.
"This is an important book, and couldn't be more timely. It's strong-minded, unafraid, determined to knock down all the various specious arguments against free speech, unapologetic about insisting on the value of free expression, and terrifically well argued. In these weak-minded times it's good to have so uncompromising a defence."               Salman Rushdie
"What this book does tremendously is pull off the neat trick of summing up just what the hell is going on out there on the great frontiers of speech, offence, liberty and people shouting at each other."                      The Times
.
.
Tide: The Science & Lore of the Greatest Force on Earth by Hugh Aldersey-Williams
.
Described by the Sunday Times as "a gently studious Bill Bryson crossed with an upbeat and relaxed WG Sebald", Tide is "a superb book… a delight to read. It is profound and powerful, and should win prizes."
From Cnut to D-Day, the history and science of the unceasing tide is explored for the first time.
Half of the world's population lives in coastal regions lapped by tidal waters. Yet how little most of us know about the tide – a key force on our planet that has altered the course of history and will transform our future.
Our ability to predict and understand the tide depends on centuries of science, from the observations of Aristotle and the theories of Newton to today's supercomputer calculations. This story is punctuated here by notable tidal episodes in history, from Caesar's thwarted invasion of Britain to the catastrophic flooding of Venice, and interwoven with a rich folklore that continues to inspire art and literature today.
With Aldersey-Williams as our guide to the most feared and celebrated tidal features on the planet, from the original maelstrøm in Scandinavia to the world's highest tides in Nova Scotia to the crumbling coast of East Anglia, the importance of the tide, and the way it has shaped – and will continue to shape – our civilization, becomes startlingly clear.
"A spring tide of colour and historical anecdote laps over the more austere mudflats of the actual science. So much so that I find myself looking forward to the next piece of technical exposition as, like the gentle ebb of a neap tide, his cultural history of tides also slowly reveals and explains each successive advance in our understanding of them."                      The Times
.
.
East West Street: On the Origins of Genocide and Crimes Against Humanity by Philippe Sands
.
"A monumental achievement: profoundly personal, told with love, anger and great precision."                        John le Carré
"A triumph of astonishing research … No novel could possibly match such an important work of truth."                       Antony Beevor
"Magnificent … I was moved to anger and to pity. In places I gasped, in places I wept. I wanted to reach the end. I couldn't wait to reach the end. And then when I got there I didn't want to be at the end."                  The Times
When human rights lawyer Philippe Sands received an invitation to deliver a lecture in the western Ukrainian city of Lviv, he began to uncover a series of extraordinary historical coincidences. It set him on a quest that would take him halfway around the world in an exploration of the origins of international law and the pursuit of his own secret family history, beginning and ending with the last day of the Nuremberg trial.
Part historical detective story, part family history, part legal thriller, Philippe Sands guides us between past and present as several interconnected stories unfold in parallel. The first is the hidden story of two Nuremberg prosecutors who discover, only at the end of the trial, that the man they are prosecuting may be responsible for the murder of their entire families in Nazi-occupied Poland, in and around Lviv. The two prosecutors, Hersch Lauterpacht and Rafael Lemkin, were remarkable men, whose efforts led to the inclusion of the terms 'crimes against humanity' and 'genocide' in the judgement at Nuremberg. The defendant, Hans Frank, Hitler's personal lawyer and Governor-General of Nazi-occupied Poland, turns out to be an equally compelling character.
The lives of these three men lead Sands to a more personal story, as he traces the events that overwhelmed his mother's family in Lviv and Vienna during the Second World War. At the heart of this book is an equally personal quest to understand the roots of international law and the concepts that have dominated Sands' work as a lawyer. Eventually, he finds unexpected answers to his questions about his family, in this powerful meditation on the way memory, crime and guilt leave scars across generations, and the haunting gaps left by the secrets of others.
"Important and engrossing … The surprise is that even when charting the complexities of law, Sands's writing has the intrigue, verve and material density of a first-rate thriller … He can magic whole histories of wartime heroism out of addresses eight decades old. Or, chasing the lead of a faded photograph, he can unearth possible alternate grandparents and illicit liaisons to be verified only by DNA tests … East West Street is an exceptional memoir."                  Lisa Appignanesi, The Observer
"Engrossing … Sands has written a remarkable and enjoyable book, deftly weaving his own family history into a lively account of the travails of the early campaigners for international human rights law."                       Literary Review
.
.
Something Different
.
.
The Alphabet from Space by Adam Voiland
.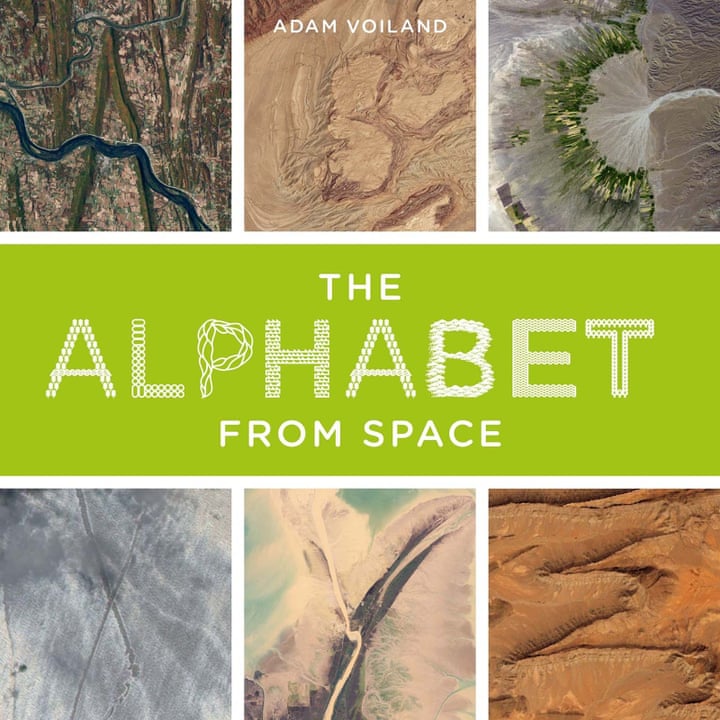 'Aloha, A! What begins with A? There is Antarctica, Azerbaijan, algal blooms, and alluvial fans. Astronauts appreciating awe-inspiring views of Earth from above. And these ancient Appalachian ridges in America intersected by an azure river in autumn!'
We've all looked up at clouds and found faces, objects and animals within their white puffy shapes. Astronauts and satellites can do the same thing – but from far above in outer space…
While working on a story about wildfires in northern Canada, NASA science writer and new father Adam Voiland found a stunning satellite image of an enormous smoke cloud, many miles across, shaped like the letter 'V'. The majesty of that image made Adam wonder: could he track down all 26 letters of the alphabet for his newborn baby son, using only satellite imagery and photographs of the Earth taken by astronauts? With the help of readers and colleagues at NASA, he started to collect images of clouds, blooms of sea plankton and dust storms that formed shapes reminiscent of all the letters from A to Z.
The result is this beautiful book of earth imagery. It offers a unique view of the alphabet, where letters are spelled out by rivers, deserts, mountains and ice. At a time when Space travel is more popular than ever, and astronauts from Chris Hadfield to Tim Peake are inspiring a whole generation of young readers, this book is a delight for adults and children alike. It is at once a celebration of Space, language and the natural beauty of our home planet, and a gift to keep for ever.
.
.
Fox Tossing, Octopus Wresting and Other Forgotten Sports by Edward Brooke-Hitching
.
For those who enjoyed the quirkiness of Schott's Miscellany, the erudition of The Etymologicon or the extremes of The Dangerous Book for Boys, this is the perfect read.
From Flagpole Sitting to Hot Cockles, Edward Brooke-Hitching has researched through piles of dusty tomes to bring vividly back to life some of the most curious, dangerous and downright bizarre sports and pastimes that mankind has ever devised, before thinking better of it and erasing it from the memory.
After all, who would ever want to bring back Fox Tossing, a popular sport for men and women in 17th-century Germany? As the name suggests, it would involve dozens of couples pairing up and standing 20-25 feet apart in an enclosed field, each holding one end of a net, and then they would pull hard at both ends as the fox ran past, sending it flying high into the air.
There are many other sports revealed within these pages that are unlikely ever to make an appearance on our TV screens, such as Firework Boxing, which is just as dangerous as it sounds. Meanwhile, Ski Ballet may not have been so risky, but Suzy 'Chapstick' Chaffee's signature move – the Suzy Split (a complete forward split while balanced on the tips of her skis) – was probably not one to try at home. An intriguing, entertaining and occasionally shocking insight into the vivid imaginations of mankind across the years, Fox Tossing, Octopus Wrestling and Other Forgotten Sportsis an unforgettable read.
.
.
Polina by Bastien Vivés
.
As a very young girl, Polina Oulinov is taken on as a special pupil by the famous ballet teacher Professor Bojinsky. He is very demanding and refuses to adapt his standards to the talents of his pupils, and Polina has to work hard and make great sacrifices in order to reach the level Bojinsky senses she has the talent for. When she graduates and is admitted to the official theatre school, she discovers that Bojinsky's view of ballet is only one of many and that she can't adapt to new rules, new visions. She flees Russia for Berlin, where she meets a group of drama students. Together they create a new form of theatre – and conquer the world.
Brilliantly drawn, Polina is a moving and intimate story of self-discovery. It confirms Bastien Vivès as one of the most exciting talents at work in the graphic novel field today.
"A distinctly continental sort of graphic novel: 200 sepia-tone pages of rambling story about a young ballet dancer's training and young adulthood, rather like Black Swan without the madness and body horror."                         Daily Telegraph
"I was seduced immediately… This is an exceptionally absorbing and touching book, one that should be required reading for teenage girls everywhere."                    Rachel Cooke, Observer
"Vivès conveys emotions with the lightest of touches… a perceptive look at the things in a ballerina's life that fuel her artistry. But it will also delight readers unfamiliar with ballet. It reminds us that youthful hopes and disappointments may be innocent, but they are not necessarily shallow. They can be turned into great art."              Economist
.
.
For younger readers
.
.
Smart About Sharks by Owen Davey
.
It is time to learn about the sea's most feared (and most misunderstood) residents: sharks!
Owen Davey returns to nonfiction to explain the mysteries of those denizens of the deep. Some deadly, some not-so-deadly, and almost all just generally misunderstood. Exciting and detailed illustrations fill the page and educate young readers about these thrilling residents of the sea! Delivering information with the same whimsical text and brash illustration that saw his previous book win the affection of the many, Smart About Sharks is sure to have teeth!
.
.
Life and I: A Story About Death by Elisabeth Helland Larsen, illustrated by Marine Schneider
This sensitively-told story for readers of all ages illustrates the inseparability of life and death. Rosy-cheeked and wrapped in blue, with a flower in her hair, Death rides a pink bike. Death, a green-eyed little girl in this pastel world, visits small animals with soft fur and big animals with sharp teeth. She lingers with a kindly grandmother as they knit one last scarf together. She wanders through surroundings of gentle beauty and she tells us who she is. For parents of children facing the loss of a family member, a friend, or a pet, this book finds words to express what is often so difficult to explain. It ends with such a feeling of uplift and acceptance that readers of any age will turn the last page with a smile and a tear. Author Elisabeth Helland Larsen and illustrator Marine Schneider weave a tapestry out of direct, poetic words and hand-drawn pictures to give voice to emotions that are moving, real, and most of all, honest.
.
Happy Reading