Fiction
Bickford Fuse by Andrey Kurkov
Catch-22 meets The Brothers Karamazov in the last great satire of the Soviet Era
The Great Patriotic War is stumbling to a close, but a new darkness has fallen over Soviet Russia. And for a disparate, disconnected clutch of wanderers – many thousands of miles apart but linked by a common goal – four parallel journeys are just beginning.
Gorych and his driver, rolling through water, sand and snow on an empty petrol tank; the occupant of a black airship, looking down benevolently as he floats above his Fatherland; young Andrey, who leaves his religious community in search of a new life; and Kharitonov, who trudges from the Sea of Japan to Leningrad, carrying a fuse that, when lit, could blow all and sundry to smithereens.
Written in the final years of Communism, The Bickford Fuse is a satirical epic of the Soviet soul, exploring the origins and dead-ends of the Russian mentality from the end of World War Two to the Union's collapse. Blending allegory and fable with real events, and as deliriously absurd as anything Kurkov has written, it is both an elegy for lost years and a song of hope for a future not yet set in stone.
"Kurkov's style is spare and effective, drawing us with deceptive ease into a dense, complex world full of wonderful characters."               Michael Palin
"Kurkov is the real thing . . . Comparisons with Bulgakov's zany Moscow are not far-fetched."                          Guardian
"His bestselling novels are known for their surreal touches, but Andrey Kurkov, the Ukrainian novelist hailed as a post-Soviet Kafka, also has an uncanny ability to predict events in the real world around him."                      Daily Telegraph
"Beguiling … frequently funny … completely its own thing. it may even be a little bit of a masterpiece."                     Sam Leith, Financial Times
The Gustav Sonata by Rose Tremain
What is the difference between friendship and love? Or between neutrality and commitment? Gustav Perle grows up in a small town in 'neutral' Switzerland, where the horrors of the Second World War seem a distant echo. But Gustav's father has mysteriously died, and his adored mother Emilie is strangely cold and indifferent to him. Gustav's childhood is spent in lonely isolation, his only toy a tin train with painted passengers staring blankly from the carriage windows.
As time goes on, an intense friendship with a boy of his own age, Anton Zwiebel, begins to define Gustav's life. Jewish and mercurial, a talented pianist tortured by nerves when he has to play in public, Anton fails to understand how deeply and irrevocably his life and Gustav's are entwined.
Fierce, astringent, profoundly tender, Rose Tremain's beautifully orchestrated novel asks the question, what does it do to a person, or to a country, to pursue an eternal quest for neutrality, and self-mastery, while all life's hopes and passions continually press upon the borders and beat upon the gate.
"This is a perfect novel about life's imperfection… Tremain is writing at the height of her inimitable powers… Remarkable and moving novel."                   Kate Kellaway, Observer
"The Gustav Sonata is a magnificent novel, heartbreaking, unsentimental and beautifully written, and it reinforces my opinion that there are few writers out there with the dexterity or emotional intelligence to rival that of the great Rose Tremain."                     John Boyne, Irish Times
"Tremain has the painterly genius of an Old Master, and she uses it to stunning effect… Glorious."                         Melissa Katsoulis, The Times
"The Gustav Sonata is a work of extreme and painful beauty, the story of one profound love amid many failed relationships, and of the conflict between passion and self-control. Rose Tremain is one of the very finest British novelists"                       Salman Rushdie
"Spare, deeply imagined and full of small gestures that draw the reader in towards deeper mysteries… Tremain is a writer of exemplary vision and particularity."                       Marcel Theroux, Guardian
The Girls by Emma Cline
California. The summer of 1969. In the dying days of a floundering counter-culture a young girl is unwittingly caught up in unthinkable violence, and a decision made at this moment, on the cusp of adulthood, will shape her life….
'This book will break your heart and blow your mind.' Lena Dunham
Evie Boyd is desperate to be noticed. In the summer of 1969, empty days stretch out under the California sun. The smell of honeysuckle thickens the air and the sidewalks radiate heat.
Until she sees them. The snatch of cold laughter. Hair, long and uncombed. Dirty dresses skimming the tops of thighs. Cheap rings like a second set of knuckles. The girls.
And at the centre, Russell. Russell and the ranch, down a long dirt track and deep in the hills. Incense and clumsily strummed chords. Rumours of sex, frenzied gatherings, teen runaways.
Was there a warning, a sign of things to come? Or is Evie already too enthralled by the girls to see that her life is about to be changed forever?
"The Girls is a brilliant and intensely consuming novel — imposing not just for a writer so young, but for any writer, any time."                Richard Ford
"I don't know which is more amazing, Emma Cline's understanding of human beings or her mastery of language."                 Mark Haddon
"Emma Cline's first novel positively hums with fresh, startling, luminous prose. The Girls announces the arrival of a thrilling new voice in American fiction."     Jennifer Egan
"a song of innocence and experience…Finely intelligent, often superbly written, with flashingly brilliant sentences."                      James Wood, New Yorker
"With the maturity of a writer twice her age, Cline has written a wise novel that's never showy: a quiet, seething confession of yearning and terror… Debut novels like this are rare, indeed."                  Washington Post
Zero K by Don Delillo
Jeffrey Lockhart's father, Ross, is a billionaire in his sixties, with a younger wife, Artis Martineau, whose health is failing. Ross is the primary investor in a remote and secret compound where death is exquisitely controlled and bodies are preserved until a future time when biomedical advances and new technologies can return them to a life of transcendent promise. Jeff joins Ross and Artis at the compound to say "an uncertain farewell" to her as she surrenders her body.
"We are born without choosing to be. Should we have to die in the same manner? Isn't it a human glory to refuse to accept a certain fate?"
These are the questions that haunt the novel and its memorable characters, and it is Ross Lockhart, most particularly, who feels a deep need to enter another dimension and awake to a new world. For his son, this is indefensible. Jeff, the book's narrator, is committed to living, to experiencing "the mingled astonishments of our time, here, on earth."
Don DeLillo's seductive, spectacularly observed and brilliant novel Zero K weighs the darkness of the world -terrorism, floods, fires, famine, plague – against the beauty and humanity of everyday life; love, awe, "the intimate touch of earth and sun."
"Mr. DeLillo's haunting new novel, Zero K — his most persuasive since his astonishing 1997 masterpiece, Underworld — is a kind of bookend to White Noise: somber and coolly futuristic, where that earlier book was satirical and darkly comic. . . . . All the themes that have animated Mr. DeLillo's novels over the years are threaded through Zero K — from the seduction of technology and mass media to the power of money and the fear of chaos. . . . like a chamber music piece. . . . reminds us of his almost Day-Glo powers as a writer and his understanding of the strange, contorted shapes that eternal human concerns (with mortality and time) can take in the new millennium."              Michiko Kakutani, New York Times
"One of the most mysterious, emotionally moving and formally rewarding books of DeLillo's long carer… Unexpectedly touching… [DeLillo offers] consolation simply by enacting so well the mystery and awe of the real world… I finished it stunned and grateful."                    Joshua Ferris, New York Times Book Review
"Brilliant and astonishing… a masterpiece… full of DeLillo's amazing inimitable scalpel perceptions, fluent in the ideas we'll be talking about 20 years from now… ZERO K somehow manages to renew DeLillo's longstanding obsessions while also striking deeply and swiftly at the reader's emotions….The effect is transcendent."                 Chicago Tribune
"Daring… provocative… exquisite… captures the swelling fears of our age."           Washington Post
The Mandibles: A Family 2029-2047 by Lionel Shriver
"Shriver's intelligence, mordant humour and vicious leaps of imagination all combine to make this a novel that is as unsettling as it is entertaining."                    Financial Times
It is 2029.
The Mandibles have been counting on a sizable fortune filtering down when their 97-year-old patriarch dies. Yet America's soaring national debt has grown so enormous that it can never be repaid. Under siege from an upstart international currency, the dollar is in meltdown. A bloodless world war will wipe out the savings of millions of American families.
Their inheritance turned to ash, each family member must contend with disappointment, but also – as the effects of the downturn start to hit – the challenge of sheer survival.
Recently affluent Avery is petulant that she can't buy olive oil, while her sister Florence is forced to absorb strays into her increasingly cramped household. As their father Carter fumes at having to care for his demented stepmother now that a nursing home is too expensive, his sister Nollie, an expat author, returns from abroad at 73 to a country that's unrecognizable.
Perhaps only Florence's oddball teenage son Willing, an economics autodidact, can save this formerly august American family from the streets.
This is not science fiction. This is a frightening, fascinating, scabrously funny glimpse into the decline that may await the United States all too soon, from the pen of perhaps the most consistently perceptive and topical author of our times.
"As ever, Shriver cuts close to the bone! . . . Distinctly chilling."             Independent
"A tale that fizzes with ideas and jokes . . . the comedy is pitch black."                        The Times
"All too chillingly plausible…a profoundly frightening portrait of how quickly the agreed rules of society can fall apart without money to grease the wheels."                  Observer
"A powerful work investigating the fragility of the financial world. Prescient, imaginative and funny, it also asks deep questions."                 Economist
"Impressively sweeping… Shriver's intelligence, mordant humour and vicious leaps of imagination all combine to make this a novel that is as unsettling as it is entertaining in its portrait of the cataclysmic unravelling of the American dream."              Financial Times
"A scary, depressing and convincing horror story, akin to reading about teetering on the edge of a precipice while actually teetering on the edge of a precipice."                        Spectator
The Cauliflower® by Nicola Barker
To the world he is Sri Ramakrishna – godly avatar, esteemed spiritual master, beloved guru. To Rani Rashmoni, he is the Brahmin fated to defy tradition. But to Hriday, his nephew and long-time caretaker, he is just Uncle – maddening, bewildering Uncle, prone to entering trances at the most inconvenient of times, known to perform dangerous acts of self-effacement, who must be vigilantly safeguarded not only against jealous enemies but also against that most treasured yet insidious of sulphur-rich vegetables: the cauliflower.
"Rather than puzzling the shards of history and legend together, Barker shatters the mirror again and rearranges the pieces. The result is a biographical novel viewed through a kaleidoscope. Dazzlingly inventive and brilliantly comic, irreverent and mischievous, The Cauliflower® delivers us into the divine playfulness of 'one of the most exhilarating, audacious, and . . . ballsy writers of her generation."                Observer
"What makes [The Cauliflower] distinctively Barkeresque is that she throws a literary hand grenade into the form of the historical novel as we know it … Barker not only refuses to switch off, but spirals and giddies and churns relentlessly. The result is typically atypical, expectedly unexpected and inexplicably good. She really is a genius."                      Guardian
"[A] complex, funny book … Strange, febrile and utterly unique … A story packed with vitality, wit, sly charm and astonishing energy."                    Justin Cartwright, Spectator
The Lubetkin Legacy by Marina Lewycka
"Lively . . . a joy to read."                        The Times
North London in the twenty-first century: a place where a son will swiftly adopt an old lady and take her home from hospital to impersonate his dear departed mother, rather than lose the council flat.
A time of golden job opportunities, though you might have to dress up as a coffee bean or work as an intern at an undertaker or put up with champagne and posh French dinners while your boss hits on you.
A place rich in language – whether it's Romanian, Ukrainian, Russian, Swahili or buxom housing officers talking managementese.
A place where husbands go absent without leave and councillors sacrifice cherry orchards at the altar of new builds.
Marina Lewycka is back in this hilarious, farcical, tender novel of modern issues and manners.
"Loved it to bits – it's so big-hearted, filled with such great characters and such cracking jokes, and, underneath it all, so very angry about the state of Britain today."                      Deborah Moggach
Tales of Persuasion by Philip Hensher
Backdrops vary in this collection of stories from the author of The Northern Clemency – from turmoil in Sudan following the death of a politician in a plane crash, to southern India where a Soho hedonist starts to envisage the crump and soar of munitions. Each story, regardless of location, reveals a great writer at the peak of his powers.
"As a fiction writer, Hensher has virtuosity on tap, so every page delivers something enjoyable and even eye-popping; a vibrant exchange, a spry description, a tickling bit of indirect speech."                        New Statesman
"Entertainingly varied stories … Hensher sneaks into a life like a cat burglar, pads around to survey the scene and slips out again, leaving everything quietly disturbed."             Literary Review
Imagine Me Gone by Adam Haslett
Michael is John and Margaret's eldest son. He's a precocious kid, smart and funny, obsessed with books and music. Even while he's still very young, he finds himself at odds with his father in ways neither one quite understands.
His sister Celia is the sensible one in the family: tougher than the boys, unshakeably certain about how the world works, desperate to impress her dad.
And then there's Alec, the youngest, the most ambitious and also the most sensitive. He grows up in the shadow of Michael's distant coolness and Celia's pragmatic confidence, never quite understanding his father's strange games or keeping up with the others.
The children are still living at home when their brilliant, beloved father walks into the woods by their house and take his own life. Years later, when they are adults, one of them will follow him.
How are we damaged by what we are born into – by those we love or who have loved us? How much can any family give to save one of its own? And how can you tell the difference between what is passed on and what is simply imitated or learned by habit – between the truly inherited flaw and the self-fulfilling prophecy?
Weaving together the voices of five family members, Adam Haslett imagines how a single isolated tragedy can become the event that defines many lives, unfolding a rich and painful novel that has all the makings of an American classic.
"Imagine Me Gone is an extraordinary work of art. The family Adam Haslett has created feels as true and as complex as our own actual families are, and somehow lays as deep a claim upon our love and loyalty. The eldest son, Michael, is simply one of the finest characters I've ever come across in fiction. This beautiful, tragic novel will haunt you for the rest of your life and you will be all the more human for it."                     Paul Harding, Pulitzer Prize winner for Tinkers
"Imagine Me Gone is literature of the highest order. It manages to be both dreadfully sad and hilariously funny all at once. It is luminous with love."                  Peter Carey,
Homegoing by Yaa Gyasi
Effia and Esi: two sisters with two very different destinies. One sold into slavery; one a slave trader's wife. The consequences of their fate reverberate through the generations that follow. Taking us from the Gold Coast of Africa to the cotton-picking plantations of Mississippi; from the missionary schools of Ghana to the dive bars of Harlem, spanning three continents and seven generations, Yaa Gyasi has written a miraculous novel – the intimate, gripping story of a brilliantly vivid cast of characters and through their lives the very story of America itself.
Epic in its canvas and intimate in its portraits, Homegoing is a searing and profound debut from a masterly new writer.
"Shows the unmistakable touch of a gifted writer."                       New Yorker
"Homegoing is one hell of a book… I recommend Homegoing without reservation. Definitely a must read for 2016."                    Roxane Gay
"What is uniquely Gyasi's is her ability to connect it so explicitly to the present day: No novel has better illustrated the way in which racism became institutionalized in this country."                      Vogue
"[A] commanding debut . . . will stay with you long after you've finished reading. When people talk about all the things fiction can teach its readers, they're talking about books like this."                    Marie Claire
"Gyasi gives voice, and an empathetic ear, to the ensuing seven generations of flawed and deeply human descendants, creating a patchwork mastery of historical fiction."               Elle
Blackass by A. Igoni Barrett
Furo Wariboko, a young Nigerian, awakes the morning before a job interview to find that he's been transformed into a white man. In this condition he plunges into the bustle of Lagos to make his fortune. With his red hair, green eyes, and pale skin, it seems he's been completely changed. Well, almost. There is the matter of his family, his accent, his name. Oh, and his black ass. Furo must quickly learn to navigate a world made unfamiliar and deal with those who would use him for their own purposes. Taken in by a young woman called Syreeta and pursued by a writer named Igoni, Furo lands his first-ever job, adopts a new name, and soon finds himself evolving in unanticipated ways.
Igoni Barrett's "Blackass" is a fierce comic satire that touches on everything from race to social media while at the same time questioning the values society places on us simply by virtue of the way we look. As he did in "Love Is Power, or Something Like That," Barrett brilliantly depicts life in contemporary Nigeria and details the double-dealing and code-switching that are implicit in everyday business. But it's Furo's search for an identity–one deeper than skin–that leads to the final unraveling of his own carefully constructed story.
"Blackass vividly captures the frenetic energy of one of the world's fastest-growing cities and provides a perceptive and engaging meditation on the mutability and the stubborn persistence of identity. "                 New York Times Book Review
"In a sharp twist on Kafka's Metamorphosis, Barrett s novel opens with the protagonist waking up one morning in Lagos to realize he s been transformed into a white man. A searing, provocative satire ensues."                    Huffington Post
"Brilliant . . .Blackass is an insightful commentary on race, identity, and modern-day Nigeria."             Buzzfeed"
"By the time it comes to its unsettling conclusion, Blackass has itself metamorphosed into an . . . affecting social novel, yes, but also set of fateful contradictions about a mad world forcefully and originally seen through to the end."                Flavorwire"
Tuesday Nights in 1980 by Molly Prentiss
A dazzling literary debut about three lives colliding in 80s downtown New York
On the eve of 1980, downtown New York is the centre of the universe. Here are the artistes and the socialites, the dealers, bartenders, party-goers and hangers-on — all trying to make it in the big city, teetering on the brink of selling out, searching for something to save them.
Among them is painter Raul Engales, in exile from Argentina's Dirty War and his own past. Fresh on the downtown scene and posing as an art student, he has just caught the eye of New York's most infamous art critic: James Bennett.
James has synaesthesia, experiencing life and art in wild, magical ways. He sees pictures as starbursts and fireworks, smells citrus when he says 'mother', and hears songs when he looks at sculptures. Art is James's gateway to endless new sensations, the secret to his success. In this city, his name is a byword for good taste — until the day his gift deserts him.
And then there's Lucy: Raul's eager blonde muse. Newly escaped from the suburban nothingness of Idaho, impossibly young and still untouched by urban ennui, she is drawn like a firefly to the electric brilliance of the city-and especially to its artists…
Over the course of one year, these three lives will collide and be transformed. A brand new decade has just begun and New York is a crucible brimming with the energy of a million secret metamorphoses, poised to spill forth art, destruction and life itself into the waiting world.
Non-fiction
The Thabo Mbeki I Know edited by Sifiso Ndlovu and Miranda Strydom
The Thabo Mbeki I Know is a collection that celebrates one of South Africa's most exceptional thought leaders. The contributors include those who first got to know Thabo Mbeki as a young man, in South Africa and in exile, and those who encountered him as a statesman and worked alongside him as an African leader. In The Thabo Mbeki I Know, these friends, comrades, statesmen, politicians and business associates provide insights that challenge the prevailing academic narrative and present fresh perspectives on the former president's time in office and on his legacy – a vital undertaking as we approach a decade since an embattled Thabo Mbeki left office.
Edited by Sifiso Mxolisi Ndlovu and Miranda Strydom, The Thabo Mbeki I Know provides readers with an opportunity to reassess Thabo Mbeki's contribution to post-apartheid South Africa, as both deputy president and president; to the African continent and diaspora, as a highly respected state leader; and to the international community as a whole.
"A book that set out to honour Thabo Mbeki in fact unveils some quite remarkable women and men who make this collection absorbing reading. Presidents, bodyguards, busy mothers, passionate economists, judges, lawyers, insurgent diplomats, tenacious politicians and many others who have come into his orbit share stories of the Thabo Mbeki they know. This is no anthology of praise songs. Here you will find affection but also candid portraits of the man who detests personality cults."                       Barney Afako
"This collection presents a combination of personal and political accounts of Thabo Mbeki, his passage from youth to manhood, from political apprenticeship under Oliver Tambo to the presidency of South Africa, and his fall from that dizzy height."                        Mahmood Mamdani
Blacks DO Caravan by Fikile Hlatshwayo
"I come from a culture where camping is purely for white people. Even if black people were to camp, they would not enjoy it because it is reminiscent of how many of us used to live; in fact, a lot of black people still live like that today – cooking on a fire, using communal toilets, with access to little or no technology – I thought there was no way I would agree to this camping expedition."
Blacks Do Caravan tells the story of a young South African family's caravan journey, and the everlasting memories created along the way included amazing adventures and wonderful experiences. The book aims to inspire South Africans to take time out of their busy schedules and spend that valuable time with their families to discover the beauty of our country.
Fikile's trip began on 15 September 2014 and during the journey she came to the realisation that South Africa is still a divided nation. Over twenty years into democracy, boundaries still divide us. Fikile aims to break those boundaries created by the past regime and contribute to the unity that is needed for all South Africans to move forward and experience this country equally. What better way to do it than caravanning? Fikile and her family visited over 60 caravan parks and extended their travels to the Kingdom of Swaziland, which became an eye opening, mind changing trip of a lifetime.
Why We Are Not a Nation by Christine Qunta
"South Africa is a dishevelled society in which two groups with disparate goals share one geographical space. It is a country where forgiveness is overrated and justice underrated. For these reasons, South Africans are perhaps as far from being a nation in 2016 as they were in 1994."
In this incisive look at issues that are both topical and intractable – the resolution of which is essential for South Africa – Christine Qunta demonstrates why we struggle to be a nation. In the title essay she examines a series of high-profile case studies that highlight what she calls 'markers of disparateness'. In another she looks at the politics of hair, drawing parallels between the fate of Sarah Baartman and the wearing of weaves in contemporary society. Finally she offers a sometimes light-hearted account of her experiences of running a legal practice at the dawn of democracy, and having to overcome barriers of race & gender.
Thought-provoking, well-argued and sometimes trenchant, these essays make for compelling reading. No reader will walk away with a neutral view.
Roughing It: 1820 Settlers in their Own Words by Ralph Goldswain
Did you know the term 'roughing it' comes from the tent city at Algoa Bay? Or that one 1820 settler called her new home 'the most miserable country in the world'? This is the tale of the settlers' dramatic first three years in their own words – their letters, journals and diaries that tell of the dangerous sea voyage and setting up of farms in a difficult environment. An engaging read with a delightful narrative touch.
Students Must Rise: Youth Struggle from Before the Soweto Uprising to Fees Must Fall edited by Anne Heffernan and Noor Nieftagodien
The Soweto Student Uprising of 1976 was a decisive moment in the struggle against apartheid. It marked the expansion of political activism to a new generation of young activists, but beyond that it inscribed the role that young people of subsequent generations could play in their country's future. Since that momentous time students have held a special place in the collective imaginary of South African history.
Drawing on research and writing by leading scholars and prominent activists, Students Must Rise takes Soweto '76 as its pivot point, but looks at student and youth activism in South Africa more broadly by considering what happened before and beyond the Soweto moment. Early chapters assess the impact of the anti-pass campaigns of the 1950s, of political ideologies like Black Consciousness as well as of religion and culture in fostering political consciousness and organisation among youth and students in townships and rural areas.
Later chapters explore the wide-reaching impact of June 16th itself for student organisation over the next two decades across the country. Two final chapters consider contemporary student-based political movements, including #RhodesMustFall and #FeesMustFall, and historically root these in the long and rich tradition of student activism in South Africa.
2016 marks the 40th anniversary of the 1976 June 16th uprisings. This book rethinks the conventional narrative of youth and student activism in South Africa by placing that most famous of moments – the 1976 students' uprising in Soweto – in a deeper historical and geographic context.
Keeper of the Kumm by Sylvia Vollenhoven
Too much of South Africa's history has been lost and suppressed, leaving a void for many South Africans. Sylvia Vollenhoven brings together her life and that of a long-ago ancestor, //Kabbo, a respected Khoisan storyteller. She writes of her experience as being "too black" for her coloured schoolmates, working as one of the early female journalists in the misogynistic environment of the 70s, and of the constant impact on her life of her background – including her ancestors.
The Age of Discovery: Navigating the Risks and Rewards of Our New Renaissance by Ian Goldin and Chris Kutarna
The present is a contest between the bright and dark sides of discovery. To avoid being torn apart by its stresses, we need to recognize the fact and gain courage and wisdom from the past.
Now is the best moment in history to be alive, but we have never felt more anxious or divided. Human health, aggregate wealth and education are flourishing. Scientific discovery is racing forward. But the same global flows of trade, capital, people and ideas that make gains possible for some people deliver big losses to others and make us all more vulnerable to one another.
Business and science are working giant revolutions upon our societies, but our politics and institutions evolve at a much slower pace. That's why, in a moment when everyone ought to be celebrating giant global gains, many of us are righteously angry at being left out and stressed about where we're headed.
To make sense of present shocks, we need to step back and recognize: we've been here before. The first Renaissance, the time of Columbus, Copernicus, Gutenberg and others, likewise redrew all maps of the world, democratized communication and sparked a flourishing of creative achievement. But their world also grappled with the same dark side of rapid change: social division, political extremism, insecurity, pandemics and other unintended consequences of discovery.
"An essential guide—and a superb ride—through our current stormy moment."                 Arianna Huffington, Editor-in-Chief, Huffington Post
"A powerful journey…This book will help the world."                    Richard Branson, Founder, Virgin Group
"This fascinating book…should interest all who care about the future of humanity."                     Lord Martin Rees, Astronomer Royal & past President of the Royal Society
"An education and a great read in one."                   AC Grayling, Philosopher
Quiet Power: Growing Up As an Introvert in a World That Can't Stop Talking by Susan Cain
The highly anticipated follow-up to the sensational bestseller Quiet – empowering introverted children, teens and young adults
Susan Cain sparked a worldwide conversation with Quiet: The Power of Introverts in a World that Can't Stop Talking. She inspired millions of people, and permanently changed the way we see introverts – and the way introverts see themselves. Now she takes the Quiet Revolution to a younger audience.
Childhood, adolescence and your early twenties are times wrought with insecurity and self-doubt. Your search for your place in the world can seem daunting. Focusing on the strengths and challenges of being introverted, Quiet Power is full of examples from school, family life and friendship, applying the breakthrough discoveries of Quiet to readers that so badly need them.
This insightful, accessible and empowering book is eye-opening to extroverts and introverts alike. Unlock your hidden superpower and give yourself the tools to make a mark – in your own quiet way.
"Children and teenagers of distinctly non-volcanic natures will rejoice to meet their champion in Quiet Power: The Secret Strengths of Introverts. (Cain's) narrative voice is kind and understanding as, with anecdotes, social science and practical advice, she extols the qualities of introverts in a culture that prizes noise and flash."             Wall Street Journal
"Highly accessible … gives a voice to a group of people who are often made to feel unappreciated. Many will find value in this title that emphasizes that being an introvert is not a blemish on one's personality but a benefit."             School Library Journal
The Secret History of the Blitz by Joshua Levine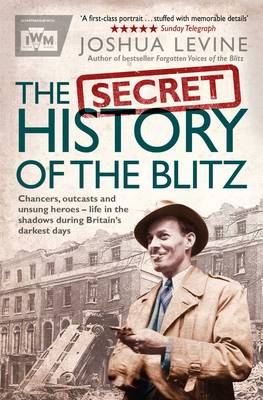 The Blitz of 1940-41 is one of the most iconic periods in modern British history – and one of the most misunderstood. The 'Blitz spirit' is celebrated by some, whereas others dismiss it as a myth. Joshua Levine's thrilling biography rejects the tired arguments and reveals the human truth: the Blitz was a time of extremes of experience and behaviour. People were pulling together and helping strangers, but they were also breaking rules and exploiting each other. Life during wartime, the author reveals, was complex and messy and real.
From the first page readers will discover a different story to the one they thought they knew – from the sacrifices made by ordinary people to a sudden surge in the popularity of nightclubs; from secret criminal trials at the Old Bailey to a Columbine-style murder in an Oxford college. There were new working opportunities for women and the appearance of unfamiliar cultures: whilst prayers were offered up in a south London mosque, Jamaican sailors were struggling to cross the country. nlikely friendships were fostered and surprising sexualities explored – these years saw a boom in prostitution and even the emergence of a popular weekly magazine for fetishists. On the darker side, racketeers and spivs made money out of the chaos, and looters prowled the night to prey on bomb victims.
From the lack of cheese to the decreased suicide rate, this astonishing and entertaining book takes the true pulse of a 'blitzed nation'. And it shows how social change during this time led to political change – which in turn has built the Britain we know today.
"…a first-class portrait of that traumatic and tragic time, conveyed largely through the worlds of those who experienced it. Spiced with sexual and criminal statistics, Levine reveals a Britain of loose morals, opportunistic pilfering and cheating, and hedonistic pleasure, alongside the more familiar virtues of courage and community."                       Sunday Telegraph
From the Garden
Anthology of Flowers by Jane Field-Lewis and Richard Maxted
Inspired by classic illustrated botanical volumes, this is a modern celebration of wild, garden and exotic flowers. A single photographic image captures the intricate detail, form, texture and colour of each flower. The hauntingly beautiful photographs – as beautiful as the most captivating still-life painting – pay respect to classic Victorian botanical illustrations but they are paired, for a younger audience, with succinct, quirky text about the culture and historical interest of each variety of plant.
Every example is the most perfect representation of a flower and, thanks to its composition and detail, it will trigger in everyone a fresh desire to look around and feel enriched by the beauty in our world – in our gardens, window boxes, flower shops and parks. Broken down into chapters based on floral characteristics or symbolism, this is a stunning gift book that taps into the growing interest in the natural world around us – its flora and fauna – and the associated benefits on our well-being, and the powerful pursuit of quiet, mindful activities. Whether for dipping into, or poring over, these pages will bring pleasure to anyone who loves the beauty of flowers, art, design, contemplation or reading.
Botanica: The Illustrated A-Z of Over 10,000 Garden Plants and How to Cultivate Them
Botanica is the universal standard work for garden enthusiasts and botanists alike. The collaboration of a team of international experts has resulted in a reference work that illustrates the rich diversity of our flora with a myriad of indigenous and exotic plants. More than 10,000 genera and species – from A for Abelia to Z for Zygopetalum – are clearly presented in a well-organized manner. Richly illustrated with color detail and large-format images, this botanical alphabet offers all kinds of information about starting, caring for, reproducing and propagating plants as well as their appearance and special qualities. A glossary and an index of the English names and various synonyms allow you easy access to species and families. This book is not only addressed to seasoned botanists in search of a reliable companion, but also to hobby gardeners and interested readers who want to spruce up their own gardens or deepen their botanical knowledge.
For Younger Readers
Raymie Nightingale by Kate DiCamillo
Two-time Newbery Medalist Kate DiCamillo returns to her roots with a moving, masterful story of an unforgettable summer friendship.
Raymie Clarke has come to realize that everything, absolutely everything, depends on her. And she has a plan. If Raymie can win the Little Miss Central Florida Tire competition, then her father, who left town two days ago with a dental hygienist, will see Raymie's picture in the paper and (maybe) come home. To win, not only does Raymie have to do good deeds and learn how to twirl a baton; she also has to contend with the wispy, frequently fainting Louisiana Elefante, who has a show-business background, and the fiery, stubborn Beverly Tapinski, who's determined to sabotage the contest. But as the competition approaches, loneliness, loss, and unanswerable questions draw the three girls into an unlikely friendship — and challenge each of them to come to the rescue in unexpected ways.
"With its short, vibrant chapters and clear, gentle prose, this triumphant and necessary book conjures the enchantments of childhood without shying away from the fraught realities of abandonment, abuse and neglect…Twirling a baton requires flair and confidence, in addition to an understanding that the baton is always balanced just a tiny bit off-center. There is something wonderfully off-balance, too, about ¬DiCamillo's storytelling. It allows her characters to sparkle and soar. DiCamillo has called this novel, based partly on her own fatherless Florida childhood, "the absolutely true story of my heart." What a beautiful and generous heart it is."                      New York Times Book Review
Leo: A Ghost Story by Mac Bennett, pictures by Christian Robinson
You would like being friends with Leo. He likes to draw, he makes delicious snacks, and most people can't even see him. Because Leo is also a ghost. When a new family moves into his home and Leo's efforts to welcome them are misunderstood, Leo decides it is time to leave and see the world. That is how he meets Jane, a kid with a tremendous imagination and an open position for a worthy knight. That is how Leo and Jane become friends. And that is when their adventures begin. This charming tale of friendship—from two of the best young minds in picture books: the author of the Caldecott Honor–winning Extra Yarn and the illustrator of the Bologna Ragazzi Award–winning Josephine—is destined to become a modern classic that will delight readers for years to come.
"Defends the joy of invisible playfellows with captivating artwork and text that is a pleasure to read aloud."                        Wall Street Journal
"An enchanting tale that will linger in the memories of all who read (or hear) it."               Books4YourKids
"This gentle tale of friendship and acceptance is feather-light yet enchanting enough to be read over and over."                  Washington Post
There is a Tribe of Kids by Lane Smith
Did you ever want to waddle with a colony of penguins? Wriggle with an army of caterpillars? Or march with a troop of monkeys?
Legendary illustrator Lane Smith takes us on a colourful adventure through the natural world, following a child as he weaves through the jungle, dives under the ocean and soars into the sky. Along the way he makes friends and causes mischief with a dazzling array of creatures both large and small – but can he find a tribe of his own? Full of warmth and humour, There Is a Tribe of Kids is a sumptuously detailed portrayal of wild childhood to be pored over for hours on end.
A witty and playful exploration of curiosity, discovery and what it means to belong, ideal for sharing with children of all ages. With a beautiful jacket glinting with gold foil, this gorgeous book makes the perfect gift for any occasion.
"A beautifully illustrated and poetic journey through the natural world, to discover groups of animals in oceans, rain forests and jungles. Mesmeric."               Huffington Post
"This engaging and attractive exploration of collective nouns weaves a lovely story about a boy who wants to belong. It follows his journey through a truly beautiful series of illustrations, reminiscent of Where the Wild Things Are."              Book Trust
Hoot Owl: Master of Disguise by Sean Taylor, illustrated by Jean Jullien
From masterful storyteller Sean Taylor and exciting, celebrated graphic artist Jean Jullien, comes the laugh-out-loud tale of Hoot Owl. Hoot Owl is no ordinary owl – oh no! – he's a master of disguise! And he will use his expert camouflage powers to trick his unsuspecting prey into succumbing to him! Tiny animals of the night … beware! But, somehow, Hoot Owl's prey keeps escaping… Hmmm, perhaps he isn't quite as masterful as he believes. Will he ever succeed in catching himself some dinner? Hilarity, ridiculousness and very bad costume changes abound in this wildly inventive new title.
Nombulelo & the Moth by Susie Dinneen, illustrated by Maia Sereda
Even though Nombulelo loves her Gogo's stories about the animals that live in the forest, she's too scared to go there. When Gogo dies, Numbulelo must summon her courage and take Gogo's magical moth on a journey through the forest. This is a story of love, loss and the discovery of inner strength
For Older Younger Readers
Kill the Boy Band by Goldy Moldavsky
Fangirls get a bad rap all the time – people say we're weird, hysterical, obsessed, certifiable. But those people don't understand.
Just because we're fangirls, doesn't mean we're crazy.
It's important you know that up front. Because everything I'm about to tell you is going to seem . . . well, crazy.
From thrilling debut author Goldy Moldavsky comes Kill The Boy Band, a pitch-black, hilarious take on modern fandom and the badass girls who have the power to make – or break – the people we call 'celebrities'.
These Shallow Graves by Jennifer Donnelly
A wealthy family. A deadly secret. A young woman with more to lose than she knows.
Josephine Montfort is from one of New York's oldest, most respected, and wealthiest families. Like most well-off girls of the Gilded Age, her future looks set – after a finishing school education, she will be favourably married off to a handsome gentleman, after which she'll want for nothing. But Jo has other dreams and desires that make her long for a very different kind of future. She wants a more meaningful and exciting life: she wants to be an investigative journalist like her heroine Nellie Bly.
But when Jo's father is found dead in his study after an alleged accident, her life becomes far more exciting than even Jo would wish. Unable to accept that her father could have been so careless, she begins to investigate his death with the help of a young reporter, Eddie Gallagher. It quickly becomes clear he was murdered, and in their race against time to discover the culprit and his motive, Jo and Eddie find themselves not only battling dark characters on the violent and gritty streets of New York, but also their growing feelings for each other.
"Murder, morgues, asylums, dirty secrets and a slow-burning romance in this epic historical thriller."                    Editor's Choice, The Bookseller
The Hour of the Bees by Lindsay Eagar
This powerful debut novel delicately blurs the line between truth and fiction as Carol unravels the fantastical stories of her mentally ill grandfather. When she and her family move to his deserted ranch in order to transfer him to a care home, Carol struggles to cope with the suffocating heat and the effects of her grandfather's dementia. Bees seem to be following her around, but the drought means this is impossible. She must be imagining things. Yet when her grandfather chooses her as the subject for his stories – tales of a magical healing tree, a lake, and the grandmother she never knew – Carol sees glimmers of something special in what her parents dismiss as Serge's madness. As she rethinks her roots and what she thought she knew about her family, Carol comes to the realization that Serge's past is quickly catching up with her present. A stunning coming-of-age story.
"[Hour of the Bees] transforms when it shifts a gear into magical realism […] gradually we are drawn in to the arid beauty of the dessert landscape […] And when you are wiping away the tears, you can take comfort in Serge's words: 'Stories don't end… they just turn into new beginnings.'"                        Daily Telegraph
Happy reading!