Book of the Month
Sugar Man: The Life, Death and Resurrection of Sixto Rodriguez by Craig Bartholomew Strydom and Stephen 'Sugar' Segerman
In the summer of 1972, during a compulsory stint in the South African military, Stephen 'Sugar' Segerman heard the music that would forever change his life. A decade later, on yet another military base, Craig Bartholomew Strydom heard the same music. It would have a profound effect. Who was this folk singer who resonated with South Africa's youth? No one could say. All that anyone knew was his name – Rodriguez – and the fact that he had killed himself on stage after reading his own epitaph.
After many years of searching in a pre-internet age, Strydom with support from Segerman found the musician not dead but alive and living in seclusion in Detroit. Even more remarkable was the fact that Rodriguez, no longer working as a musician and struggling to eke out a blue-collar existence, had no idea that he had been famous for over 25 years in a remote part of the world…
Fiction
A Little Life by Hanya Yanagihara
A Little Life by Hanya Yanagihara is an immensely powerful and heartbreaking novel of brotherly love and the limits of human endurance.
When four graduates from a small Massachusetts college move to New York to make their way, they're broke, adrift, and buoyed only by their friendship and ambition. There is kind, handsome Willem, an aspiring actor; JB, a quick-witted, sometimes cruel Brooklyn-born painter seeking entry to the art world; Malcolm, a frustrated architect at a prominent firm; and withdrawn, brilliant, enigmatic Jude, who serves as their centre of gravity. Over the decades, their relationships deepen and darken, tinged by addiction, success, and pride. Yet their greatest challenge, each comes to realize, is Jude himself, by midlife a terrifyingly talented litigator yet an increasingly broken man, his mind and body scarred by an unspeakable childhood, and haunted by what he fears is a degree of trauma that he'll not only be unable to overcome – but that will define his life forever.
"Utterly gripping. Wonderfully romantic and sometimes harrowing, A Little Life kept me reading late into the night, night after night."                       Edmund White
"One of the pleasures of fiction is how suddenly a brilliant writer can alter the literary landscape . . . Ms. Yanagihara's immense new book . . . announces her, as decisively as a second work can, as a major American novelist. Here is an epic study of trauma and friendship written with such intelligence and depth of perception that it will be one of the benchmarks against which all other novels that broach those subjects (and they are legion) will be measured. In recent years, only Edward St. Aubyn's Patrick Melrose novels have confronted with similarly enduring power the long aftermath of abuse (and the sleepless duties required in loving abuse victims). But while Mr. St. Aubyn's writing relies on matador-like thrusts of barbed irony, A Little Life achieves its lasting effect with calm, thoroughgoing realism."                                Wall Street Journal
"How often is a novel so deeply disturbing that you might find yourself weeping, and yet so revelatory about human kindness that you might also feel touched by grace? Yanagihara's astonishing and unsettling second novel . . . plumbs the rich inner lives of all of her characters… You don't just care deeply about all these lives. Thanks to the author's exquisite skill, you feel as if you are living them . . . A Little Life is about the unimaginable cruelty of human beings, the savage things done to a child and his lifelong struggle to overcome the damage. Its pages are soaked with grief, but it's also about the bottomless human capacity for love and endurance . . . It's not hyperbole to call this novel a masterwork – if anything that word is simply just too little for it."                           San Francisco Chronicle
"[The] spring's must-read novel . . . Her debut . . . put her on the literary map, her massive new novel . . . signals the arrival of a major new voice in fiction . . . Her achievement has less to do with size than with her powerful evocation of the fragility of self . . . The pained beauty that suffuses this novel, an American epic that eloquently counters our culture's fixation with redemptive narratives."                                Vogue
"A Little Life makes for near-hypnotically compelling reading, a vivid, hyperreal portrait of human existence that demands intense emotional investment . . . An astonishing achievement: a novel of grand drama and sentiment, but it's a canvas Yanagihara has painted with delicate, subtle brushstrokes. "                      Independent
"A singularly profound and moving work . . . It's not often that you read a book of this length and find yourself thinking "I wish it was longer" but Yanagihara takes you so deeply into the lives and minds of these characters that you struggle to leave them behind."                        The Times
"At its heart A Little Life is a fairy tale that pits good against evil, love against viciousness, hope against hopelessness. The cruelty of the life Ms Yanagihara describes is trumped only by the tenacity with which she searches for an answer."                         Economist
Two Years, Eight Months and Twenty-Eight Nights by Salman Rushdie
From the wonderful Salman Rushdie, comes a spellbinding work of fiction that blends history, mythology, and a timeless love story. A lush, richly layered novel in which our world has been plunged into an age of unreason, Two Years Eight Months and Twenty-Eight Nights is a breathtaking achievement and an enduring testament to the power of storytelling.
In the near future, after a storm strikes New York City, the strangenesses begin. A down-to-earth gardener finds that his feet no longer touch the ground. A graphic novelist awakens in his bedroom to a mysterious entity that resembles his own sub-Stan Lee creation. Abandoned at the mayor's office, a baby identifies corruption with her mere presence, marking the guilty with blemishes and boils. A seductive gold digger is soon tapped to combat forces beyond imagining.
Unbeknownst to them, they are all descended from the whimsical, capricious, wanton creatures known as the jinn, who live in a world separated from ours by a veil. Centuries ago, Dunia, a princess of the jinn, fell in love with a mortal man of reason. Together they produced an astonishing number of children, unaware of their fantastical powers, who spread across generations in the human world.
Once the line between worlds is breached on a grand scale, Dunia's children and others will play a role in an epic war between light and dark spanning a thousand and one nights – or two years, eight months, and twenty-eight nights. It is a time of enormous upheaval, in which beliefs are challenged, words act like poison, silence is a disease, and a noise may contain a hidden curse.
Inspired by the traditional 'wonder tales' of the East, Salman Rushdie's novel is a masterpiece about the age-old conflicts that remain in today's world. Two Years Eight Months and Twenty-Eight Nights is satirical and bawdy, full of cunning and folly, rivalries and betrayals, kismet and karma, rapture and redemption.
"[The book] moves between gentle irony and moments of profound emotion. It is a riotous, exuberant and sometimes maddening celebration of the power of storytelling, and of the importance of education and culture."                   Sunday Times
"Two Years, Eight Months & Twenty-eight Nights blends Arabian myth, history and sci-fi into a whirlwind fable."                              Good Housekeeping
"[Salman] Rushdie is our Scheherazade, inexhaustibly enfolding story within story and unfolding tale after tale with such irrepressible delight that it comes as a shock to remember that, like her, he has lived the life of a storyteller in immediate peril. . . . This book is a fantasy, a fairytale—and a brilliant reflection of and serious meditation on the choices and agonies of our life in this world. . . . I like to think how many readers are going to admire the courage of this book, revel in its fierce colors, its boisterousness, humor and tremendous pizzazz, and take delight in its generosity of spirit."                    Ursula Le Guin,  Guardian
 
"rollicking, lyrical and very enjoyable tale." (Darragh McManus Irish Independent)
 "The title adds up to 1,001 nights, an allusion to the story of Scheherazade, and although there are not 1,001 strands of story here, there are many, and they are colourful and compelling. . . . Rushdie displays the wry humour that helped make Midnight's Children such a masterpiece."                 Independent
"Two Years Eight Months and Twenty-Eight Nights is replete with fantastical creatures, scary monsters, very bad men (or rather, male jinns/genies) and one heroic woman. . . . While Rushdie has written hyped up sagas of worlds colliding before, and always espouses reason over fanaticism, there is something so loopy, so unleashed, about this tale as to make it particularly thrilling."                     New York Daily News
Wind/Pinball: Two Novels by Haruki Murakami
Wind/Pinball includes Haruki Murakami's first two novels, published back-to-back, available for the first time in English outside Japan. With a new introduction by the author.
Published as a reversible hardback
'If you're the sort of guy who raids the refrigerators of silent kitchens at three o'clock in the morning, you can only write accordingly.
That's who I am.'
Hear the Wind Sing and Pinball, 1973 are Haruki Murakami's earliest novels. They follow the fortunes of the narrator and his friend, known only by his nickname, the Rat. In Hear the Wind Sing the narrator is home from college on his summer break. He spends his time drinking beer and smoking in J's Bar with the Rat, listening to the radio, thinking about writing and the women he has slept with, and pursuing a relationship with a girl with nine fingers.
Three years later, in Pinball, 1973, he has moved to Tokyo to work as a translator and live with indistinguishable twin girls, but the Rat has remained behind, despite his efforts to leave both the town and his girlfriend. The narrator finds himself haunted by memories of his own doomed relationship but also, more bizarrely, by his short-lived obsession with playing pinball in J's Bar. This sends him on a quest to find the exact model of pinball machine he had enjoyed playing years earlier: the three-flipper Spaceship.
"Wind/Pinball is a fresh, heart-warming dose of the Japanese master."                                 Economist
"Murakami fans will no doubt delight in this new publication. For newcomers, these early works are an excellent introduction to a writer who has since become one of the most influential novelists of his generation."                    Observer
"…quintessential Murakami… an excellent introduction to a writer who has since become one of the most influential novelists of his generation."                        Guardian
"Murakami's way of making emotionally resonant images and symbols bump around on the page, and in one's mind, remains fresh, miraculously, more than 35 years on."                     Evening Standard
We Never Asked for Wings by Vanessa Diffenbaugh
How far would you go for your children?
Would you lie for them? Flee with them? Let someone else mother them if you thought they would do a better job?
As a single parent, Letty does everything for her two children – apart from raise them. Being a mother terrifies her more than she can admit, and so she's always let her mother take that role. When Maria Elena ups and leaves, however, Letty has to confront her fears and become the parent she doesn't think she can be.
Even as she tries to give her children a future, Letty's teenage son, Alex, struggles to forgive his mother for choices she made in the past. But he and Letty are not so dissimilar, and both are prepared to risk everything for those they love.
Honest and compelling, We Never Asked for Wings is about family; it's about the decisions we take, the mistakes we make, the people we trust, and, above all, how – and where – we find love.
"I was hooked from the first breathtaking pages of We Never Asked for Wings, caring about this exquisitely vulnerable family, hoping right along with them on every page that each heart-rending, impossible choice would lead them somewhere better together."                     Lisa Genova, New York Times bestselling author of Still Alice
"Diffenbaugh is a storyteller of the highest order: her simple but poetic prose makes even this most classically American story sing with a special kind of vulnerable beauty."                        Bustle
"We Never Asked for Wings propels us into a mother's heart as she and her family travel down a rocky path to understanding and forgiveness. With breathtaking imagery and lyrical prose, Diffenbaugh makes Letty's growth from a troubled young mother to a responsible woman who learns to put her children first, but also allows herself the possibility of love, entirely believable. Hers is a hard-won victory you will cheer even as you wish this graceful, moving book would never end ."                    Melanie Benjamin, New York Times bestselling author of The Aviator's Wife
Borderlines by Michela Wrong
The debut novel by a British writer who has written compellingly on Africa – a courtroom drama and a gritty, aromatic evocation of place, inspired by recent events.
British lawyer Paula Shackleton is mourning a lost love when a small man in a lemon-coloured suit accosts her over breakfast in a Boston hotel. Winston Peabody represents the African state of North Darrar, embroiled in a border arbitration case with its giant neighbour. He needs help with the hearings in The Hague, Paula needs to forget the past.
She flies to the state's capital determined to lose herself in work, but soon discovers that even jobs taken with the purest intentions can involve moral compromise. Taking testimony in scorching refugee camps, delving into the colonial past, she becomes increasingly uneasy about her role. Budding friendships with a scarred former rebel and an idealistic young doctor whittle away at her pose of sardonic indifference, until Paula finds herself taking a step no decent lawyer should ever contemplate.
Michela Wrong has been writing about Africa for two decades. In this taut legal thriller, rich with the Horn of Africa's colours and aromas, she probes the motives underlying Western engagement with the continent, questioning the value of universal justice and exploring how history itself is forged. Above all her first novel is the story of a young woman's anguished quest for redemption.
"Few other writers could make a border dispute in the Hague have readers sitting on the edges of their chairs. And no other writer I know of is capable of making Africa seem just as accessibly screwed up as our own messy political back yards. Borderlines is beautifully written and tautly told. It helps to explain why refugees from the Horn are queuing for boats in Libya, and portrays the searing disappointment of fighting a liberation war for years only to be betrayed by your own side. That disappointment isn't African; it's universal."                              Lionel Shrive
 "I read Borderlines in a single sitting. Paula Shackleton is an anti-heroine for our times: clever, spiky, complex and flawed. Michela Wrong has gained a reputation as a fluid, perceptive writer of non-fiction – now she has added a twist of imagination to create a gripping novel."                               Lindsey Hilsum
 "A gripping debut thriller … like all good thrillers, the opening of Michela Wrong's Borderlines reads like a climax … an ambitious, multi-layered mystery … In Wrong's expert hands, the worlds that the novel travels through – government backrooms, refugee camps, the privileged world of expats in "hardship postings" – are sketched with a natural, attractive intimacy."                           Guardian
 "In its Graham Greene-like exploration of human failings, Borderlines discourses brilliantly on the politics of cartography … A first-class legal thriller, written with narrative verve and a reporter's eye for detail."                     Financial Times
 "Beautifully judged & elegantly written … delivers on every level … thoroughly recommend."                        Spectator
Spill, Simmer, Falter, Wither by Sarah Baume
You find me on a Tuesday, on my Tuesday trip to town. A note sellotaped to the inside of the jumble-shop window: COMPASSIONATE & TOLERANT OWNER. A PERSON WITHOUT OTHER PETS & WITHOUT CHILDREN UNDER FOUR.
A misfit man finds a misfit dog. Ray, aged fifty-seven, 'too old for starting over, too young for giving up', and One Eye, a vicious little bugger, smaller than expected, a good ratter. Both are accustomed to being alone, unloved, outcast – but they quickly find in each other a strange companionship of sorts. As spring turns to summer, their relationship grows and intensifies, until a savage act forces them to abandon the precarious life they'd established, and take to the road.
Spill Simmer Falter Wither is a wholly different kind of love story: a devastating portrait of loneliness, loss and friendship, and of the scars that are more than skin-deep. Written with tremendous empathy and insight, in lyrical language that surprises and delights, this is an extraordinary and heartbreaking debut by a major new talent
"This book is a stunning and wonderful achievement by a writer touched by greatness. It is the most powerful debut novel I have read in several years . . . An outstanding new Irish novelist."                            Joseph O'Connor
"Extraordinary . . . Spill Simmer Falter Wither is a heartbreaking read, and heralds Baume as a major new talent."                          Independent on Sunday
"Ambitious and impressive . . . Baume's engaging, intriguing and brightly original first novel may mark a comparably significant debut."                           Times Literary Supplement
Make Something Up: Stories You Can't Unread by Chuck Palahniuk
Twenty-one stories and a novella that will disturb and delight, from the author of Fight Club. The absurdity of both life and death are on full display. In 'Zombies', the best and brightest of a high school become tragically addicted to the latest drug craze: electric shocks from cardiac defibrillators. In 'Knock, Knock', a son hopes to tell one last off-colour joke to his dying father , while in 'Tunnel of Love', a massage therapist runs the curious practice of providing 'relief' to dying clients. And in 'Excursion', Fight Club fans will be thrilled to find a side of Tyler Durden never seen before.
Funny, caustic, bizarre, poignant; these stories represent everything readers have come to love and expect from Chuck Palahniuk.
"Palahniuk is in sublime, caustic form; his story subjects even more wickedly bold."          Independent
 "Savage, disturbing and frequently hilarious, this is writing at its boldest."                           Grazia
Where My Heart Used to Beat by Sebastian Faulks
On a small island off the south coast of France, Robert Hendricks, an English doctor who has seen the best and the worst the twentieth century had to offer, is forced to confront the events that made up his life.
His host, and antagonist, is Alexander Pereira, a man whose time is running out, but who seems to know more about his guest than Hendricks himself does.
The search for sanity takes us through the war in Italy in 1944, a passionate love that seems to hold out hope, the great days of idealistic work in the 1960s and finally – unforgettably – back into the trenches of the Western Front.
The recurring themes of Sebastian Faulks's fiction are brought together with a new stylistic brilliance as the novel casts a long, baleful light over the century we have left behind but may never fully understand. Daring, ambitious and in the end profoundly moving, this is Faulks's most remarkable book yet.
"A pleasure from start to finish…Where My Heart Used to Beat is that rare book, a page-turning read that also has a significant intellectual and emotional charge."                   Sunday Express
"Compelling…profoundly moving."                         Independent on Sunday
"Faulks writes in the grand tradition of realist fiction…Fans of Faulks ― and they are legion ― will find a great deal to admire and ponder and sorrow at within these pages. Its aspirations are sincere and noble."                      Spectator
"Faulks gets better and better with every book. This is surely one of the year's best novels."                         Daily Mail
Looking Glass House by Vanessa Tait
What happened before Alice fell down the rabbit hole?
 Oxford, 1862. As Mary Prickett takes up her post as governess to the daughters of the Dean of Christ Church, she is thrust into a strange new world. Mary is poor and plain and desperate for change but the little girls in her care see and understand far more than their naïve new teacher. And there is another problem: Mary does not like children, especially the precocious Alice Liddell.
When Mary meets Charles Dodgson, the Christ Church mathematics tutor, at a party at the Deanery, she wonders if he may be the person to transform her life. Flattered by his attentions, Mary begins to believe that she could be more than just an overlooked, dowdy governess.
One sunny day, as Mary chaperones the Liddells on a punting trip, Mr Dodgson tells the story of Alice's Adventures in Wonderland. But Mary is determined to become Mr Dodgson's muse – and will turn all the lives around her topsy-turvey in pursuit of her obsession.
 "As Alice Liddell's great-granddaughter, Vanessa Tait's insider information and access to letters and diaries give the familiar back-story a new slant. Her captivating book conjures up the topsy-turvy world of Alice – the factual and the fictional girl. It is a story that is both whimsical and disturbing."                                      The Lady
 "Tait's engaging novel peeps behind Carroll's story… Her style is sensuous and lyrical, her story neatly infused with Wonderland imagery and historically accurate dialogue… This story isn't about Alice. It runs, White Rabbit-like, away from childhood towards a more grown-up reflection on one of the greatest children's books."                               Sunday Telegraph
The Just City by Jo Walton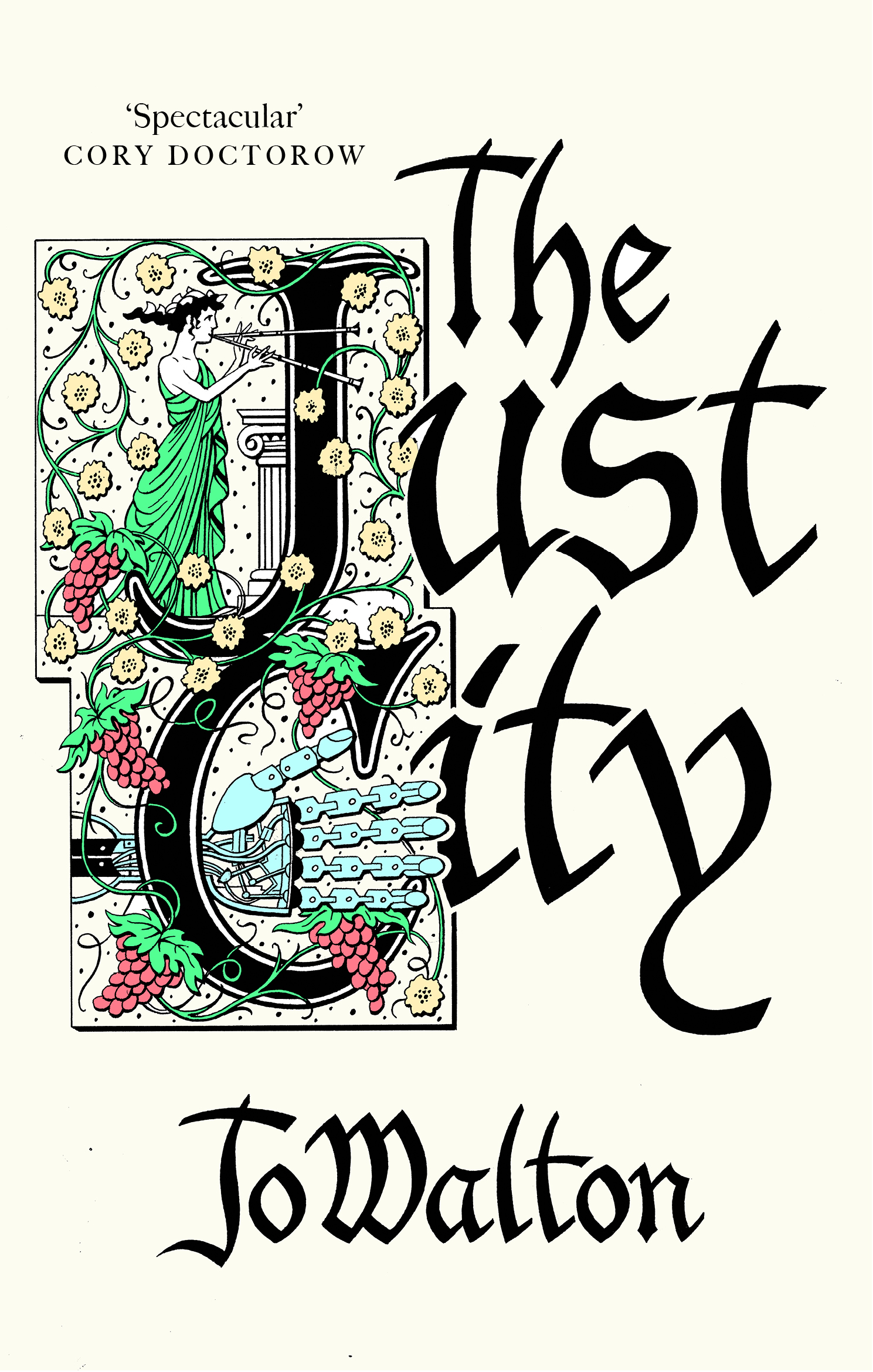 'Here in the Just City you will become your best selves. You will learn and grow and strive to be excellent.'
One day, in a moment of philosophical puckishness, the time-travelling goddess Pallas Athene decides to put Plato to the test and create the Just City. She locates the City on a Mediterranean island and populates it with over ten thousand children and a few hundred adults from all eras of history . . . along with some handy robots from the far human future.
Meanwhile, Apollo – stunned by the realization that there are things that human beings understand better than he does – has decided to become a mortal child, head to Athene's City and see what all the fuss is about.
Then Socrates arrives, and starts asking troublesome questions.
What happens next is a tale only the brilliant Jo Walton could tell.
"Jo Walton is one of science fiction's most versatile, thoughtful, and gripping writers . . . [A novel] about philosophy, history, gender and freedom [which] also manages to be a spectacular coming-of-age tale that encompasses everything from courtroom dramas to sexual intrigue."                       Cory Doctorow
"The award-winning Walton has written a remarkable novel of ideas that demands – and repays – careful reading. It is itself an exercise in philosophy that often, courtesy of Socrates, critically examines Plato's ideas . . . the plot is always accessible and the world building and characterization are superb. In the end, the novel more than does justice to the idea of the Just City. "                    Booklist
"An extraordinarily ambitious achievement . . . The Just City is a glorious example of one of the primary purposes of speculative fiction: serving as a map to the potentials and miseries of a possible world."                                Globe and Mail
"Rendered with Walton's usual power and beauty. "                       New York Times
Rembrandt's Mirror by Kim Devereaux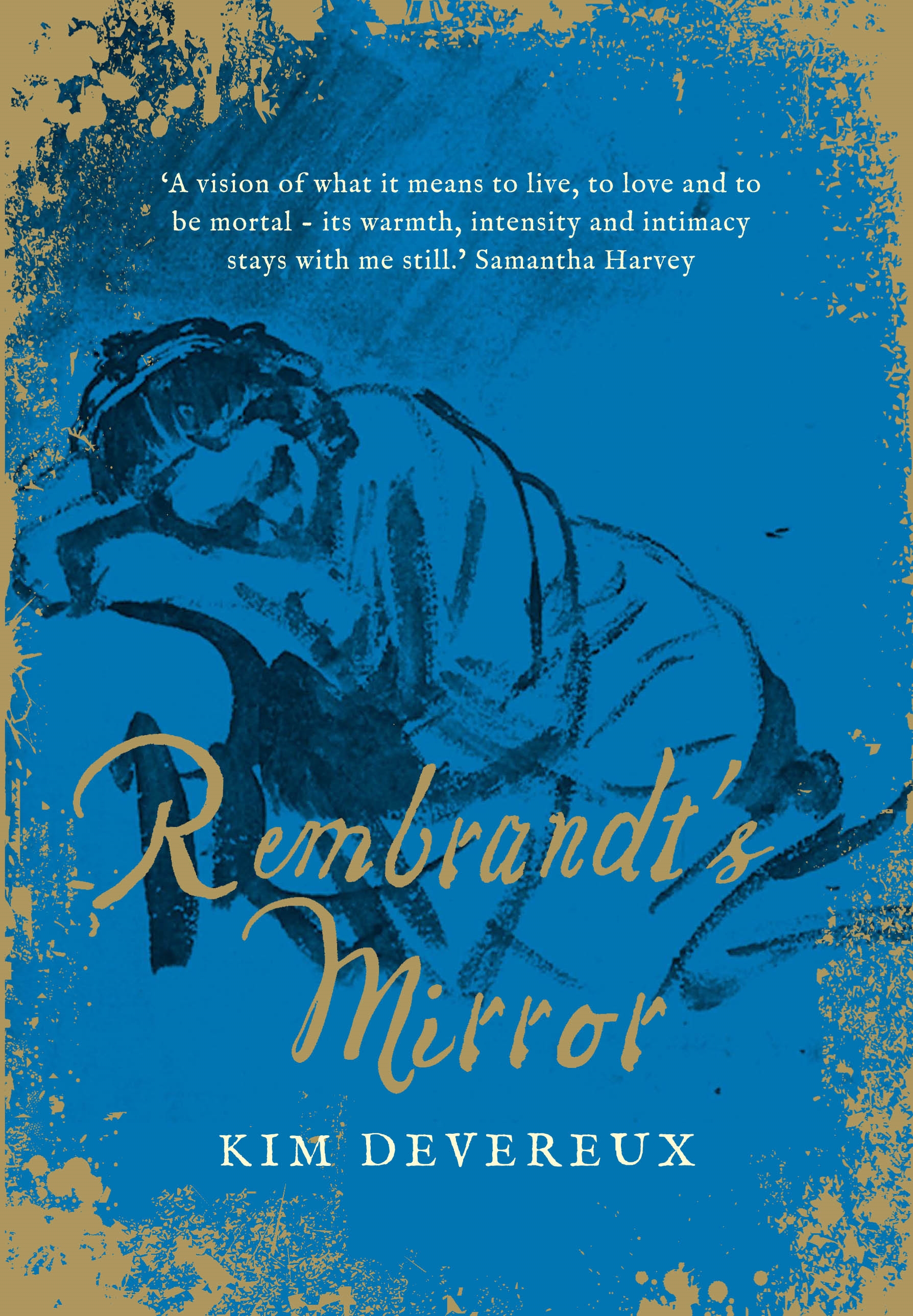 Hendrickje, a girl from a strict Calvinist family, leaves her provincial home to find work as a housemaid. She enters Rembrandt's flourishing workshop five years after the death of the great artist's wife, an event that continues to haunt him. It is a house full of secrets and desires, and Hendrickje soon witnesses a sexual encounter between Rembrandt and Geertje, his implacable housekeeper. She is shocked to the core by their intense carnality and yet, slowly, she is drawn to Rembrandt by the freshness with which he perceives the world and the special freedom he seems to possess.
Rembrandt is a man of dark corners, strange passions and a ruthlessness born from his need to put his art first. An involvement with him could be her ruin or her liberty.
Rembrandt's Mirror explores the three women of Rembrandt's life, and the towering passions of the artist, seen through the eyes of his last great love, Hendrickje.
 "Laced with painterly description and art theory … a powerful and compelling story. – Sunday Telegraph
The relationship between the painter and the young servant develops into a moving affirmation of the importance of love in the face of the mortality that Rembrandt reflects in his art."                    Sunday Times
"A vision of what it means to live, to love and to be mortal – its warmth, intensity and intimacy stays with me still."                           Samantha Harvey
Non-Fiction
Invisible: The Dangerous Allure of the Unseen by Philip Ball
 If you could be invisible, what would you do? The chances are that it would have something to do with power, wealth or sex. Perhaps all three.
But there's no need to feel guilty. Impulses like these have always been at the heart of our fascination with invisibility: it points to realms beyond our senses, serves as a receptacle for fears and dreams, and hints at worlds where other rules apply. Invisibility is a mighty power and a terrible curse, a sexual promise, a spiritual condition.
This is a history of humanity's turbulent relationship with the invisible. It takes on the myths and morals of Plato, the occult obsessions of the Middle Ages, the trickeries and illusions of stage magic, the auras and ethers of Victorian physics, military strategies to camouflage armies and ships and the discovery of invisibly small worlds.
From the medieval to the cutting-edge, fairy tales to telecommunications, from beliefs about the supernatural to the discovery of dark energy, Philip Ball reveals the universe of the invisible.
"As a harvest of fascinating facts delivered with sharp wit and insight, it is hard to fault."             Daily Telegraph
"Intriguing." (John Carey Sunday Times)
"A fascinating compendium… Another author might struggle to manage such an esoteric collection [of stories of invisibility] but Mr Ball's writing is incisive enough to keep the different elements hanging and working together."                   Economist
"Ball marshals his material with deftness and charm."                    Literary Review
"[A] fantastic feast of ideas and information on the subject… In this enthralling book, Philip Ball's elegant and intelligent mastery…is very evident indeed."                             Evening Standard
Scandalous Lady W by Hallie Rubenhold
It was the divorce that scandalised Georgian England… She was a spirited young heiress. He was a handsome baronet with a promising career in government.
Their marriage had the makings of a fairy tale but ended as one of the most salacious and highly publicised divorces in history.
For over two hundred years the story of Lady Worsley, her vengeful husband, and her lover, George Maurice Bisset, lay forgotten. Now Hallie Rubenhold throws open a window to a rarely seen view of Georgian England, one coloured by passion, adventure and the defiance of social convention.
 "A fabulous story and Rubenhold tells it beautifully."                      Daily Telegraph
"Hallie Rubenhold is in a league of her own. She keeps you glued to the very last page when, exhausted, exasperated and elated, you can at last put the book down and get yourself some sleep…. Nothing else in the genre is close to being this good."                  Literary Review
"Deliciously lurid."                            Sunday Times
"Hallie Rubenhold's account of the elopement is gripping but this is far more than an 18th-century bodice-ripper. Rubenhold combines narrative skill with historical expertise, and she traces the knife-edge that women walked between social success and public disgrace with subtlety and assurance."             Spectator
Spinster: Making a Life of One's Own by Kate Bolick
'Whom to marry and when will it happen – these two questions define every woman's existence.' So begins Spinster, a revelatory and slyly erudite look at the pleasures and possibilities of remaining single.
Using her own experience as a starting point, Kate Bolick invites us into her carefully considered, passionately lived life, weaving together the past and present to examine why she – along with millions of women, whose ranks keep growing – remains unmarried. This unprecedented demographic shift is the logical outcome of hundreds of years of change that has neither been fully understood nor appreciated.
Spinster introduces a cast of pioneering women from the last century whose genius, tenacity and flair for drama has emboldened Bolick to fashion her life on her own terms – essayist & journalist Neith Boyce, essayist Maeve Brennan, social reformer Charlotte Perkins Gilman, poet Edna St. Vincent Millay, and novelist Edith Wharton. By narrating their unconventional ideas and choices, Bolick shows us that contemporary debates about settling down and having it all are timeless – the crucible upon which women have tried for centuries to forge a good life.
Intellectually substantial and deeply personal, Spinster is a new kind of unreservedly inquisitive work of memoir and broader cultural exploration that asks us to acknowledge the opportunities that exist within ourselves to live authentically, unbounded – and to be savoured.
"I wish I could give this wise and subtle book to my thirty-year-old self; she would have taken heart . . . Bold and intelligent."                          Rebecca Mead, author of My Life in Middlemarch
"A triumph."                       Malcolm Gladwell
 "Women of the world listen here: drop whatever you're doing and read Kate Bolick's marvelous meditation on what it means to be female at the dawn of the 21st century."                     Joanna Rakoff, author of My Salinger Year
"Moving, insightful and important."                        Elif Batuman, author of The Possessed
War of the Whales: A True Story by Joshua Horwitz
"Intimate and urgent storytelling" (Chicago Tribune), a "ripping real-life yarn" (Tampa Bay Chronicle): The remarkable account of two principled men who stand up to the world's most powerful navy, in defense of whales. Winner of the PEN/E.O. Wilson Literary Science Writing Award and a New York Times bestseller.
War of the Whales is the gripping tale of a crusading attorney who stumbles on one of the US Navy's best-kept secrets: a submarine detection system that floods entire ocean basins with high-intensity sound—and drives whales onto beaches. As Joel Reynolds launches a legal fight to expose and challenge the Navy program, marine biologist Ken Balcomb witnesses a mysterious mass stranding of whales near his research station in the Bahamas. Investigating this calamity, Balcomb is forced to choose between his conscience and an oath of secrecy he swore to the Navy in his youth.
When Balcomb and Reynolds team up to expose the truth behind an epidemic of mass strandings, the stage is set for an epic battle that pits admirals against activists, rogue submarines against weaponized dolphins, and national security against the need to safeguard the ocean environment. Waged in secret military labs and the nation's highest court, War of the Whales is a real-life thriller that combines the best of legal drama, natural history, and military intrigue.
"A gripping, brilliantly told tale of the secret and deadly struggle between American national security and the kings of the oceans. At once thrilling and heartbreaking, this is a landmark book of deep, original reporting which could alter forever how we view our role as stewards of the seas."                                 Bob Woodward
"As War of the Whales…makes convincingly clear, the connection between naval sonar and deadly mass strandings of whales is scientifically undeniable…a strong and valuable narrative."                      Washington Post, 50 Notable Books 2014
"Intimate and urgent storytelling….Horwitz's years of research and observation lend genuine drama to this save-the-whales tale. The author paints rich portraits of his subjects, much fuller than the rote physical descriptions and caricatures that might pass for characterization in a breezier work of nonfiction."                    Chicago Tribune
"In a riveting and groundbreaking new book, War of the Whales, Joshua Horwitz, chronicles the true story of the 20-year battle led by scientists and environmental activists against military sonar. It reads like the best investigative journalism, with cinematic scenes of strandings and dramatic David-and-Goliath courtroom dramas as activists diligently hold the Navy accountable. A page-turning detective story, War of the Whales… chillingly tracks the US Navy's culture of secrecy as it collides with environmental groups and grassroots' demand for transparency."                            Huffington Post
"War of the Whales takes us deep inside the soundscape of our acoustically complex seas, where whales have evolved to communicate, navigate and hunt with sound. It's the true story of the underwater collision between life in the ocean and an acoustic storm of military sonar — and of citizen activists holding accountable the world's most powerful Navy. For anyone who wants to save marine life from drowning in man-made noise, this is a must-read book."                     Jean-Michel Cousteau, Ocean Futures Society
Ten Million Aliens: A Journey Through Our Strange Planet by Simon Barnes
Life on planet Earth is not weirder than we imagine. It's weirder than we are capable of imagining…
This is the momentous story of the millions of species – sometimes unimaginably strange – that make up the animal kingdom.
Humans, blue whales, rats, birds of paradise, ridiculous numbers of beetles, molluscs the size of a bus, bdelloid rotifers who haven't had sex for millions of years and creatures called water bears (you can boil them, freeze them and fire them off into space without killing them) – we're all in it together.
In this breathtakingly audacious book, Simon Barnes opens our eyes to the real marvels of the planet we live on.
"One of the most compulsively readable, astoundingly compendious and endlessly thrilling natural histories ever written . . .This is a book that I will treasure for ever."          Stephen Fry
"Ten Million Aliens will open your eyes to the animal world."                      Daily Mail
"Ten Million Aliens is Barnes' 22nd book, and if feels like something of an apotheosis…this is more than just a book about animals, though. It's enriched everywhere by the author's curious, magpie mind. The work simultaneously demonstrates the sheer diversity, the alien otherness, of the animal kingdom, and puts us firmly in the same room: at the same table, in fact."                     The Times
"Barnes has a wonderful knowledge of wildlife and a gift for bringing his enthusiasm to life – He has a deft turn of phrase and a lyrical style."                          Rosie Boycott
"Ten Million Aliens is an impassioned hymn to the teeming multitude of organisms crowded alongside humanity on this ever-smaller planet… Clarity is the cardinal virtue of Ten Million Aliens. I can think of few nature writers who have worked harder to acquaint us with the unloved, the neglected and completely unknown."                            Mark Cocker,  Spectator
"A rip-roaring trip through the wonders of the natural world…Engaging, irreverent and humourous throughout, this is a book which beguiles with its wit and easy style."          RareBirdAlert.co.uk
Saving Safa: Rescuing a Little Girl from FGM by Waris Dirie
Waris Dirie, the Somalian nomad who became a supermodel, and an anti-FGM activist, first came to the world's attention with the publication of her autobiography, Desert Flower. The book was subsequently made into a film and little Safa Nour, from one of the slums of Djibouti in the Horn of Africa, was chosen to play the young Waris.
The book and the film record many extraordinary things – from facing down a tiger, to being discovered by a famous photographer in London – but it also tells the grim story of female circumcision, an ordeal that the young Waris had to endure.
Saving Safa opens with a letter from Safa, now aged seven, who explains that she is worried that she will undergo FGM in spite of the contract her parents have signed with Dirie's Desert Flower Foundation stating that they will never have their daughter cut. Waris drops everything and flies to Djibouti where she meets Safa's father and mother who thinks her daughter should be cut to stop the community ostracising them. Waris brings them to Paris and to Vienna, they learn about the foundation and Safa's father finally comes round to the idea of working for the foundation as well.
As Safa was saved from FGM through a contract with her parents, the Foundation believes a thousand other girls can be saved through providing their families with aid in return for a promise not to mutilate their daughters.
 "It is Safa, with her wide-eyed excitement at the world, who brings this well-written book alive . . . What Saving Safa does so successfully is humanise the tragedy of FGM."                   Evening Standard
"Dirie's writing is fluid and honest; we can sense her commitment and that of her foundation, Desert Flower, to protecting Safa."                   Guardian
The Boy Who Played with Fusion: Extreme Science, Extreme Parenting and How to Make a Star by Tom Clynes
By the age of 11, Taylor Wilson had mastered the science of rocket propulsion. At 13, his grandmother's cancer diagnosis drove him to investigate medical uses for radioactive isotopes. And at 14, Wilson became the youngest person in history to achieve nuclear fusion. How could someone so young achieve so much, and what can Wilson's story teach parents and teachers about how to support high-achieving children?
In The Boy Who Played with Fusion, science journalist Tom Clynes follows Taylor Wilson's extraordinary journey – from his Arkansas home where his parents encouraged his intellectual passions, to the present, when now-17-year-old Wilson is winning international science competitions with devices designed to prevent terrorists from shipping radioactive material into the US.
Brilliant, funny and inspiring, The Boy Who Played with Fusion will delight anyone who believes in the ability of gifted children to change the world.
 "Here is the amazing story of an unbelievable boy – somebody who seems more like a figure out of fiction (science fiction, to be specific) than reality. But the story is true, the boy is true, and the science is true. And the world that opens up to us through his story is both fascinating and slightly terrifying … but in a good way. You won't be able to walk away from this tale."                     Elizabeth Gilbert
"Imagine if cartoon whiz-kid Jimmy Neutron were real and had a brainchild with MacGyver and his adolescence got told as a rollicking bildungsroman about American prodigies and DIY nuclear reactors – well, that's this book."                  Jack Hitt, Harpers
"In this delightful book, Tom Clynes proves that when we allow young people to take risks and give them freedom, resources, and mentorship, they can do amazing things."                            Nikhil Goyal
Neurotribes: The Legacy of Autism and How to Think Smarter About People Who Think Differently by Steve Silberman (Foreword by Oliver Sacks)
A groundbreaking book that upends conventional thinking about autism and suggests a broader model for acceptance, understanding, and full participation in society for people who think differently.
What is autism: a devastating developmental condition, a lifelong disability, or a naturally occurring form of cognitive difference akin to certain forms of genius? In truth, it is all of these things and more – and the future of our society depends on our understanding it.
Following on from his groundbreaking article 'The Geek Syndrome', Wired reporter Steve Silberman unearths the secret history of autism, long suppressed by the same clinicians who became famous for discovering it, and finds surprising answers to the crucial question of why the number of diagnoses has soared in recent years.
Going back to the earliest autism research and chronicling the brave and lonely journey of autistic people and their families through the decades, Silberman provides long-sought solutions to the autism puzzle, while mapping out a path for our society toward a more humane world in which people with learning differences have access to the resources they need to live happier and more meaningful lives.
Along the way, he reveals the untold story of Hans Asperger, the father of Asperger's syndrome, whose 'little professors' were targeted by the darkest social-engineering experiment in human history; exposes the covert campaign by child psychiatrist Leo Kanner to suppress knowledge of the autism spectrum for fifty years; and casts light on the growing movement of 'neurodiversity' activists seeking respect, technological innovation, accommodations in the workplace and education, and the right to self-determination for those with cognitive differencesmethrowers
 "Neurotribes by Steve Silberman explores in fascinating, near-encyclopaedic depth how autism has evolved. It's a gripping narrative written with journalistic verve. "                            Observer
"Whatever the future of autism… Mr Silberman has surely written the definitive book about its past. "                   Economist
"NeuroTribes is beautifully told, humanizing, important. It has earned its enthusiastic foreword from Oliver Sacks; it has found its place on the shelf next to Far From the Tree, Andrew Solomon's landmark appreciation of neurological differences."                      New York Times
"Silberman is a skilled storyteller who uncovers the dark and complex history of autism through those who have shaped it… [he] researches with scientific rigour but is a campaigner at heart: he is an advocate for neurodiversity."                               New Statesman
"Neurotribes is a must-read that raises some interesting questions about the history of the autism diagnosis."                  John Elder Robison
"For people in the field, or anyone seeking to understand the interplay between medical science and patient communities, it should be an essential resource. My own copy is already dog-eared and underlined throughout. "                            Nature
"To read NeuroTribes is to realise how much autistic people have enriched the scope of human knowledge and diversity, and how impoverished the world would be without them."                          San Francisco Chronicle
"Breathtaking… As emotionally resonant as any [book] this year. "                         Boston Globe
Deep South: Four Seasons on Back Roads by Paul Theroux
Acclaimed travel writer Paul Theroux turns his attention to his own country – America – for the first time in Deep South.
 For the past fifty years, Paul Theroux has travelled to the far corners of the earth – to China, India, Africa, the Pacific Islands, South America, Russia, and elsewhere – and brought them to life in his cool, exacting prose. In Deep South he turns his gaze to a region much closer to his home.
Travelling through North and South Carolina, Georgia, Tennessee, Mississippi, Alabama and Arkansas, Paul Theroux writes of the stunning landscapes he discovers – the deserts, the mountains, the Mississippi – and above all, the lives of the people he meets.
The South is a place of contradictions. There is the warm, open spirit of the soul food cafes, found in every town, no matter how small. There is the ruined grandeur of numberless ghostly towns, long abandoned by the industries that built them. There are the state gun shows, populated by a close-knit and subtly forlorn tribe of peoples. In the depths of his native country, Theroux discovers a land more profoundly foreign than anything he has previously experienced.
 "His ability to sum up a people or a city in a few lines is undiminished."                   Daily Telegraph
"Theroux's work remains the standard by which other travel writing must be judged."                   Observer
"The world's most perceptive travel writer."                         Daily Mail
"Free of the sense of alienation that marked his recent travelogues, this luminous sojourn is Theroux's best outing in years."                  Publishers Weekly
"A generation of travel writers owes a debt to Theroux's immersive, first-person narratives, captured with unflinching, sometimes merciless candor."                    New York Times
How I Stopped Being a Jew by Shlomo Sand
Shlomo Sand was born in 1946 in a displaced persons camp in Austria, to Jewish parents; the family later migrated to Palestine. During his life, Sand came to question his Jewish identity, even that as a secular Jew. With this meditative and thoughtful mixture of essay and personal recollection, he articulates the problems at the centre of modern Jewish identity. How I Stopped Being a Jew discusses the negative effects of the Israeli exploitation of the chosen people myth and its holocaust industry. Sand criticises the fact that, in the current context, what Jewish means is, above all, not being Arab and reflects on the possibility of a secular, non-exclusive Israeli identity, beyond the legends of Zionism.
How to Catch a Russian Spy by Naveed Jamali and Ellis Henican
In 2008, almost two decades after the Cold War was officially consigned to the history books, an average American guy helped to bring down a top Russian spy based at the United Nations. He had no formal espionage training. Everything he knew about spying he'd learned from books, films, video games and TV. And yet, with the help of an initially reluctant FBI duo, he ended up at the centre of a highly successful counterintelligence operation that targetted Russian espionage in America.
For four nerve-wracking years, he worked as a double agent, spying on America for the Russians, trading cash for sensitive US military secrets, handing over thumb-drives of valuable technical data, pretending to sell out his country across noisy restaurant tables and in quiet parking lots. Now, for the first time, he reveals the fascinating mechanics behind his double-agent operation that helped disrupt Russia's New York-based espionage apparatus and forced Moscow to reassign its top operatives.
Straight to Hell: True Tales of Deviance, Debauchery and Billion-Dollar Deals by John LeFevre
From the man behind the infamous @GSElevator Twitter account, true stories from the wild world of international finance
Over the past three years, the notorious @GSElevator Twitter feed has offered a hilarious, shamelessly voyeuristic look into the real world of international finance. Hundreds of thousands followed the account, Goldman Sachs launched an internal investigation, and when the true identity of the man behind it all was revealed, it created a national media sensation-but that's only part of the story.
Where @GSElevator captured the essence of the banking elite with curated jokes and submissions overheard by readers, Straight to hell adds John LeFevre's own story-an unapologetic and darkly funny account of a career as a globe-conquering investment banker spanning New York, London, and Hong Kong. Straight to Hell pulls back the curtain on a world that is both hated and envied, taking readers from the trading floors and roadshows to private planes and after-hours overindulgence. Full of shocking lawlessness, boyish antics, and win-at-all-costs schemes, this is the definitive take on the deviant, dysfunctional, and absolutely excessive world of finance.
 "His story reads like a frat boy's fever dream of the high-flying life: morning drinking, late-night drinking, and drinking all the hours in between; pranks, bar fights, cheating, travel, and prostitutes… Equal parts fun and train wreck, this is a tale engineered to astonish anyone who wondered which fools were behind the crash of 2008; few could have pictured how absurd the truth really was."                      Publishers Weekly
"This book is going to annoy and offend a lot of people, with good reason. It is a vicious, vacuous, caustic world he illuminates. But it would be a shameful waste if we didn't have Lefevre to find the humour in it all."                          Euromoney.com
Murderers, Miscreants & Mutineers: Early Colonial Cape Lives by Nigel Penn
In this new volume Penn, a consummate raconteur and storyteller, brings to life an assortment of extraordinary personalities from the eighteenth and early nineteenth centuries. There is Maria Mouton, the first white woman at the Cape to be executed, for her adulterous affair with a slave and the murder of her husband. Here, too, is Johannes Seidenfaden, an LMS missionary whose 'enormities' so shocked Dr John Philip, the LMS superintendent, that he branded him 'a wolf in sheep's clothing'. (Seidenfaden, a married man, had not only attempted to seduce his Khoikhoi housekeeper on five occasions but also turned his mission station of Suurbraak, just outside Swellendam, into his own personal fiefdom and impoverished all the Khoikhoi inhabitants.)
Other chapters tell stories of desertion by ill-treated soldiers in Cape Town, who intended to escape to Mozambique but got no further than the Hottentots Holland Mountains, where they were apprehended before being hanged; the escapades of the Swiss Meuron Regiment at the Cape; and the 'ear atrocity' in the Onder Bokkeveld near Ceres.
These remarkable stories, told with élan, erudition and humour, throw light on our extraordinary past and reveal much about social relations and human experience in the early Cape colony.
Deliberate Concealment: An Insider's Account of Cricket South Africa and the IPL Bonus Saga by Mtutuzeli Nyoka
Mtutuzeli Nyoka grew up loving and playing the game of cricket. In 2008, he was appointed as the president of Cricket South Africa (CSA), a position he held until October 2011 when, after a protracted battle with the CSA board, he was dismissed. However, he continued to call for a commission of inquiry into irregularities in CSA. And when retired Judge Chris Nicholson conducted an investigation into CSA, his findings on the corruption and maladministration in the game were damning, particularly in terms of Gerald Majola.
In Deliberate Concealment, Nyoka shares his behind-the-scenes experiences and personal journey as events unfolded, including his own mistakes, the repercussions of the scandal on the game of cricket in South Africa, and his fight for the truth to prevail.
"This is an extraordinary story of one man's courage and determination to seek the truth and make sure it saw the light of day."                     Giles Clarke, President of the England and Wales Cricket Board
"During his tenure as president of Cricket South Africa Mtutuzeli Nyoka fought almost alone to expose corruption and improve corporate governance within the higher echelons of South African cricket … For this the cricket community of South Africa owe him a great deal of gratitude."                            Dr Ali Bacher
Kid's Corner
Stay by Alex Latimer
Buster is a very difficult dog! He's messy, naughty and sometimes, well, just disgusting! But Ben thinks he's the best dog ever.
When Ben goes on holiday with Mum and Dad, he tries to write down everything to help Grampa look after Buster – but will Ben remember the most important thing?
Will Grampa manage to look after bad dog, Buster?
This delightful doggy treat from the creator of Lion VS Rabbit and Pig and Small guarantees giggles!
Axel Scheffler's Flip-Flap Jungle
What do you get if you cross a gorilla with a chameleon? Yes, that would be an goeleon! And how about a toucan with a tiger? Why, a touger, of course! A very silly but absolutely compelling book that will charm the whole family.
The Astounding Broccoli Boy by Frank Cottrell Boyce (illustrated by Steven Lenton)
Rory Rooney likes to be prepared for all eventualities. His favourite book is Don't Be Scared, Be Prepared, and he has memorised every page of it. He could even survive a hippo attack. He knows that just because something is unlikely doesn't mean it won't ever happen . . .
But Rory isn't prepared when he suddenly and inexplicably turns green.
Stuck in an isolation ward in a hospital far from home with two other remarkably green children, Rory's as confused by his new condition as the medics seem to be.
But what if it's not in their genes, or a virus, or something they ate? What if turning green actually means you've turned into a superhero?
Rory can't wait to make it past hospital security and discover exactly what his superpower might be . . .
The Astounding Broccoli Boy is an irreverently funny adventure from the Carnegie Medal winning author of Millions, Frank Cottrell Boyce.
 Happy Reading!