Book of the Month
Abantu Abadala – Conversations with the Elders
We know about the lives of famous struggle heroes, but what about the lives of the ordinary South Africans who struggles with injustice, discrimination and poverty on a daily basis? Abantu Abadala: Conversations with the Elders is and enlightening, intimate and heartfelt visual portrait of 16 senior citizens who lived before, during and after apartheid. 'The Oldies' as they are affectionately called, share their treasures of wisdom in the form of advice and messages they would like to leave for future generations.
Produced by an NGO and, with a foreword by Archbishop Emeritus Desmond Tutu, this extraordinary and beautifully illustrated book gives a valuable insight into the lives of those South Africans who have been around to see it all!
Fiction
The Lady from Zagreb by Philip Kerr
In 1942, there are many worse places to be than Zurich, and detective Bernie Gunther has seen his fair share of them. So when a superior asks him to track down a glamorous German actress believed to be hiding in Zurich, he takes the job. Not that he has much choice: the superior is Goebbels himself.
Soon Bernie finds himself involved in something much more sinister. The actress, it emerges, is the daughter of a fanatical Croatian fascist, the sadistic commandant of a notorious concentration camp. And the Swiss police have a cold case that they want Bernie to take a look at: one that seems to have connections to some powerful people back in the Reich.
The Lady from Zagreb is another inimitable Bernie Gunther investigation from Philip Kerr: a rich, dark and fast-paced adventure of a nightmarish time and a lonely, indomitable hero.
"Streets ahead of most other historical thrillers in its blend of wit, careful plotting and the kind of detail that brings the past to life."                 Sunday Times
"Bernie Gunther is one of the more interesting and original private eyes in thriller fiction … as the other nine Bernie Gunther novels show, Kerr thoroughly researches the period he writes about. In particular, he excels in his atmospheric portrayal of Berlin."                 The Times
"A satisfying slab of hardcore historical thrills … fans of the sleuth will happily add this to their growing bookshelves, but it will win over other genre-lovers too."                     Weekend Sport
"A return to form for Kerr: it will keep diehard admirers of the Gunther novels happy and will also garner new supporters. As an alternative view of the Nazi world order, it's hard to beat."                              The Lady
The Infidel Stain by ML Carter
It wasn't just blood, it was ink too. There was black ink on his face and more on his chest and fingertips. Not just the usual printer's stain, but like his fingers had been pressed in it…
London, 1841. Returned from their adventures in India, Jeremiah Blake and William Avery have both had their difficulties adapting to life in Victorian England. Moreover, time and distance have weakened the close bond between them, forged in the jungles of India. Then a shocking series of murders in the world of London's gutter press forces them back together.
The police seem mysteriously unwilling to investigate, and as connections emerge between the murdered men and the growing and unpredictable movement demanding the right to vote for all, Blake and Avery must race against time to find the culprit before he kills again.
But what if the murderer is being protected by some of the highest powers in the land?
"The Infidel Stain is a richly detailed and smartly plotted novel that firmly establishes Carter as an authentic voice in the world of historical crime."                            Observer
"Witty and unfailingly readable…its contemporary resonance [is] all the more effective for being implicit."                           Spectator
"An entertaining stew of blackmail, murder, cross-dressing and incomprehensible slang … like Dickens, Carter's righteous anger at Victorian hypocrisy does not prevent her from revelling in it with infectious glee. "                          Sunday Telegraph
"While the relationship between the dynamic duo Blake and Avery evolves in a nuanced, tender way the real star of the show in this complex, clever novel is London itself."                          Evening Standard
"The Strangler Vine was a promising and enjoyable debut – plenty of action, rich in historical detail, all crowned with a very clever twist. Carter has proved with The Infidel Stain that it was not a one-off."                 The Times
"If this series is not bought for film, it would be another mark of the corporate stupidity that lost the BBC Ripper Street. It is, however, far more pleasurable and impressive to read."                               Independent on Sunday
"M.J. Carter is a slick storyteller who combines respect for a good murder with cool historical analysis . . . [The Infidel Stain] promises to be an equally pertinent comment, in the year of the Charlie Hebdo massacre, on the price of a free press."                   A.N. Wilson, 'Summer Reads', Times Literary Supplement
"Vividly realised…the second outing for [Blake and Avery] is even more fun, with the same blend of derring-do and elegant writing. ..Delicious stuff. "                            Financial Times
"A sinister tale involving political revolution, printers and porn, The Infidel Stain drips with period atmosphere."                 Bella
"The author's meticulous research is lightly worn and highly digestible in this action-packed rampage through the alleys and mansions of the teeming capital."                   Independent
Rachel Weeping by Brett Michael Innes
Rachel Weeping is a contemporary drama that explores the theme of motherhood, loss and forgiveness through the experience of three victims of a horrible accident.
his job was money. It was the roof over her head. It was what kept her parents alive and what allowed her to remain in South Africa legally. She knew how hard it was to find stable work, especially as a domestic worker when there were ten other women ready and willing to do your job for half the wages. She had seen the trucks at the border post taking illegals back to Mozambique and had heard the stories of the weeks spent in detention centres if you were caught in South Africa without a work visa. She had no choice. Rachel Nyaga, a Mozambican domestic worker living in Johannesburg, is forced to make a life-changing decision after her young daughter dies whilst under the care of her South African employers, Chris and Michelle Jordaan. She can either leave her job and return to poverty stricken Mozambique, losing her income, visa and means of supporting her parents, or continue working for the people responsible for the death of her child. Trapped by circumstance, she decides to stay but things become even more complicated when she finds out that the Jordaans are expecting their first child. Held together in guilt and shame, fear and desolation, Rachel, Michelle and Chris recognise that while their lives are now forever and inextricably linked in an unending nightmare, somehow they will need to break free if they are to survive.
The Secret of Magic by Deborah Johnson
In 1946 Regina Robichard is a rarity. A young New York civil rights lawyer, working for Thurgood Marshall, Reggie stumbles across a letter asking her boss to investigate the case of a young black soldier whose body has been found floating in the river in Mississippi. It fires her zeal.
For Reggie, justice is not the only draw to this case. The letter is signed by the reclusive M. P. Calhoun, author of one of the most banned books in the country, a book Reggie loved as a child, about the friendship between three children, black and white, a magical forest – and a murder.
Reggie has just three weeks in the South to investigate. But once down in Mississippi, amid the intoxicating landscape of cotton fields and lush plantations, Reggie not only finds herself further away from New York than she had ever imagined, but walking directly into M. P. Calhoun's book, a place where more than one type of justice exists.
"There are a million metaphors I could use to describe Deborah Johnson's writing in The Secret of Magic-but all of them are inadequate in conveying the ebb and flow of her phrasing or the care in crafting her characters…. If you liked The Help, you'll love this one!"                       Entertainment Weekly
"[An] addictive tale of intrigue. "                               Independent)
"A powerful portrait of the Deep South in the year before the civil rights movement and of a society in which black and white lead lives that are segregated yet deeply intertwined. "                      Sunday Times
"[Johnson's] an astute observer of the social nuances of segregated America and Mississippi itself."                        Daily Mail
"Written with such charm that it is a beguiling read…A wonderful and clever read. Four stars."                  The Lady
Boo by Neil Smith
From Neil Smith, author of the award-winning, internationally acclaimed story collection Bang Crunch, comes a dark but whimsical debut novel about starting over in the afterlife in the vein of Alice Sebold's The Lovely Bones.
When Oliver 'Boo' Dalrymple wakes up in heaven, the eighth-grade science geek thinks he died of a heart defect at his school. But soon after arriving in this hereafter reserved for dead thirteen-year-olds, Boo discovers he's a 'gommer', a kid who was murdered. What's more, his killer may also be in heaven. With help from the volatile Johnny, a classmate killed at the same school, Boo sets out to track down the mysterious Gunboy who cut short both their lives.
In a heartrending story written to his beloved parents, the odd but endearing Boo relates his astonishing heavenly adventures as he tests the limits of friendship, learns about forgiveness and, finally, makes peace with the boy he once was and the boy he can now be.
"Instantly charming, never predictable, quietly profound—Boo is both literarily and literally haunting and, in the end, devastating."                    Bryan Lee O'Malley, author of Seconds and the Scott Pilgrim series
"Part murder mystery, part existential adventure, Boo is an utter charm-bomb of a novel. Neil Smith's version of the sweet hereafter shows not only that heaven can be hell, but answers the eternal question of whether it's better to be dumber with friends or smarter without."             Zsuzsi Gartner, author of Better Living Through Plastic Explosives

"Neil Smith has created a heaven where the sadness and triumph of life aren't flattened or diminished but heightened and intensified. Just like you always suspected it would be. Boo is sad, beautiful, heartbreaking and impossible to put down."                                 Andrew Kaufman, author of All My Friends Are Superheros and Born Weird
"Boo is an astoundingly original novel and Neil Smith's take on the afterlife is convincing, moving, and often funny as hell. A vision equal parts Murakami and South Park."                  Emily Schultz, author of The Blondes
"Who knew heaven could be so funny, so perilous, so exquisitely alive? Boo is a work of singular genius: an adventure story, a mystery and a profound meditation on childhood, lost innocence and the power of friendship to save our lives—and afterlives. I believe in Neil Smith's heaven, with all my heart."                             Jessica Grant, author of Come, Thou Tortoise
What She Left by TR Richmond
Who is Alice Salmon?
Student. Journalist. Daughter.
Lover of late nights, hater of deadlines.
That girl who drowned last year.
Gone doesn't mean forgotten.
Everyone's life leaves a trace behind.
But it's never the whole story.
"I will stand up and ask myself who I am. I do that a lot. I'll look in the mirror. Reassure myself, scare myself, like myself, hate myself. My name is Alice Salmon."
When Alice Salmon died last year, the ripples from her tragic drowning could be felt in the news, on the internet, and in the hearts of those closest to her.
However, the man who knows her best isn't family or a friend. His name is Professor Jeremy Cooke, an academic fixated on piecing together Alice's existence.
Cooke knows that faithfully recreating Alice, through her diaries, text messages, and online presence, has become all-consuming.
But he does not know how deep his search will take him into this shocking story of love, loss and obsession where everyone – including himself – has something to hide . . .
"What She Left is an extraordinary and bold creation."                  Guardian
"Every month brings another book billed the new Gone Girl, but we think we've found a winner."                                             Marie Claire
"An absorbing, intricate and extremely original novel. It is also immensely clever and intriguing . . . What She Left is beautifully written and very emotionally involving. I hope that it garners all of the commercial and critical success it deserves."                           Claire Kendal, author of The Book of You
"Guaranteed to keep you guessing."                      Irish Independent
"A deliciously modern take on the psychological thriller … a shifting, mesmerising, mysterious story … very well-written and intelligently realised, occupying a territory half way between literary novel and thriller … a memorable debut."                                  Daily Telegraph
"An ingeniously original premise … addictive."                   Sunday Express
"What a wonderful new voice. What a pleasure to read a thriller that's so ambitious and so full of emotion and suspense. Bravo!'"                               Nicci French, author of The Memory Game and Blue Monday
"Intriguing and successful … a crime thriller from a different angle, Richmond's accomplished debut encourages the reader to become the sleuth … Genuinely chilling."                         Maxim Jakubowski
"If you liked The Girl on the Train then I think you'll like this just as much, if not more."                    Scott Pack
"A classic whodunnit, given a modern twist ."                     Huffington Post
"An exceptional book … a forensic jigsaw, an ingenious puzzle … and a most promising debut."                                Shots
"Intriguing … presents enough believable suspects and motives to keep the reader gripped."                      Herald
The Last Bookaneer by Matthew Pearl
On the island of Samoa, in a house perched on a cliff beneath a smouldering volcano, a dying Robert Louis Stevenson labours over a new novel. It is rumoured that this may be the author of Treasure Island's greatest masterpiece.
On the other side of the world this news fires the imaginations of the bookaneers, literary pirates who steal the latest manuscripts by famous writers to smuggle them to a hungry public. But a changing world means the bookaneers will soon become extinct.
Two adversaries set out for the south Pacific: Pen Davenport, a tortured criminal genius haunted by his past and Belial, his nemesis. Both dream of fortune and immortality with this last and most incredible heist.
The Last Bookaneer thrillingly depicts the lost world of these doomed outlaws, a tropical island with a violent destiny, a brewing colonial war and a reclusive genius directing events from high in his mountain compound.
"An ingenious thriller"                    Sunday Times
"Masterly story-telling almost worthy of Tusitala himself."                           Daily Mail
"[Pearl's] clever final twist will surprise the general reader, and please Stevenson scholars."                         Independent on Sunday
"An enthralling, unusual story, filled with adventure and deceit, that has something interesting to say about the perpetually tangled relationship between literature and commerce."                       BBC History Magazine
"A mixture of a classic heist and literary history lesson; the whole Victorian world of letters is cleverly and wittily reimagined."                      The Times
The Fatal Flame by Lyndsay Faye
A scarred barman turned copper star, the birth of the NYPD, gangs, murder, brothels and bedlam in the dark underworld of nineteenth-century New York.
Timothy Wilde – copper star, tough with a warm heart, learning his craft as a detective.
Valentine Wilde – Timothy's gregarious, glamorous, depraved rogue of a brother.
Mercy Underhill – The intelligent, creative but unstable love of Timothy's life.
Silky Marsh – The beautiful brothel owner whose scheming knows no bounds.
Against the gritty backdrop of the notorious Five Points in 1848, Timothy Wilde is drawn yet again into a disturbing mystery, leading him to the heart of the Bowery girls, the original 'factory girls' in downtown Manhattan.
Someone is starting fires on the streets of New York and Timothy has to unravel a knot of revenge, murder and blackmail if he's to find out who is behind it all and stop them before the whole city goes up in flames…
"Spectacular."                   Gillian Flynn
"Reanimates a menacing 19th-century New York."                           Sunday Times
"Cracking yarn."                               Daily Mail
"Vibrant."                           New York Times
"Lyndsay Faye's command of historical detail is remarkable and her knowledge of human character even more so. I bought into this world and never once had the desire to leave."                 Michael Connelly
"As always in this series, the research is impeccable and the period ambiance dazzling."                 New York Times
Sacrifices by Roger Smith
Wealth insulates Michael Lane and his family from South Africa's violent crime epidemic until trouble comes from within the high walls of their Cape Town mansion one night when his teenage son commits an act of unspeakable savagery. Lane, joining his wife in a desperate lie to protect their boy – a lie involving the sacrifice of an innocent – encounters no opposition from cops and courts burdened by chaos and corruption, but he sets in motion a bloody train of revenge and retribution that threatens to destroy him and everything he loves.
Just another murder in a country where killing is a national pastime . . .
Wealth insulates Michael Lane and his family from South Africa's violent crime epidemic until trouble comes from within the high walls of their Cape Town mansion one night when his teenage son commits an act of unspeakable savagery. Lane, joining his wife in a desperate lie to protect their boy (a lie involving the sacrifice of an innocent) encounters no opposition from cops and courts burdened by chaos and corruption, but he sets in motion a bloody train of revenge and retribution that threatens to destroy him and everything he loves.
Orient by Christopher Bollen
At the eastern edge of Long Island, far from the hustle of New York City, sits Orient, a secluded village that has been home to a few families for hundreds of years and is now – reluctantly – opening up to wealthy weekenders and artist refugees from the city.
On the last day of summer, a young man with a hazy past appears, and, not long after his arrival comes a series of events that shatters the peace in this isolated community. A strange, twisted creature washes ashore on the Sound and, soon after, a human corpse is found floating in the water. An elderly woman dies in bizarre circumstances and a house fire erupts out of nowhere. Fear and suspicion mount until everyone's secrets threaten to be exposed. But who is Mills Chevern? What is his real name and why is he here? As all eyes shift towards the orphan drifter, Mills elicits the support of Beth Shepherd, an Orient native who is hiding a secret of her own.
"Orient is not as pleasant as it seems, and Christopher Bollen will hold you spellbound as he reveals its secrets. A truly well-crafted murder mystery that recalls the worlds of both PD James and Twin Peaks."                          Nelson DeMille
"Secrets, parochial gossiping, casual xenophobia, proximity to a large water and a decent body count: what more could you need from a thriller. Bollen's rich novel has all the right ingredients and he serves them up suspensefully as he tears down his version of the American dream."                            The Times
"Christopher Bollen writes expansive, psychologically probing novels in the manner of Updike, Eugenides and Franzen, but he is also an avowed disciple of Agatha Christie… Bollen's melodramatic twist on reality follows the pattern laid down by a score of Christie novels: the tensions between a community's long-standing residents and its incomers end up exploding in murder… The generic and literary pleasures of this novel sit well together and are of the highest order."                                Daily Telegraph
"Bollen's blend of killer thriller and social satire is certainly classy… the elegant portrayal of adultery and envy on America's East Coast can't fail to recall John Updike."                          John Dugdale, Sunday Times
"Deeply seductive… Orient is like Donna Tartt novelising Twin Peaks while F. Scott Fitzgerald fixes cocktails. Bollen's characterisation is pin-sharp and his treatment of his themes mature and multi-layered."                             John O'Connell, Guardian
"Almost mesmerically gripping. Yet Bollen also achieves something richer and more thoughtful than one would usually expect from a literary thriller."                    Independent
"The generic and literary pleasures of this novel sit well together and are of the highest order."                  Jake Kerridge, Daily Telegraph
This House is Not for Sale by EC Osondu
This House is Not for Sale is a story about a house in an African neighbourhood, the Family House, owned and ruled over by the patriarchal, business-minded Grandpa – by turns benevolent and cruel – and home to his wives, children, grandchildren, and the many in his service. It tells the stories of the people who live there, of the curse placed on the house by one of its former occupants, of the evil and brutality that transpires there, and finally of its downfall. By the acclaimed author of Voice of America, This House is Not for Sale is a brilliantly inventive debut novel which draws on the rich oral traditions of Nigeria and is full of wisdom and dark humour. From everyday violence and magic, to the voices of gossiping neighbours, here is an utterly engrossing story of an African community, its culture and traditions, and the power of storytelling.
"The timelessness of this ambitious debut reminds the reader of J. M. Cortzee's Life and Time of Michael K. The characters, sheltered by a house from which they also try to shelter themselves, tell the stories of every one of us, looking for a place in history and society yet struggling to hold onto our private emotions, keeping them intact from the world at large."                                                          Yiyun Li
"This House is Not For Sale paints a powerful portrait of a community in microcosm."                     Independent
"After wading through the vast Knausgaardian epics of private life, it is almost a relief to re-encounter [this] kind of storytelling. It is narrative fleetness that animates EC Osondu's This House is Not for Sale, right down to the level of its wry sentences. We have two kinds of quickness at play: the swiftness of the told tale and the sparseness of the American short story. The result is a collection of semi-fantastic modern urban tales… a sense of the marvellous embedded within the texture of daily life."                       Financial Times
Uprooted by Naomi Novik
Agnieszka loves her valley home, her quiet village, the forests and the bright shining river. But the corrupted wood stands on the border, full of malevolent power, and its shadow lies over her life.
Her people rely on the cold, ambitious wizard, known only as the Dragon, to keep the wood's powers at bay. But he demands a terrible price for his help: one young woman must be handed over to serve him for ten years, a fate almost as terrible as being lost to the wood.
The next choosing is fast approaching, and Agnieszka is afraid. She knows – everyone knows – that the Dragon will take Kasia: beautiful, graceful, brave Kasia – all the things Agnieszka isn't – and her dearest friend in the world. And there is no way to save her.
But no one can predict how or why the Dragon chooses a girl. And when he comes, it is not Kasia he will take with him.
From the author of the Temeraire series comes this hugely imaginative, engrossing and vivid fantasy novel, inspired by folk and fairy tales. It is perfect reading for fans of Robin Hobb and Trudi Canavan.
"The magic in Uprooted, with its realistic moral dimension, is so vividly believable that it almost seems you could work the spells. But the book will do that for you."                              Ursula K. Le Guin
"Wild, thrilling, and deeply, darkly magical. An instant classic."                  Lev Grossman
"Magical and practical, otherworldly and planted in the real, I could NOT stop reading this book and neither will you!"                   Tamora Pierce
"Uprooted by Naomi Novik is enchanting, in every sense of that fine old word. A charming and inviting story that looks unflinchingly at the strangling roots of hurt and revenge."                           Robin Hobb
"Uprooted is one of those tales you come back to over and over again because it's just that enchanting. The adventure builds with such tension that you are peeking through your hands at the end, hoping it will all be okay, and Novik delivers a conclusion that's deeply satisfying, earning a permanent space on my bookshelf that I'll revisit often."                   Kevin Hearn
"Naomi Novik's Uprooted is a marvelous fantasy reminiscent of Howl's Moving Castle and vastly superior to The Hobbit. Her characters, setting, and the magic they use are all brilliant. I devoured the book in one reading. Well done! I want more!"                  Todd Mccaffrey
"The roots of Uprooted are planted deep in fairy tale lore, but the story that Naomi Novik has coaxed forth is fresh and compelling. It reads like a previously undiscovered origin myth in the best possible way!"                              Jacqueline Carey
"I didn't know how much I wanted to read a book like this until it was already in my hands. Uprooted has everything I love about Novik's writing style, with the added bonus of some old world magic and the flavor of a dark faerie story."                             Patrick Rothfuss
Girl at War by Sara Novic
Growing up in Zagreb in the summer of 1991, 10-year-old Ana Juric is a carefree tomboy; she runs the streets with her best friend, Luka, helps take care of her baby sister, Rahela, and idolizes her father. But when civil war breaks out across Yugoslavia, football games and school lessons are supplanted by sniper fire and air raid drills.
The brutal ethnic cleansing of Croats and Bosnians tragically changes Ana's life, and she is lost to a world of genocide and child soldiers; a daring escape plan to America becomes her only chance for survival. Ten years later she returns to Croatia, a young woman struggling to belong to either country, forced to confront the trauma of her past and rediscover the place that was once her home.
Girl at War is a haunting, compelling debut from a brilliant young writer, rooted in historical fact and personal experience. Sara has lived in the States and Croatia, and her novel bears witness to the haunting stories of her family and friends who lived through the height of the conflict, and reflects her own attempts to come to terms with her relationship to Croatia and its history. It is an extraordinary achievement for a novelist of any age, let alone age 26.
"Set against the backdrop of the Bosnian Croat war, this vivid debut recalls Half of a Yellow Sun. Main character Ana's journey from a ten-year-old tomboy to young woman will leave you reeling."                    Stylist
"The first third of this gripping debut novel depicts the start of the Yugoslavian civil war through the eyes of Ana Juric, a ten-year-old girl residing with her family in Croatia's capital . . . Through Ana's journey, Novic, in tender and eloquent prose, explores the challenge of how to live even after one has survived."                           Oprah magazine
"An outstanding first novel . . . Girl at War performs the miracle of making the stories of broken lives in a distant country feel as large and universal as myth. It is a brutal novel, but a beautiful one."                       New York Times Book Review
"From its first sentence, Sara Novic's debut novel unfolds on both intimate and immense scales . . . The first section ends with a brilliantly abrupt, devastating event that essentially ends Ana's childhood. It's a scene that haunts the rest of the book . . . [Novic is]a writer whose own gravity and talent anchor this novel."                       New York Times
"If we looked for and celebrated a "book of the summer" as we do that one song every year (what will it be this year?!), this novel would surely be this summer's star. This debut work from a rising author examines in painful, tender detail the cost of war on a young woman, many years after her simple life with her family in Croatia was interrupted by war. Ana, the main character, is haunted by the memories of what she thought her country once was, and how to deal with the secrets of what really happened to her and her family. "                    Vanity Fair
"Powerful and vividly wrought . . . Novic writes about horrors with an elegant understatement. In cool, accomplished sentences, we are met with the gravity, brutality and even the mundaneness of war and loss as well as the enduring capacity to live."                               San Francisco Chronicle
"Sara Novic's powerful debut novel, Girl at War, is a superb exploration of conflict and its aftermath, and a stark reminder that while ceasefires and peace treaties may end the fighting, they don't always end the suffering."                        The National
"Note-perfect and ambitious in scope . . . at once visceral, tender and affecting, Novic and her debut are sitting pretty in a league of their own."                     Irish Independent
"This is tough territory for any novelist, and it takes guts to go there . . . Novic excels at distilling visual poetry from action scenes . . . [she] has breathed fire and ice into these pages. Immersing herself in the darkest materials, she has given us the real stuff dystopian fantasies are made of."                        Guardian
Non-Fiction
Dead Wake: The Last Crossing of the Lusitania by Erik Larson
On 1 May 1915, a luxury ocean liner as richly appointed as an English country house sailed out of New York, bound for Liverpool. The passengers – including a record number of children and infants – were anxious. Germany had declared the seas around Britain to be a war zone. For months, its submarines had brought terror to the North Atlantic.
But the Lusitania's captain, William Thomas Turner, had faith in the gentlemanly terms of warfare that had, for a century, kept civilian ships safe from attack. He also knew that his ship – the fastest then in service – could outrun any threat. But Germany was intent on changing the rules, and Walther Schwieger, the captain of Unterseeboot-20, was happy to oblige. Meanwhile, an ultra-secret British intelligence unit were tracking Schwieger's U-boat…but told no one. As U-20 and the Lusitania made their way towards Liverpool, forces both grand and achingly small – hubris, a chance fog, a closely-guarded secret and more – converged to produce one of the great disasters of 20th century history.
It is a story that many of us think we know but don't, and Erik Larson tells it thrillingly, switching between hunter and hunted. Full of glamour, mystery, and real-life suspense, Dead Wake brings to life a cast of evocative characters, including the US President Wilson, a man lost to grief, dreading the widening war but also captivated by the prospect of new love. Gripping and important, Dead Wake captures the sheer drama and emotional power of a disaster that helped place America on the road to war.
"One of the many wonderful things about Erik Larson's gripping, superbly well-researched retelling of the story is the way he ratchets up the tension as the doomed ship speeds towards the inevitable. Though you know it's going to happen, you keep praying that it won't, right up until the moment when the torpedo strikes. You feel this way because Larson makes you care…Thanks to Larson's vivid narrative, you are there with those passengers in the thick of it. It may have happened 100 years ago, but this masterpiece made it feel like yesterday."                James Delingpole, Mail on Sunday
"A fascinating, well-researched read."                   Kate Atkinson
"With practised skill Larson confronts the emotional pathos of wartime tragedy."             Iain Finlayson, The Times
"Vivid…Larson tells his story well."           Andrew Holgate, Sunday Times
"Larson's irresistibly pacey narrative moves between the various scenes of action, conjuring them up in vivid detail…the sources are remarkable…[his] detailed conversational endnotes are an added bonus." Lucy Moore, Literary Review
"Larson is one of the modern masters of popular narrative nonfiction…a resourceful reporter and a subtle stylist who understands the tricky art of Edward Scissorhands-ing narrative strands into a pleasing story…An entertaining book about a great subject, and it will do much to make this seismic event resonate for new generations of readers."                              The New York Times Book Review

"Larson is an old hand at treating nonfiction like high drama…He knows how to pick details that have maximum soapy potential and then churn them down until they foam [and] has an eye for haunting, unexploited detail."                              The New York Times

"In his gripping new examination of the last days of what was then the fastest cruise ship in the world, Larson brings the past stingingly alive…He draws upon telegrams, war logs, love letters, and survivor depositions to provide the intriguing details, things I didn't know I wanted to know…Thrilling, dramatic and powerful."                           NPR

"This enthralling and richly detailed account demonstrates that there was far more going on beneath the surface than is generally known…Larson's account [of the Lusitania's sinking] is the most lucid and suspenseful yet written, and he finds genuine emotional power in the unlucky confluences of forces, 'large and achingly small,' that set the stage for the ship's agonizing final moments."                          Washington Post
"Utterly engrossing…Expertly ratcheting up the tension…Larson puts us on board with these people; it's page-turning history, breathing with life."                       Seattle Times
"Larson has a gift for transforming historical re-creations into popular recreations, and Dead Wake is no exception…[He] provides first-rate suspense, a remarkable achievement given that we already know how this is going to turn out…The tension, in the reader's easy chair, is unbearable…"                         Boston Globe
"Both terrifying and enthralling. As the two vessels stumble upon each other, the story almost takes on the narrative pulse of Jaws—the sinking was impossible and inevitable at the same time. At no point do you root for the shark, but Larson's incredible detail pulls you under and never lets you go."                 Entertainment Weekly
"Erik Larson [has] made a career out of turning history into best sellers that read as urgently as thrillers…A meticulous master of non-fiction suspense."                              USA Today

"[Larson] vividly captures the disaster and the ship's microcosm, in which the second class seems more appealing than the first."                     New Yorker
"[Larson is] a superb storyteller and a relentless research hound…"                          Lev Grossman, Time
"[Larson] proves his mettle again as a weaver of tales of naïveté, calumny and intrigue. He engagingly sketches life aboard the liner and amply describes the powers' political situations… The panorama Mr. Larson surveys is impressive, as is the breadth of his research and the length of his bibliography. He can't miss engaging readers with the curious cast of characters, this ship of fools, and his accounting of the sinking itself and the survivors' ordeals are the stuff of nightmares."                     Washington Times
When to Rob A Bank: A Rogue Economist's Guide to the World by Steven D. Levitt and Stephen J. Dubner
When Freakonomics was first published, the authors started a blog and they've kept it up. The writing is more casual, more personal, even more outlandish than in their books. In When to Rob a Bank, they ask a host of typically off-center questions: Why don't flight attendants get tipped? If you were a terrorist, how would you attack? And why does KFC always run out of fried chicken? Over the past decade, Steven D. Levitt and Stephen J. Dubner have published more than 8,000 blog posts on Freakonomics.com. Many of them, they freely admit, were rubbish. But now they've gone through and picked the best of the best. You'll discover what people lie about, and why; the best way to cut gun deaths; why it might be time for a sex tax; and, yes, when to rob a bank. (Short answer: never; the ROI is terrible.) You'll also learn a great deal about Levitt and Dubner's own quirks and passions, from gambling and golf to backgammon and the abolition of the penny.
"Lively, self-deprecating writing ensures an entertaining read for fans and new readers alike."                   Publishers Weekly
"A splendid book, full of unlikely but arresting historical details that distinguish the authors from the run of pop social scientists."                          New York Times
"Good ideas … expressed with panache."                             Financial Times
Creatures of a Day: And Other Tales of Psychotherapy by Irvin D. Yalom
What makes life worth living? What can we do to lead meaningful lives? And how do we confront our inevitable end? In his long career, eminent psychotherapist and author Irvin Yalom has pressed his patients and readers to grapple with life's two greatest challenges: that we all must die, and that each of us is responsible for leading a life worth living. In Creatures of a Day, he and his patients face the difficulty of these challenges. Although these people have come to Yalom seeking relief, recognition, or meaning, he and they discover that such things are rarely found in the places where we think to look.
Like Love's Executioner and Yalom's other writing, Creatures of a Day provides an intelligent, compassionate, yet still unflinching look at the human soul and all the pain, confusion, and hope that go with it. The power of these stories is amplified by Yalom's reflections on his own life as he reckons with its inevitable end. Suffused with humor, great artistry, and a profound humanity, Creatures of a Day lays bare the necessary task we each face, each day, to make our own lives meaningful.
"Poignant and beautiful insights from a wise therapist looking back on a career, a therapist who happens to be a writer I greatly admire – Creatures of a Day is just what the Doctor ordered!"                      Abraham Verghese, author of Cutting For Stone
"Dr. Yalom has written a magical book. Anyone who has ever thought about his or her own aging or mortality will love this book. The result will be that of meeting, up close, a truly wise man, a really kind man, and of feeling deeply understood."                                George Vaillant, Professor of Psychiatry, Harvard University, and author of Triumphs of Experience and Aging Well
"Irvin Yalom has produced a book of such piercing depth that to enter into it is transformative. You feel less like you are readingCreatures of a Day than that it is reading you. Only a handful of books can accomplish such a feat. Give praise that one more has entered this rare and precious list."                             Rebecca Newberger Goldstein, McArthur Fellow and author of Plato at the Googleplex
"I've been a deep admirer of Irvin D. Yalom's writing – in fiction and nonfiction – for many years. In Creatures of a Day, he brings together his profound sense of human suffering and joy with a novelist's eye for detail, for narrative moment. These tales of therapy ring with truth, inviting us to consider the most pressing (moral, spiritual) questions with awe, with hope for transformation. A moving and original work."                            Jay Parini, author of The Last Station
"In Love's Executioner, Irv Yalom invented a new literary genre: narratives of psychotherapy with the pathos of great fiction and the insight of great essays. For those of us who learned so much about human nature and the human condition from Yalom, the publication of Creatures of a Day is a reason to celebrate."                         Steven Pinker, Johnstone Professor of Psychology, Harvard University, and author of How the Mind Works and The Sense of Style
Brave Genius: A Scientist, a Philosopher, and Their Daring Adventures from the French Resistance to the Nobel Prize by Sean B. Carroll
The never-before-told account of the intersection of some of the most insightful minds of the 20th century, and a fascinating look at how war, resistance, and friendship can catalyze genius.
 
In the spring of 1940, the aspiring but unknown writer Albert Camus and budding scientist Jacques Monod were quietly pursuing ordinary, separate lives in Paris. After the German invasion and occupation of France, both men joined the Resistance to help liberate the country from the Nazis, ascended to prominent, dangerous roles, and were very lucky to survive. After the war and through twists of circumstance, they became friends, and through their passionate determination and rare talent they emerged as leading voices of modern literature and biology, each receiving the Nobel Prize in his respective field.
Drawing upon a wealth of previously unpublished and unknown material gathered over several years of research, Brave Genius tells the story of how Camus and Monod endured the most terrible episode of the twentieth century and then blossomed into remarkably creative and engaged individuals. It is a story of the transformation of ordinary lives into exceptional lives by extraordinary events—of courage in the face of overwhelming adversity, the flowering of creative genius, deep friendship, and profound concern for and insight into the human condition.
"This is, in short, a gripping book throughout, and Carroll deserves all praise for his double portrait of two exemplary heroes of conscience and intellect."                         Washington Post
"Suspenseful…Brave Genius is briskly paced and ambitiously sprawling, offering potted accounts of historical episodes large and small (the fall of France, the 1956 Hungarian crisis, Camus's famous feud with Jean-Paul Sartre, the discovery of the double helix), along with finer-grained descriptions of Camus's and Monod's work. Dr. Carroll has done some impressive archival digging, turning up fresh and often vivid details."             New York Times
"Carroll beautifully encapsulates how two men seemingly so far apart in their philosophies and achievements both ended up sharing 'exceptional lives' transformed by 'exceptional events.'"                          Scientific American
"Carroll does a masterful job of keeping the many elements together and the story moving… In 1959, C. P. Snow wrote of the "two cultures"—that gulf between science and the humanities. Brave Genius provides an opportunity for those on both sides of the divide to sample a potent mix of genet­ics, philosophy and literature, forged in the twentieth-century tumult of war and cold war."                         Nature
"[A]n exciting and impressively told tale."                             American Scholar
"Their relationship, Carroll finds, not only illuminates the work of both men, but also unlocks the political and philosophical contingencies of a key moment in 20th-century thought… Carroll, an important biologist with true storytelling talents, recounts the tale beautifully."                    Los Angeles Review of Books
"Readers will learn a good deal about symbolism in Camus' fiction and biochemistry in Monod's molecular biology. But, above all, they will learn about a luminous friendship forged in dark times. A rare chronicle of valiant thinkers fighting political oppression and transcending professional boundaries."                               Booklist (starred review)
"Carroll deftly weaves science and history together in his account of the lives, accomplishments, and friendship of two exceptional men… Spanning history, science, and philosophy, this dual biographical study of two significant 20th-century figures will appeal to a diverse audience."                            Library Journal
Carsick by John Waters
John Waters is putting his life on the line. Armed with wit, a pencil-thin moustache, and a cardboard sign that reads 'I'm Not Psycho', he hitchhikes across America from Baltimore to San Francisco, braving lonely roads and treacherous drivers. But who should we be more worried about, the delicate film director with genteel manners or the unsuspecting travelers transporting the Pope of Trash?
Along the way, Waters fantasizes about the best and worst possible scenarios: a friendly drug dealer hands over piles of cash to finance films with no questions asked, a demolition-derby driver makes a filthy sexual request in the middle of a race, a gun-toting drunk terrorizes and holds him hostage, and a Kansas vice squad entraps and throws him in jail. So what really happens when this cult legend sticks out his thumb and faces the open road?
Laced with subversive humour and warm intelligence, Carsick is an unforgettable ride with a wickedly funny companion – and a celebration of America's weird, astonishing, and generous citizens.
"Fantastical and plush . . . Carsick becomes a portrait not just of America's desolate freeway nodes – though they are brilliantly evoked – but of American fame itself."                                               New York Times Book Review
"In [Carsick] John Waters – the evil genius of Baltimore, the living, breathing embodiment of camp, the man with the bristling pencil-thin mustache and vocabulary that would make a drill sergeant blush – betrays his deepest and darkest secret. In these pages the apostle of outrage – the actor, writer and director whose contributions to cinematic glory include Pink Flamingos, Mondo Trasho and Hairspray – reveals himself to be a . . . sentimentalist . . . Underlying it all is a highly developed sense of fun, a desire to amuse more than to shock . . . Funny engaging and – of course – occasionally outrageous . . . A cool trip and a delightful book. "                           Washington Post
"This is all good, dirty subversive fun."                   San Francisco Chronicle
Everyday Sexism by Laura Bates
"If Caitlin Moran's How To Be a Woman is the fun-filled manual for female survival in the 21st century, everyday sexism is its more politicised sister."                 Independent on Sunday
"After experiencing a series of escalating sexist incidents, Laura Bates started the everyday sexism project and has gone on to write 'a pioneering analysis of modern day misogyny."                             Telegraph
After an astounding response from the wide range of stories that came pouring in from all over the world, the project quickly became one of the biggest social media success stories of the internet. From being harassed and wolf-whistled at on the street, to discrimination in the workplace and serious sexual assault, it is clear that sexism had become normalised. But Bates inspires women to lead a real change and writes this 'extremely powerful book that could, and should, win hearts and minds right across the spectrum' (Financial Times). Often shocking, sometimes amusing and always poignant, everyday sexism is a protest against inequality and a manifesto for change. It's 'a game-changing book, a must-read for every woman' (Cosmopolitan). 'Admirable and culturally transferable. "A storm is coming," writes Bates. After reading this book you'll hope so' (Independent). Welcome to the fourth wave of feminism.
"It is a wonderful book… a thrilling, intelligent, accessible, uplifting and empowering look at our current situation and the evidence it offers of the potential for change. Read the book."                   Lucy Mangan, Stylist
"Following it will make most women feel oddly saner."                   Caitlin Moran
"The shocking posts in this book provide powerful evidence that sexism is on the increase in society…This is a passionate tome."                  Sunday Times
"It is as uncomfortable a read as it is laudable. I shall relish giving it to my goddaughters and sons, niece and nephews."                                Telegraph
"This is an important work and if I had my way would be compulsory school reading across the globe."                 Feminist Times
Last Man Off: A True Story of Disaster, Survival and One Man's Ultimate Test by Matt Lewis
In the depths of Antarctic winter, hundreds of miles from land or rescue, a small fishing boat is swallowed by waves as high as houses.
The captain is fatally slow to act, and then paralyzed by fear. The officers flee for their lives. Only the actions of Matt Lewis, a 23-year-old British marine biologist and one of the most inexperienced men aboard, will save the lives of the South African crew.
What follows is an astonishing story of human courage, folly and tragedy. With the captain missing, and the crew forced to abandon ship, Lewis leads the escape onto three life rafts, where the battle for survival begins.
Lewis is the last man off the sinking boat, and leads the escape onto three life rafts. There the battle for survival begins.
"A story that reminds us of the unforgiving nature of the sea and the courage that lies within the everyday heroes that have found themselves in hell."                                 Bear Grylls
"A dramatic tale of survival in one of the most brutal situations on earth. Feels like reading the diary of a doomed man . . . so personal and chillingly real; totally takes you there in a way that is not always comfortable ."                                Steve Backshall
"Reads like a sinister version of The Perfect Storm…Thrilling, compelling, unsettling, rewarding . . . This breakneck race of a book isn't just required reading for fans of waterborne peril; Harvard MBAs could also scour the pages as a case study in dysfunctional workplaces and woeful man management. It's like the Perfect Storm, but with gruesomely, even murderously, imperfect people."                               Sunday Times
"A heart-thumping tale of tragedy and survival – minus the Hollywood ending."                                Daily Telegraph
"A thrilling, horrifying and compelling portrait of human survival. Colossal terror unfolds on every page."                             The Bookseller, Books of the Year
"For his compelling account of the hardships of fishing in remote Antarctic waters, and of what it means to abandon ship in a severe storm with inadequate equipment and a crew unprepared for survival. The book is objective but non-judgmental in its descriptiveness, so heightening the true sense of disaster. The style makes the book accessible to a wide public, but it is also essential reading for seafarers, fishermen and yachtsmen, as it concerns attitudes to safety and survival. A truly life-affirming and influential work."                                The Mountbatten Maritime Award for best literary contribution – Certificate of Merit
 Inside the Dream Palace: The Life and Times of New York's Legendary Chelsea Hotel by Sherrill Tippins
The Chelsea Hotel, since its founding by a visionary French architect in 1884, has been an icon of American invention: a cultural dynamo and haven for the counterculture, all in one astonishing building. Sherill Tippins, author of the acclaimed February House, delivers a masterful and endlessly entertaining history of the Chelsea and of the successive generations of artists who have cohabited and created there, among them Thomas Wolfe, Dylan Thomas, Arthur Miller, Allen Ginsberg, Bob Dylan, Janis Joplin, Leonard Cohen, Patti Smith, Robert Mapplethorpe, Andy Warhol, Sam Shepard, Sid Vicious, and Dee Dee Ramone. Now as legendary as the artists it has housed and the countless creative collaborations it has sparked, the Chelsea has always stood as a mystery as well: why and how did this hotel become the largest and longest-lived artists' community in the known world? Inside the Dream Palace is the intimate and definitive story.
"It's where Dylan Thomas drank himself to death, Arthur Miller hid from Marilyn Monroe and Sid killed Nancy. A new book lifts the lid on the Chelsea hotel, where scandal lurked behind every door."                           Mail on Sunday
"Tippins leads us on a vivid, informed and entertaining ramble through the history of New York's nonconformist and artistic classes: from political malcontents, the literary avant-garde and the countercultural upheavals of the fifties and sixties. There are six degrees of separation that connect Mark Twain to Abbie Hoffman, Arthur Miller to Andy Warhol."                                Mick Brown, Daily Telegraph
"Though Tippins has a hearty appetite for gossip, she underpins the life of the Chelsea with the social history of its times. The hotel's fortunes rose and fell with the economy of the city and her salty stories of hope, heroin, heartbreak and heroism revive the Chelsea's heartbeat."                                The Times
"An unputdownable eulogy to 23rd Street's infamous Chelsea Hotel."                     Guardian
"Not just a biography of a building, it amounts to an alternative history of 20th-century culture."                             Spectator
Elon Musk: How the Billionaire CEO of SpaceX and Tesla is shaping our Future by Ashlee Vance
South African born Elon Musk is the renowned entrepreneur and innovator behind PayPal, SpaceX, Tesla, and SolarCity. Musk wants to save our planet; he wants to send citizens into space, to form a colony on Mars; he wants to make money while doing these things; and he wants us all to know about it. He is the real-life inspiration for the Iron Man series of films starring Robert Downey Junior.
The personal tale of Musk's life comes with all the trappings one associates with a great, drama-filled story. He was a freakishly bright kid who was bullied brutally at school, and abused by his father. In the midst of these rough conditions, and the violence of apartheid South Africa, Musk still thrived academically and attended the University of Pennsylvania, where he paid his own way through school by turning his house into a club and throwing massive parties.
He started a pair of huge dot-com successes, including PayPal, which eBay acquired for $1.5 billion in 2002. Musk was forced out as CEO and so began his lost years in which he decided to go it alone and baffled friends by investing his fortune in rockets and electric cars. Meanwhile Musk's marriage disintegrated as his technological obsessions took over his life…
Elon Musk is the Steve Jobs of the present and the future, and for the past twelve months, he has been shadowed by tech reporter, Ashlee Vance. Elon Musk: How the Billionaire CEO of Spacex and Tesla is Shaping our Future is an important, exciting and intelligent account of the real-life Iron Man.
"For anyone interested in technology, entrepreneurship or the price of greatness, Ashlee Vance's new book is a tremendous look into arguably the world's most important entrepreneur. Vance paints an unforgettable picture of Musk's unique personality, insatiable drive and ability to thrive through hardship. The book bursts with telling anecdotes and quotes that illuminate who Musk is."                              Washington Post
"Exhaustively reported . . . this work will likely serve as the definitive account of a man whom so far we've seen mostly through caricature. By the final pages, too, any reader will sense the need to put comparisons to Steve Jobs aside. Give Musk credit. There is no one like him."                    New York Times
"A book that is smart, light on its feet and possesses a crunchy thoroughness. . . . Mr Vance delivers a well-calibrated portrait of Mr Musk, so that we comprehend both his friends and his enemies. It's a book with many ancillary pleasures. Mr Vance brings us up to date on the states of green energy and space launches. He also veers away from his subject just often enough, offering profiles of the frequently brilliant people who work alongside Mr Musk. The best thing Mr Vance does in this book, though, is tell Mr Musk's story simply and well."                           New York Times
In Enemy Hands: South Africa's POWs in World War II by Karen Horn
"To all intents and purposes I am as sexless as a block of wood. To eat is the extreme fundamental of living."                      South African POW, 1942
Books on World War II abound, yet there are remarkably few publications on South Africa's role in this war, which had such an influence on how we live today. There is even less written about those who participated on the margins of the war, especially those who were physically removed from the battlefields through capture by enemy forces. South Africa's prisoners of war during World War II, their experiences and recollections, are largely forgotten. That is until now. Historian Karen Horn painstakingly tracked down a number of former POWs. Together with written memoirs and archival documents, their interviews reveal rich narratives of hardship, endurance, humour, longing and self-discovery. Instead of fighting, these men adapted to another war, one which was fought on the inside of many prison camps. It was a war against hunger and deprivation, at times against ever-encroaching despondency and low morale amongst their companions in captivity.
In their interviews, all the POWs expressed surprise at being asked to share their experiences of almost 70 years earlier. The author found it astonishing that almost all of them claimed not to be heroes of any kind. Perhaps this is not surprising when one considers that they returned home in 1945 to a country which soon afterwards tried its utmost to promote national amnesia with regard to its participation in the war. With great insight and empathy, Karen Horn shines a light on a neglected corner of South African history.
The Water Book by Alok Jha
Water is the most every day of substances. It pours from our taps and falls from the sky. We drink it, wash with it, and couldn't live without it. Yet, on closer examination it is also a very strange substance (it is one of only a very small number of molecules which expand when cooled). Look closer again and water reveals itself as a key to a scientific story on the biggest of canvases.
Water is crucial to our survival – life depends on it – but it was also fundamental in the origins of life on Earth. The millions of gallons of water which make up our rivers, lakes and oceans, originated in outer space. How it arrived here and how those molecules of water were formed, is a story which takes us back to the beginning of the universe. Indeed, we know more about the depths of space than we do about the furthest reaches of the oceans.
Water has also shaped the world we live in. Whether it is by gently carving the Grand Canyon over millennia, or in shaping how civilisations were built; we have settled our cities along rivers and coasts. Scientific studies show how we feel calmer and more relaxed when next to water. We holiday by the seas and lakes. Yet one day soon wars may be fought over access to water.
The Water Book will change the way you look at water. After reading it you will be able to hold a glass of water up to the light and see within it a strange molecule that connects you to the origins of life, the birth (and death) of the universe, and to everyone who ever lived.
"It delights again and again because, as in all the best science writing, the tale is stranger and more curious than one could ever imagine."                   Guardian
"One of the brightest young science writers around . . . He belongs to a select band of science communicators, and knows his science at a deep level and can put it across."                               Independent
From the South African Kitchen
Road Tripping by Justin Bonello
Justin Bonello goes on YET ANOTHER adventure across the length and breadth of Southern Africa,
sharing the ins and outs of road-tripper life. Join him and his friends on a culinary journey into landscapes where there are no fences and no rules. This is a road trip filled with endless car rides, endless playlists, dodgy small town bars and gastronomic treasures hidden in-between.
This book is for every braai-loving, dust-kicking crazy heart and 'wanderluster' out there, whether your ideal braai spot is on the banks of the mighty Orange River, on the white beaches of the West Coast or around blazing fires under the night skies of the Namibian desert. This is your invitation to get in your car, to take a ride with us and to braai mouth-watering dishes in places many people only dream about.
Because we love books…
Improbable Libraries by Alex Johnson
From the rise of the egalitarian Little Free Library movement (motto: Take a book, return a book) to the growth in luxury hotel libraries, Alex Johnson whose parents were both librarians maps out the history and future of the 21st-century library revolution in seven thematic chapters, each consisting of a brief essay followed by illustrated project profiles. Whether by bike in Chicago or by donkey in Colombia, librarians all over the world are coming up with astonishingly ingenious ways of ensuring their books reach the people who need them. Many of these new libraries function as community centres, and assist their members in overcoming economic, social and political barriers. Others provide an unexpected dose of culture for travellers and commuters or even prisoners. Elsewhere, architects are designing monumental public libraries without walls, and prefabricated home libraries that can be assembled in an ordinary back garden. Whether youre at an airport, a park, a café or in the wilds, you can still find just the right book all for free.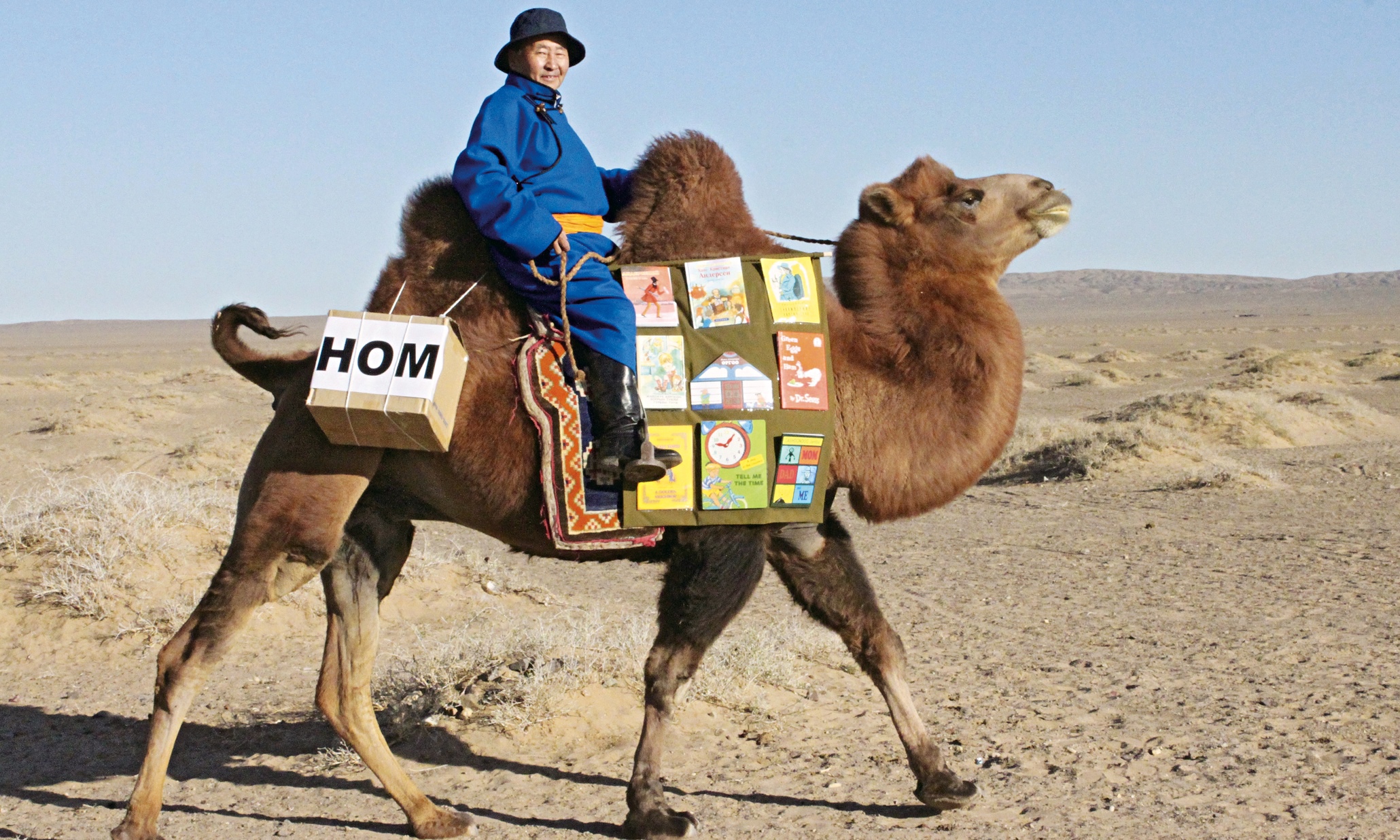 "One is struck by the diversity of problem-solving and the generosity of the reading community."                             World of Interiors
"The library as we know it won't be shelved just yet. "                    Sunday Herald (Glasgow)
"This wonderful little book charts the ingenious ways that the 21st century is finding to keep books at the forefront of our culture. "                              countryandtownhouse.com
"Well researched and fascinating."                          Saga
"A timely celebration of book-shrines in all their guises."                                twinfactory.co.uk
"This book showcases how librarians will always find a way to bring the written word to
the masses."                      Retirement Today
"Quirky … shows that if we don't want to go to the library, the library will come to us…"                                Independent
Happy Reading!