LOCAL TALENT
Green Lion by Henrietta Rose-Innes
"Of course, you're never expecting the lion, are you? Like something coming up in the rear-view mirror. Much closer than it appears."
When a lion at a breeding park mauls an old school friend of his, Con steps in as the keeper of Sekhmet, the last remaining black-maned lioness in the world.
In a Cape Town where fences keep people and wildlife apart, park officials and investors fret about their flagship big-cat project. And while Con grows steadily more bonded to his enigmatic charge, a cult of animal lovers with obscure alchemical aims seeks to claim the lioness as their own.
When she escapes, Sekhmet engulfs the city's imagination, stirring up rumours of terror and magic. In Con's quest to track her down, he must enter the wilderness of a cordoned-off Table Mountain – and his own dark history.
Henrietta Rose-Innes's wonderful new novel Green Lion gleams with stylistic precision as myth and reality fuse in a story that sparks off the page.
Dubsteps by Andrew Miller
Dub Steps has a strange long aftertaste. It is science fiction with ordinary characters trying to understand what it is to be alive. People have gone, suddenly, inexplicably, and the remaining handful have to find each other and start again. In that new beginning they wrestle with identity, race, sex, art, religion and time, in a remarkably realistic, step-by-step way. Nature comes back, Johannesburg becomes wonderfully overgrown, designer pigs watch from the periphery walls, and the small group of survivors have to find ways of living with their own flaws and the flaws of each other. The aftertaste comes from the surprisingly real meditations in the middle of the end: after all simulated reality has gone, what human reality is left? There are no clichés in this book, but there is plenty of humour, originality and a gripping, unusual interrogation of the ordinary but really extraordinary fact of being alive.
Power Play by Mike Nicol
Krista Bishop runs a security agency, for women only. Until she gets a call she can't refuse from the government spooks: guard two high-profile Chinese businessmen.
What Krista isn't told is that the Chinese are mopping up the richly rewarding abalone poaching business. They want it all, from shore to plate. A takeover that will kick three Cape Town gang lords – known as the Untouchables – out of business and destroy their luxury lifestyles.
Abalone means power, money, drugs, guns. No longer untouchable, gang boss Titus Anders fears for the life of his daughter and calls in Krista Bishop to protect her from the madness as a gang war ignites.
Krista is the best. She's young, tough and a long way from the violence of the streets. Or is she? The war is everywhere. Right in her own backyard. And there is a secret agent waiting for her, with a gun in his hand…
It Might Get Loud by Ingrid Winterbach
Comical, moving, meditative, liberating! This kick-ass novel offers a piercing look at two parallel journeys: a man and a woman each searching for the cause of a brother and a sister's downfall.
After a disturbing call from a certain Josias Brandt, Karl Hofmeyr reluctantly sets off to assist his brother, Iggy, who seems to have gone off his head. But Karl – heavy-metal fan de luxe – is delayed by his many crippling obsessions.
Maria Volschenk is unexpectedly overcome by a vast sense of emptiness. In an attempt to avert this threatening void she travels to the Western Cape to confront her sister's suicide and her problem son. The two storylines converge at an unlikely city farm in Cape Town, where the brother, Ignatius Hofmeyr, is involved in a bitter conflict with the sinister Brandt fellow.
Die aanspraak van lewende wesens won the WA Hofmeyr Prize, Hertzog Prize for prose, NB-Uitgewers Groot Romankompetisie, M-Net Prize and the University of Johannesburg Prize. Translated by Michiel Heyns.
FICTION
 Day Four by Sarah Lotz
The trip of their dreams becomes the holiday of their nightmares: Day Four is Sarah Lotz's extraordinary, unmissable follow-up to the book that made headlines around the world, The Three – perfect for fans of The Shining Girls, The Passage and Lost.
Four days into a five day singles cruise on the Gulf of Mexico, the ageing ship Beautiful Dreamer stops dead in the water. With no electricity and no cellular signals, the passengers and crew have no way to call for help. But everyone is certain that rescue teams will come looking for them soon. All they have to do is wait.
That is, until the toilets stop working and the food begins to run out. When the body of a woman is discovered in her cabin the passengers start to panic. There's a murderer on board the Beautiful Dreamer… and maybe something worse.
Unravelling Oliver by Liz Nugent
WINNER – IBA Crime Fiction Book of the Year 2014
"Gone Girl meets The Spinning Heart … a great cracking read … I couldn't put it down."                 RTÉ
"The compulsion to continue reading never wanes and most impressively the ending doesn't buckle under the weight of expectation … a persistently satisfying read."                     Sunday Times
"A page-turning, one-sitting read from a brand new master of psychological suspense."                               Sunday Independent
'I expected more of a reaction the first time I hit her.'
Liz Nugent's gripping novel of psychological suspense, Unravelling Oliver, is a complex and elegant study of the making of a sociopath in the tradition of Barbara Vine and Patricia Highsmith.
Oliver Ryan is a handsome and charismatic success story. He lives in the suburbs with his wife, Alice, who illustrates his award-winning children's books and gives him her unstinting devotion. Their life together is one of enviable privilege and ease – enviable until, one evening after supper, Oliver attacks Alice and beats her into a coma.
In the aftermath, as everyone tries to make sense of his astonishing act of savagery, Oliver tells his story. So do those whose paths he has crossed over five decades. What unfolds is a story of shame, envy, breath-taking deception and masterful manipulation.
Only Oliver knows the lengths to which he has had to go to get the life to which he felt entitled. But even he is in for a shock when the past catches up with him.
"An ambitiously structured and compelling 'whydunnit'."                             Daily Mail
"All I know is I stayed awake until 3am to finish it, which I haven't done with a new novel for longer than I can remember."                                Irish Independent
"Her writing is stylish, the characters are vivid and the line of the story is all too real and plausible. Can't recommend it highly enough."                                Rick O'Shea, 2FM
 God Help the Child by Toni Morrison
What you do to children matters. And they might never forget.
Sweetness wants to love her child, Bride, but she struggles to love her as a mother should. Bride, now glamorous, grown up, ebony-black and panther-like, wants to love her man, Booker, but she finds herself betrayed by a moment in her past, a moment borne of a desperate burn for the love of her mother. Booker cannot fathom Bride's depths, with his own love-lorn past bending him out of shape. Can they find a way through the damage wrought on their blameless childhood souls, to light and happiness, free from pain?
Toni Morrison's fierce and provocative new novel exposes the damage adults wreak on children, and how this echoes through the generations.
"There is much to be admired: perspective, luminous language, and courage in confronting the difficulty of the big subject."                                 Razia Iqbal, Independent
"Morrison … proved with God Help the Child that her writing is still as fresh, adventurous and vigorous as ever. … Morrison's characteristically deft temporal she fits and precisely hones language deliver literary riches galore. And which this novel is very readable, the pleasure is in working for its deeper rewards."                      Observer
"A complex novel… It comes of beautifully, like a Picasso painting telling a story in a multi-dimensional series of superimposed snapshots as each character becomes ever more rounded and complete."                              Independent On Sunday
A Spool of Blue Thread by Anne Tyler
**Shortlisted for the Baileys Women's Prize for Fiction 2015**
It was a beautiful, breezy, yellow-and-green afternoon…
 This is the way Abby Whitshank always begins the story of how she and Red fell in love that day in July 1959. The whole family on the porch, relaxed, half-listening as their mother tells the same tale they have heard so many times before.
And yet this gathering is different. Abby and Red are getting older, and decisions must be made about how best to look after them and their beloved family home. They've all come, even Denny, who can usually be relied on only to please himself.
From that porch we spool back through three generations of the Whitshanks, witnessing the events, secrets and unguarded moments that have come to define who and what they are. And while all families like to believe they are special, round that kitchen table over all those years we also see played out our own hopes and fears, rivalries and tensions – the essential nature of family life.
"Exquisite."                         The Times
"Tyler writes with an apparent effortlessness which conceals great art. The Whitshank family is tragic, comic, absurd, absorbing — and lives on its illusions, as every family must. You'll shiver with recognition."                            Helen Dunmore
"Anne Tyler is one of my favourite writers and this is a delicious book. It is like being with a dear old friend. It is very special."                                 Rachel Joyce
"The extraordinary thing about her writing is the extent to which she makes one believe every word, deed and breath."                                 Guardian
"May be her best yet, though, to be honest, this is what I always tend to say after reading the latest Anne Tyler. I've now read it twice, and I may well read it again."                          Craig Brown, Mail on Sunday
The Enchanted by Rene Denfeld
Even monsters need peace. Even monsters need a person who truly wants to listen – to hear – so that someday we might find the words that are more than boxes. Then maybe we can stop men like me from happening…
A prisoner sits on death row in a maximum security prison. His only escape from his harsh existence is through the words he dreams about, the world he conjures around him using the power of language. For the reality of his world is brutal and stark. He is not named, nor do we know his crime.
But he listens. He listens to the story of York, the prisoner in the cell next to him whose execution date has been set. He hears the lady, an investigator who is piecing together York's past. He watches as the lady falls in love with the priest and wonders if love is still possible here. He sees the corruption and the danger as tensions in 'this enchanted place' build. And he waits. For even monsters have a story…
"The Enchanted wrapped its beautiful and terrible fingers around me from the first page and refused to let go after the last. A wondrous book that finds transcendence in the most unlikely of places, enshrouding horrible things in a gossamer veil of fantasy with a truly unforgettable narrator. So dark yet so exquisite."                       Erin Morgenstern, author of The Night Circus
"The Enchanted is unlike anything I've ever read … A jubilant celebration that explores human darkness with a profound lyric tenderness and not one jot of sentimentality … contagious and seductive ."                               Katherine Dunn, author of Geek Love
"A striking one-of-a-kind prison novel.… Through the novel's rich, haunting prose, Denfeld, who herself has worked as an investigator in death penalty cases, shines a light on lives led with capital punishment on the schedule. This is a stunning first novel from an already accomplished writer that will leave the reader hoping for more fiction in the author's future. "                                Publishers Weekly
"Rene Denfeld's transcendent if bleak vision elevates this imaginative and utterly gripping debut novel far above the usual thriller fare."                      Irish Independent
The Discreet Hero by Mario Vargas Llosa
Felicito Yanaque has raised himself from poverty to ownership of a trucking business. His two sons work for him. He receives a threatening letter demanding protection money. The police don't take him seriously, Felicito refuses to pay up and gets sucked into a nightmare. He becomes a reluctant public hero. Then his mistress is kidnapped, and matters become seriously complicated. And he finds that his troubles have begun very close to home.
His fate is interwoven with the story of Rigoberto, a wealthy Lima insurance executive. His boss and old friend, Ismael, suddenly announces that he is marrying his housekeeper, a chola from Piura, to the consternation of his twin sons, a pair of brutal wasters. Ismael escapes to Europe with his new bride, leaving Rigoberto to face the twins' threats, and their claims that he connived with a scheming woman to rob an old man of his fortune. Rigoberto is hounded by the press and TV. Meanwhile, his only son is having visions of a mysterious stranger who may or may not be the devil…
"This, in a quiet way, is a remarkable novel – not least in the way that Vargos Llosa, contrary to accepted wisdom, succeeds in rendering his "good" characters far more vividly than their "bad" counterparts."                          Rachel Campbell-Johnson, The Times
"The reversals and betrayals of the book's interlocking plots owe as much to telenovelas as the writings of Isaiah Berlin. The characters may feel that civilisation – real civilisation – is always threatened by malice, but the warmth and energy of the novel, and the genial presence of its author, negate the bleakness of this moral."                             Marcel Theroux, Guardian
"[An] expansive and engrossing imaginative world."                      Peter Kemp, Sunday Times
"The book is often funny; you turn the pages with relish; it offers up plenty to think about and admire; … it immerses you in the way you hope any novel will immerse you."                 New York Times
"The Discreet Hero is simultaneously exotic and familiar in the way that all great literature seems to be. Its ease is that of a master playing at his craft, using danger, fear, evil and empathy to carry the reader along."                       Jane Smiley, Los Angeles Times
Sweetland by Michael Crummey
For twelve generations, the inhabitants of a remote island in Newfoundland have lived and died together. Now, in the second decade of the 21st century, they are facing resettlement. They have each been offered a generous compensation package to leave the island for good. There's just one proviso: everyone must go.
Gradually, all of the residents surrender to the inevitable. All of the residents, that is, but one: old Moses Sweetland.
Motivated in part by a sense of history and belonging, and concerned that his somewhat eccentric great-nephew will wilt on the mainland, Moses resists the coercion of family and friends in order to hold onto the only place he's ever called home. As his options dwindle, Moses Sweetland concocts a scheme to remain the island's only living resident.
Cut off from the outside world, with the food supply diminishing and weather shredding away the last evidence of human habitation, Sweetland finds himself, finally, in the company of ghosts . . .
Written with emotional power and depth, Sweetland is a story about loyalty and courage, about the human will to persist even when all hope seems lost.
"An evocative portrait of a disappearing way of life, Sweetland is also a powerful rumination on what's lost in letting go of the past-and the sometimes-unbearable cost of trying to hold onto it."                 Celeste Ng, author of Everything I Never Told You
"Moses is a memorably strong-willed character… [Sweetland] also conveys the way that a sense of place is the product of relationships-among the living, with the dead, and, in Moses's case, arising from intimate connections to land and sea."                                Publishers Weekly
"Remarkable… The conflict between the old and new ways, memory and reality are ongoing themes in the novel, strengthened by Crummey's knack for seamlessly mixing past and present."                       Herald
Viper Wine by Hermione Eyre
Famed beauty Venetia Stanley is so extravagantly dazzling she has inspired Ben Jonson to poetry and Van Dyck to painting, provoking adoration and emulation from the masses. Stampedes follow her arrival in town. But as she approaches middle age, the attention turns to scrutiny. Her adoring husband Sir Kenelm Digby – philosopher, alchemist and time-traveller – wishes she would age naturally, but Venetia discovers a potent and addictive elixir of youth, Viper Wine. Set on the eve of the English Civil War, and based on a true story, this brilliant novel asks a very contemporary question: what is the cost of beauty?
'Dazzling' Observer
'Intoxicating' Independent on Sunday
'Wickedly funny' The Times
"Exuberantly inventive and intelligent… Sumptuous, strange and startlingly original."    Mail on Sunday
"An intoxicating fantasy in which real-life characters are haunted by the future."                              Independent on Sunday
"Using an alchemy all of her own, Eyre's postmodern take on the 17th century renders it dazzlingly fresh and contemporary."                                Observer
"Playful, witty and expansive… An exceptionally clever and exhilarating excursion through Caroline high society."                            Sunday Times
"A genre-defying debut novel… Vivid and vivacious – hats off to Eyre."                  Sebastian Shakespeare, Tatler
"Bold and wildly original, Viper Wine is an exuberantly witty play on the vanity and ghoulishness of the beauty industry, and a celebration of the unfading beauty of language… Hermione Eyre has injected new youth into the historical novel."                                 Frances Wilson, Evening Standard
I Am Radar by Rief Larsson
A kaleidoscopic, epic novel about a lovestruck radio operator who discovers a secret society…
In 1975, a black child is mysteriously born to white parents. His name is Radar Radmanovic. Falling in with a secretive group of puppeteers and scientists who stage performances in war zones around the world, he is soon forced to confront the true nature of his identity.
Though Radar is raised in suburban New Jersey, his story rapidly becomes entangled with events stretching from Belgrade in a time of siege to arctic Norway, from Cambodia in the years before the murderous Khmer Rouge regime to the modern-day Congo.
It explores the furthest reaches of quantum physics, forgotten history and human experience. It's also about one man, one family and how far you may need to travel to know yourself.
I Am Radar is greater than all of its remarkable parts, a breathtaking, highly addictive joyride that finally arrives at a place of wonder.
"Big, beautiful, ambitious… His prose is addictive and enchanting."                          Los Angeles Times
"Chameleonic, ambitious, epic, fantastical, whimsical, thought-provoking, arcane, philosophical, exhaustive, and completely bonkers — these are just some of the words that could be used to describe I Am Radar… Unquestionably one of the more adventurous entries into the literary landscape."                           Boston Globe
"One of our most highly anticipated novels of the year."                               Time Out, New York
"I am Radar provides old fangled delights. Larsen can describe humanity at its worst…but his lightness of touch and enjoyably complex characters keep you hoping for the best."                     Literary Review
"Larsen has wit, intelligence, empathy and imagination. What he turns his clear gifts to next promises to be fascinating."                                 Scotland on Sunday
The Honours by Tim Clare
TRUE HONOUR IS ENDLESS. JOIN US.
Norfolk.
War is looming in Great Britain and the sprawling country estate of Alderberen Hall is shadowed by suspicion and paranoia. Thirteen-year-old Delphine Venner is determined to uncover the secrets of the Hall's elite society, which has taken in her gullible mother and unstable father.
As she explores the house and discovers the secret network of hidden passages that thread through the estate, Delphine uncovers a world more dark and threatening than she ever imagined. With the help of head gamekeeper Mr Garforth, Delphine must learn the bloody lessons of war and find the soldier within herself in time to battle the deadly forces amassing in the woods . . .
The Honours is a dark, glittering and dangerously unputdownable novel which invites you to enter a thrilling and fantastical world unlike any other.
"An astonishing imaginative feat."                          Nathan Filer
"Astutely brilliant. It is rare to find such a riveting, fantastical, adventure matched by such poetic flair. A rich, gripping delight."                               Matt Haig
"A mysterious, haunting story that builds to a thrilling climax. Part Mervyn Peake, part Aleister Crowley, it features a truly original heroine in the form of Delphine, the shotgun toting schoolgirl. Tim Clare writes with a poet's eye and a thriller writer's pace that held me spell bound till the last page."                               Chris Riddell
"I love this novel and I love Delphine. She is irresistible. If I were facing hordes of merciless skinwings she is the thirteen-year-old dead-eye I would want on my side."                                Joe Dunthorne
"A rich and poetic novel from one of the UK's most versatile writers."                      Grazia
"A tour de force of breathless thrills . . . one which dares you to read it in one long sitting."                           Herald
"Riotously entertaining."                              Sunday Express
Hausfrau by Jill Alexander Essbaum
Haunting and elegant, Hausfrau is the exceptional debut novel from the prize-winning American poet, Jill Alexander Essbaum.
Anna was a good wife, mostly . . .
Anna Benz lives in comfort and affluence with her husband and three young children in Dietlikon, a picture-perfect suburb of Zurich. Anna, an American expat, has chosen this life far from home; but, despite its tranquility and order, inside she is falling apart.
Feeling adrift and unable to connect with her husband or his family; with the fellow expatriates who try to befriend her; or even, increasingly, her own thoughts and emotions, Anna attempts to assert her agency in the only way that makes sense to her: by engaging in short-lived but intense sexual affairs.
But adultery, too, has its own morality, and when Anna finds herself crossing a line, she will set off a terrible chain of events that ends in unspeakable tragedy. As her life crashes down around her, Anna must then discover where one must go when there is no going back . . .
"Haunting . . . Beautifully written, the ennui of its Anna Karenina-esque heroine's deceptively perfect life as a Swiss housewife seeps from every page."                         Best books of 2015, Harper's Bazaar
"Hausfrau may be the Fifty Shades of literary fiction . . . This debut brilliantly chronicles a woman's
life falling apart . . . The novel's mood is, like Anna's, dreamy and dissociated . . . It is a brilliantly sustained examination of self-induced loneliness and pathological alienation."                       The Times
"It's the book that will have everyone talking."                   Cosmopolitan
"It is that impossible thing: a page-turner about depression. I admired its cool, European tone; its refusal to evince any anxiety at all about "privilege"; its equivocation about pretty much everything save for the Swiss national character . . .Most of all, I liked the fact that Essbaum gives us no sweeteners in the matter of Anna's character. She is difficult. She is boring. She is narcissistic. She is so very sad."                      Observer
"A powerful, lyrical novel, Hausfrau plumbs the psychology of a lonely, unfaithful housewife and unravels the connections between our words and our deeds."                       Huffington Post
Pleasantville by Attica Locke
It's 1996, Bill Clinton has just been re-elected and in Houston a mayoral election is looming. As usual the campaign focuses on Pleasantville – the African-American neighbourhood of the city that has swung almost every race since it was founded to house a growing black middle class in 1949.
Axel Hathorne, former chief of police and the son of Pleasantville's founding father Sam Hathorne, was the clear favourite, all set to become Houston's first black mayor. But his lead is slipping thanks to a late entrant into the race – Sandy Wolcott, a defence attorney riding high on the success of a high-profile murder trial.
And then, just as the competition intensifies, a girl goes missing, apparently while canvassing for Axel. And when her body is found, Axel's nephew is charged with her murder.
Sam is determined that Jay Porter defends his grandson. And even though Jay is tired of wading through other people's problems, he suddenly finds himself trying his first murder case, a trial that threatens to blow the entire community wide open, and reveal the lengths that those with power are willing to go to hold onto it.
Acts of the Assassins by Richard Beard
Gallio does counter-insurgency. But the theft of a body he's supposed to be guarding ruins his career. Bizarre rumours of the walking dead are swirling, there is panic in the air, and it's his job to straighten out the conspiracy. He blows the case.
Years later, the file is reopened when a second body appears. Gallio is called back by headquarters and ordered to track down everyone involved the first time round. The only problem is they keep dying, in ever more grotesque and violent ways. How can Gallio stay ahead of the game when the game keeps changing?
Acts of the Assassins is about one man's struggle to confront forces beyond his understanding. And about how lonely a turbulent world can be.
"The Acts of the Assassins is…spectacularly successful. It is thoughtful and clever and brutal and true… It is a Chinese puzzle box of a novel. A garden of forking paths. A page-turner. A modern classic."                      Book Munch
"Extraordinarily funny…confident and enchanting."                       Guardian
"It is a darkly funny, virtuoso performance… so cleverly done it almost winks at the reader."                        Sunday Times
"Controversial, thought-provoking, funny and challenging, Acts of the Assassin is a delightfully fantastic and utterly compelling tale."                              Sunday Business Post
The World Before Us by Aislinn Hunter
Jane was fifteen when her life changed forever. In the woods surrounding a Yorkshire country house, she took her eyes off the little girl she was minding and the girl slipped into the trees – never to be seen again.
Now an adult, Jane is obsessed with another disappearance: that of a young woman who walked out of a Victorian lunatic asylum one day in 1877. As she pieces together moments in history, Jane uncovers a tangled story that has been buried for more than a century, and finally confronts her own past . . .
"Sensitive, melancholy, sharply observant. A work of great power."                        Guardian
"Beguiling, richly suggestive . . . a tantalising mystery."                  Metro
"An original and intelligent novel about the past and its persistent power in the present."                             Sunday Times
"Strange and absorbing . . . I relished this book."                              Penelope Lively, The New York Times Book Review
NON-FICTION
Bad Feminist by Roxane Gay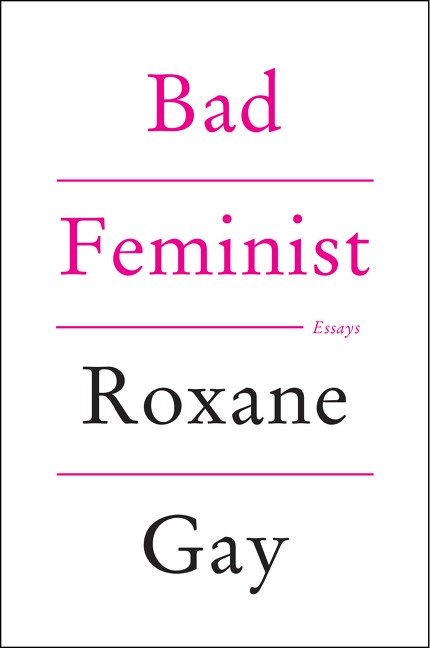 "Pink is my favourite colour. I used to say my favourite colour was black to be cool, but it is pink – all shades of pink. If I have an accessory, it is probably pink. I read Vogue, and I'm not doing it ironically, though it might seem that way. I once live-tweeted the September issue."
In these funny and insightful essays, Roxane Gay takes us through the journey of her evolution as a woman (Sweet Valley High) of colour (The Help) while also taking readers on a ride through culture of the last few years (Girls, Django in Chains) and commenting on the state of feminism today (abortion, Chris Brown). The portrait that emerges is not only one of an incredibly insightful woman continually growing to understand herself and our society, but also one of our culture.
Bad Feminist is a sharp, funny and sincere look at the ways in which the culture we consume becomes who we are, and an inspiring call-to-arms of all the ways we still need to do better.
"A strikingly fresh cultural critic."                              Washington Post
"Roxane Gay is so great at weaving the intimate and personal with what is most bewildering and upsetting at this moment in culture. She is always looking, always thinking, always passionate, always careful, always right there."                            Sheila Heti, author of How Should a Person Be?
"Gay is my favourite current writer. "                      Jessica Valenti, Guardian
"Let this be the year of Roxane Gay."                      Time Magazine
Rising Ground: A Search for the Spirit of Place by Philip Marsden
Why do we react so strongly to certain places? Why do layers of mythology build up around particular features in the landscape? When Philip Marsden moved to a remote creekside farmhouse in Cornwall, the intensity of his response took him aback. It led him to begin exploring these questions, prompting a journey westwards to Land's End through one of the most fascinating regions of Europe. From the Neolithic ritual landscape of Bodmin Moor to the Arthurian traditions of Tintagel, from the mysterious china-clay country to the granite tors and tombs of the far south-west, Marsden assembles a chronology of our shifting attitudes to place. In archives, he uncovers the life and work of other 'topophiles' before him – medieval chroniclers and Tudor topographers, eighteenth-century antiquarians, post-industrial poets and abstract painters. Drawing also on his own travels overseas, Marsden reveals that the shape of the land lies not just at the heart of our history but of man's perennial struggle to belong on this earth.
"Fascinating and hauntingly evocative… Philip Marsden has written a truly wonderful and enjoyable book."                                      Jan Morris, Literary Review
"Equally entertaining and enlightening… Marsden's references are glittering. This is a timely volume, describing in beautiful prose the opulence of our natural and human fabric. Guaranteed to fill the windows of Cornish bookshops, it is a superb and educative work which should be read everywhere."                                Horatio Clare, Independent
"With an astonishingly keen eye for detail and a beguiling gift for the description of landscape… This is an extraordinary, complex and fascinating book. It is not just about Cornwall; it is also about the human endeavour to make meaning of life."                       Justin Cartwright, Spectator
"Marsden is a born writer. Elegance seems as natural to his prose as the breeze from the west to his adopted homeland. He wears his learning lightly, and his curiosity is boundless."                              Sunday Telegraph
"It is Marsden's close attention to the immediacy of his experience – the shape of the particular hill, the sound of the curlew's cry in the early hours, the feel of heather crunching beneath his feet – that keeps him, and us, interested in this journey."                             Financial Times
"His writing is just so good. Short, pacey chapters and an intimate and aphoristic style complement his powerful evocation of different terrains."                     Guardian
If We Must Die by Stanley Manong
"Stanley Manong's book gives a deep insight into the complexities of South African life in exile during Apartheid. A talented student from Victoria West, the author left his home country in 1976 to join the
ANC. He soon played a role in organising underground activities of its military wing, uMkhonto we Sizwe (MK). To me, n European supporter of the liberation struggle, the book's analysis of ideological controversies and differences between MK and ZAPU (Zimbabwean African Peoples Union) in Zimbabwe on the nature of legitimate political and military targets, is of extreme interest. At the same time, Manong's detailed account of corruption, malfunctioning and elitism within the organisation, let alone conditions in certain camps, is appalling and will, I am sure, give way to controversies. Conditions improved due to the ANC's Kabwe Conference in which Manong participated. Actively supported by President Oliver Tambo, he was able to further his studies in Hungary. But soon another difficult situation emerged as in 1989, socialism in Eastern Europe began to crumble and the
new political leaders and media largely renounced anti-imperialist solidarity. To my knowledge, this is the first account of how the system change in Eastern Europe impacted on the local (Southern) African diaspora.
Stanley Manong's life story goes beyond an individual biography but touches upon many unresolved topics in the history of South Africa's liberation struggle: the burden of exile, leadership ethics, effectiveness of the armed struggle and the role of international solidarity. There is no doubt regarding the author's ongoing political alignment. His frank approach however, supported by an incredible number of names and facts, will be relieving to some readers and disturbing to others. Hopefully, this process will finally contribute to truth and – if possible – facilitate reconciliation."                                Dr Walter Sauer
Inside the Dream Palace: The Life and Times of New York's Legendary Chelsea Hotel by Sherill Tippins
The Chelsea Hotel, since its founding by a visionary French architect in 1884, has been an icon of American invention: a cultural dynamo and haven for the counterculture, all in one astonishing building. Sherill Tippins, author of the acclaimed February House, delivers a masterful and endlessly entertaining history of the Chelsea and of the successive generations of artists who have cohabited and created there, among them Thomas Wolfe, Dylan Thomas, Arthur Miller, Allen Ginsberg, Bob Dylan, Janis Joplin, Leonard Cohen, Patti Smith, Robert Mapplethorpe, Andy Warhol, Sam Shepard, Sid Vicious, and Dee Dee Ramone. Now as legendary as the artists it has housed and the countless creative collaborations it has sparked, the Chelsea has always stood as a mystery as well: why and how did this hotel become the largest and longest-lived artists' community in the known world? Inside the Dream Palace is the intimate and definitive story.
It's where Dylan Thomas drank himself to death, Arthur Miller hid from Marilyn Monroe and Sid killed Nancy. A new book lifts the lid on the Chelsea hotel, where scandal lurked behind every door' Mail on Sunday
"Tippins leads us on a vivid, informed and entertaining ramble through the history of New York's nonconformist and artistic classes: from political malcontents, the literary avant-garde and the countercultural upheavals of the fifties and sixties. There are six degrees of separation that connect Mark Twain to Abbie Hoffman, Arthur Miller to Andy Warhol."                                Mick Brown, Daily Telegraph
"Though Tippins has a hearty appetite for gossip, she underpins the life of the Chelsea with the social history of its times. The hotel's fortunes rose and fell with the economy of the city and her salty stories of hope, heroin, heartbreak and heroism revive the Chelsea's heartbeat."                                                The Times
"Not just a biography of a building, it amounts to an alternative history of 20th-century culture."                             Spectator
The Leonard Bernstein Letters edited by Nigel Simeone
Leonard Bernstein was a charismatic and versatile musician – a brilliant conductor who attained international super-star status, and a gifted composer of Broadway musicals (West Side Story), symphonies (Age of Anxiety), choral works (Chichester Psalms), film scores (On the Waterfront), and much more. Bernstein was also an enthusiastic letter writer, and this book is the first to present a wide-ranging selection of his correspondence. The letters have been chosen for the insights they offer into the passions of his life – musical and personal – and the extravagant scope of his musical and extra-musical activities. Bernstein's letters tell much about this complex man, his collaborators, his mentors, and others close to him. His galaxy of correspondents encompassed, among others, Aaron Copland, Stephen Sondheim, Jerome Robbins, Thornton Wilder, Boris Pasternak, Bette Davis, Adolph Green, Jacqueline Kennedy-Onassis, and family members including his wife Felicia and his sister Shirley. The majority of these letters have never been published before. They have been carefully chosen to demonstrate the breadth of Bernstein's musical interests, his constant struggle to find the time to compose, his turbulent and complex sexuality, his political activities, and his endless capacity for hard work. Beyond all this, these writings provide a glimpse of the man behind the legends: his humanity, warmth, volatility, intellectual brilliance, wonderful eye for descriptive detail, and humour.
"With their intellectual brilliance, humour and wonderful eye for detail, Leonard Bernstein's letters blow all biographies out of the water. His galaxy of correspondents includes Stephen Sondheim, Boris Pasternak and Jacqueline Kennedy. Full of fresh information and the authentic voice of a constant seeker."                               Economist
Farewell Kabul: From Afghanistan to a More Dangerous World by Christina Lamb
From the award-winning co-author of I Am Malala, this book asks just how the might of NATO, with 48 countries and 140,000 troops on the ground, failed to defeat a group of religious students and farmers? How did it go so wrong?
Twenty-seven years ago, Christina Lamb left Britain to become a journalist in Pakistan. She crossed the Hindu Kush into Afghanistan with mujaheddin fighting the Russians and fell unequivocally in love with this fierce country of pomegranates and war, a relationship which has dominated her adult life.
Since 2001, Lamb has watched with incredulity as the West fought a war with its hands tied, committed too little too late, failed to understand local dynamics and turned a blind eye as their Taliban enemy was helped by their ally Pakistan.
Farewell Kabul tells how success was turned into defeat in the longest war fought by the United States in its history and by Britain since the Hundred Years War. It has been a fiasco which has left Afghanistan still one of the poorest nations on earth, the Taliban undefeated, and nuclear armed Pakistan perhaps the most dangerous place on earth.
With unparalleled access to all key decision-makers in Afghanistan, Pakistan, London and Washington, from heads of state and generals as well as soldiers on the ground, Farewell Kabul tells how this happened.
This deeply personal book not only shows the human cost of political failure but explains how short-sighted encouragement of jihadis to fight the Russians, followed by prosecution of ill-thoughtout wars, has resulted in the spread of terrorism throughout the Islamic world.
"As a personal account of this sad, twisted story, Lamb's book is unlikely to be surpassed; gracious and humane, she always gives a fair hearing, while her observation is always needle sharp. It is one of the most rewarding and thought-provoking books by any journalist of my acquaintance."                              Evening Standard
"This is a journey through more than a decade of hell and futility, written vividly, with emotion but mercifully shorn of polemic … in this most captivating of war journals."                        Observer
"A spellbinding synthesis of analysis and highly personal reportage … Lamb's grasp of the back story enables her to weave illuminating historical context into the narrative."                             Independent
"She records with a clear eye and a longer perspective her successive encounters with the Afghans and their occupiers …she writes with sympathy and understanding … For anyone who wants to understand how Britain's road to Helmand was paved with well-meant but ill-founded intentions this magisterial memoir is the book to read and enjoy."                             The Times
Science But Not As We Know It by Ben Gillard
Cutting-edge concepts made simple, it's not rocket science
The media reports on the latest scientific discoveries and breakthroughs can seem like a foreign language, from black holes, to dark matter and exoplanets to leap seconds. Finally get to grips with these difficult concepts by reading Ben Gilliland's unique take on them.
Science But Not As We Know It takes complex scientific ideas and breaks them down for the non-scientist, from explaining the size of the Universe, to how black holes work, Schroedinger's cat and the Higgs boson. Difficult ideas and theories are compared to everyday things we are familiar with – forces become armies and electrons have personalities.
This book will have you saying 'I get it now!' over and over again. You no longer have to be a rocket scientist to understand rocket science.
 The Mirror in the Ground by Nick Shepherd
What happens when we approach archaeology from the perspective of an interest in visualities? Does it make sense to talk about an archaeological aesthetic? What part has a specifically archaeological concern with material cultures, objectified bodies and sites on the landscape played in a local history of looking? Drawing from the archive of the South African archaeologist John Goodwin (1990–1959), this book interrogates the role of photography in the making of a disciplinary project in archaeology.
With an introduction by Pippa Skotnes
Those Wild Wyndhams: Three Sisters at the Heart of Power by Claudia Renton
A rich historical biography of 'those wild Wyndhams' – three cultured aristocratic sisters born into great privilege in late Victorian Britain.
Mary, Madeline and Pamela – the three beautiful Wyndham sisters – were born into immense wealth. Cultured bohemian daughters of a maverick politician and an artistic mother, they became entangled with the scandalous and intellectual 'Souls' set, as well as the most celebrated figures of the day, including Oscar Wilde, Marie Stopes and the iconoclastic poet Wilfrid Scawen Blunt, lover both of Mary and her mother before her. Two sisters were intimate with great statesmen – Prime Minister Arthur Balfour and the Liberal politician Edward Grey – and only one of them would marry happily.
This first ever biography of the sisters captures their dramatic lives from romantic beginnings through the passions and disappointments of womanhood to the tragedy and devastation of the First World War that brought a definitive end to their sons, their era and way of life.
"Wonderful … a magnificently skillful biography of this trio of sexy sisters and the politically turbulent context of their lives. Renton demonstrates her scholarship with butterfly-winged elegance as she tells the story of a generation of Imperialist Victorians Suffused with privilege, power, money and sex that eventually ended in tragedy."                      Evening Standard
"Renton never loses sight of the bigger historical picture. She sets the sisters' fabulously privileged and sometimes troubled lives against the convulsions of home and international politics through which they lived. The result is an impeccably researched, beautifully written and compellingly readable biography."                  Daily Mail
"Magnificent … [It] has the wisdom, excitement and psychological depth of a very good novel. She succeeds in combining the novelist's art with the historian's craft, laying the sources and workings before us. The beauty and romance are captured unforgettably."                             Observer
"Impeccably rehearsed and researched … a serious, spellbinding chronicle of the last days of Edwardian England."                           The Times
"A magnificently skilful biography…based on scrupulous research and enriched by hundreds of deliciously indiscreet, charmingly frank, pre-Mitfordian letters… Renton demonstrates her scholarship with butterfly winged elegance … [a] wonderful book."                            Evening Standard
"This elegantly written tableau of a book is much more than a group biography; it is an elegiac account of the horrors of the First World War from a female perspective. Renton is excellent at setting personal events within their larger political or social context."                 Literary Review
"A lucid and superbly researched book."                               Spectator
"Hilarious, heartbreaking and completely absorbing, Renton has captured the last rays of light of a gilded family of remarkable women."                     Amanda Foreman
"Readers who enjoyed reading about the Mitfords and Stella Tillyard's 'Aristocrats' will relish Renton's elegant book. [An] enthralling period portrait."                        Daily Express
Happy reading!