FICTION
The Death's Head Chess Club by John Donoghue
SS Obersturmfuhrer Paul Meissner arrives in Auschwitz from the Russian front. After being badly wounded he is fit only for administrative duty and his first and most pressing task is to improve flagging camp morale. He sets up a chess club which thrives, as the officers and enlisted men are allowed to gamble on the results of the games. However, when Meissner learns from a chance remark that chess is also played by the prisoners he hears of a Jewish watchmaker who is 'unbeatable'. Meissner sets out to discover the truth behind this rumour and what he finds will haunt him to his death…
 This is an extraordinary novel – engaging and superbly researched. It is compelling and poignant and ultimately uplifting. Highly recommended.
Villa America by Liza Klaussmann
Scott and Zelda Fitzgerald, Pablo Picasso, Cole and Linda Porter, Ernest Hemingway, John Dos Passos – all are summer guests of Gerald and Sara Murphy. Visionary, misunderstood, and from vastly different backgrounds, the Murphys met and married young, and set forth to create a beautiful world. They alight on Villa America: their coastal oasis of artistic genius, debauched parties, impeccable style and flamboyant imagination. But before long, a stranger enters into their relationship, and their marriage must accommodate an intensity that neither had forseen. When tragedy strikes, their friends reach out to them, but the golden bowl is shattered, and neither Gerald nor Sara will ever be the same.
Ravishing, heart-breaking, and written with enviable poise, Villa America delivers on all the promise of Liza Klaussmann's bestselling debut, Tigers in Red Weather. It is an overwhelming, unforgettable novel.
After the Crash by Michel Bussi
A dark, brilliantly conceived and deeply chilling novel that has sold over 700,000 copies in the author's native France.
"A novel so extraordinary that it reminded me of reading Steig Larsson for the very first time …Bussi breaks every rule in the book, but I doubt I'll read a more brilliant crime novel this year."                                 Joan Smith, Sunday Times
On the night of 22 December 1980, a plane crashes on the Franco-Swiss border and is engulfed in flames. 168 out of 169 passengers are killed instantly. The miraculous sole survivor is a three-month-old baby girl. Two families, one rich, the other poor, step forward to claim her, sparking an investigation that will last for almost two decades. Is she Lyse-Rose or Emilie?
Eighteen years later, having failed to discover the truth, private detective Credule Grand-Duc plans to take his own life, but not before placing an account of his investigation in the girl's hands. But, as he sits at his desk about to pull the trigger, he uncovers a secret that changes everything – then is killed before he can breathe a word of it to anyone…
"There's a great premise to this thriller, which is already a huge bestseller in the author's native France… You find yourself quite frantic to know the truth, before this cleverly constructed, smart mystery concludes by delivering a delicious sting in the tail."                  Sunday Express
"A richly satisfying story…a hugely enjoyable ride."             Irish Independent
Touch by Claire North
The electrifying new thriller from the acclaimed author of The First Fifteen Lives of Harry August.
He tried to take my life. Instead I took his.
It was a long time ago. I remember it was dark, and I didn't see my killer until it was too late. As I died, my hand touched his. That's when the first switch took place.
Suddenly, I was looking through the eyes of my killer, and I was watching myself die.
Now switching is easy. I can jump from body to body, have any life, be anyone.
Some people touch lives. Others take them. I do both.
"Touch is little short of a masterpiece…both a thought-provoking literary treatise on what makes us human, and a genre-thriller that rattles on at a breakneck pace. Excellent."                     Independent
"The quality of the writing and the dazzlingly imaginative heart of this exciting book will seduce even scifi sceptics, and keep readers absolutely hooked to the dramatic conclusion."               Sunday Mirror
"Fast-paced, imaginative . . . There is plenty of conspiracy and intrigue in this deftly paced novel, but North also poses subtle questions about identity and love. In the end, it is not power that Kepler and its nemesis are fighting over but the right to be known."                    Washington Post
"One of the cleverest, most compelling books I've read in a long time. The intoxicating voice, ingenious premise and intricate plot will have readers clamouring for a copy. Touch has bestseller written all over it and Claire North is one hell of a writer."                       C. L. Taylor, author of The Accident
"As intriguing and breathless as it is brilliantly original, constantly defying expectations and a step (or two) ahead of the reader. Featuring a troubled hero who can move from body to body just by grazing someone's fingertip and who becomes the subject of a sinister assassination attempt . . . Agile, unpredictable, this one will keep you awake at night in the search for answers."               Love Reading
Arab Jazz by Karim Miské
Kosher sushi, kebabs, a second hand bookshop and a bar: the 19th arrondissement in Paris is a cosmopolitan neighbourhood where multicultural citizens live, love and worship alongside one another. This peace is shattered when Ahmed Taroudant's melancholy daydreams are interrupted by the blood dripping from his upstairs neighbour's brutally mutilated corpse.
The violent murder of Laura Vignole, and the pork joint placed next to her, set imaginations ablaze across the neighborhood, and Ahmed finds himself the prime suspect. However detectives Rachel Kupferstein and Jean Hamelot are not short of leads. What is the connection between a disbanded hip-hop group and the fiery extremist preachers that jostle in the streets for attention? And what is the mysterious new pill that is taking the district by storm?
In this his debut novel, Karim Miské demonstrates a masterful control of setting, as he moves seamlessly between the sensual streets of Paris and the synagogues of New York to reveal the truth behind a horrifying crime.
"Intelligent and gripping."      Tariq Ali.
"A brilliant debut' Robin Yassin-Kassab."                   Guardian.
"Exciting, informative, stimulating, and a little frightening."           Marcel Berlins, The Times.
"Not to be missed."                The Tablet
"A debut of notable assurance … proof that French crime fiction is jostling its way to the top of the noir tree."              Barry Forshaw, Independent
"A brazenly political crime novel for our times."                  The Lady
"Two police officers who could have been invented by Fred Vargas … an author is born. And it's good news: once he gets going, it won't be easy to catch up with him."                      L'Express
"It's impossible to miss this dramatically contemporary crime novel about new Muslim and Jewish fundamentalists living together in France."                  Le Point
Glass by Alex Christofi
Glass is pure. Glass is transparent. Glass is sharp.
Günter Glass, ex-milkman and aspiring window-cleaner, is certainly pure. And he's pretty transparent. But the jury's still out on how sharp he is.
What naïve young Günter does have is a head for heights and, ever since he visited a glassblower's workshop as a child, an unusual fixation with glass. When a minor adventure up the spire of Salisbury Cathedral makes Günter a local celebrity, John Blades – window-cleaner to the stars – comes calling. He wants Günter to join him in London to clean Europe's tallest skyscraper, the newly constructed Shard in London Bridge.
With his mother recently passed away, his dad retired and no money to pay off the mortgage, Günter takes Blades up on his offer and soon finds himself, for the first time, among the bright lights of London. He has his first experience of romantic love with short-range psychic Lieve Toureau, tries not to encourage Blades' frequent racist outbursts, and cohabits a Hackney 'bachelor-pad' with a reclusive landlord who has spent decades writing a never-ending book in his cork-lined bedroom. But above all, Günter spends his time trying to figure out how to be good and follow his dear departed mother's advice as best he can.
Will Günter find his way along the straight and narrow? Or will his innocence put him on collision course with the frequently baffling modern world?
"Christofi's debut novel is both charming and funny, and not a little affecting, too … there's enough here to show you the author has plenty more to offer and that, like his hero, he definitely has his heart in the right place."                Daily Mail
"This first novel makes me want to use words like "sparkling", "sharp", "translucent" – not surprising, since it is about glass and one man's obsession with it … Christofi's writing really does gleam with wit, inventiveness and an offbeat charm."                      Kate Saunders, The Times
"[An] impressive, tightly paced coming-of-age story … Armed with a holster of toxic cleaning products and a simple desire to become a better window cleaner, Gunter is part James Bond, part Everyman. Christofi delivers a multi-layered story that follows one man's refracted path through life's prism."               Financial Times
"A moving, funny coming-of-age tale."         Max Wallis, Independent
The Kind Worth Killing by Peter Swanson
You should never talk to strangers…
Gone Girl meets Strangers on a Train in this year's must-read psychological thriller
"Extremely hard to put down."         Sophie Hannah
"Chilling and hypnotically suspenseful."        Lee Child
'Hello there.'
I looked at the pale, freckled hand on the back of the empty bar seat next to me in the business class lounge of Heathrow airport, then up into the stranger's face.
'Do I know you?'
Delayed in London, Ted Severson meets a woman at the airport bar. Over cocktails they tell each other rather more than they should, and a dark plan is hatched – but are either of them being serious, could they actually go through with it and, if they did, what would be their chances of getting away with it?
Back in Boston, Ted's wife Miranda is busy site managing the construction of their dream home, a beautiful house out on the Maine coastline. But what secrets is she carrying and to what lengths might she go to protect the vision she has of her deserved future?
A sublimely plotted novel of trust and betrayal, The Kind Worth Killing will keep you gripped and guessing late into the night.
"If you're engaged to get married, by all means read something else."      Chris Pavone
"An extraordinarily well-written tale of deceit and revenge told by a very gifted writer. Peter Swanson takes us on a harrowing journey through the hearts and minds of a cast of characters who seem normal on the outside, but are deliciously abnormal on the inside."       Nelson Demille

"A work of lovely violence and graceful malevolence, The Kind Worth Killing slips into your life like a stiletto in the ribs. This is a book that launches Peter Swanson straight into the ranks of the killer elite, alongside Tana French, Gillian Flynn, and Lauren Beukes. He's the real deal."                      Joe Hill
"Gone Girl on speed."             Daisy Goodwin
"Revenge has rarely been served colder than in Swanson's exceptional thriller … Few will be prepared for the crushing climax."                    Publisher's Weekly
"His central premise may be borrowed from Strangers on a Train, but Swanson takes the notion in some truly startling directions, excelling in the vividly etched characterisation of his protagonists (such as Ted's ruthless wife Miranda, nurturing her own secrets). But what makes The Kind Worth Killing so enjoyable is the beautifully constructed plotting – leaving aside all the book's other virtues, that element alone comfortably sees off 'second novel syndrome."                    Barry Forshaw, Financial Times
Etta and Otto and Russell and James by Emma Hooper
"Writing that easily equals that of the Booker-winning Richard Flanagan…[and] as readable and gripping as any thriller."                      The Times
I've gone. I've never seen the water, so I've gone there. I will try to remember to come back.
Etta's greatest unfulfilled wish, living in the rolling farmland of Saskatchewan, is to see the sea. And so, at the age of eighty-two she gets up very early one morning, takes a rifle, some chocolate, and her best boots, and begins walking the 2, 000 miles to water.
Meanwhile her husband Otto waits patiently at home, left only with his memories. Their neighbour Russell remembers too, but differently – and he still loves Etta as much as he did more than fifty years ago, before she married Otto.
"Beautifully written…this deserves to follow in the footsteps of 2014's big debut novels The Miniaturist and Elizabeth Is Missing."              Daily Express
"Intriguing… a clear and beautifully unadorned prose style… Hooper has written an interesting, nuanced and genuinely moving book."                    Guardian
"Luminous debut…there's a lovely musicality to her prose – care and attention have been spent on the rhythms and melody of her words…wonderfully tender."  Sunday Express
"Her debut novel is a magical, big-hearted book about one woman's walk to the sea. If Wes Anderson's stylised dream worlds make you happy, you need a copy of Etta and Otto and Russell and James."                       Elle Magazine
"A fan of Audrey Niffenegger and Alice Munro, Hooper's sense of playfulness comes across in the book's gentle magical realism."                   Observer
The Road Ends by Mary Lawson
Twenty-one-year-old Megan Cartwright has never been outside the small town she was born in but one winter's day in 1966 she leaves everything behind and sets out for London. Ahead of her is a glittering new life, just waiting for her to claim it. But left behind, her family begins to unravel. Disturbing letters from home begin to arrive and torn between her independence and family ties, Megan must make an impossible choice.
 "Tender and surprising… A vivid and evocative tale."           New York Times
"Subtle but gripping… Beautifully written, with the locations brilliantly evoked."               Sunday Mirror
"Road Ends is beautifully written, evocative and tender. It will haunt you long after you've finished it and leave you impatient for more."              Country Life
"Austere, humane and accomplished, Road Ends depicts a wilderness of the heart through which some roads pass."                         Literary Review
THE TINIEST BOOKS ON THE NEWSLETTER
Penguin Little Black Classics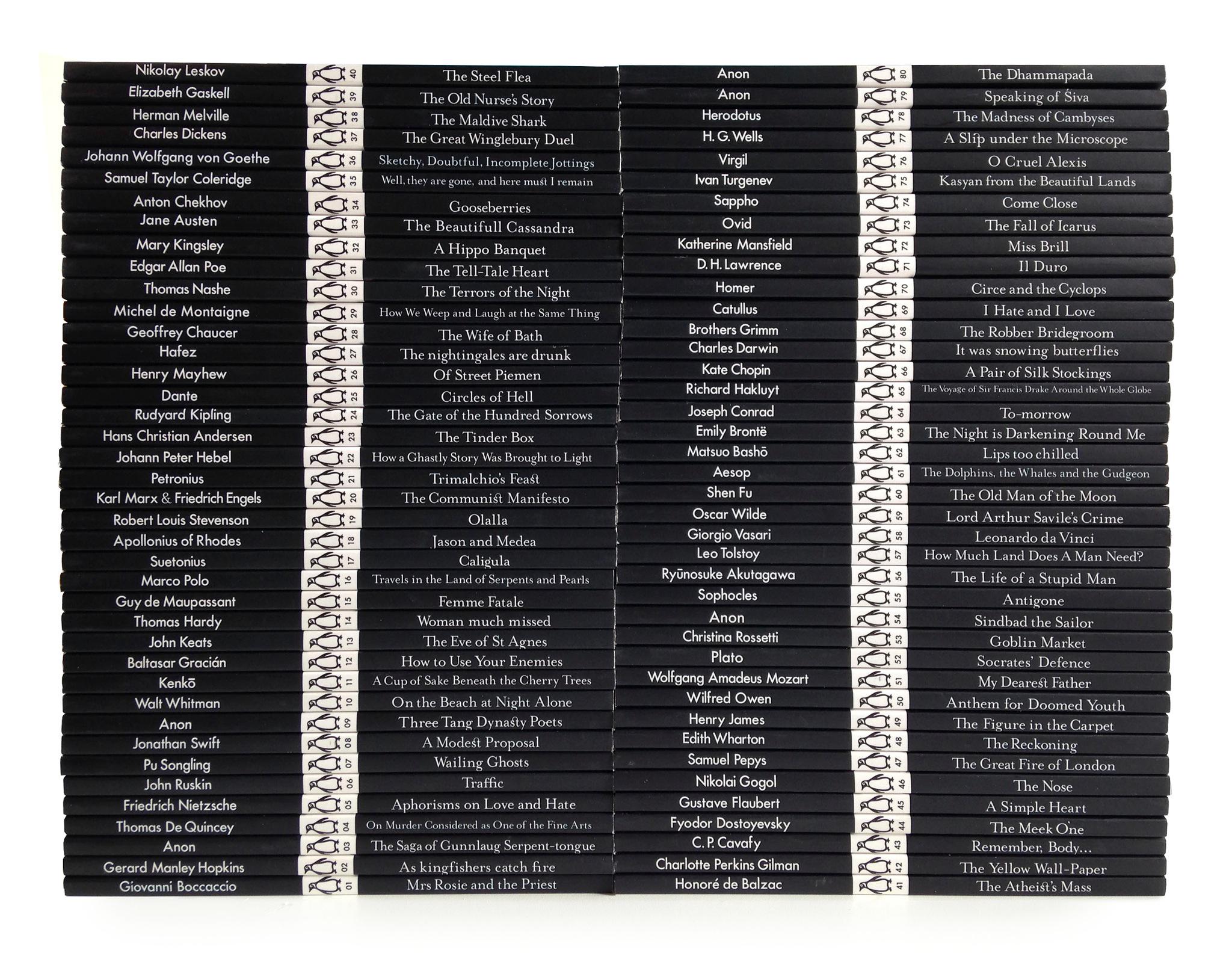 To celebrate the 80th birthday of one of the world's great publishing houses, Penguin have issued 80 tiny paperbacks, extracted from their venerable collection of black classics. Each one is around 60 pages long, they are perfect for the pocket or the handbag, or for some elevated loo reading, and each one is only R15.
From Suetonius to Tolstoy, Nietzsche to Swift, Whitman to Kenko – each one is beautifully designed and eminently collectable. Click here for a full list.
NON-FICTION
One of Us: The story of Anders Breivik and the Massacre in Norway by Åsne Seierstad
On 22 July 2011 Anders Behring Breivik killed 77 of his fellow Norwegians in a terrorist atrocity that shocked the world. Many were teenagers, just beginning their adult lives. In the devastating aftermath, the inevitable questions began. How could this happen? Why did it happen? And who was Anders Breivik?
Åsne Seierstad was uniquely placed to explore these questions. An award-winning foreign correspondent, she had spent years writing about people caught up in violent conflict. Now, for the first time, she was being asked to write about her home country.
Based on extensive testimonies and interviews, One of Us is the definitive account of the massacres and the subsequent trial.
But more than that, it is the compelling story of Anders Breivik and a select group of his victims. A picture emerges of a killer – isolated, awkward, with a strange and troubled childhood. And on the other side, we come to know fascinating, dazzling young people such as Simon Sæbø and Bano Rashid, eager to contribute to their society. As we follow the path to their inevitable collision, it becomes clear just what was lost in that one day.
A gripping, shattering and vital book, One of Us is the story of a massacre and a study of evil. But it is also a story about community versus isolation, hope versus rejection, love versus bigotry – and a powerful memorial to those who lost their lives.
"The author takes a novelistic approach but this is journalism at its very best … undoubtedly Seierstad's most powerful narrative to date."              Sunday Times
"Scrupulously researched . . . Seierstad has a remarkable eye for the haunting detail, particularly of empathy, and of grief."                     Mail on Sunday
"A chilling portrait of a killer . . . Seierstad is a brilliant investigative reporter . . . her book is a psychiatric case history, as well as a close look at Norwegian society, not least by paying as much attention to Breivik's victims, as to their murderer."                 Guardian
"What emerges as Seierstad – a precise, distinguished war reporter and author of The Bookseller of Kabul – pieces together the evidence from police and court transcripts, from survivors, from Breivik's mother, is in part a more literary version of The Day of the Jackal."                 The Times
"An astonishing piece of work . . . One of Us looks straight at horror and doesn't flinch: it is classic reporting. We've been diverting ourselves so much recently with crime fiction making play with the eruption of evil into the apparently harmonious societies of Scandinavia. This is the real thing, beyond any novelist's imagining. We need to take note."                  Evening Standard
Abducting a General: The Kreipe Operation and SOE in Crete by Patrick Leigh Fermor
One of the greatest feats in Patrick Leigh Fermor's remarkable life was the kidnapping of General Kreipe, the German commander in Crete, on 26 April 1944. He and Captain Billy Moss hatched a daring plan to abduct the general, while ensuring that no reprisals were taken against the Cretan population. Dressed as German military police, they stopped and took control of Kreipe's car, drove through twenty-two German checkpoints, then succeeded in hiding from the German army before finally being picked up on a beach in the south of the island and transported to safety in Egypt on 14 May.
Abducting a General is Leigh Fermor's own account of the kidnap, published for the first time. Written in his inimitable prose, and introduced by acclaimed Special Operations Executive historian Roderick Bailey, it is a glorious first-hand account of one of the great adventures of the Second World War. Also included in this book are Leigh Fermor's intelligence reports, sent from caves deep within Crete yet still retaining his remarkable prose skills, which bring the immediacy of SOE operations vividly alive, as well as the peril which the SOE and Resistance were operating under; and a guide to the journey that Kreipe was taken on, as seen in the 1957 film Ill Met by Moonlight starring Dirk Bogarde, from the abandonment of his car to the embarkation site so that the modern visitor can relive this extraordinary event.
"It takes some chutzpah to kidnap a German general – and serious presence of mind to get away with it. Paddy, the Special Operations Executive commander of a group of 11 Cretan andartes, or guerrilla fighters, together with his second-in-command Captain William Stanley Moss, had excessive stores of both . . . Abducting a General . . . is the work of a mature man, anxious to pay proper tribute to the Cretans who were the backbone of the resistance and ran by far the greatest risks. His SOE reports, which run to 90 pages here, provide gripping cinematic portraits of Leigh Fermor the soldier."                 Spectator
"Beautifully written . . . Fermor's love of Crete and scholarly knowledge of the Classics exude from the pages."             The Times
"As a pure adventure story . . . it is hard to beat."                Financial Times
"Superb . . . Leigh Fermor's many fans will find plenty of the old master's fizz in this resurrected work . . . irresistible."                Scotsman
"Paddy's vividly idiomatic reports irresistibly take us in to the skulduggery and derring-do . . . a wonderful story."                        Jan Morris, Literary Review
"The late, great Patrick Leigh Fermor, described as a cross between Indiana Jones, James Bond and Graham Greene, first became famous in 1944 for his daring kidnap of high-ranking German general . . . Afficionados of the tale were spoilt this year."                 Daily Express
"Abducting a General is filled with the same rich exuberant prose [as his trilogy] and fulfils its objective as portraying the Cretan people as the true heroes of the resistance."                        TLS
Bletchley Girls: War, Secrecy, Love and Loss: The Women of Bletchley Park Tell Their Story by Tessa Dunlop
The Bletchley Girls weaves together the lives of fifteen women who were all selected to work in Britain's most secret organisation – Bletchley Park. It is their story, told in their voices; Tessa met and talked to 15 veterans, often visiting them several times. Firm friendships were made as their epic journey unfolded on paper.
The scale of female involvement in Britain during the Second World War wasn't matched in any other country. From 8 million working women just over 7000 were hand-picked to work at Bletchley Park and its outstations. There had always been girls at the Park but soon they outnumbered the men three to one.
A refugee from Belgium, a Scottish debutante, a Jewish 14-year-old, and a factory worker from Northamptonshire – the Bletchley Girls confound stereotypes. But they all have one common bond, the war and their highly confidential part in it. In the middle of the night, hunched over meaningless pieces of paper, tending mind-blowing machines, sitting listening for hours on end, theirs was invariably confusing, monotonous and meticulous work, about which they could not breathe a word.
By meeting and talking to these fascinating female secret-keepers who are still alive today, Tessa Dunlop captures their extraordinary journeys into an adult world of war, secrecy, love and loss. Through the voices of the women themselves, this is a portrait of life at Bletchley Park beyond the celebrated code-breakers, it's the story of the girls behind Britain's ability to consistently out-smart the enemy, and an insight into the women they have become.
"Dunlop is engaging in her personal approach. Her obvious feminine empathy with the venerable ladies she spoke to gives her book an immediacy and intimacy."        Daily Mail
"An in-depth picture of life in Britain's wartime intelligence centre…The result is fascinating, and is made all the more touching by the developing friendships between Dunlop and her interviewees."                  Financial Times
"Dunlop has interviewed some of those Bletchley women still alive and draws on one or two unpublished diaries. These have yielded some good stuff, especially on the particular intensity of wartime sexual relationships."                  Observer
"Dunlop offers us glimpses of the women's lives and expectations, their education, aspirations and personal anecdotes, how they coped with the aftermath of war and what became of them. The combined accounts make for a fascinating social document of women's lives."                 Sunday Express
"Brings the unsung heroines of Bletchley into the limelight and gives them a share of the credit that so often goes to their male counterparts. "             Scotsman
Israel: A History by Anita Shapira
Written by one of Israel's most notable scholars, this volume provides a breathtaking history of Israel from the origins of the Zionist movement in the late 19th century to the present day.
Anita Shapira's gripping narrative explores the emergence of Zionism in Europe against the backdrop of relations among Jews, Arabs and Turks, and the earliest pioneer settlements in Palestine under Ottoman rule. Weaving together political, social and cultural developments in Palestine under the British mandate, Shapira creates a tapestry through which to understand the challenges of Israeli nation-building, including mass immigration, shifting cultural norms, the politics of war and world diplomacy, and the creation of democratic institutions and a civil society. References to contemporary diaries, memoirs and literature bring a human dimension to the story of Israel, from its declaration of independence in 1948 through successive decades of waging war, negotiating peace, and building a modern state with a vibrant society and culture.
Based on archival sources and the most up-to-date scholarly research, this authoritative history is a must-read for anyone with a passionate interest in Israel and the Middle East. Israel: A History will be the gold standard in the field for years to come.
"Shapira has written what is in many respects an important, exhaustive and richly thoughtful march through the annals of Zionishm."               Simon Schama, Financial Times
"…this is a valuable addition to the historiography of Zionism and its fulfillment in the founding of the Jewish state."             David Goldberg, Jewish Chronicle
"In her magisterial Israel: A History, Anita Shapira concludes with the sombre reflection that Herzl may have been mistaken that a nation state for the Jews would abolish anti-Semitism."                 Daniel Johnson, Standpoint
"…this is certainly a valuable contribution to the subject, providing readers with an understanding of the complexities of Israel and its history."                       BBC History Magazine
This Idea Must Die: Scientific Theories That Are Blocking Progress by John Brockman
The bestselling editor of This Explains Everything brings together 175 of the world's most brilliant minds to tackle Edge.org's 2014 question: What scientific idea has become a relic blocking human progress?
Each year, John Brockman, publisher of Edge.org—"The world's smartest website" (The Guardian)—challenges some of the world's greatest scientists, artists, and philosophers to answer a provocative question crucial to our time. In 2014 he asked 175 brilliant minds to ponder: What scientific idea needs to be put aside in order to make room for new ideas to advance? The answers are as surprising as they are illuminating…
Steven Pinker dismantles the working theory of human behavior
Richard Dawkins renounces essentialism
Sherry Turkle reevaluates our expectations of artificial intelligence
Geoffrey West challenges the concept of a "Theory of Everything"
Andrei Linde suggests that our universe and its laws may not be as unique as we think
Martin Rees explains why scientific understanding is a limitless goal
Nina Jablonski argues to rid ourselves of the concept of race
Alan Guth rethinks the origins of the universe
Hans Ulrich Obrist warns against glorifying unlimited economic growth
and much more.
Profound, engaging, thoughtful, and groundbreaking, This Idea Must Die will change your perceptions and understanding of our world today . . . and tomorrow.
Between East and West: Across the Borderlands of Europe by Anne Applebaum
A vivid and human glimpse into Europe's borderlands as they emerged from Soviet rule – back in print after nearly 20 years
"In this superb book, in which one senses the spirit of Franz Kafka and Bruno Schulz, the dramatic world of the Eastern borderlands comes to life."               Ryszard Kapuscinski
As Europe's borderlands emerged from Soviet rule, Anne Applebaum travelled from the Baltic to the Black Sea, through Lithuania, Belarus, Ukraine and the Carpathian mountains. Rich in vivid characters and stories of tragedy and survival, Between East and West illuminates the soul of a place, and the secret history of its people.
"A beautifully written and thought-provoking account of a journey along Europe's forgotten edge."                    Timothy Garton Ash
"A vivid and penetrating assessment of the lands between the Baltic and the Black Sea in all their drama and desolation . . . a wise and useful book."                     Robert Conquest
"Combines the excitement of a well-written and adventurous travelogue with sophisticated reportage."                        Norman Davies
"You will be totally absorbed."                       Norman Stone
A Kim Jong-Il Production: The Incredible True Story of North Korea and the Most Audacious Kidnapping in History by Paul Fischer
A Kim Jong-Il Production by Paul Fischer – love, films and kidnapping in North Korea, the world's wildest regime
Before becoming the world's most notorious dictator, Kim Jong-Il ran North Korea's film industry. He directed every film made in the country but knew they were nothing compared to Hollywood. Then he hit on the perfect solution: order the kidnapping of South Korea's most famous actress and her ex-husband, the country's most acclaimed director.
In a jaw-dropping mission the couple were kidnapped, held hostage and then 'employed' to make films for the Dear Leader, including a remake of Godzilla. They gained Kim's trust – but could they escape?
A non-fiction thriller with a plot so jaw-dropping even Hollywood couldn't make it up, this extraordinary book will be enjoyed by fans of Argo and Nothing to Envy.
"Captivatingly tells perhaps the most extraordinary tale from the world's most bizarre country. That a North Korean dictator should kidnap two South Korean movie stars and force them to make films he hoped would rival Hollywood seems the stuff of fantasy . . . Flabbergasting."               Paul French, author of international bestseller Midnight in Peking

"A true story of desperate movie stars, daring escapes, and the paranoid leader who brought it all together. Equal parts history, thriller, and farce . . . will keep you engrossed until the very end."               Matt Baglio, co-author of New York Times bestseller Argo
The Faraway Nearby by Rebecca Solnit
Gifts come in many guises. One summer, Rebecca Solnit was bequeathed three boxes of ripening apricots, which lay, mountainous, on her bedroom floor – a windfall, a riddle, an emergency to be dealt with. The fruit came from a neglected tree that her mother, gradually succumbing to memory loss, could no longer tend to. From this unexpected inheritance came stories spun like those of Scheherazade, who used her gifts as a storyteller to change her fate and her listener's heart. As she looks back on the year of apricots and emergencies, Solnit weaves her own story into fairytales and the lives of others – the Marquis de Sade, Mary Shelley and Ernesto 'Che' Guevara. She tells of unexpected invitations and adventures, from a library of water in Iceland to the depths of the Grand Canyon. She tells of doctors and explorers, monsters and moths. She tells of warmth and coldness, of making art and re-making the self.
 "This is no ordinary memoir. It is an extraordinary piece of work in which the personal and philosophical meet. Solnit mind is dizzyingly expansive, making poetic and sometimes less obvious connections between influences and experiences."              Irish Times
"A powerfully insightful and moving memoir that is also a mediation on travel, storytelling, illness and – perhaps above all – empathy. Fittingly for a book about the power of storytelling, Solnit is a terrific practitioner of the art."                        'Book of the Week', The Lady
"A rather eccentric set of essays… held together by such beautiful and sublime prose."                Guardian
"An inspired reverie… It is peculiar and capacious, voracious in its range of allusion. The Faraway Nearby is a finely wrought and eloquent manifesto for hearing stories – and making them up."                     Marina Warner, Guardian
"Provocative and extremely thought-provoking… it inspires nothing short of awe."                       Irish Examiner
AFRICA, OUR AFRICA
Leaving Before the Rains Come by Alexandra Fuller
 The sequel to the international bestseller Don't Let's Go To The Dogs Tonight.
'I believed that if I moored myself to Charlie, I would know tranquility interspersed with organized adventure. He would stay in Zambia because he loved the romance of it. I could remain here, safely. Our lives would be the "three rifles, supplies for a month and Mozart" of Out of Africa without the plane crashes, syphilis and Danish accent.'
In 1992 Alexandra Fuller embarked on a new journey, into a long, tempestuous marriage to Charlie Ross, the love of her life. In this frank, personal memoir, a sequel to Don't Let's Go To The Dogs Tonight, she charts their twenty years together, from the brutal beauty of the Zambezi to the mountains of Wyoming – the new adventures, the unexplored paths, the insurmountable obstacles… and the many signals that they missed along the way.
"Remarkable, beautifully written and fantastically entertaining… a compulsive read."                  Observer
"Fuller doesn't write misery memoirs. She writes warm, humorous and honest memoirs, and Leaving Before the Rains Come is another must-read"                Sunday Express
"What sets [the book] apart is Fuller's prose, as biting and beautiful as ever. It is often laugh-out-loud-funny too."                         Mail on Sunday
"[An] urgent, eloquently fearless book."                    Guardian
"A poetic and powerful account of a troubled marriage, sensitive, frank and full of insight into the human condition."                   Daily Express
"[A] bold, brave memoir of [Fuller's] emancipation from the past."                        The Times
"[A] hauntingly beautiful memoir."                Daily Mail
"Unquestionable is the lucid beauty of Fuller's prose and her courage in producing it."                 Metro
"[Fuller] is so compassionate, funny and un-bitter, and her straight-shooting yet graceful prose is the real thing."                         Spectator
"This fascinating memoir is by turns hilarious and utterly heartbreaking in charting 20 years of marriage… Searingly and disconcertingly honest."          Dermot Bolger, Sunday Business Post
"Leaving Before the Rains Come is a drama of expatriation, exploring in searching terms…an imagined return of the native. It carries memoir beyond candour towards a place in literature."                     Lyndall Gordon, Literary Review
Everyday Matters: Selected Letters of Dora Taylor, Bessie Head and Lilian Ngoyi edited by MJ Daymond
This important book brings together the previously unpublished letters of three women, Lilian Ngoyi, Bessie Head and Dora Taylor. While Ngoyi, Head and the lesser-known Taylor each made vital and perhaps under-appreciated contributions to the southern African struggle, these letters record their ordinary, domestic lives as well as touching on the socio-political struggles which they conducted from within their homes.
Bessie Head was a writer of novels, short stories and social history, and towards the end of her life was celebrated internationally. Dora Taylor, a white woman who was an early member of the Non-European Unity Movement (NEUM), was also a writer, but her longer work, was not published until after her death and she is still not a widely known public figure. Lilian Ngoyi was an ANC leader and one of the organisers of the 1956 Women's March to the Union Buildings in Pretoria and she was repeatedly arrested for her involvement in trade union and political matters.
Each woman writes to one trusted friend or relative. Ngoyi, Head and Taylor did not know each other but are linked by their political sympathies, their comparable vocations and practices, and by the fact that each had to endure her own version of exile as a result of her activities. These letters record all three writers' joys and sorrows as they struggled to live principled lives in adversity. As well as giving access to the thoughts of three remarkable women letter-writers, this timely book presents letters as literary artefacts, not just sources of information and opinion. It invites readers to taste the intriguing and sometimes disturbing pleasures of reading personal letters.
Speaking Truth to Power: The Story of the AIDS Law Project by Didi Moyle
Speaking Truth to Power is about the resurgence of activism in post-apartheid South Africa. A small legal NGO in Johannesburg, the AIDS Law Project (ALP), along with its allies in the Treatment Action Campaign, fought for more than a decade for the rights of people living with HIV/AIDS.
Today South Africa has the laws that protect the rights of people living with HIV/AIDS and the largest treatment programme in the world. This would not have happened without dedicated activism and a commitment to social justice. Speaking Truth to Power tells how people used our Constitution and the law in this struggle.
The leadership of the ALP was clear as to how they wanted their history to be told. They saw the ALP story as the story of their clients and their cases, which form the milestones in this struggle. So this is a story about ordinary people who in their own way did some extraordinary things at an exceptionally difficult time. They stood up against prejudice and disinformation because they felt strongly about their rights. For some it was discrimination against themselves; for others it was discrimination against their fellow citizens who were vulnerable because they were living with a disease that had no cure and they were often seriously ill, even dying. To add insult to injury the country's president and, for some time, the government denied the scale of the epidemic.
People's rights were being violated, but the law gave them a way to reassert them, generating the first resurgence of civil society in post-apartheid South Africa. This book is about the power of people and their courage to speak the truth.
In Our Skins: A Political History of Coloured People by Richard van der Ross
 The Cape, 1652: Europe and Africa collide. As the Dutch and, later, the British seep into southern Africa's arid west, they form an uneasy alliance with the indigenous San, Khoi and Griqua people. In the first unions between settlers and indigenous peoples, the Coloured people of the Cape flicker to life.
But events thousands of miles away are soon to upset this tenuous balance of power. Slavery and its moral and religious hegemony quickly demonises interracial unions; in the spat between the Dutch and British over the Cape's huge strategic value, the Khoi, San, Griqua and nascent Coloured populations are trampled underfoot.
With literal and ideological muzzle–loaders blazing, the British and Afrikaners rampage through two wars that culminate in another type of union in 1910 – the Union of South Africa – which sees the Coloured people losing what little parliamentary representation they had under the British.
In Our Own Skins is the extraordinary story of a small but proud group's 84-year battle to regain the franchise, told through the eyes of an uncompromising insider. From the Stone meetings, conducted from a boulder on a windswept District Six hillside, to a petition carried, torch-like, to faraway London in 1909, it maps a trajectory of loss –  and of restoration. Its rich cast – among others, the Glasgow-educated Dr Abdullah Abdurahman, his fiery daughter Cissie Gool, the Ghanaian FZS Peregrino, Jimmy and Alex la Guma and Labour Party stalwart Allan Hendrickse –  plays a leading role in pulling the Coloured people through the post-colonial morass that is South Africa up to 1994 and beyond and proudly placing them, fully represented, in the Cabinet of Nelson Mandela – one of the most iconic leaders the world has ever known.
Secret Revolution: Memories of a Spy Boss by Niël Barnard
In the sinister world of spies few rules apply and everything is allowed in the name of state security – even talking to your Enemy No. 1.
And this is exactly what Niël Barnard did in the late 1980s as head of the National Intelligence Service. On the instruction of PW Botha he started talking to Nelson Mandela in secret about the possibility of a democratic election and a majority government. Not even the cabinet was informed of these talks.
Secret Revolution reveals the details of these meetings that were the first step towards a democratic South Africa. It also tells of the special personal bond that developed between these two former enemies. While both men were strong personalities who could be stubborn and even bad-tempered at times, they realised the importance of what they were doing.
The book also offers a fascinating insight into the daily lives of spies and NI's successes during the 1980s. As spy boss Barnard succeeded in establishing relationships with both friends and enemies of the South African state. He not only visited several African heads of state in a time when South Africa was shunned by the international community but also managed to open an intelligence channel with communist Russia.
Secret Revolution is a must-read for anyone who wants to know what happened behind the political scenes in the 1980s.
Market Food South Africa by Dianne Stewart
Which is your favourite market? The explosion of markets all over South Africa led Dianne Stewart and her daughters, Lissa and Jessica, on a trip around South Africain search of the best market food. Each market has its own distinct personality, and provides locals and visitors with relaxed and informal meeting places where family and friends can get together, share a meal and fill their baskets with some of the finest home-made fare and produce this country has to offer.
Use Market Food to find a top local market; some tucked away in bustling harbour precints, others on lush wine estates, in parks or inner-city warehouses. Then choose your favourite recipes from the dazzling array of artisanal recipes featured in the book … or track down the dish that tickles your fancy and visit that market!
AND FINALLY…FROM THE KITCHEN…
Tashas by Natasha Sideris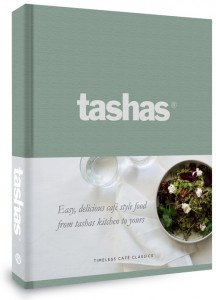 In this cookbook Natasha Sideris, a passionate cook, creator and founder of tashas restaurants, shares some of her favourite recipes and the most popular dishes from the café menus.
This is a celebration of uncomplicated but delicious food, inspired by wonderful ingredients and the joy of sharing with friends and family. Here you will find all the classics you love and more, from Salmon Fish Cakes and Parmesan Chicken Couscous to summer-fresh salads and hearty winter warmers like the famous tashas Chicken Pot Pie.
 HAPPY READING!