Book of the Month
Craft Art in South Africa by Elbe Coetsee
A celebration of the work and the world of craft artist in South Africa, this title shows examples and reveals the artists' creative inspiration. Craft art includes baskets, beads, ceramics, glass, fabric, metal, paper, quilting, wire, wax and wood. The craft art objects are categorized according to the materials used, with each category comprising a separate chapter. The book aims to assist in building the cultural heritage of a South African design identity and to demonstrate that the African Renaissance could come out of South Africa. Its aim is to introduce South African craft artists to the rest of the world in order to engender interest and positive economic implications. A beautiful publication.
Fiction
The Winter War by Philip Teir
On the surface, the Paul family are living the liberal, middle-class Scandinavian dream. Max Paul is a renowned sociologist and his wife Katriina has a well-paid job in the public sector. They live in an airy apartment in the centre of Helsinki. But look closer and the cracks start to show.
As he approaches his sixtieth birthday, the certainties of Max's life begin to dissolve. He hasn't produced any work of note for decades. His wife no longer loves him. His grown-up daughters – one in London, one in Helsinki – have problems of their own. So when a former student turned journalist shows up and offers him a seductive lifeline, Max starts down a dangerous path from which he may never find a way back.
Funny, sharp, and brilliantly truthful, Teir's debut has the feel of a big, contemporary, humane American novel, but with a distinctly Scandinavian edge.
"Presented as Scandinavia's answer to Jonathan Franzen, Teir offers a similarly sardonic yet sympathetic critique of a multi-generational family…remarkable eye for human behaviour…an intelligent debut."                  Telegraph
"Cool yet compassionate…bitingly funny…engrossing."                    Lady
"…this quietly devastating picture of middle-class disaffection could just as well be set in Islington. Shot through with understated black humour and nicely balanced between tender and acerbic, this impressive novel is a forceful reminder that there is much more to Scandinavian writing than crime fiction."                 Sunday Times
"Somewhere between Richard Yates and John Updike, but with a Nordic temperament that is cooler … Teir writes about an academic middle class family with a realism that is both ironically compassionate and warmly critical."                        Expressen
"Little short of brilliant … The Winter War is firmly rooted in an Anglo-Saxon tradition, alongside writers such as Julian Barnes, Alan Hollinghurst and Jeffrey Eugenides."                 Jönköpings-Posten
Hiding in Plain Sight by Nuruddin Farah
When Bella learns of the murder of her beloved half brother by political extremists in Somalia, she's in Italy. The two had different fathers but shared a Somali mother, from whom Bella has inherited her freewheeling ways. An internationally known fashion photographer, dazzling but aloof, she comes and goes as she pleases. But now that her teenage niece and nephew are effectively orphaned, their mother having abandoned them years ago, Bella feels an unfamiliar surge of protectiveness. Putting her life on hold, she travels to Kenya – where the two are in boarding school – uncertain whether she can, or must, come to their rescue. When their mother resurfaces, reasserting her maternal rights and bringing with her a gale of chaos and confusion that mirror the deepening political instability in the region, Bella has to decide how far she will go to obey the call of sisterly responsibility.
"Absorbing and provocative… [Farah's] characters are given heft through personal histories and anecdotes, and he writes evocatively about everything from Nairobi traffic to Kenyan game reserves to, importantly, how Somalis are seen not just through the eyes of others, but through their own."                USA Today (4 stars)
"Hiding in Plain Sight may begin with a terrorist attack…but this is not a novel about violence…The rewards of reading Hiding in Plain Sight lie in Farah's sensitive exploration of grief and his depiction of a family's love for one another…Farah is particularly adept at evoking the way in which the sight of a familiar face or place can trigger painful memories and how comfort can come to us from unexpected sources." —New York Times Book Review
"A rich exploration of political and social crises…[and] a sensitive story about living in the shadow of grief, learning to forgive and trying to answer the question, 'What does it mean to be Somali in this day and age?'"                              Washington Post
"Farah's powerful story of a shattered family makes vivid the human repercussions of political chaos and violence."                        BBC.com  
Ostrich by Matt Greene
Growing up is hard enough without a deadline
Alex's parents know something he doesn't.
They know what's happening inside his head.
Alex is more interested in what's happening outside it.
He has homework to do and a marriage to save*.
The clock is ticking. But there's still time to win the heart of Chloe Gower
Laugh-out-loud funny and cry-out-loud sad, Ostrich is a book about what happens when you have to lift your head from the sand.
* His parents'
"A coming-of-age story of some brilliance. I laughed heartily, sobbed unexpectedly."                   Nathan Filer, author of The Shock Of The Fall
"Ostrich has given me the most enjoyable reading experience I've had all year and has one of the funniest and most engaging young narrators I've had the pleasure of reading. Matt Greene is seriously funny and in Ostrich proves comedy can be the finest of arts."             Matt Haig, author of The Radleys and The Humans
"Irresistible! Ostrich is loaded with wit, charm and wisdom. Alex is one of the sweetest and most inspiring narrators I've ever encountered. I dare you not to laugh, cry and fall utterly in love."                   Maria Semple, author of Where'd You Go, Bernadette
"One of the bravest novels I've read in a very long time. Greene lets the reader become detective and clue by clue we uncover not only the truth of Alex's world, but the deepest truths of what it means to love and lose."                        Carol Rifka Brunt, author of Tell the Wolves I'm Home

"This is an endearing debut novel from Matt Greene, with an inspired and hilarious take on adolescence…Greene's unusual style and his enchanting wordplay will not only gain him favourable comparisons to Mark Haddon, but potentially earn him a place in the bestseller's list."                        Time Out
"This is a classic case of the unreliable narrator, and the result is both hilarious and heartrendingly poignant. The most powerful aspect of the story is what is not mentioned, and how Alex's parents treat him. They are magnificent. The character portrayals, revealed mainly through dialogue, are so magic I'm going to reread this book immediately…before I pass it on to my son. Read this, and like. And share."             Irish Examiner
Alice and the Fly by James Rice
This is a book about phobias and obsessions, isolation and dark corners. It's about families, friendships, and carefully preserved secrets. But above everything else it's about love. Finding love – in any of its forms – and nurturing it.
Miss Hayes has a new theory. She thinks my condition's caused by some traumatic incident from my past I keep deep-rooted in my mind. As soon as I come clean I'll flood out all these tears and it'll all be ok and I won't be scared of Them anymore. The truth is I can't think of any single traumatic childhood incident to tell her. I mean, there are plenty of bad memories – Herb's death, or the time I bit the hole in my tongue, or Finners Island, out on the boat with Sarah – but none of these are what caused the phobia. I've always had it. It's Them. I'm just scared of Them. It's that simple.
"One of the most stunning debuts I've read in a long time. The talent behind it is huge."              Helen Walsh, author of The Lemon Grove 
"Alice and the Fly is a darkly quirky story of love, obsession and fear. A disconcerting but beautiful story hung around the enchanting and heartbreaking voice of teenager Greg."                                   Bookseller 
"A stunning and fresh debut."            Big Issue
"Fresh, original and a bit crazy."        Red
The Girl Who Wasn't There by Ferdinand von Schirach
Sebastian von Eschburg, scion of a wealthy, self-destructive family, survived his disastrous childhood to become a celebrated if controversial artist. He casts a provocative shadow over the Berlin scene; his disturbing photographs and installations show that truth and reality are two distinct things.
When Sebastian is accused of murdering a young woman and the police investigation takes a sinister turn, seasoned lawyer Konrad Biegler agrees to represent him – and hopes to help himself in the process. But Biegler soon learns that nothing about the case, or the suspect, is what it appears. The new thriller from the acclaimed author of The Collini Case, The Girl Who Wasn't There is dark, ingenious and irresistibly gripping.
"Sebastian moves to Berlin and becomes an artist, but the damage inflicted by his childhood never leaves him. When he is accused of murder, his lawyer cannot understand why his client is so unperturbed. This is a sophisticated novel about a man whose emotional detachment is as chilly as it is destructive."                Sunday Times
"We have, in Von Schirach's ice-cool, effortlessly classy prose, an antihero accused of murder, who sees the world in too-vivid colour, and his bumptious defence lawyer, who sees everything in shades of grey. It makes for a disconcerting mix of build-up and anticlimax, tension and humour, lies and truth, and a novel as intriguingly eccentric as its protagonist."              Observer
"Ferdinand von Schirach's prose is elegant and unemotional . . . gripping and the story is intriguing and often disturbing."                 Marcel Berlins, The Times
"This is an effective riddle of a novel. Details accumulate, tensions build and misdirection abounds, while Anthea Bell's crisp translation accentuates von Schirach's cool, pointillist prose . . . Perhaps the only secure verdict the novel delivers is that its author is one of the most distinctive voices in European fiction."             Daily Telegraph
The Mobile Library by David Whitehouse
Twelve-year-old Bobby Nusku is an archivist of his mother. He catalogues traces of her life and waits for her to return home.
Bobby thinks that he's been left to face the world alone until he meets lonely single mother Val and her daughter Rosa. They spend a magical summer together, discovering the books in the mobile library where Val works as a cleaner. But as the summer draws to a close, Bobby finds himself in trouble and Val is in danger of losing her job. There's only one thing to do — and so they take to the road in the mobile library…
Quirky, dark, magical and full of heart, Mobile Library is both a tragicomic road trip and a celebration of the adventures that books can take us on. It's a love-letter to unlikely families and the stories that shaped us.
"A writer to watch."                New York Times
"A great, tender-hearted story about stories. It's a book about what books can give us, and how they can add to our adventure – or even take us on one."                         Matt Haig, author of The Humans
The Black Lizard Big Book of Locked-Room Mysteries: The Most Complete Collection of Impossible-Crime Stories Ever Assembled edited by Otto Penzler
The Most Complete Collection of Impossible Crime Stories Ever Assembled, with puzzling mysteries by Stephen King, Dashiell Hammett, Lawrence Block, Agatha Christie, Georges Simenon, Dorothy L. Sayers, P. G. Wodehouse, Erle Stanley Gardner, and many, many more
The Black Lizard Big Book Of Locked-Room Mysteries: An empty desert, a lonely ski slope, a gentleman's study, an elevator car—nowhere is a crime completely impossible.

Edgar Award–winning editor Otto Penzler has collected sixty-eight of the all-time best impossible-crime stories from almost two hundred years of the genre. In addition to the many classic examples of the form—a case of murder in a locked room or otherwise inaccessible place, solved by a brilliant sleuth—this collection expands the definition of the locked room to include tales of unbelievable thefts and incredible disappearances.
The Infernal by Mark Doten
A fierce, searing response to the chaos of the war on terror—an utterly original and blackly comic debut
In the early years of the Iraq War, a severely burned boy appears on a remote rock formation in the Akkad Valley. A shadowy, powerful group within the U.S. government speculates: Who is he? Where did he come from? And, crucially, what does he know? In pursuit of that information, an interrogator is summoned from his prison cell, and a hideous and forgotten apparatus of torture, which extracts "perfect confessions," is retrieved from the vaults. Over the course of four days, a cavalcade of voices rises up from the Akkad boy, each one striving to tell his or her own story. Some of these voices are familiar: Osama bin Laden, L. Paul Bremer, Condoleezza Rice, Mark Zuckerberg. Others are less so. But each one has a role in the world shaped by the war on terror. Each wants to tell us: This is the world as it exists in our innermost selves. This is what has been and what might be. This is The Infernal.
"Doten has written a ravishingly mad post-Bust riposte to the collaboratively written Internet text— the Wiki, which doesn't document facts so much as it documents the process by which 'facts' are generated and then perpetually overwritten."                   Josh Cohen, Harper's Magazine
"In Doten's artfully deranged debut novel, the 'war on terror' is revisited as a feverish science-fiction odyssey. . . . Doten frames his post-historic 'memory index' in virtuosic, antic prose, but his goal is neither purely satire nor surrealism for its own sake. Rather, [The Infernal] constructs a new language to confront atrocity and becomes in the bargain a story that truly thinks outside the cage."                     Publishers Weekly
"Mark Doten has fashioned a thrilling, idiosyncratic attack on the mytho-historical madness of our time. The Infernal is a brave, crazy, magnetic debut."              Sam Lipsyte
"Serious, future-altering genius." —Denis Cooper, author of The Marbled Swarm and The Sluts
"From the first page to the last, [The Infernal] explodes like a roll of Black Cats in a dazzling, deafening, brilliant display of linguistic and intellectual energy. It will thrill you, confound you, and ultimately force you to submit to its perspective, and in the end it will change the way you think about the world you live in."                         Dale Peck, author of Martin and John
The Hilltop by Ashraf Gavron
On a beautiful, rock-strewn hilltop in the heart of the West Bank stands a lone second-hand shipping container, a generator, and some goats, signs of a fledgling community flying below the radar. On this contested land, Othniel Assis – under the wary gaze of the neighbouring Palestinian village – plants asparagus, rocket, and cherry tomatoes – and installs his ever-expanding family. As he cheerfully manipulates government agencies, more settlers arrive and, with a hodge-podge of families and singles, bankers and teachers, kibbutzniks and townies, religious and secular, the outpost takes root. A plan is hatched to sell the 'artisan' olive oil from the Palestinian village to Tel Aviv yuppies, and so the settlement Ma'aleh Hermesh C begins to flourish.
When the local army commander arrives at the site, tempers soon flare. The Israeli Civil Administration for the occupied territories claims there is no permit to install the trailers, but there is no permit to remove them either. According to the government it doesn't exist; according to the military it must be defended. But when a curious Washington Post correspondent stumbles into their midst, it becomes the focus of an international diplomatic scandal and faces its greatest test yet.
"It is no exaggeration to say that Assaf Gavron is the most exciting, inventive, and thought-provoking Israeli novelist of our generation. I loved this book."
Reza Aslan, bestselling Iranian-American author of No god but God
"Memorable…marked by its great depth of feeling."                       Publishers Weekly
"Gavron treads delicately and lets readers draw their own conclusions."               Metro
"A big, ambitious, state-of-the-nation novel… full of powerful moments of high drama."
Jewish Chronicle
"Brilliantly attuned to the madhouse complexities of the current settlement crisis … The superbly orchestrated chaos that results makes this an indispensable novel of, as one character dubs it, the Wild West Bank."                          Wall Street Journal
"The Great Israeli Novel … Assaf Gavron stakes his claim to be Israel's Jonathan Franzen . . . Like Franzen, Gavron writes realistic fiction with a comic edge that aims to take the temperature of his whole society, to tell us how Israelis live now … a cutting satire."              Adam Kirsch, Tablet
"Expansive, humorous … Gavron's satiric touches can be coruscating."                  New Yorker
"An extraordinary view of contemporary Israeli society… There is much else to admire in the book… it is something entirely new."                   Guardian
"Ambitious… uses fiction to explore the human reality of the settlers' lives…  echoes the wry, ironic tone of Amos Oz… reads more like an American novel than fiction in translation."                      TLS
Murder by Sarah Pinsborough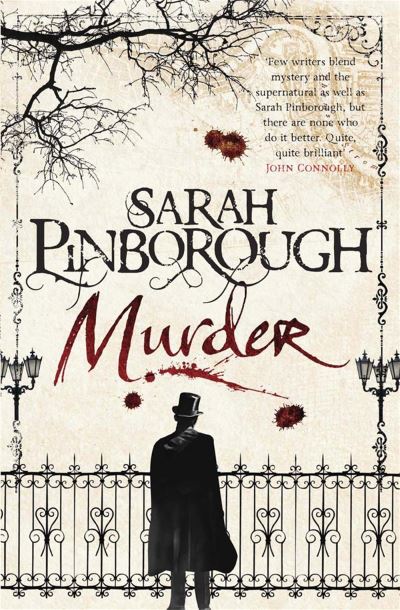 Dr Thomas Bond, Police Surgeon, thinks he has finally recovered from the terrible events of years before. He no longer has nightmares about Jack the Ripper – or the other monster, an enemy even more malign who hid in Jack's shadow and haunted the streets of London at the end of the 1880s. He had made his peace with his part in bringing calm back to the East End. His fame as a profiler of criminals is increasing, his practice is steady, and Dr Bond is beginning to dream of marriage, and children. Life is good. But when a woman's body is found brutally beaten to death in a railway carriage and a letter written years before is discovered by the police, the past he has fought so hard to put behind him begins to taint the present, and he can no longer fight his new suspicions. Just when he thought life had returned to normal, Dr Bond is about to discover that some things will not remain buried: once again his uncanny enemy is loose on the streets of London… and this time Dr Bond is alone.
"It's a novel which stands alongside the best of this sort of genre blending from Michael Marshall Smith or John Connolly … A blend of the supernatural, horror, crime and psychological profiling which makes you care about the characters before turning their lives inside out. 9/10."                    Sci-Fi Bulletin.
"It's extremely rare that I read an entire book in one sitting but I just couldn't put Murder down … Sarah Pinborough has once again proven why she has earned a place on my extremely short list of favourite authors."                        Eloquent Page.
"This is historical fiction at its best as well as one of the better mystery novels that is likely to be published this year."              Examiner.com
The Echo by James Smythe
Twenty years following the spacecraft Ishiguro's disappearance, humanity is setting its sights on the heavens once more.
Under the direction of two of the most brilliant minds science has ever seen – twin brothers Tomas and Mirakel Hyvönen – this space programme has been tasked with one of the most difficult missions in its history: to study what is being called 'the anomaly' – a vast blackness of space thought to be responsible for the loss of the Ishiguro.
But as the anomaly tests Mira and the rest of the hand-picked crew's sanity, Tomas will have to use all his ingenuity if he is to save his brother and their mission.
"If you love Gravity try James Smythe."                     Buzzfeed.com
"Creepy, compulsive Science Fiction."                       Metro
"Science Fiction for those who don't think they like it."                    Independent
"A tightly knotted, expertly constructed space trip of a read."                     Guardian
"It's like an episode of Star Trek written by JM Coetzee."                 Guardian
Real Lives
Out of Line by Dov Fedler
"You'll be a dentist," says Dad. "Why?" I ask. "Because you'll be called doctor and you won't be called out at night." "I'm not sticking my hands down anyone's mouth. Yech!" Dov Fedler was a laatlammetjie, born and bred in Johannesburg in 1940 just as Hitler was getting into his stride. A third child was not on his parents' 'want-list'. It was hard enough supporting two much older children and a printing business struggling to exist. When Dov was about three his mother had a 'nervous breakdown' which is when he remembers seeing his first pencil and knowing precisely what it was that he wanted to do with his life. There are no coincidences in Dov's life. He believes that a hand of destiny has steered his path. Many dramatic encounters (not with aliens or spirits, but with everyday people) have shaped him and he wouldn't have missed any of it. Dov's story is intensely personal and honest, with a powerful combination of humour, emotion and community history. Out Of Line attempts to do a few short things. It is an autobiography but it is also an attempt to capture a particular history of a specific generation; that of the Jewish baby boomers who descended from mainly Lithuanian stock. Dov has been a leading South African cartoonist for more than 45 years, and his earliest dream was to work for Walt Disney. He has always known his career was somewhere in drawing. He got to visit Disney World and could not wait to leave. He has never been to Europe or Brakpan and is a pure product of Johannesburg. The last on his wish list was to become a political cartoonist.
Queen of the Desert: The Extraordinary Life of Gertrude Bell by Georgina Howell
Archaeologist, spy, Arabist, linguist, author, poet, photographer, mountaineer and nation builder, Gertrude Bell was born in 1868 into a world of privilege and plenty, but she turned her back on all that for her passion for the Arab peoples, becoming the architect of the independent kingdom of Iraq and seeing its first king Faisal safely onto the throne in 1921. Queen of the Desert is her story, vividly told and impeccably researched, drawing on Gertrude's own writings, both published and unpublished. Previously published as Daughter of the Desert, this is a compelling portrait of a woman who transcended the restrictions of her class and age and in so doing created a remarkable and enduring legacy.
"What a great Oscar-laden biopic this will make …the combination of epic scenes and personal drama makes Georgina Howell's saga a winner."                Daily Express
"Howell sketches in the gradations of colour and emotion that have been lacking in hitherto monochrome accounts of Bell's life … Exemplary."                Sunday Times
"Riveting … few women have had a life more worth reading about."                     Diana Athill, Literary Review
Thank you for this Moment: A Story of Love, Power and Betrayal by Valérie Trierweiler
The breakdown of Valérie Trierweiler's relationship with French President François Hollande was spread mercilessly across the front pages. News of Hollande's infidelity first broke in January 2014, when Closer magazine published photographs allegedly proving a secret affair between him and actress Julie Gayet. Trierweiler learnt of the affair through the press, just like everyone else, and was subsequently hospitalised. As the world's media descended on the salacious details of the story and its damaging political implications, the embattled President vowed to see out his term in the face of rapidly sinking approval ratings.
First published in France in September 2014, it promptly became the fastest selling book in French history. Trierweiler's memoir proved incendiary, sending shockwaves through the establishment for its revelations about the President's politics and personal life. In a nation that strives not to pry into the private lives of its politicians, the book sparked intense debate about the role of the President's bedroom in political life and public discourse.
Thank You for This Moment is the unapologetic and unadulterated account of Trierweiler's years with the President. Told with shattering clarity, it displays a voice that refuses to be silenced for political expediency.
"Nobody can resist the allure of Valérie Trierweiler."                       Telegraph
"She speaks loud, clear and without caution. Brilliant."                    Grazia
"It's an old story, but the way Valerie tells it, with no punches pulled and plenty of torrid moments, it will make a gripping film. "                       Sunday Telegraph
Guantánamo Diary by Mohamedou Ould Slahi
Since 2002, Mohamedou Ould Slahi has been imprisoned at the detainee camp at Guantánamo Bay, Cuba. In all these years, the United States has never charged him with a crime. Although he was ordered to be released by a federal judge, the U.S. government fought that decision, and there is no sign that the United States plans to let him go.
Three years into his captivity Slahi began a diary, recounting his life before he disappeared into U.S. custody and daily life as a detainee. His diary is not merely a vivid record of a miscarriage of justice, but a deeply personal memoir – terrifying, darkly humorous, and surprisingly gracious. Published now for the first time, Guantánamo Diary is a document of immense historical importance.
"A vision of hell, beyond Orwell, beyond Kafka"                    John Le Carré
"The work is a kind of dark masterpiece, a sometimes unbearable epic of pain, anguish and bitter humour that the Dostoyevsky of The House of the Dead would have recognized and embraced."                 New York Times
"A sobering, often chilling, read. Slahi's story deserves to be widely read."                        Independent
"Un-nerving yet ultimately magnificent . . . there is something special about Guantánamo Diary that lifts it from human-rights polemic to the realm of literary magic."                    Sunday Times
"A harrowing account of [Mohamedou Ould Slahi's] detention, interrogation, and abuse . . . One of the most stubborn, deliberate and cruel Guantánamo interrogations on record."                  Slate
"Anyone who reads Guantánamo Diary – and every American with a shred of conscience should do so, now – will be ashamed and appalled. Mohamedou Ould Slahi's demand for simple justice should be our call to action. Because what's at stake in this case is not just the fate of one man who managed, against all odds, to tell his story, but the future of our democracy"                   Glenn Greenwald
"This is a necessary book. It reminds us that the evil we're fighting can be found in ourselves as well as our enemies."                    Daily Telegraph
"This Guantánamo detainee's harrowing memoir is a tremendous achievement – and a grave warning against ignoring the rule of law."                   Observer
"Slahi's ordeal is at the heart of Guantánamo Diary, but the book is about much more. It is a chilling story of the United States' worst abuses in the post-9/11 era. It is an account of other countries' complicity in these abuses. It is a terrible example of what happens to innocent people when the rule of law is suspended. In the words of Larry Siems, the book's editor, it is "an epic for our times"."                     Huffington Post
"Necessary reading for those seeking to understand the dangers that Guantánamo's continued existence poses to Americans in the world . . . a fluent, engaging and at times eloquent writer even in his fourth language of English."                         Washington Post
"Heartbreaking . . . there has never been a book quite like this . . . extraordinary and overwhelming."                New Statesman
South Africa
Showdown at the Red Lion: The Life and Times of Jack McLoughlin by Charles van Onselen
Johannesburg, South Africa was – and is – the Frontier of Money. Within months of its founding, the mining camp was host to organised crime: the African 'Regiment of the Hills' and 'Irish Brigade' bandits. Bars, brothels, boarding houses and hotels oozed testosterone and violence, and the use of fists and guns was commonplace.
Beyond the chaos were clear signs of another struggle, one to maintain control, honour and order within the emerging male and mining dominated culture. In the underworld, the dictum of 'honour among thieves', as well as a hatred of informers, testified to attempts at self-regulation. A 'real man' did not take advantage of an opponent by employing underhand tactics. It had to be a 'fair fight' if a man was to be respected.
This was the world that 'One-armed Jack' McLoughlin – brigand, soldier, sailor, mercenary, burglar, highwayman and safe-cracker – entered in the early 1890s to become Johannesburg's most infamous 'Irish' anti-hero and social bandit. McLoughlin's infatuation with George Stevenson prompted him to recruit the young Englishman into his gang of safe-crackers but 'Stevo' was a man with a past and primed for personal and professional betrayal. It was a deadly mixture. Honour could only be retrieved through a Showdown at the Red Lion.
Black Brain, White Brain: Is Intelligence Skin Deep? by Gavin Evans
Over the last decade the media have given new life to an old idea – one at least as old as colonialism and slavery: that intelligence is defined by race and, more specifically, that white and Asian people are innately smarter than black people.
The prime sources for these successive waves of publicity are psychologists but a handful or renegade scientists, pop science writers and journalists have joined the throng.
Gavin Evans demonstrates why they are wrong – that their ideas are based on an out-of-date understanding of genetics, on a profound ignorance of the African anthropological record and a misplaced faith in the idea that IQ tests measure hardwired general intelligence, and that average IQ scores of different populations can be fruitfully compared.
Black Brain, White Brain shows that there are no hardwired differences in intelligence or character between the races, and that human brainpower has probably not evolved for 100,000 years.
"Punchy and perceptive, Evans' passionate and wide-ranging debunking of hereditarian views of race in areas ranging from archaeology to IQ and sport deserves a wide readership."                                 Professor Saul Dubow, University of London
"Smart, accessible and stimulating, Black Brain White Brain is by far the most important book yet written to systematically debunk society's lingering attachments to race science and its pet topics of intelligence, genetics and civilization. Black Brain White Brain should be required reading in every undergraduate university course, in every high school and in every home.'                       Professor Jonathan Jansen, University of the Free State
Non-Fiction
Sapiens: A Brief History of Humankind by Yuval Noah Harari
100,000 years ago, at least six human species inhabited the earth. Today there is just one. Us. Homo sapiens. How did our species succeed in the battle for dominance? Why did our foraging ancestors come together to create cities and kingdoms? How did we come to believe in gods, nations and human rights; to trust money, books and laws; and to be enslaved by bureaucracy, timetables and consumerism? And what will our world be like in the millennia to come?
In Sapiens, Dr Yuval Noah Harari spans the whole of human history, from the very first humans to walk the earth to the radical – and sometimes devastating – breakthroughs of the Cognitive, Agricultural and Scientific Revolutions. Drawing on insights from biology, anthropology, palaeontology and economics, he explores how the currents of history have shaped our human societies, the animals and plants around us, and even our personalities. Have we become happier as history has unfolded? Can we ever free our behaviour from the heritage of our ancestors? And what, if anything, can we do to influence the course of the centuries to come?
Bold, wide-ranging and provocative, Sapiens challenges everything we thought we knew about being human: our thoughts, our actions, our power … and our future.
"Here is a simple reason why Sapiens has risen explosively to the ranks of an international bestseller. It tackles the biggest questions of history and of the modern world, and it is written in unforgettably vivid language. You will love it!"                       Jared Diamond
"A rare book…thrilling and breathtaking."                  Observer
"Full of shocking and wondrous stories."                    Sunday Times
"Sapiens is a starburst of a book, as enjoyable as it is stimulating."                         Sunday Express
"Provocative, thrilling erudite… One of the year's most talked-about books."                     Metro
"Consistently engaging…Harari writes prose that leaps from the page. His broad sweep, collating philosophy, science, history and economics, creates moments of eyebrow-raising revelation for a reader from any background."               New Statesman
"Sapiens is a fast-paced, witty and challenging romp through 70,000 years of human history…I did love it, and if you are interested in the whole story of humankind, I'm confident that you will love it too."                     Literary Review
"Harari is able to be as refreshingly clear in his discussions of biology, of evolutionary anthropology and of economics as he is of historical trends… Stick with him and you learn a lot."                      Daily Telegraph
"Harari delivers a boldly synthesized account of Homo sapiens' rise through the hominin ranks…A view of our ascent as nasty, brutish, long – and endlessly fascinating."               Nature
"Harari can write. Not in the sense that most authors can…But really, really write, with wit, clarity, elegance and a wonderful eye for metaphor."                        The Times
Unlearning with Hannah Arendt by Marie Louise Knott
After observing the trial of Adolf Eichmann, Hannah Arendt articulated her controversial concept of the 'banality of evil', thereby posing one of the most chilling and divisive moral questions of the twentieth century: How can genocidal acts be carried out by non-psychopathic people? By revealing the full complexity of the trial with reasoning that defied prevailing attitudes, Arendt became the object of severe and often slanderous criticism, losing some of her closest friends as well as being labelled a 'self-hating Jew'. And while her theories have continued to draw innumerable opponents, Arendt's work remains an invaluable resource for those seeking greater insight into the more problematic aspects of human nature. Anchoring its discussion in the themes of laughter, translation, forgiveness, and dramatisation, Unlearning with Hannah Arendt explores the ways in which the iconic political theorist 'unlearned' recognized trends and patterns – both philosophical and cultural – to establish a theoretical praxis all her own. Through an analysis of the social context and intellectual influences – Karl Jaspers, Walter Benjamin, and Martin Heidegger – that helped shape Arendt's process, Knott has formed a historically engaged and incisive contribution to Arendt's legacy.
"This is a short, powerful book. Reading it is like drinking an espresso on an empty stomach; it delivers a kick out of all proportion to its size. It is also timely. In this new-old era of religious strife, those words, like many others of Arendt's, have lost none of their potency."                Independent
"Knott dallies with the waywardness of translation, the ambiguity of forgiveness, the indirection of poetry, and the surprise gust of laughter. As a further hedge against solemnity, she illustrates her remarks with whimsical cartoons, teeming with multilingual puns. Yet it is hard to think of any other book on Arendt that gives out half as much light, not to mention joy."                    Prospect
The Supermodel and the Brillo Box by Don Thompson
Acquiring contemporary art is about passion and lust, but it is also about branding, about the back story that comes with the art, about the relationship of money and status, and, sometimes, about celebrity. The Supermodel and the Brillo Box follows Don Thompson's 2008 bestseller The $12 Million Stuffed Shark and offers a further journey of discovery into what the Crash of 2008 did to the art market and the changing methods that the major auction houses and dealerships have implemented since then. It describes what happened to that market after the economic implosion following the collapse of Lehman Brothers and offers insights and art-world tales from dealers, auction houses, and former executives of each, from New York and London to Abu Dhabi and Beijing. It begins with the story of a wax, trophy-style, nude upper-body sculpture of supermodel Stephanie Seymour by Italian artist Maurizio Cattelan, which sold for $2.4 million to New York über-collector and private dealer Jose Mugrabi, and recounts the story of a wooden Brillo box that sold for $722,500. The Supermodel and the Brillo Box looks at the increasing dominance of Christie's, Sotheby's, and a few über dealers; the hundreds of millions of new museums coming up in cities like Dubai, Abu Dabai, and Beijing; the growing importance of the digital art world; and the shrinking role of the mainstream gallery.
"Bringing an economist's curiosity to the inner workings of the contemporary art market, Don Thompson manages once again to explain, in laymen's terms, how a lot of it works."                  New York Observer
"A highly readable account of the booming market for contemporary art, post 2008. Art economist Don Thompson lays bare the world of high-octane auctions, canny collectors, culture-hungry new economies and opaque million-dollar art deals."                     Financial Times
"I started reading The Supermodel and the Brillo Box and could not put it down until I finished it! Interesting to read about a world one knows well looked at through a different perspective. For anyone who wants to learn about the art market is a must read."                      Pilar Ordovas, Ordovas gallery, London, and former deputy chairman for Postwar and Contemporary art, Christie's Europe
For the Foodies
Anything That Moves: Renegade Chefs, Fearless Eaters and the Making of a New American Food Culture by Dana Goodyear
A new cuisine is forming. Animals never before considered or long since forgotten are emerging as delicacies. Parts that used to be for scrap are centerpieces. Going out to a nice dinner now often precipitates a confrontation with a fundamental question: Is that food? This is both a humourous adventure and a behind the scenes look at the way people eat now. From those who eat insects, to those who drink blood, there is a whole cast of chefs, dealers and scavengers who introduce the exotic to the dinner table.
Hungry for That by Raph Rashid
Raph Rashid has a passion for creating the perfect diner-style food at home. Inspired to take these foodie favourites to the next level, he has penned the ultimate recipes for dishes from burgers to ribs, as well as sauces, sides and other guilty pleasures. Learn the basics of Raph's fool-proof burger and taco, from creating the perfect bread roll and corn tortillas, to fresh salsas and sauces, and everything in between. Salivate over the pastrami hash browns and melt-in-yourmouth ribs, try the charred cauliflower salad as a delicious accompaniment, and indulge in raspberry cream donuts. With step-by-step instructions and bold photography, Hungry for That is for those who love good grub and want to master the art of their favourite foods in their own kitchens.
Something Completely Different…
Tasteless and Outrageous Lists compiled by Karl Shaw
Prepare to be even more revolted, flabbergasted, appalled and entertained by this incredible follow-up collection of bizarre but absolutely true trivia. Nothing is too distasteful for this astonishing compendium, including scores of eclectic lists to amuse, astonish and appall your friends.


Entries include:
10 Road-kill Recipes
History's 10 Most Murderous Regimes
10 Historic Sex Toys
10 People who Married Their Nieces
10 Deaths by Sex
10 People Killed by Falling Animals
10 Ancient Remedies Containing Body Parts
10 Flatalogical Facts
8 Most Violent National Anthems
15 Premature Obituaries
10 Unusual Royal Deaths
10 Cruel and Unusual Punishments
10 Notable Executions
12 Elizabethan Insults
Happy Reading!